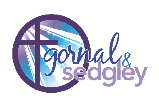 Welcome to the Gornal and Sedgley Team Ministry website.
Our parish includes All Saints' Church in Sedgley, St Andrew's in The Straits and St Peter's in Upper Gornal.
We've been a 'team ministry' since 2005 - team-working allows us to provide spiritual and pastoral care to a wide area including Upper Gornal, the Straits and Sedgley.
If you need to talk to someone, and/or request them to pray for you, here is our team - please call or email them: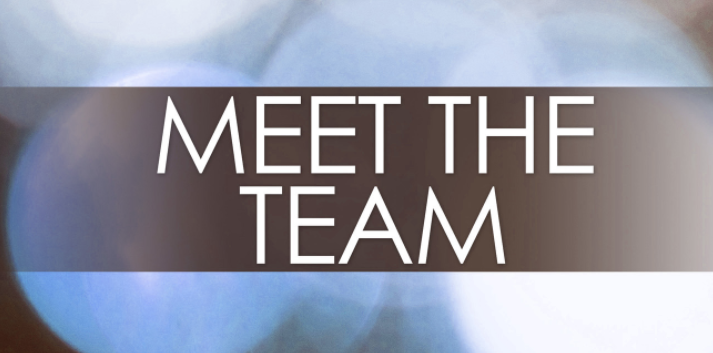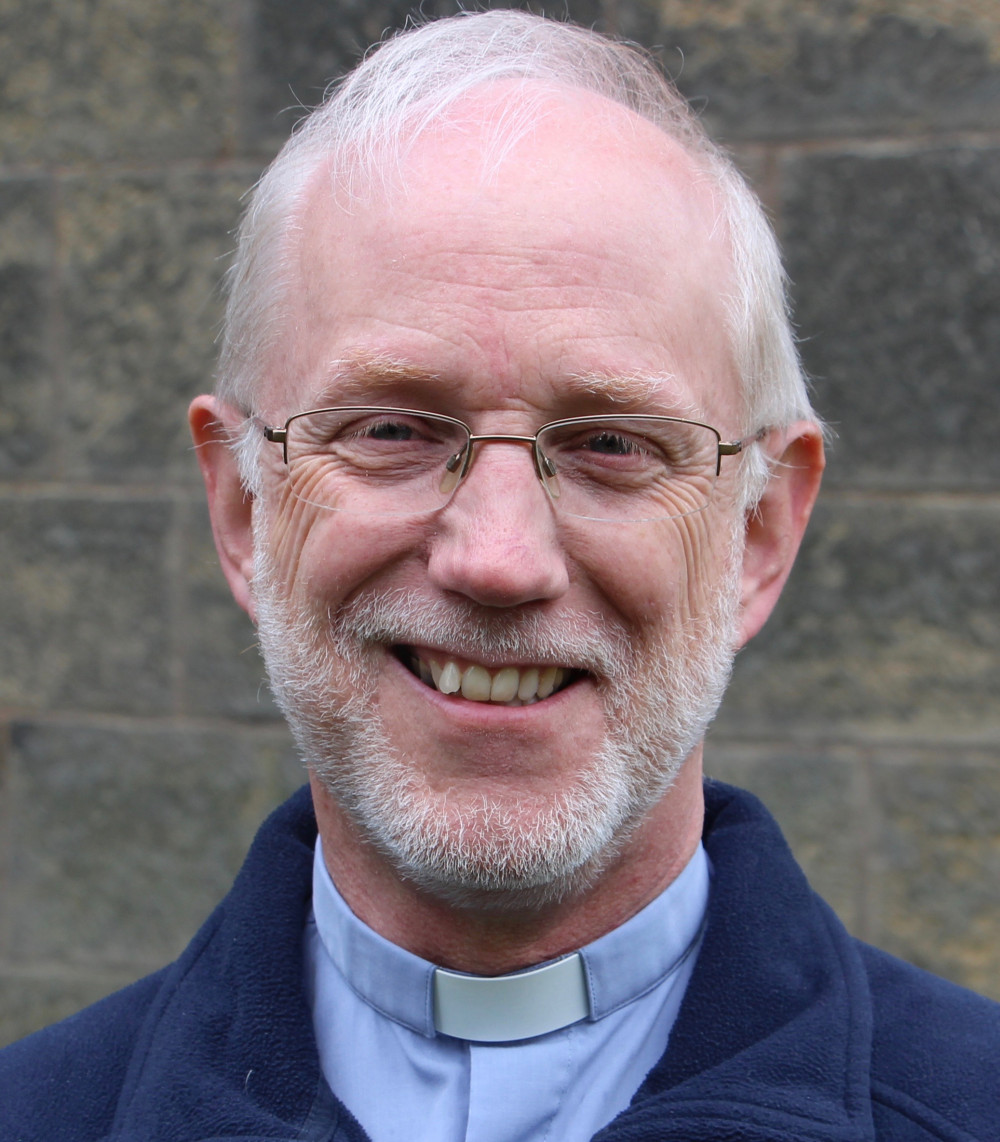 Revd Guy Hewlett, Team Rector
Phone: 01902 295164
email: rectorgornalandsedgley@allsaintssedgley.co.uk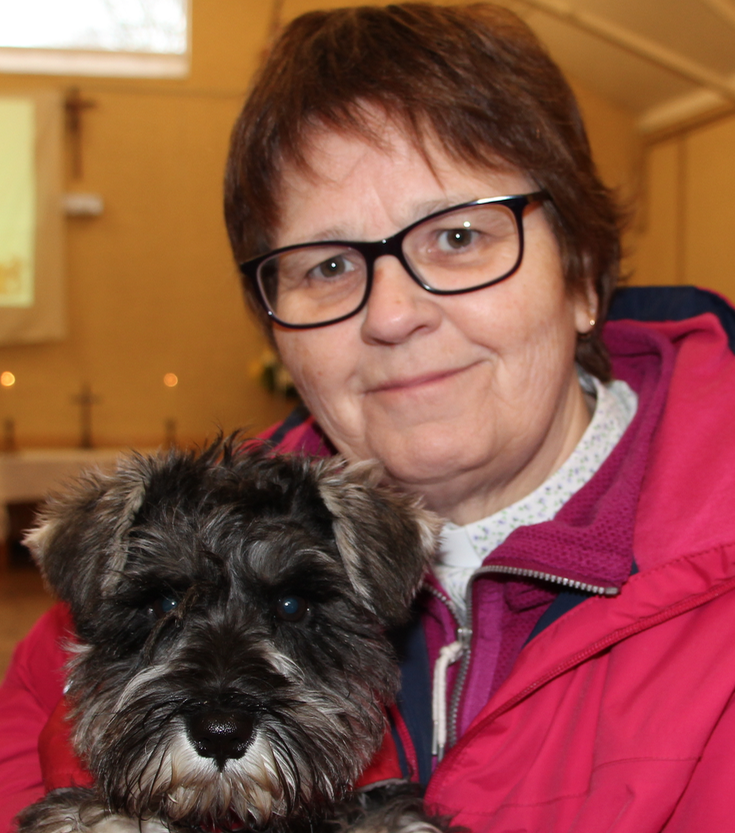 Revd Catherine Mitchell - Team Vicar
Tel 01902 677897
vicargornalandsedgley@allsaintssedgley.co.uk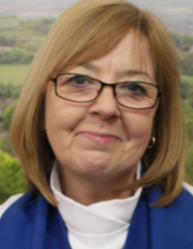 Canon Jan Humphries, Licensed Lay Minister
Tel: 01902 661275
Mobile: 07954 314102
Notice Sheet 16th January 2021
Readers' Sheet 16th January 2021
ARRANGEMENTS FOR BAPTISMS AND WEDDINGS
There have been some recent changes in the information we provide about arrangements regarding Baptisms and Weddings. Please see here:
BAPTISM BOOKINGS
Thank you for your interest in exploring having your child baptised. Unfortunately, with the current situation regarding Covid continuing, we are still dealing with the effect of the restrictions during 2020 and 2021. We are currently booked for baptisms for all of 2022, so will not be able to take bookings for 2023 until September 2022.
Regrettably therefore, for the foreseeable future, we will have to restrict baptisms to families living in the parish or with a connection (e.g. marriage or baptism) to All Saints, Sedgley, St. Andrews, The Straits or St. Peters, Upper Gornal. Please note we cannot baptise children at St. Peters at present.
Please contact Chris Williams, Vestry Clerk: chriswilliams550@btinternet.com
DISCUSSING OR BOOKING A WEDDING
Please contact the Team Vicar, Revd. Catherine Mitchell: vicargornalandsedgley@allsaintssedgley.co.uk
(These changes also appear on our Arrangements for Baptisms and Weddings page, which is the fourth option down on this page's sidebar menu.)
GIVING TO ALL SAINTS' CHURCH
If you have a smartphone, use your camera to access the 'Give a Little' website, then press the arrow to 'thyg.uk' to choose how much you wish to contribute: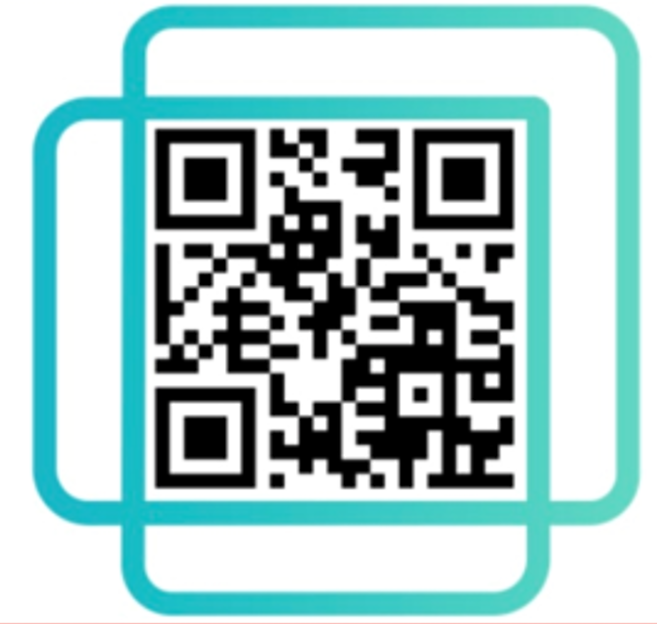 Alternatively you can use this link to the 'Give a Little' website:
tinyurl.com/allsaintsgivealittle
BEACON MAGAZINE
December 2021/January 2022 Magazine
A WONDERFUL MORNING IN CHURCH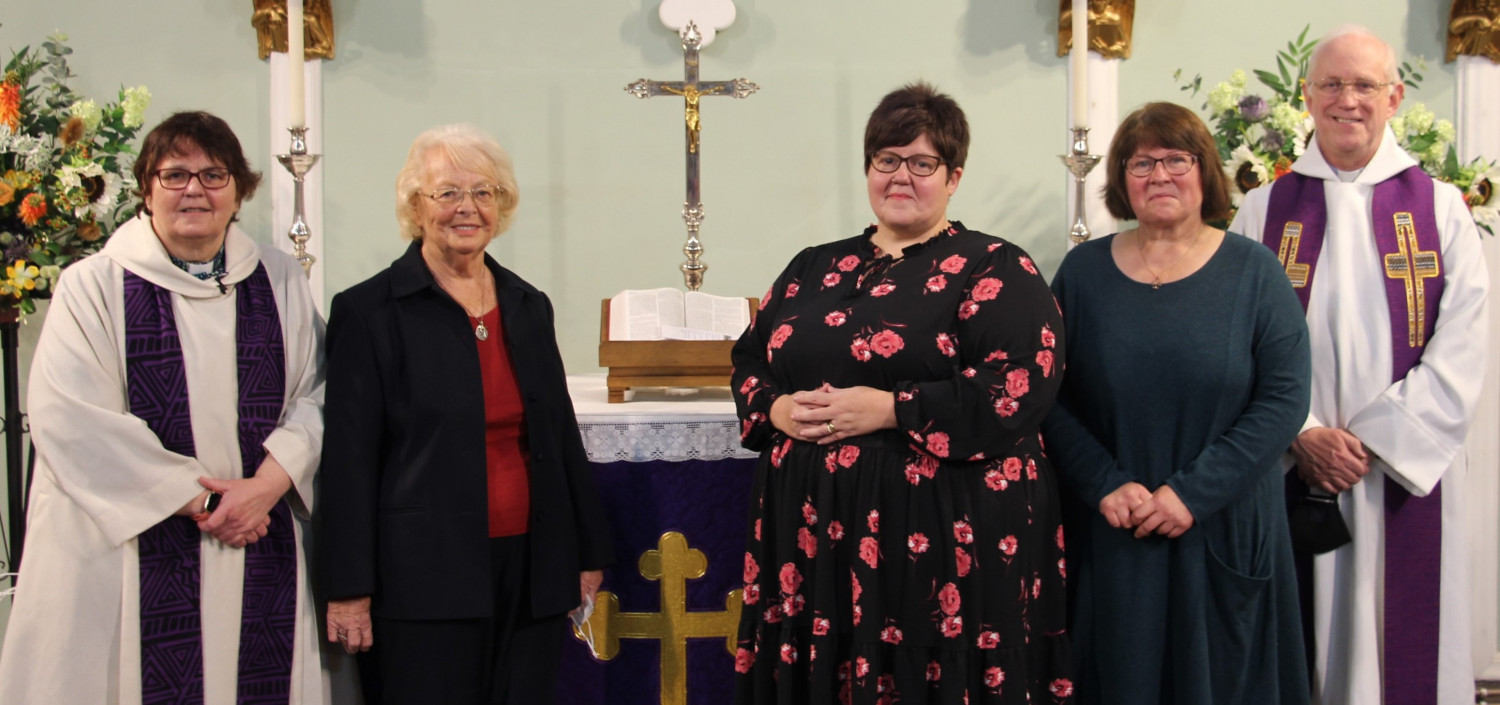 It was a wonderful morning at the 10.30am service at All Saints' on 5/12/2021, as we welcomed three new Authorised Lay Ministers, Joan Sullivan, Sarah Parker and Kath Apperley into the Team Ministry, in a Ceremony of Authorisation.
More pictures from the Authorisation
MOTHERS' UNION '1 IN 3' CAMPAIGN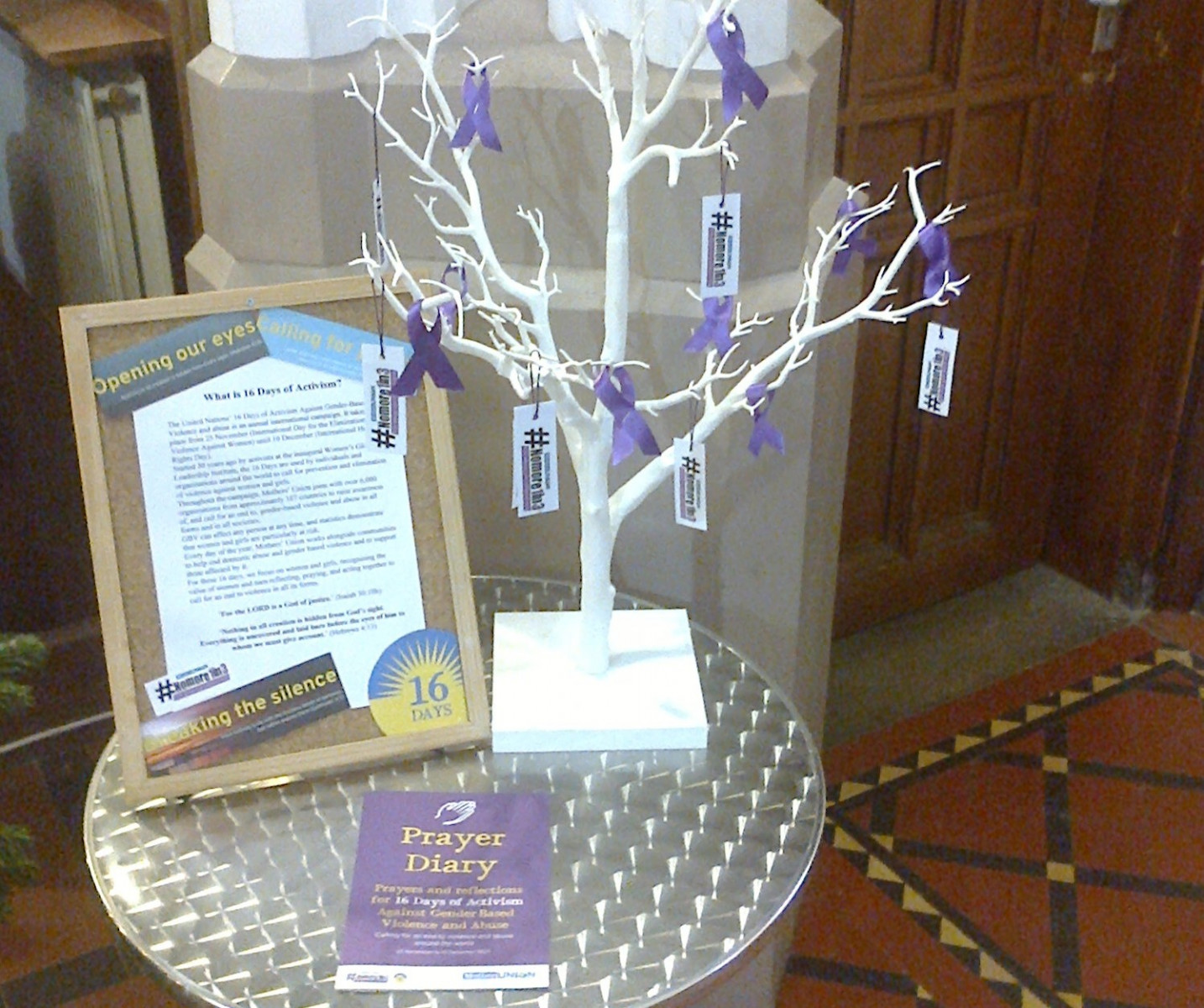 The United Nations '16 Days of Activism' against Gender-Based Violence and abuse is an annual international campaign which began on 25th November and continues until 10th December.
The Mothers' Union joins over 6000 organisations from approximately 187 countries to raise awareness of, and call for an end to, gender-based violence and abuse in all forms and in all societies.
Part of this campaign is 'No More 1 in 3'. It is stated that 1 in 3 women will experience some form of violence and abuse in their lives, and that this is unacceptable.
BISHOP MARTIN VISITS ALL SAINTS'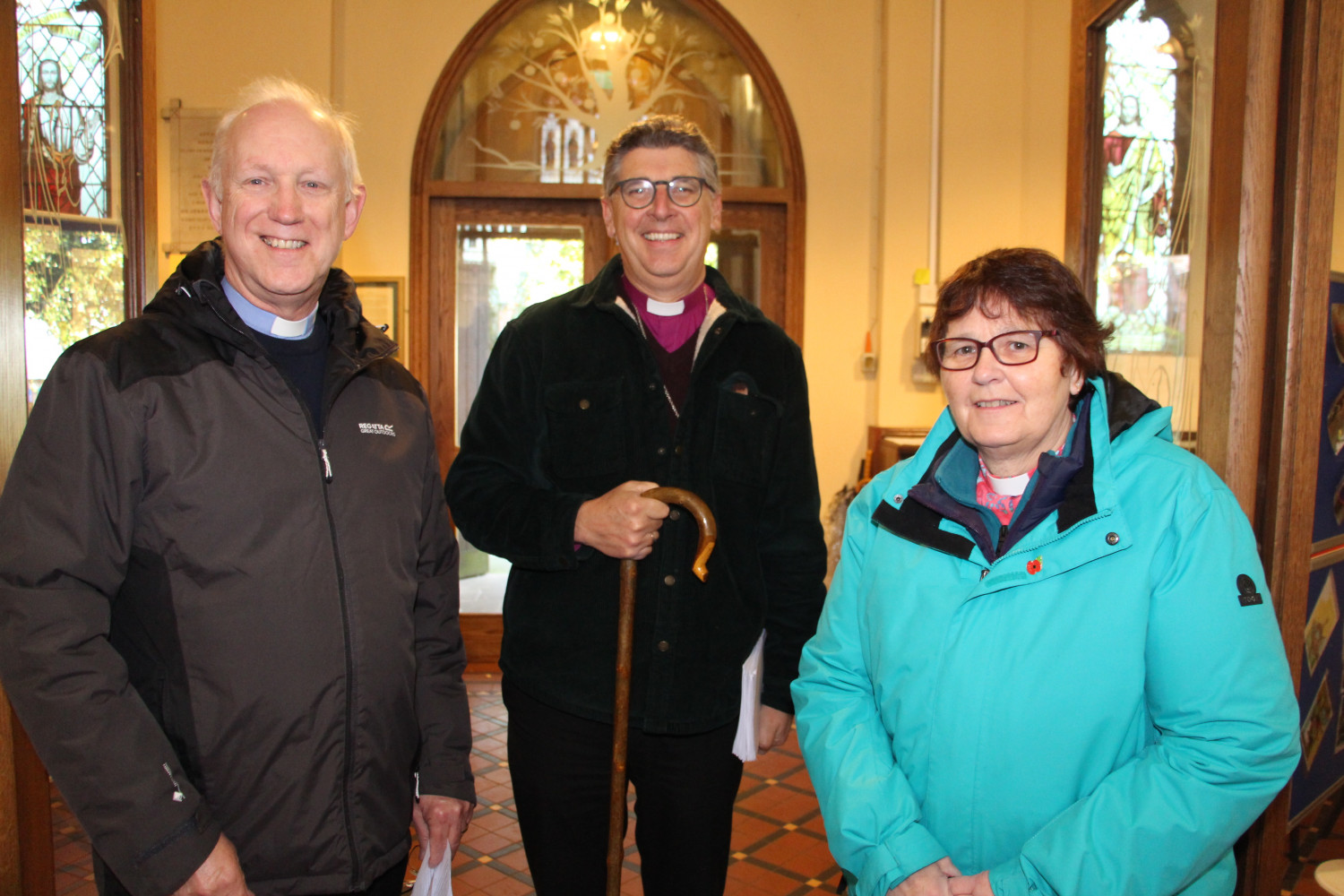 Bishop Martin Gorick visited All Saints' on the morning of 22/11/21, as part of his pilgrimage around the Diocese of Worcester.
He blessed the church building outside the front door, and the font inside; after which he led a beautiful service - followed by an opportunity to chat over coffee.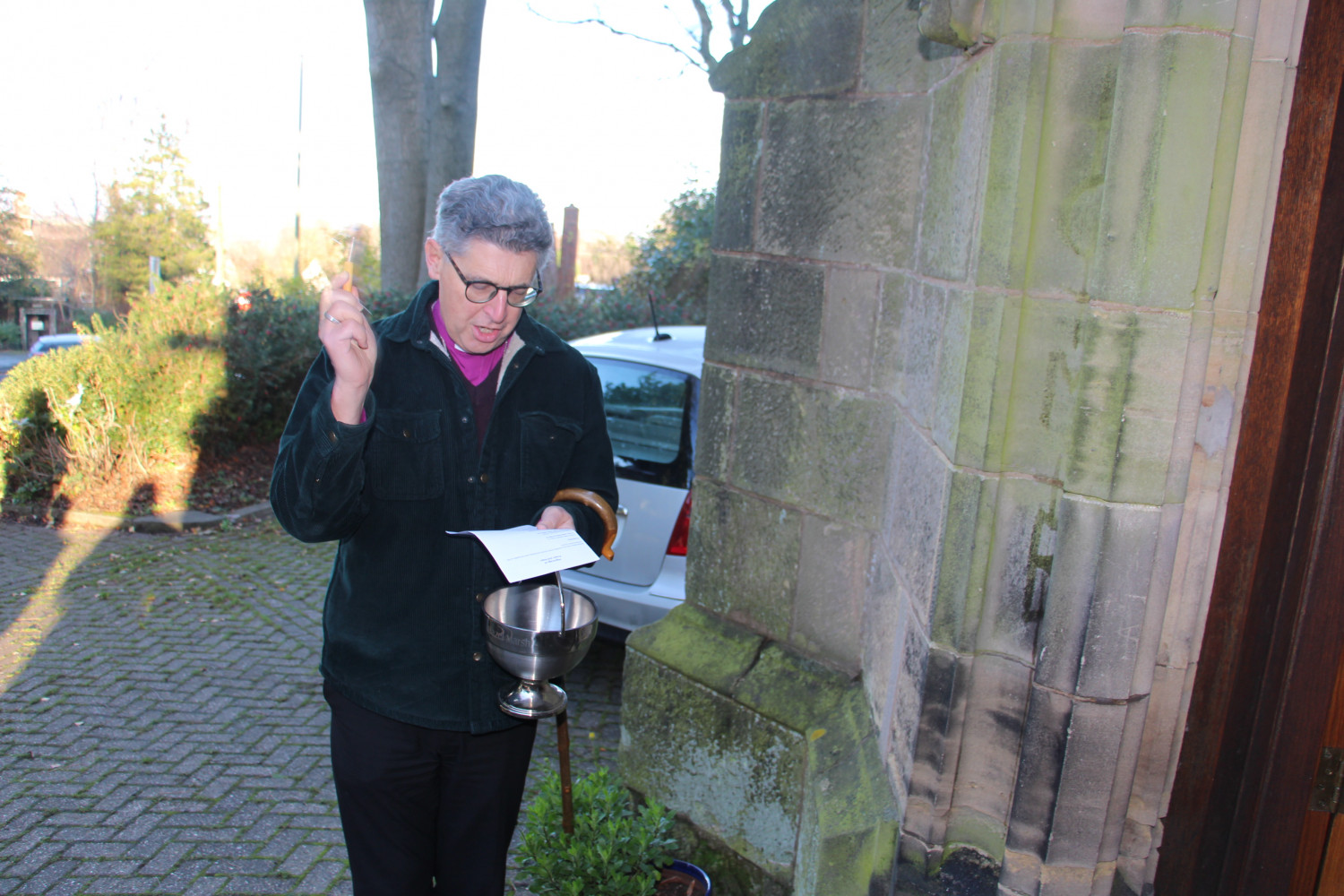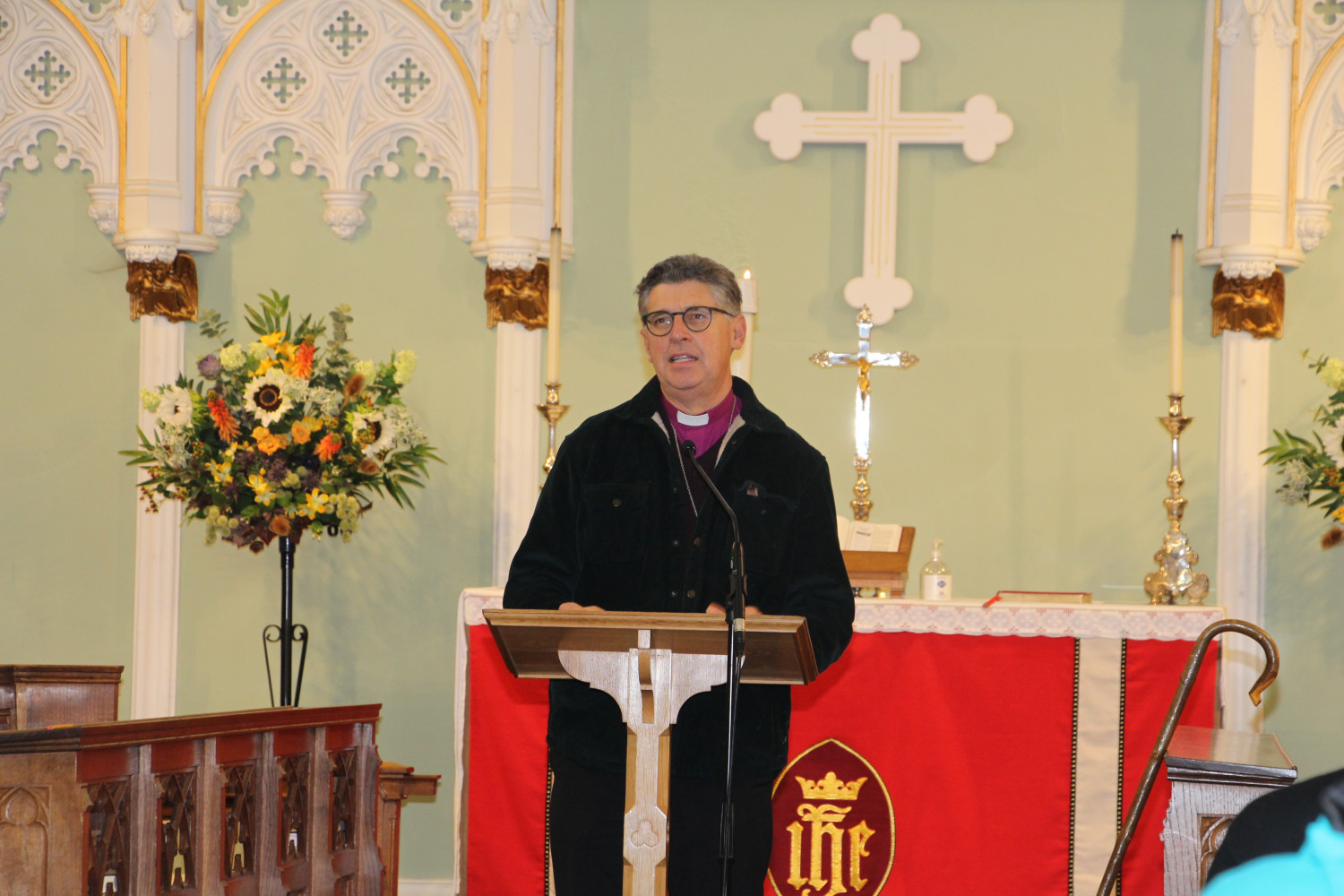 Martin officially began his ministry as our Bishop of Dudley at a special service of welcome in Top Church, Dudley in February 2020 - then alas the pandemic intervened, so this is the first real opportunity he's had to get out and meet people and visit churches around the Diocese.
We did a short interview with Bishop Martin, available here
More pictures of Bishop Martin's visit on 22 November 2021
REMEMBRANCE SUNDAY 2021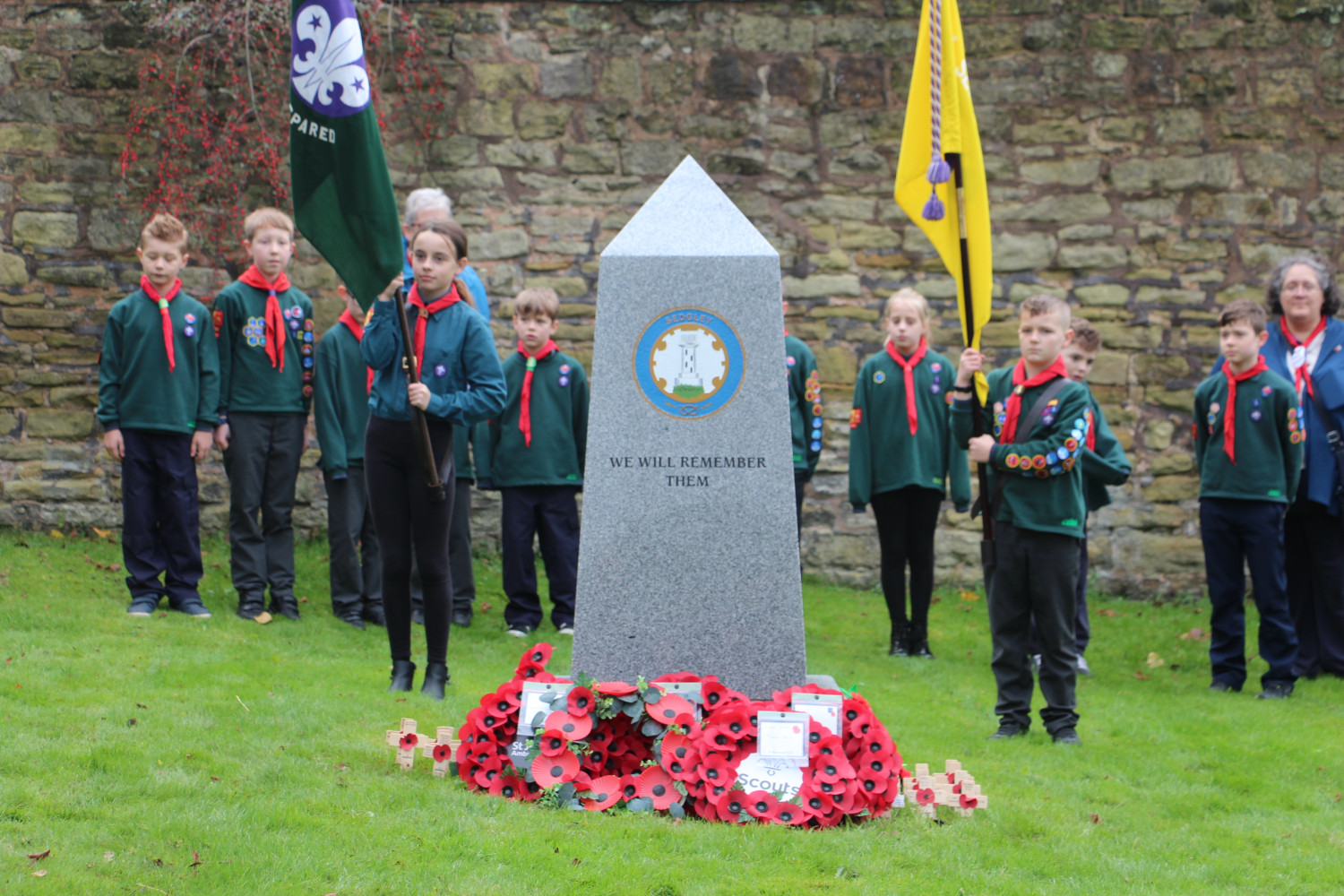 This year All Saints' Remembrance Sunday Service started at 10.15am in church. Due to Covid, the space inside was limited to 133 attendees. Most pews were allocated in advance, in association with Sedgley Royal British Legion, to designated representatives of Sedgley's uniformed organisations; and to members of the congregation of All Saints' who booked in advance.
The church service ended at approximately 10.45am, and the congregation made their way to All Saints' Gardens where the new War Memorial is located. Wreaths were laid at the foot of the obelisk by individuals and uniformed organisations.
At 11am a recording of the Last Post was played, there was a Two Minutes' Silence, ended by a recording of the Reveille. Numbers outside were not limited and many local villagers attended.
More photos of Sedgley's Remembrance Sunday 2021 can be found here:
AN INTERVIEW WITH BARRY JONES
Our interview with former All Saints' chorister Barry Jones is now complete.
Barry talks about some items of his clerical attire that he's donated to Claire; he also tells us about his early life when he lived in Sedgley - including being part of All Saints' Choir in the 1950s.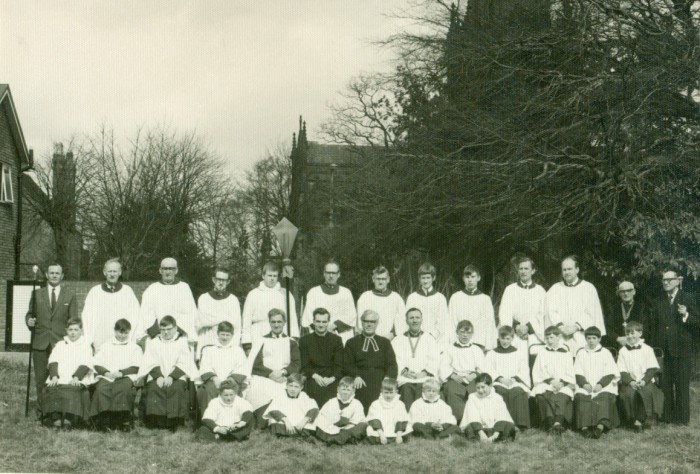 Barry Jones is fourth from the left, back row, in this photo of the choir from 1968 when Revd Lloyd was vicar.
Linda Watkins writes: "Barry served some time in the ministry in London, but eventually went to Redditch as a hospital chaplain. He retired around three years ago. Barry's parents Mervyn and Phyllis Jones lived in Claremont Rd, Sedgley. A former curate, David Martin, lodged with them during his time in Sedgley."
Guy's Retirement in 2022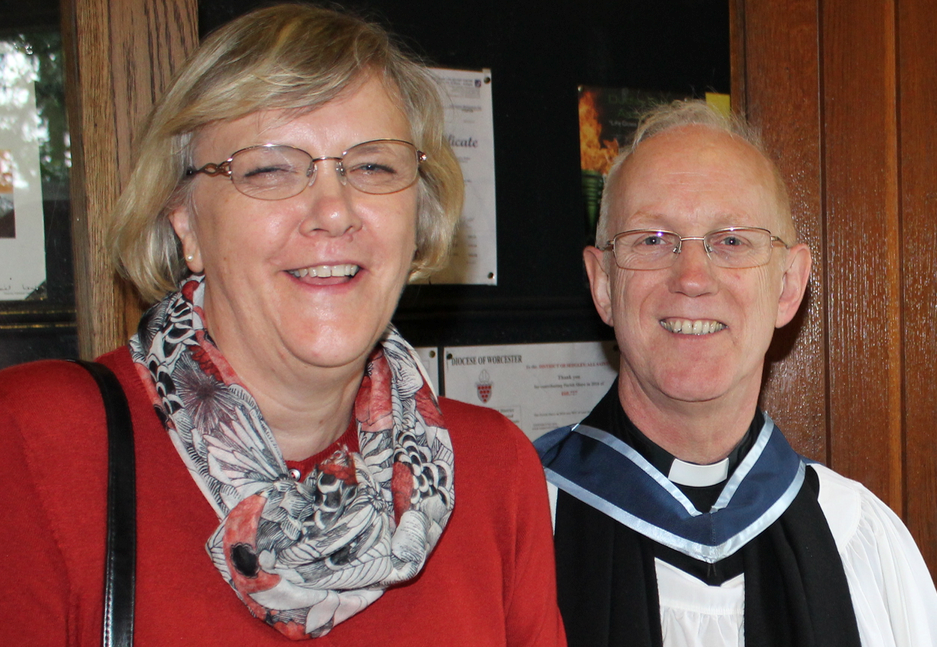 Guy sent this message to the Parish 21/7/21:
'After more than 25 years of ordained ministry and after a period of prayer and discernment I have decided, with Jackie, that next year is the right time to retire from stipendiary ministry.
I have discussed this with the Archdeacon and the Bishop and my last Sunday in the Parish of Gornal and Sedgley as Team Rector will be the 27th of February 2022.
I know that this is nearly 9 months away but as we begin to look to next year in our parish planning it felt right to let you, as the Parochial Church Council, know now.
With my love in Christ,
Guy'
We will be very sad to see Guy and Jackie leave. We we wish them all the very best in the future, and thank them for their wonderful contribution to the life of the Parish.
SAFE SPACES
An independent service supporting survivors of church-related abuse.
Launched in September 2020, this service offers support to survivors of church-related abuse, whether or not a report has been made.
This independent service is run by the charity Victim Support and funded by the Church of England, the Catholic Church in England and the Church of Wales.
It is free to access via telephone, email or web-chat
Tel: 0300 303 1056 (answerphone is available)
email: safespaces@victimsupport.org.uk
Web-chat is available via the Safe Spaces website: https://www.safespacesenglandandwales.org.uk/s
In addition:
SAFEGUARDING
The Parish of Gornal and Sedgley takes the issue of safeguarding very seriously, ensuring that children and young people as well as adults are kept safe whilst in our care is an integral part of our church life.
If you or someone you know feels unsafe, a list of people who can help is available on this link:
People to contact if you feel unsafe
Our Facebook site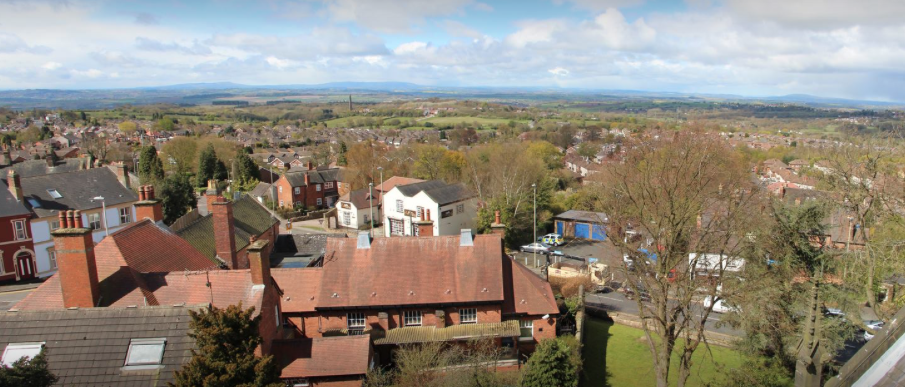 Our Facebook site provides an added facility for communicating with other members of our church community and with our Team Ministry.
PARISH OFFICE
Address:
All Saints' Parish Office
Ladies Walk
Dudley
DY3 3UA
Phone number: 01902 540289
Our Administration Assistant is Gail Griffiths.
Other contact email addresses:
Keith Tomlinson, Churchwarden:
churchwardenkeith@allsaintssedgley.co.uk
John Anderson, Treasurer and Churchwarden:
treasurer@allsaintssedgley.co.uk
Jenny Lavender, Assistant Treasurer:
asstreasurer@allsaintssedgley.co.uk
Our website
If you'd like to contribute any information about forthcoming church events, write an article, or correct anything on the site, please send your information to Martin our website editor.