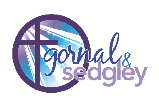 Welcome to the Gornal and Sedgley Team Ministry website.
Our parish includes All Saints' Church in Sedgley, St Andrew's in The Straits and St Peter's in Upper Gornal.
We've been a 'team ministry' since 2005 - team-working allows us to provide spiritual and pastoral care to a wide area including Upper Gornal, the Straits and Sedgley.
We look forward to seeing you at one of the churches in our parish for private prayer.
CORONAVIRUS/COVID-19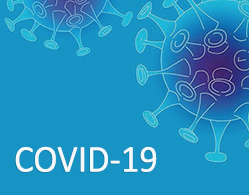 Our churches are again open for services, starting on Sunday 6th December 2020.
We continue to keep in touch remotely using Zoom, the application that allows congregations to meet online from their homes.
If you need to talk to someone, and/or request them to pray for you, here is our team - please call or email them: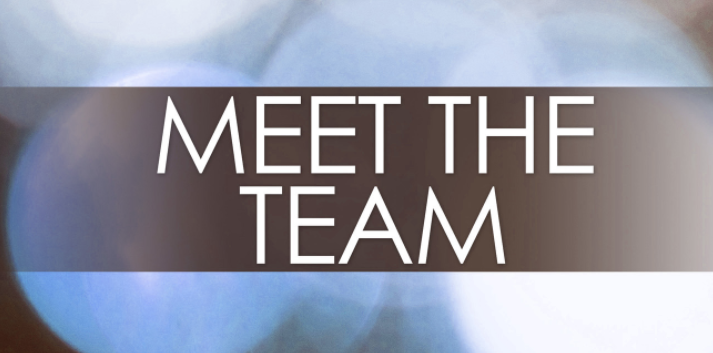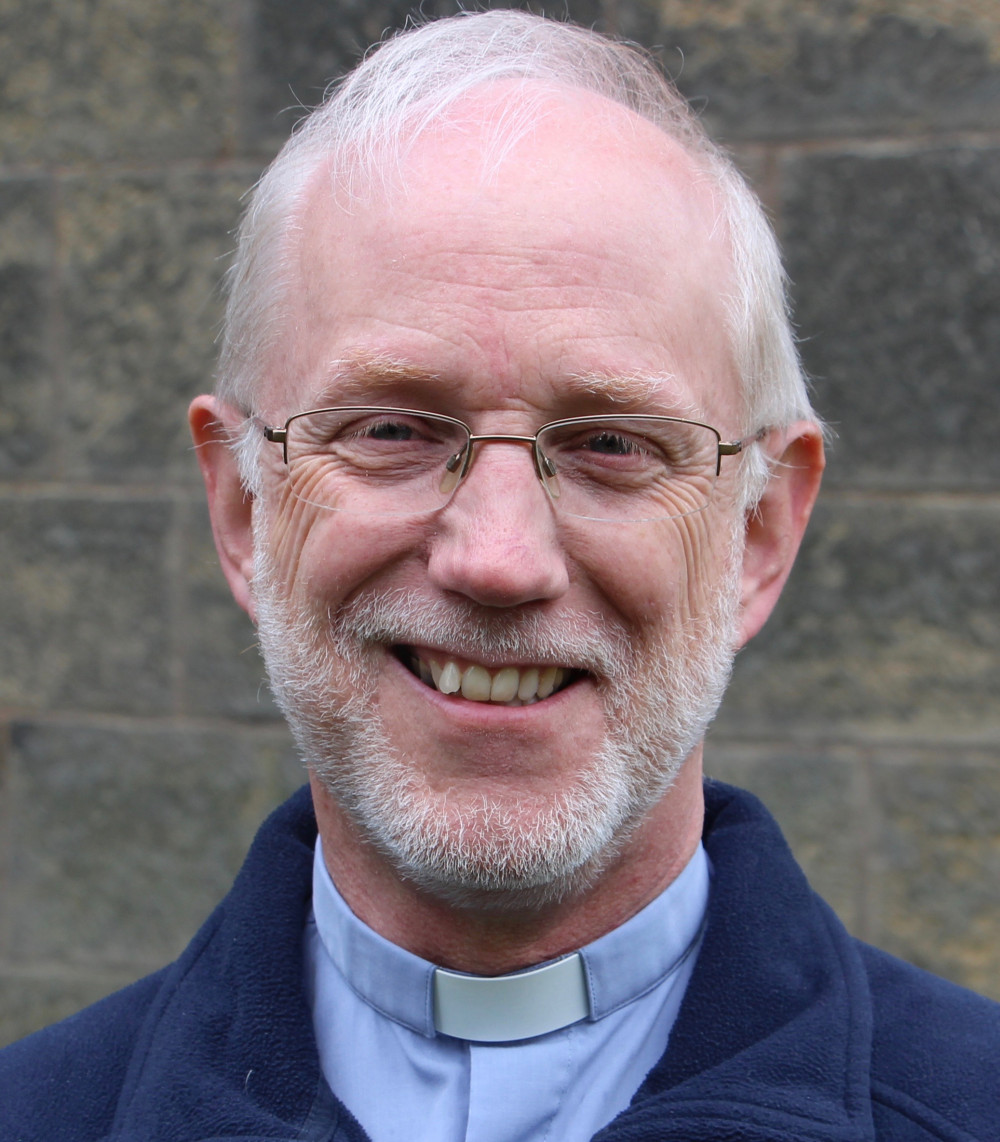 Revd Guy Hewlett, Team Rector
Phone: 01902 295164
email: guyhewlett18@gmail.com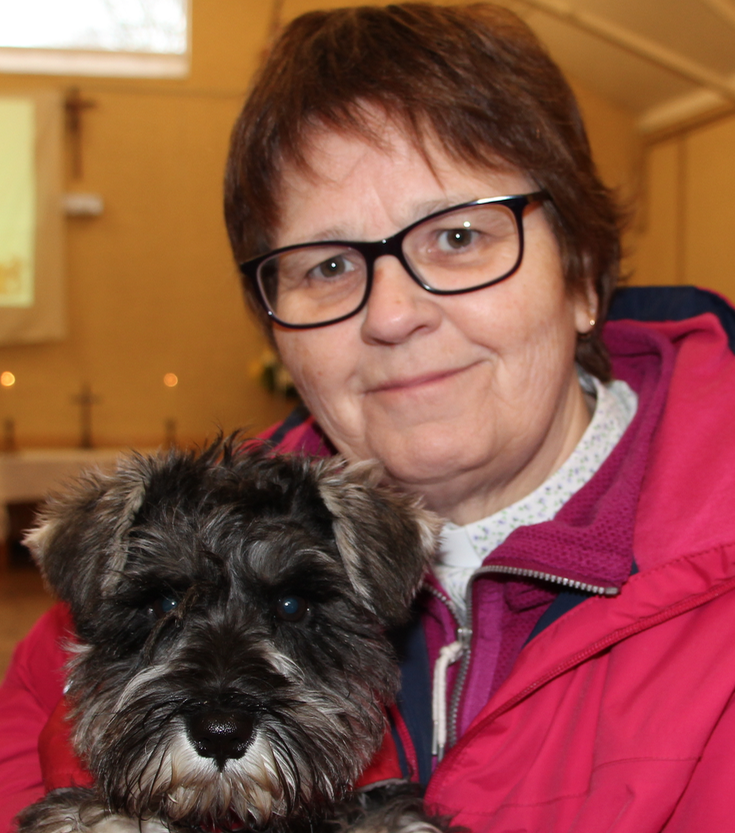 Revd Catherine Mitchell - Team Vicar
Tel 01902 677897
revcatherinemitchell13@gmail.com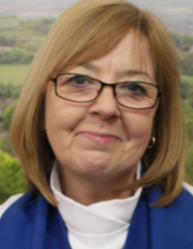 Canon Jan Humphries, Licensed Lay Minister
Tel: 01902 661275
Mobile: 07954 314102

NOTICE SHEET
READERS' SHEET
THE BEACON MAGAZINE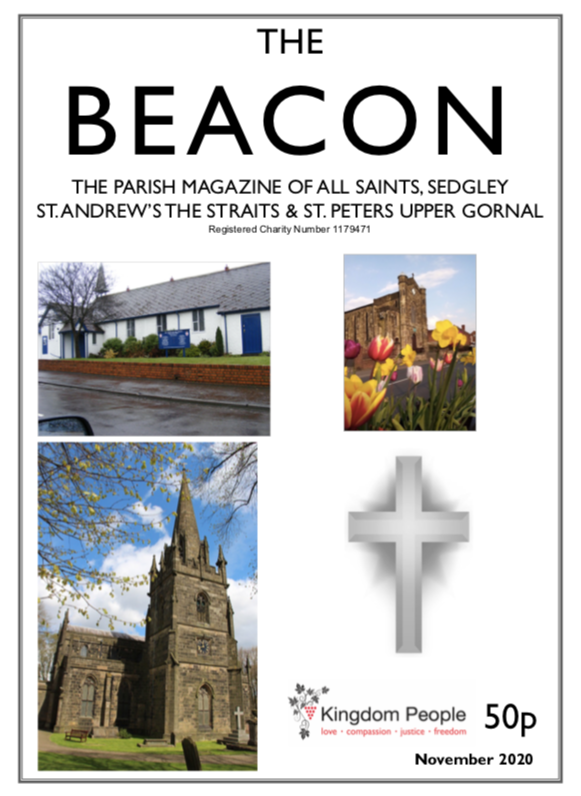 The Beacon Magazine November 2020
CHRISTMAS ANIMATION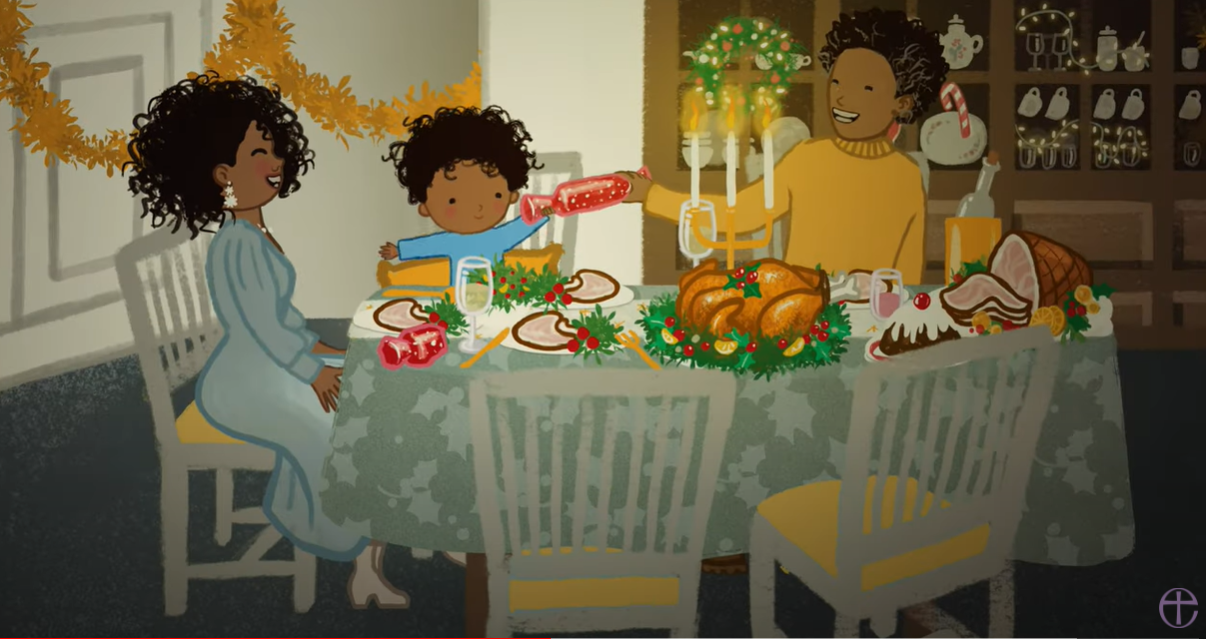 Please watch our Christmas animation:
ALPHA COURSE CHURCHES TOGETHER ON ZOOM
Prior to the start of the Alpha Course in January 2021, various denominations in Sedgley are getting together on Zoom on Sunday from 7.15 - 8.15pm for worship. A link will be sent out to our email groups by Revd Guy Hewlett.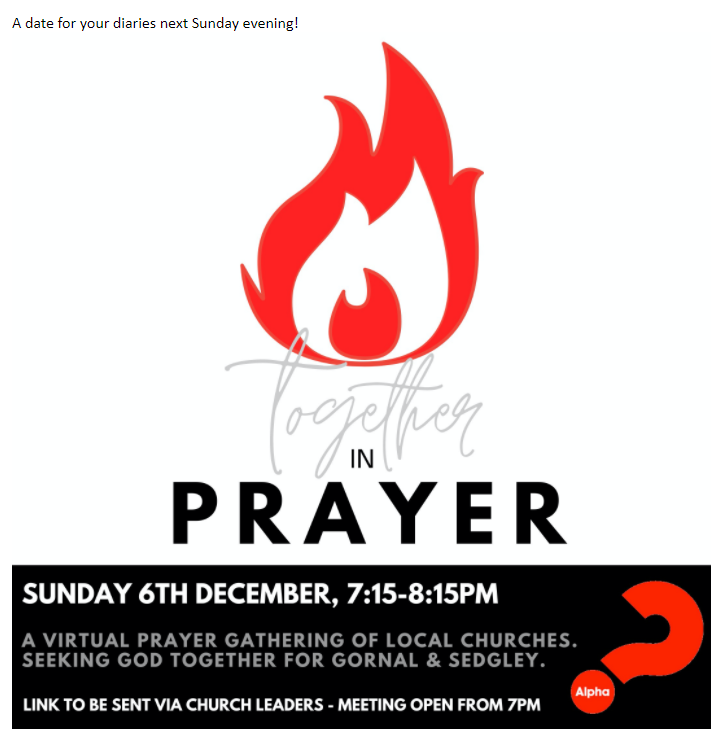 ARMISTICE DAY - PRIVATE PRAYER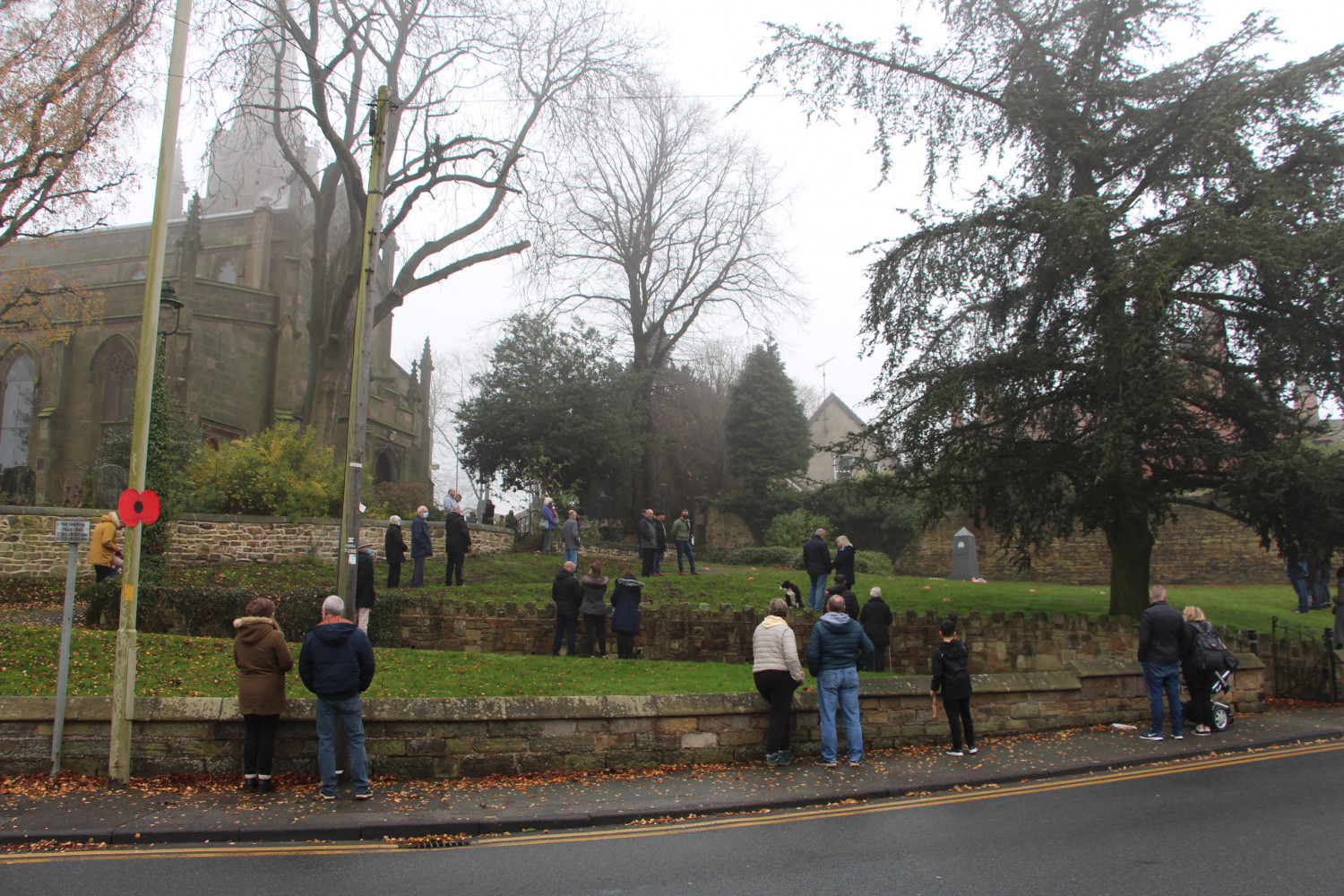 On Armistice Day (Wednesday 11th November 2020), All Saints' Church will be open for private prayer from 10.45am - 11.15am.
Church services are prohibited under Lockdown Regulations; however at 11am a recording of the Last Post will be played from inside church with the doors open; there will be a 2-minute silence; and the Reveille will then be played.
There is no official gathering in Gospel End Street Gardens around the War Memorial, but as they did on Remembrance Sunday, people may wish to gather informally, observing social distancing, to pay their respects to those from the village who gave their lives.
St Andrew's Church The Straits will also be open for private prayer from 10.45am - 11.15am.
SEDGLEY VILLAGE WAR MEMORIAL DEDICATED 8/11/20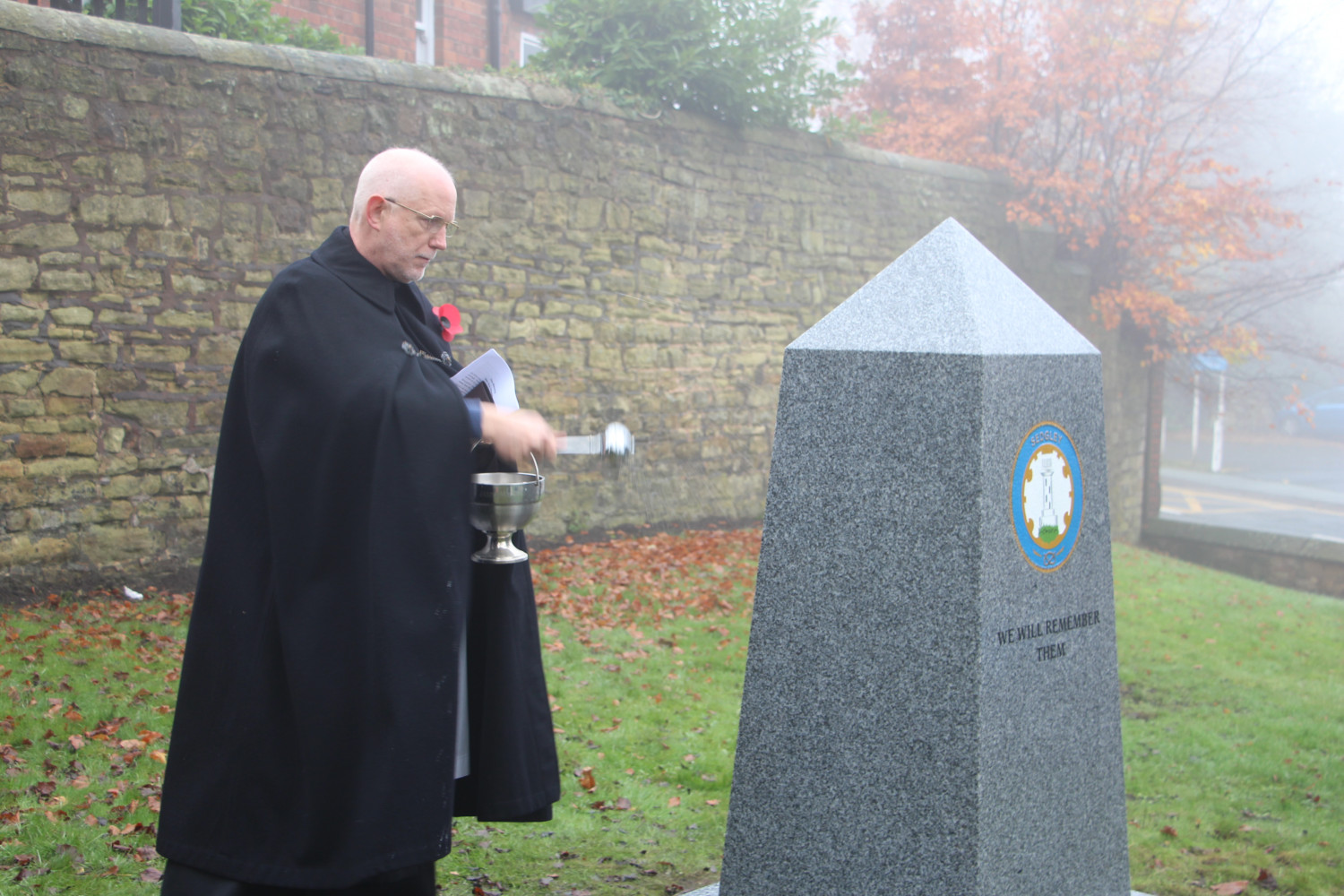 Revd Guy Hewlett blesses the newly-installed Sedgley War Memorial in Gospel End Street Gardens, using the church's 'aspergillum' on 8/11/20.
At 10am on Sunday 8th November 2020, the organising group who enabled Sedgley Village War Memorial to be purchased, sculpted and installed, gathered for the dedication of the memorial in Gospel End Street Gardens.
The group consisted of:
Cllr Tina Westwood
Cllr Mike Evans
Revd Guy Hewlett
Ian Dallaway and Julia Brown of Sedgley Ex-Servicemens Club
Bob and Becky Hill of Sedgley Royal British Legion.
Very many thanks from everyone in the village for your persistence and hard work.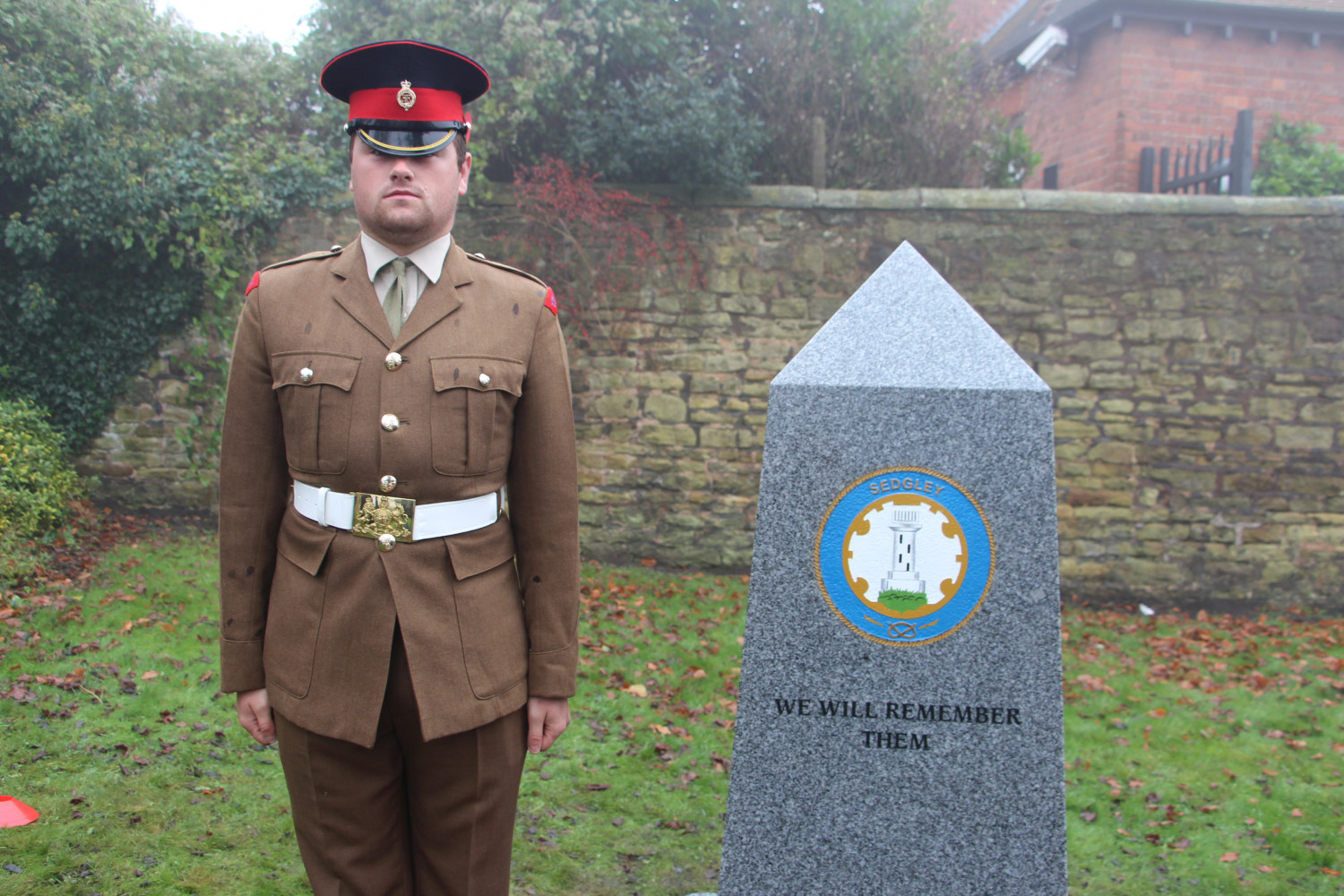 Trooper Kyle Peplow of the Household Cavalry with Sedgley War Memorial 8/11/20.
The memorial was blessed by Revd Guy Hewlett, Rector of Gornal and Sedgley Team Ministry and wreaths were laid by local organisations including Sedgley Royal British Legion and Sedgley Ex-Servicemen's Club.
Our MP Marco Longhi attended and laid a wreath.
Trooper Kyle Peplow of the Household Cavalry, based in Bulford -but born and raised in Sedgley, also attended.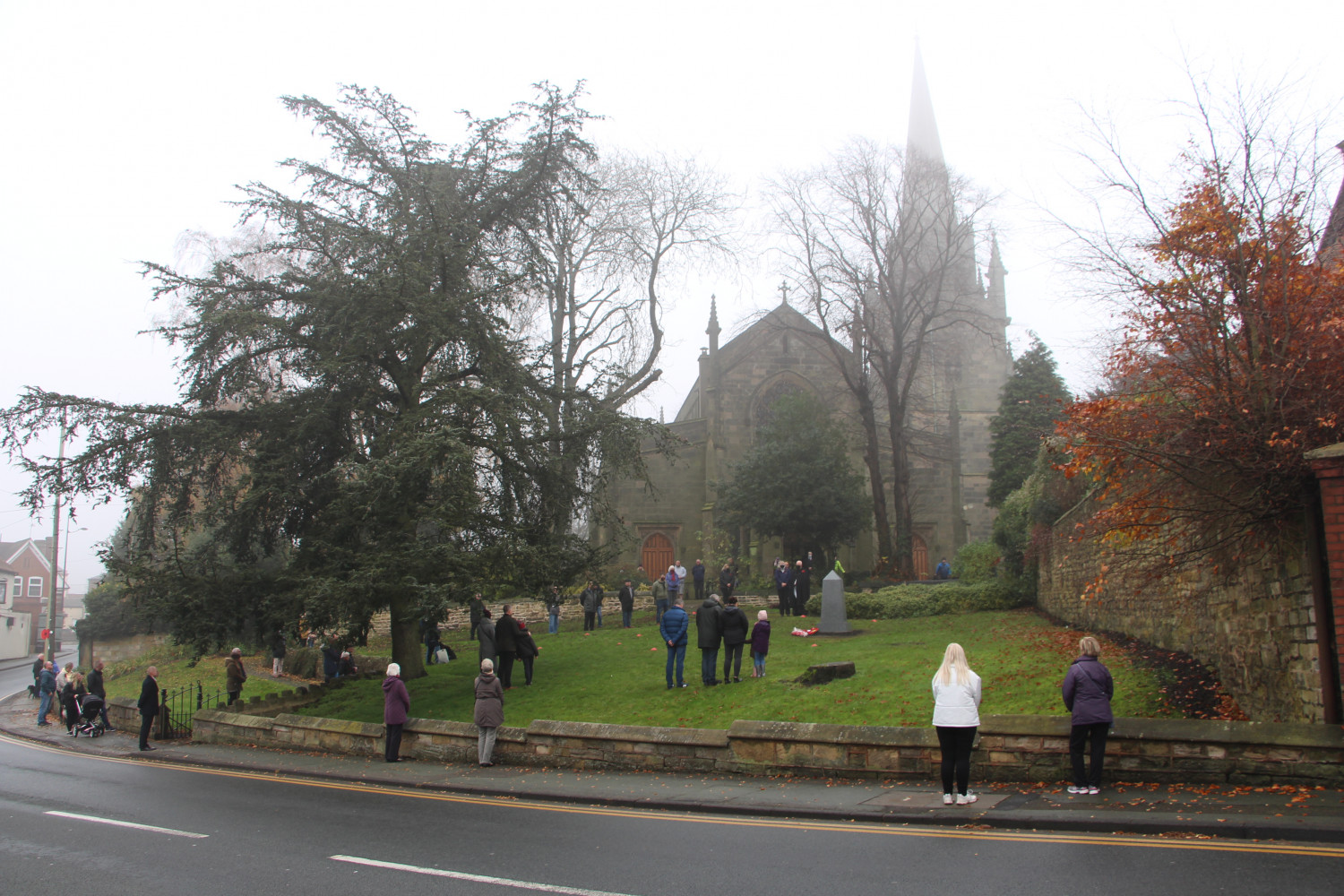 The informal gathering in Gospel End Street Gardens around the War Memorial for the 2-minute silence on 8/11/20.
Later, just before 11am, local people gathered informally in a socially-distanced manner in the gardens around the memorial. The Last Post was sounded; the Two Minute Silence was observed; then Reveille was sounded (recordings were played from inside the church).
The Church was open from 10.30am - 11.30am for private prayer.
Photos of the Dedication of the War Memorial at 10am; and the informal gathering for the 2-minute silence at 11am
ST PETER'S UPPER GORNAL - REMEMBRANCE SUNDAY VIDEO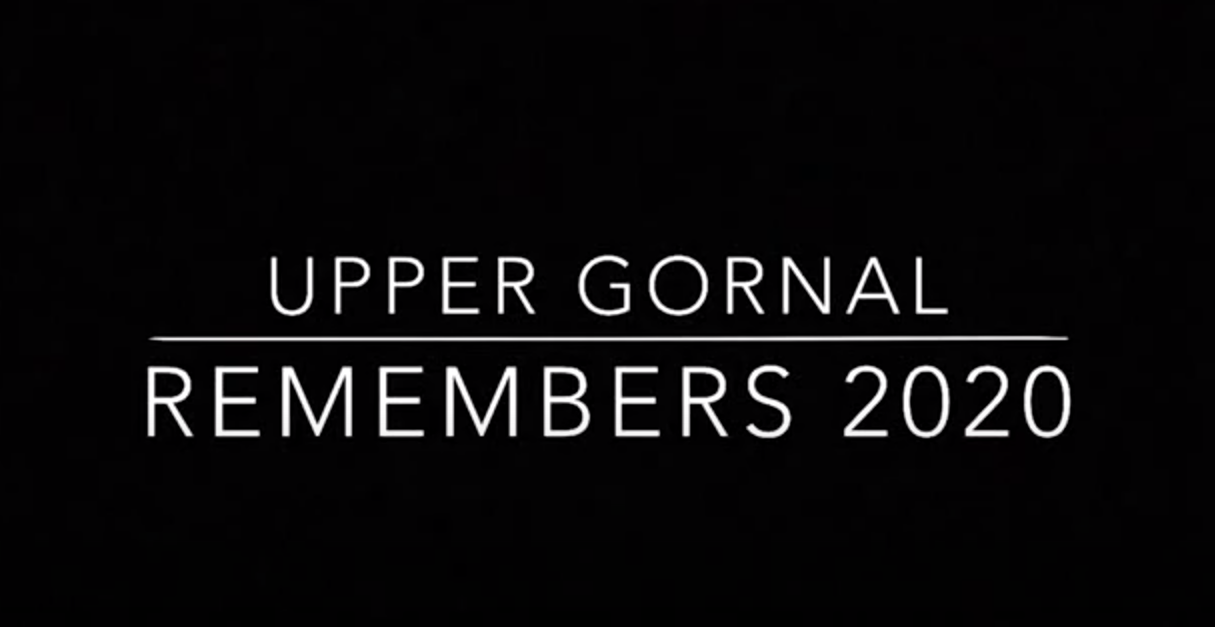 People in Upper Gornal have been working very hard to establish a permanent memorial to their war dead.
Led by local councillors they have built a wonderful memorial in Upper Gornal Shopping Precinct, to which the names of the local fallen will be added at a later date.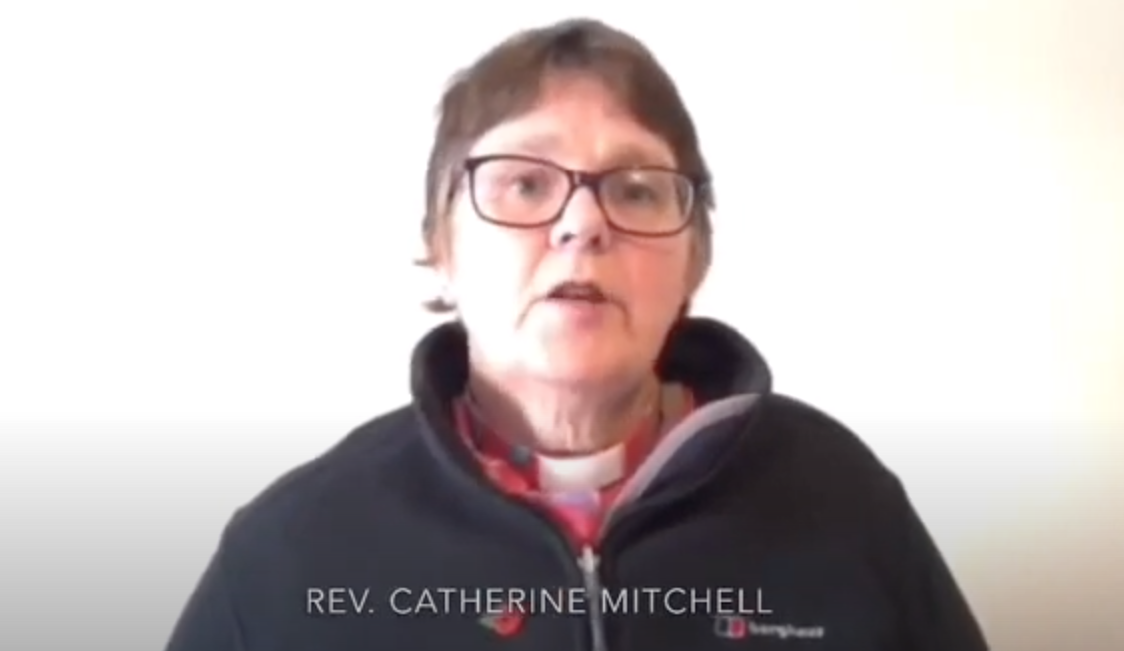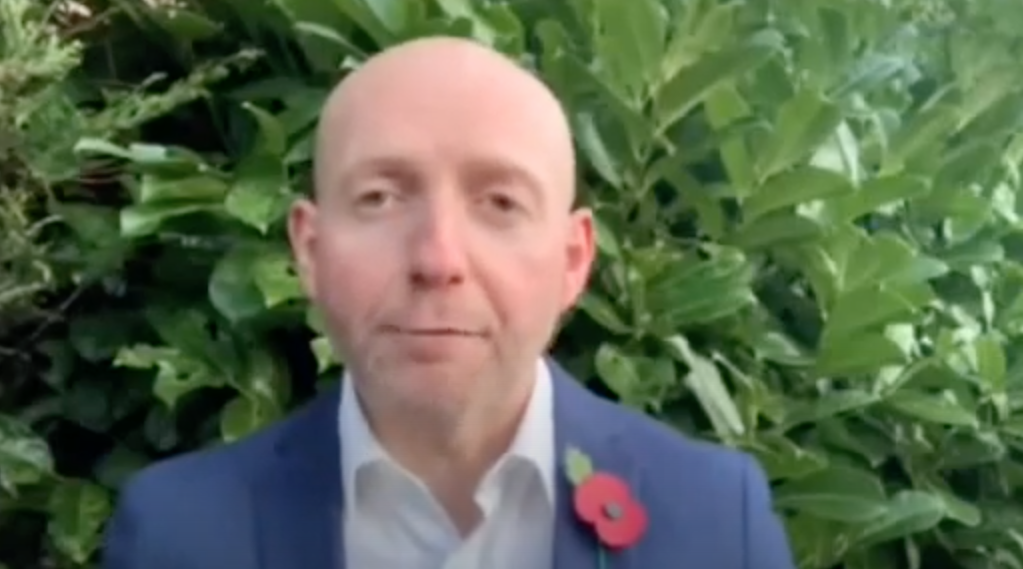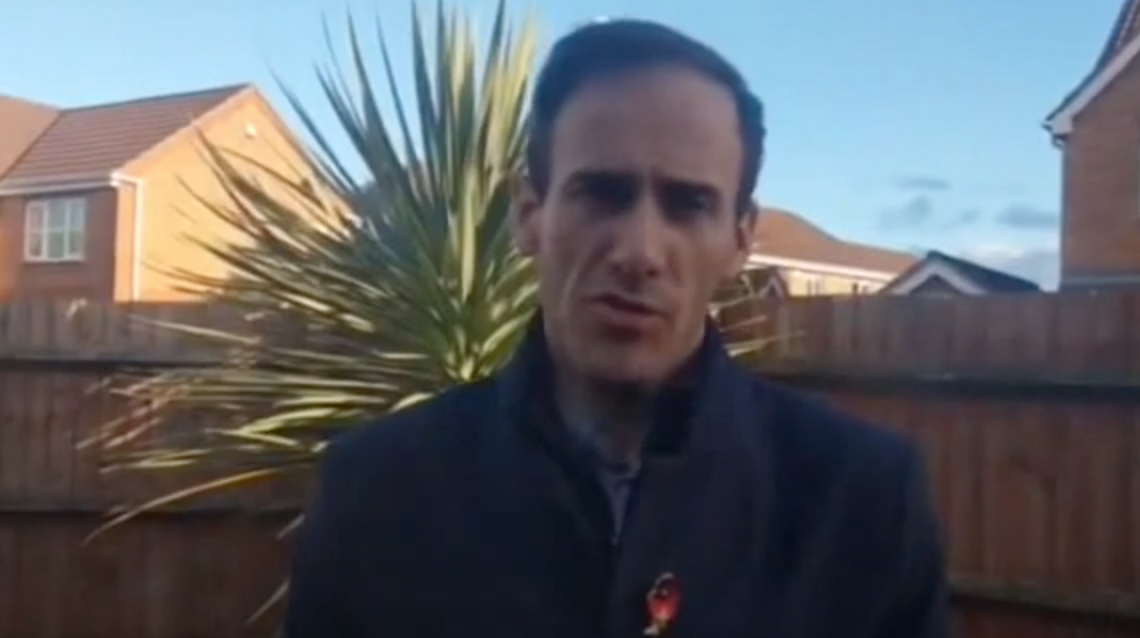 Each year at the Remembrance Sunday Service in Upper Gornal, the names of those who paid the ultimate sacrifice during the First and Second World Wars are spoken aloud to honour them. Alas services are prohibited under the new lockdown rules - however, in the lead-up to Remembrance Sunday various groups in the area came together via Zoom to create a video for the day, introduced by Revd Catherine Mitchell, that includes a reading of the names of those local people who gave their lives in World War I, World War II and other conflicts:
Upper Gornal Remembrance Sunday Video
OUR VILLAGE WAR MEMORIAL INSTALLED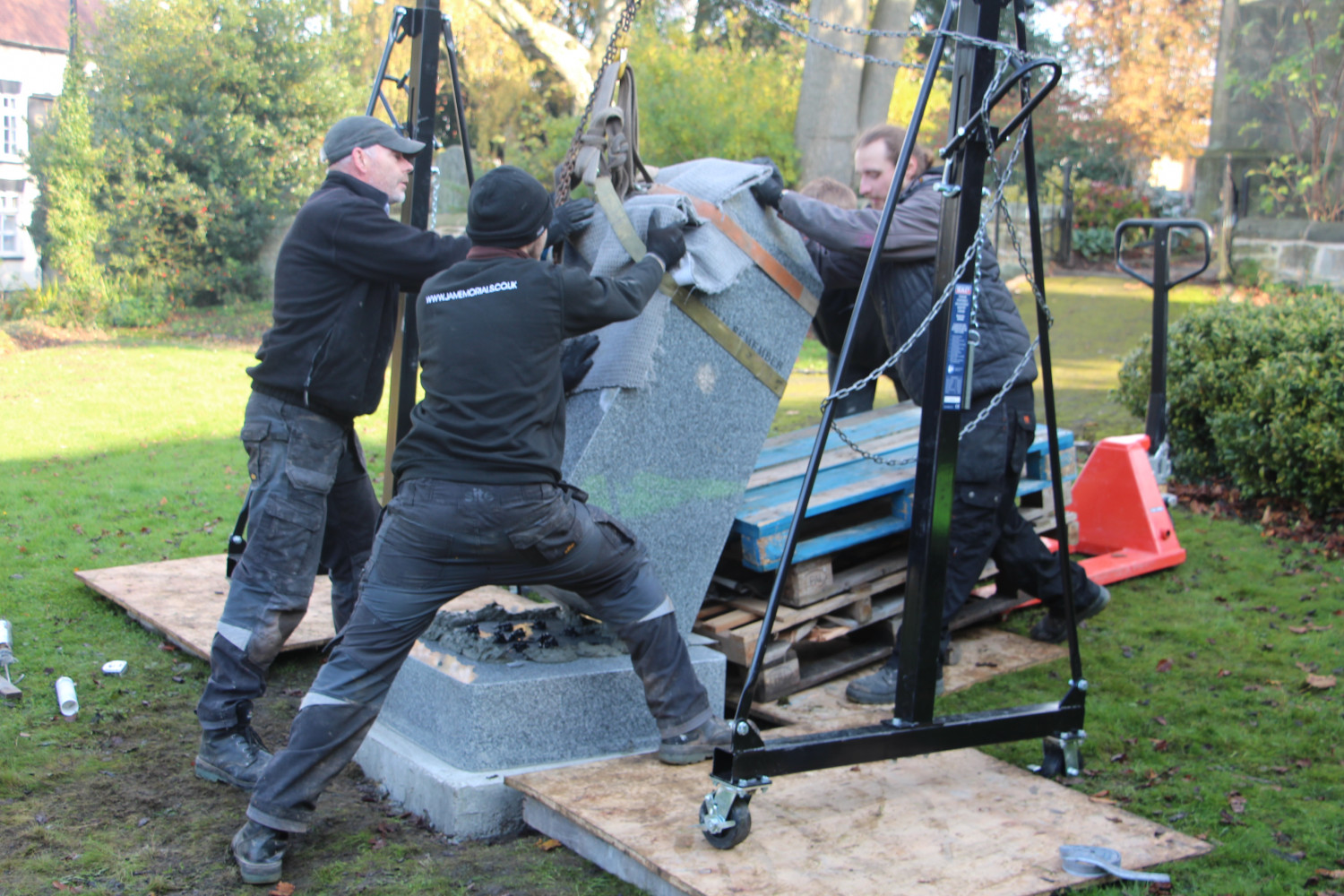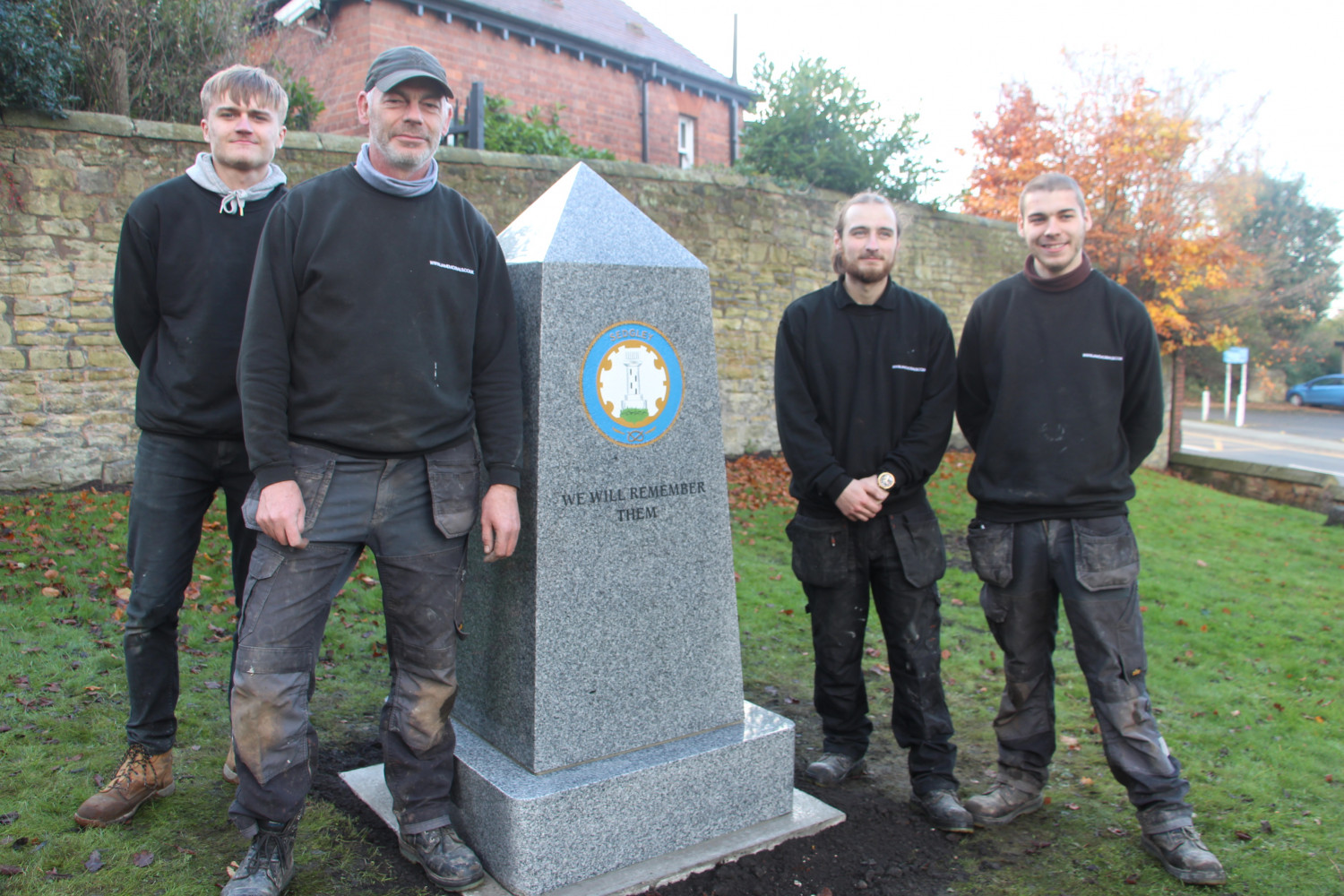 The new Sedgley village war memorial was installed on the morning of 6th November 2020 by J and A Monuments of Blackheath, in time for Remembrance Sunday on 8th November 2020, the 75th anniversary of the end of World War II.
It's a beautiful structure, with a high-quality granite base and obelisk fashioned in stone imported from India. It bears the inscription taken from Laurence Binyon's 1914 poem 'For the Fallen': 'We Will Remember Them' on the front and rear faces.
The memorial was organised by a committee consisting of Cllr Mike Evans, Bob and Becky Hill of Sedgley RBL, Sedgley Ex-Servicemen's Club, and Revd Guy Hewlett of All Saints'.
It was funded by the Sedgley Community Fund, the Ex-Servicemen's Club, and by a private donor.
Installation of Sedgley Village War Memorial 6th November 2020
LIGHTING THE CHURCH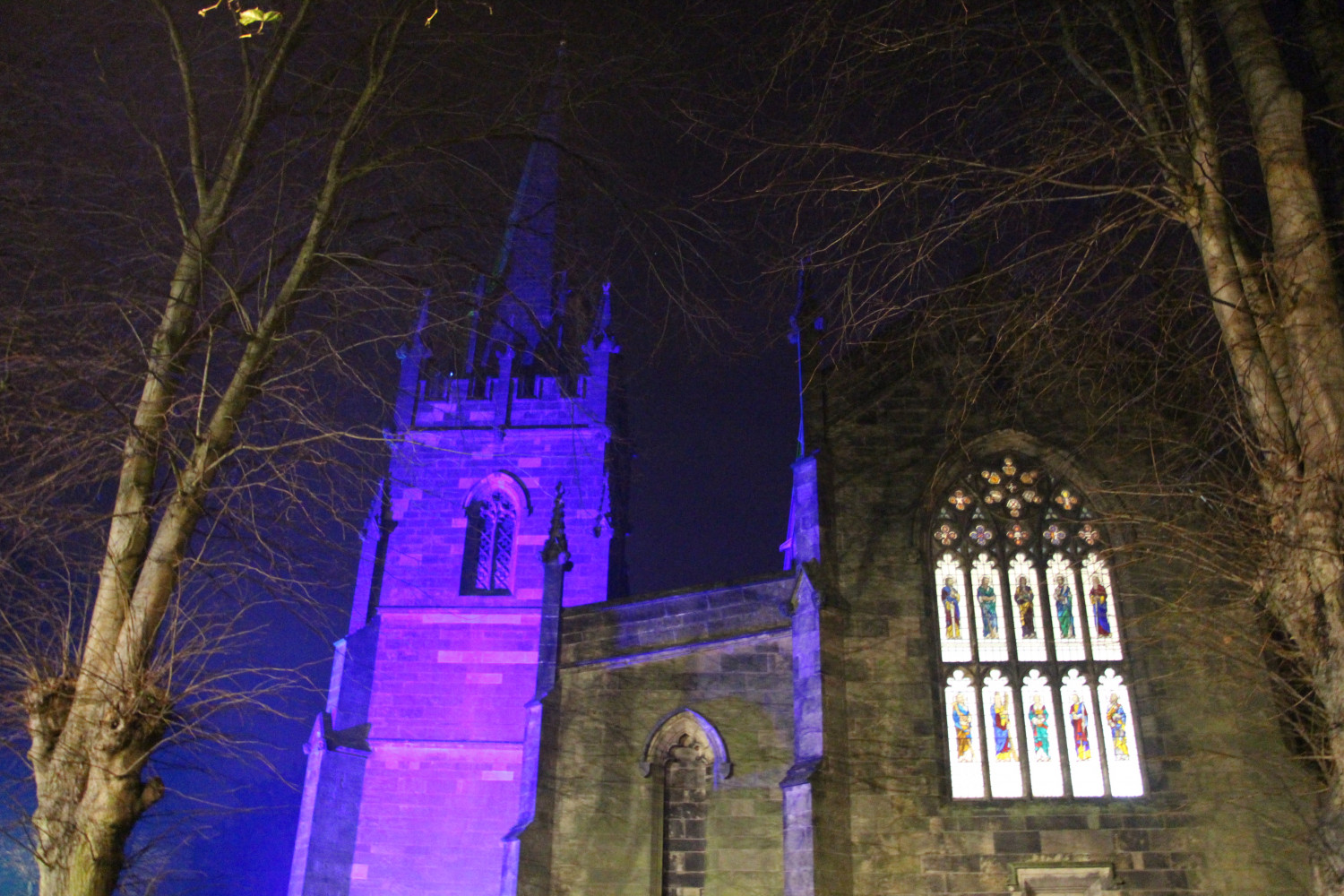 All Saints' took part in a wonderful borough-wide event to thank the NHS and other key workers, on the 'Light Up Dudley' evening.
While firework displays exploded in the sky above the Beacon and Sandyfields Golf Club, green and blue floodlights were projected onto the south face of the church between 6.30pm and 9pm on Thursday 5th November 2020.
The result was stunning, and many stopped their cars to take pictures.
More pictures of Lighting Up Dudley at All Saints'
A 'VIRTUALLY' SUCCESSFUL ANNUAL PAROCHIAL CHURCH MEETING!
Our annual parish meeting on Tuesday evening 20/10/20 was conducted partly in person in church, and partly via Zoom. There were about 6 people present in church, and around 14 virtually, on Zoom.
This was very much a first for us, and everything went very smoothly, with people indicating their approval to the various reports by raising their thumbs!
THE ALPHA COURSE IS COMING SOON!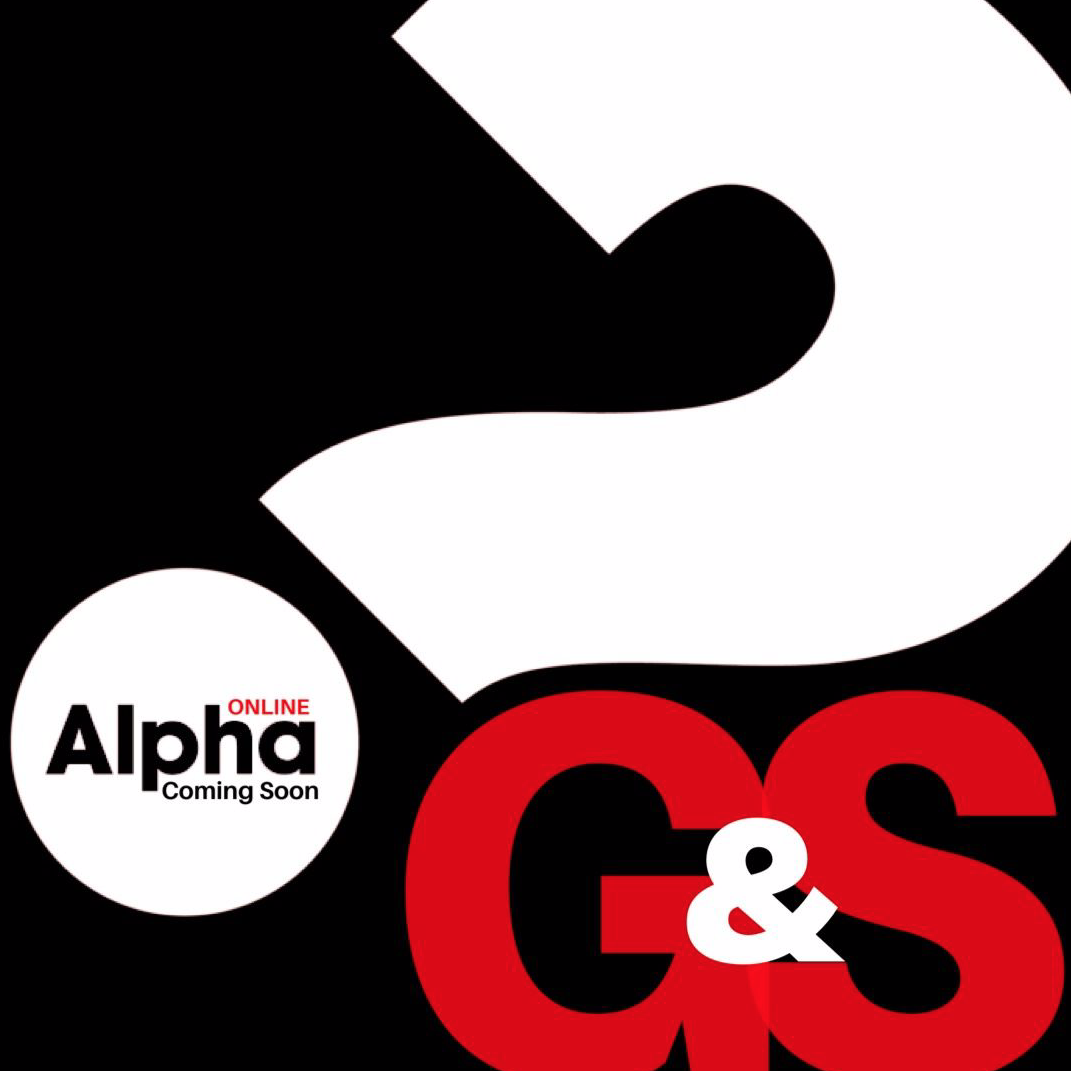 Coming Soon - Alpha Online - hosted by Gornal and Sedgley Churches.
In the new year we are excited to be part of this online Alpha course, in conjunction with other churches in the Gornal and Sedgley area.
Please watch out for more information in the coming weeks.
HARVEST FESTIVAL 11TH OCTOBER 2020!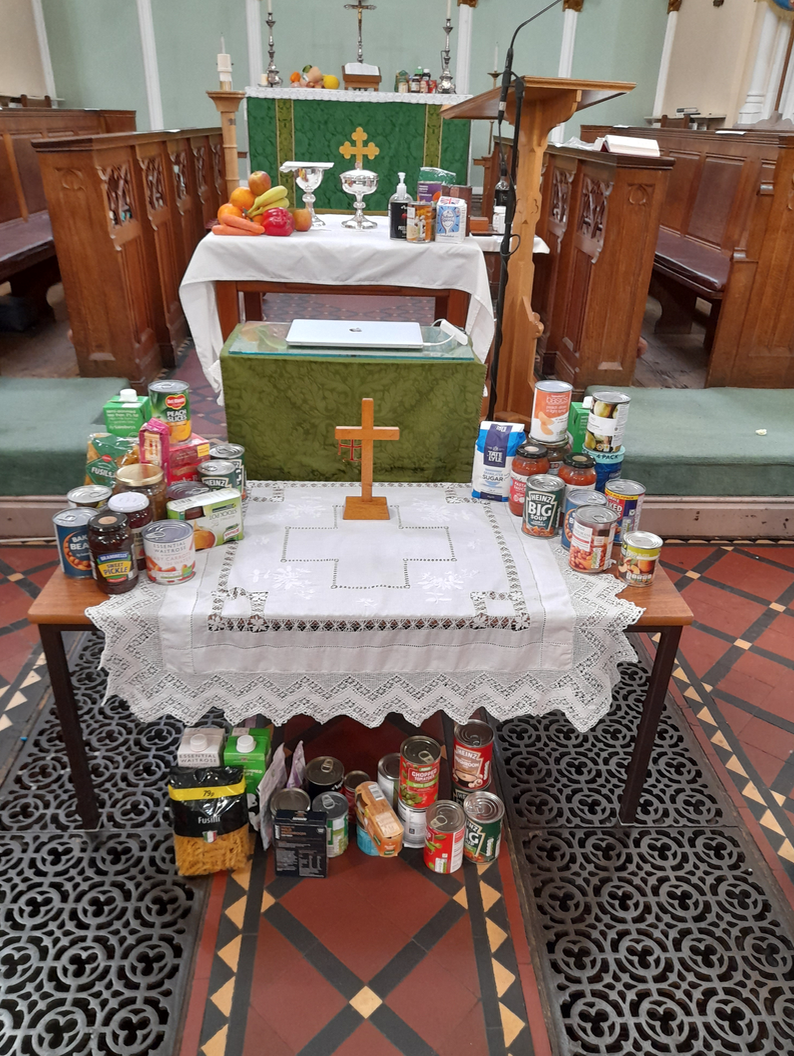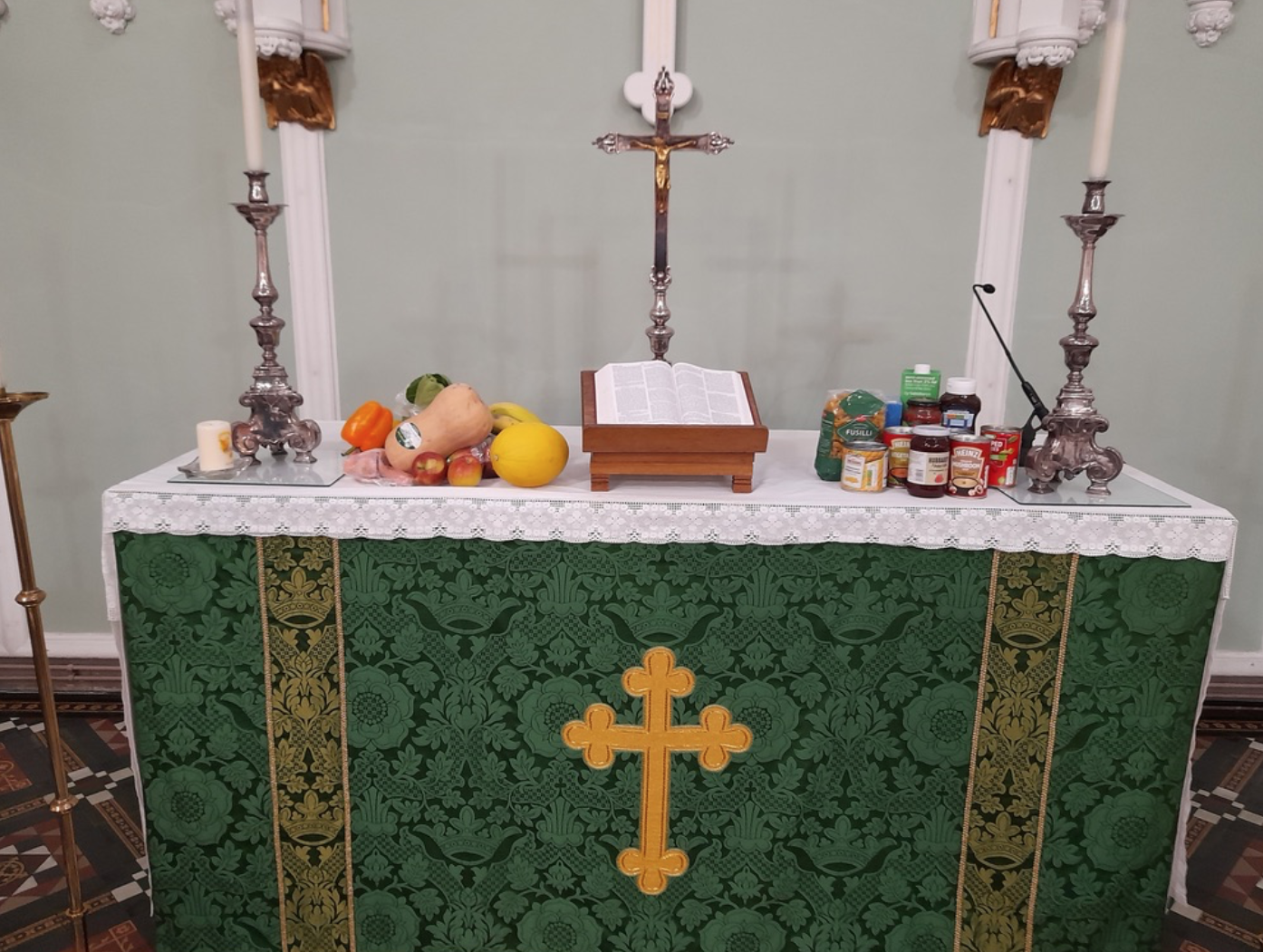 Here are a couple of photos of the displays for Harvest Festival Service held at All Saints' on 11th October 2020. Thank you for your generous donations, which will be taken to the Food Bank.
FAREWELL KEN AND IVY SLATER!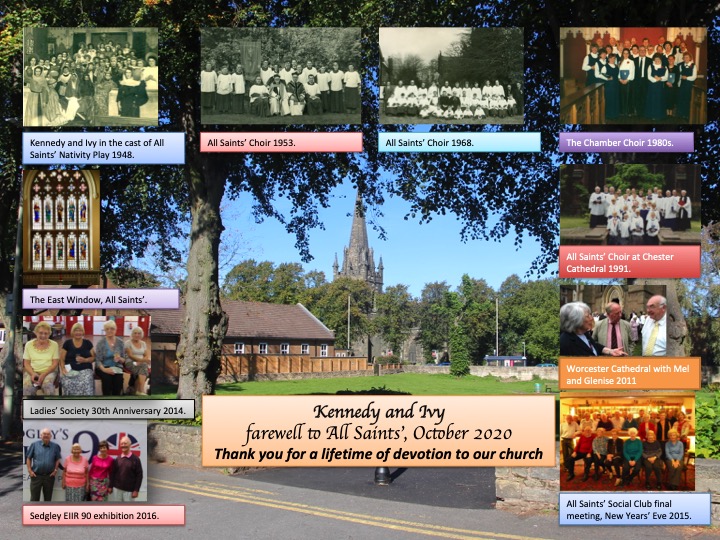 Ken and Ivy Slater were first pictured together as children on a 1948 photo of All Saints' Nativity Play.
They married at All Saints', and both continued to play a major part in the life of the church all their lives - they will be especially remembered for Ken's membership of the choir and Ivy's founding of the Ladies' Society.
They are moving out of the area to live in a flat nearer their relatives in Wales.
We would like to thank them for their outstanding contribution to the life of our church.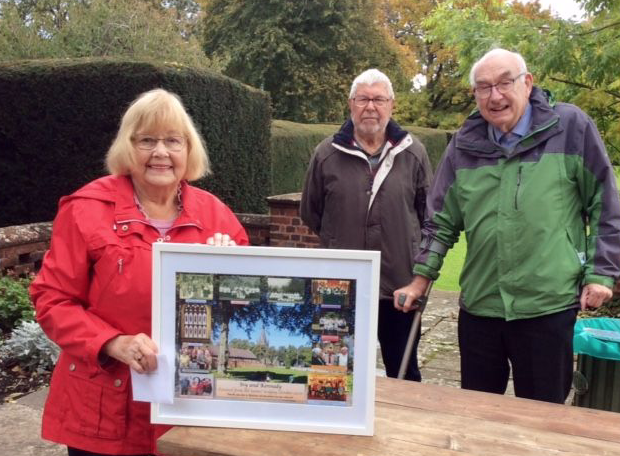 Ivy and Kennedy receive their presentation 'collage' memento of scenes from their lives at All Saints' from their friends, at Himley Hall on 9/10/20.
All Saints' Church and Sedgley Village are infinitely better places for this wonderful couple!
A better quality PDF version of the collage is available here:
THE BISHOP'S CERTIFICATE COURSE 2020-21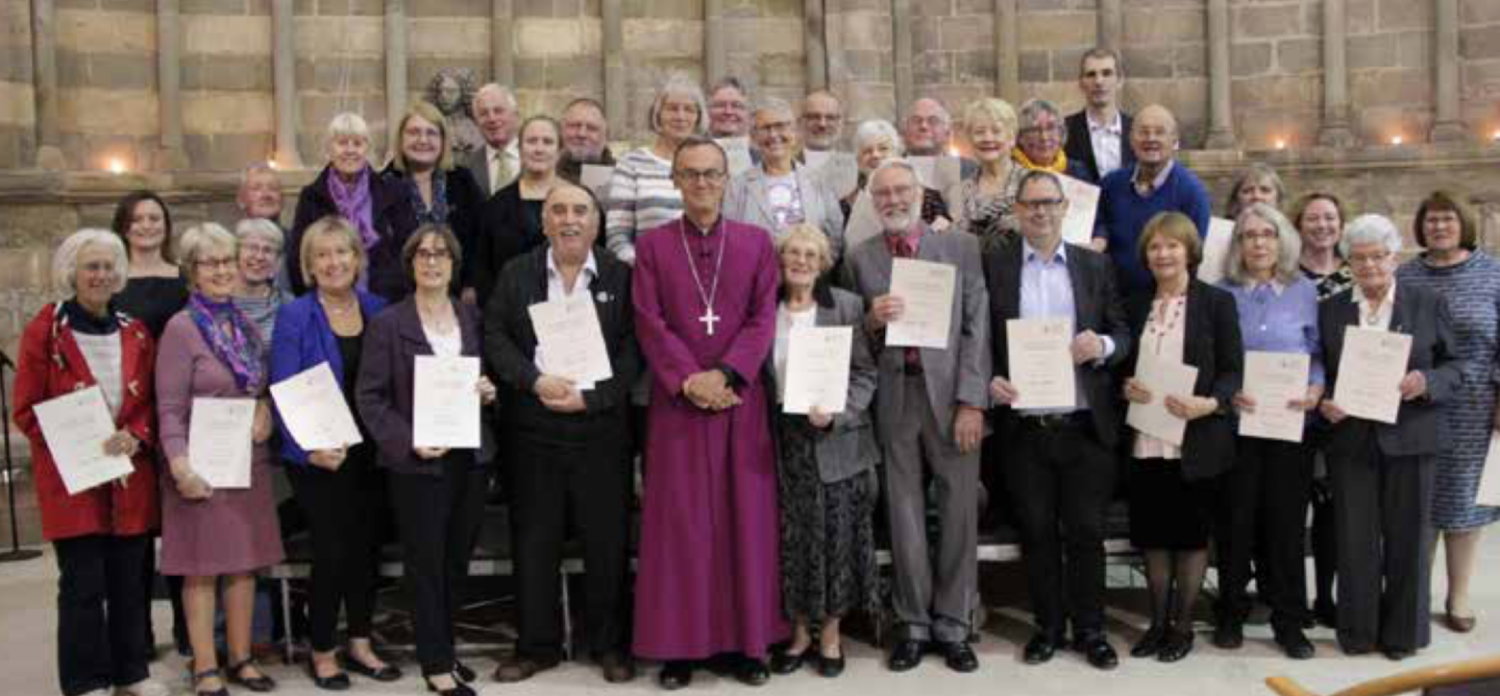 If you're interested improving your knowledge of Christianity, the Bishop's Certificate is highly recommended. Several members of our congregation have enjoyed and benefited from following the course in the past.
Given the present cicumstances with Covid-19, it will be conducted using Zoom (rather than in person).
The Diocese of Worcester has asked for those interested in doing the course to register their interest, so they can assess the best way to deliver the course in the light of the current situation.
To read more about the Bishop's Certificate on the Diocesan website, and to download a leaflet and poster:
Bishop's Certificate Diocese of Worcester
If you'd like to register your interest, please email:
training@cofe-worcester.org.uk
A NOTE FROM THE DUDLEY HEALTHY COMMUNITIES TEAM ABOUT LOAN SHARKS

We have been asked to display this article warning against loan sharks in the present Covid 19 environment:
A warning about illegal moneylenders/ loan sharks
A MESSAGE FROM OUR TREASURER JOHN ANDERSON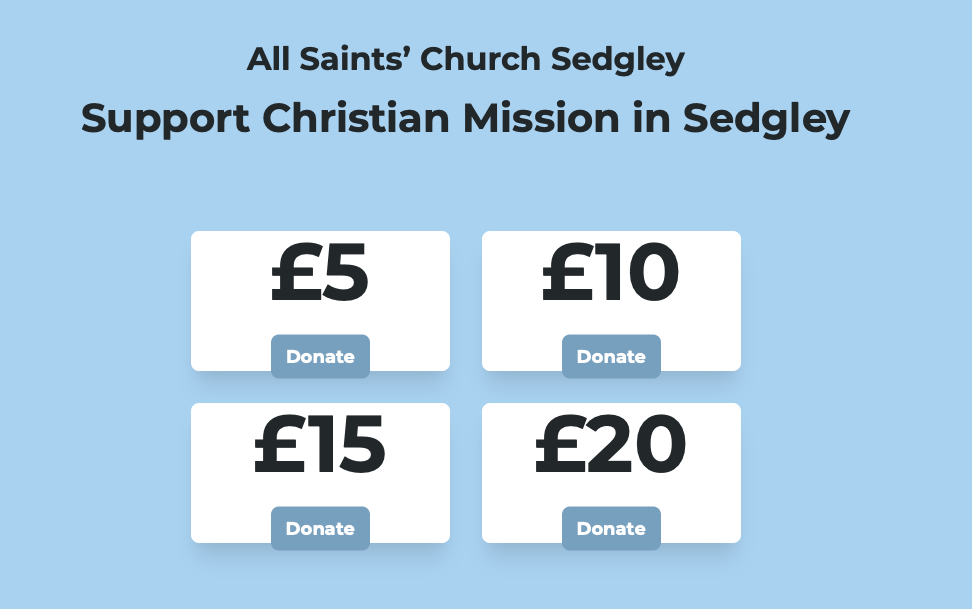 All Saints' regular giving by churchgoers via 'plate' donations at services has declined during Covid-19.
You are encouraged to assist the church by making an online donation- so please help if you can.
A website for online church donations has been set up. Here is the link:
http://tinyurl.com/allsaintsgivealittle
Scanning this 'QR code' on a Smartphone to make a donation
You can also scan this QR code using your Smartphone - press 'thyngs' to donate - it gives you the option of gift-aiding your donation.
Use your camera and point it at the QR code and it should bring up the donation site.
Note: this will only work if you have an up-to-date Smartphone with the camera enabled for scanning.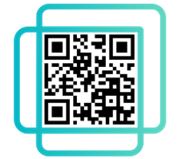 You can also donate by Standing Order, or make a one-off BACS payment.
Name of account: PCC of Sedgley All Saints
Sort code: 20 27 17
Account number: 90687308
You can also use the contactless terminal at All Saints' Church.
PRAYING AND MEETING TOGETHER DURING THE CRISIS - USING ZOOM
During the Covid crisis we are using 'Zoom' to 'meet virtually', via the internet.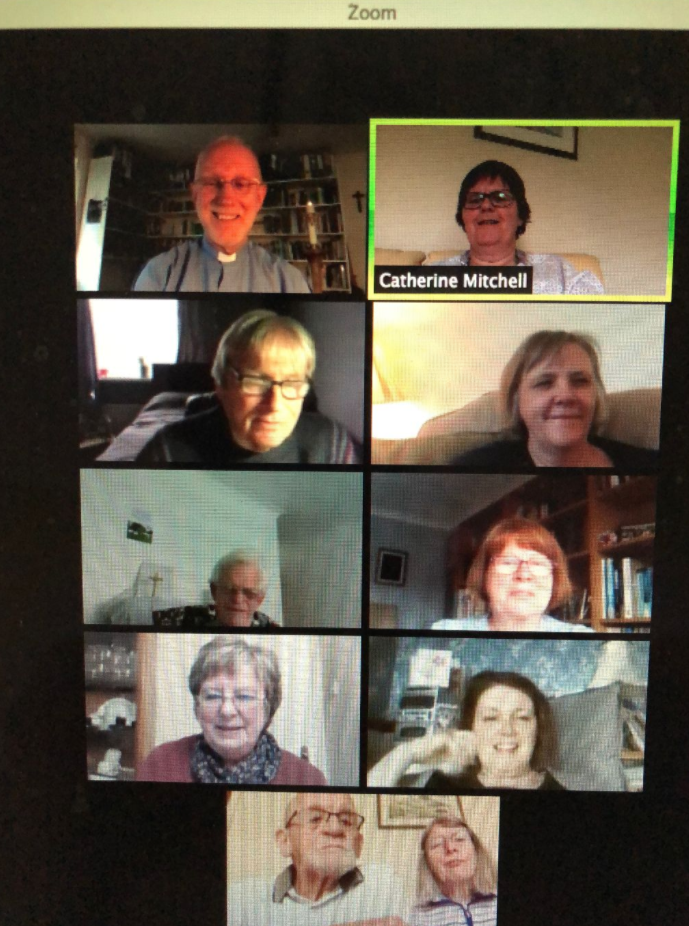 We continue with our programme of online services and meetings on Sundays and during the week, using Zoom:
9:30am prayer/worship on Zoom - this is available through the email News Groups and includes links to hymns and a printed sermon and is usually emailed out on the Saturday before.
Not on Zoom - 10.30am Worship at home - the liturgy is emailed to the Newsgroups.
11:45am Zoom coffee fellowship – bring your own coffee to your computer and see and hear some of your church friends; for about 40 minutes.
6:30pm Compline on Zoom, about 20 minutes. A quiet and reflective service.
Thursday 8.00pm Fellowship Group on Zoom and open to all. We spend some time with each other and reflect on a scripture reading.
Tuesday/Wednesday/Thursday 9:15am Parish Prayer on Zoom – an informal time of prayer as when we're meeting in our buildings, where we share the Gospel reading for the day and pray quietly for about 15 minutes.
To participate please contact Gail at the Parish Office -
Phone number: 01902 540289
SAFEGUARDING
The Parish of Gornal and Sedgley takes the issue of safeguarding very seriously.
Ensuring that children and young people as well as adults are kept safe whilst in our care is an integral part of our church life.
If you or someone you know feels unsafe a list of people who can help is available on this link:
People to contact if you feel unsafe
Discussing and/or booking a Wedding or Baptism
Our Facebook site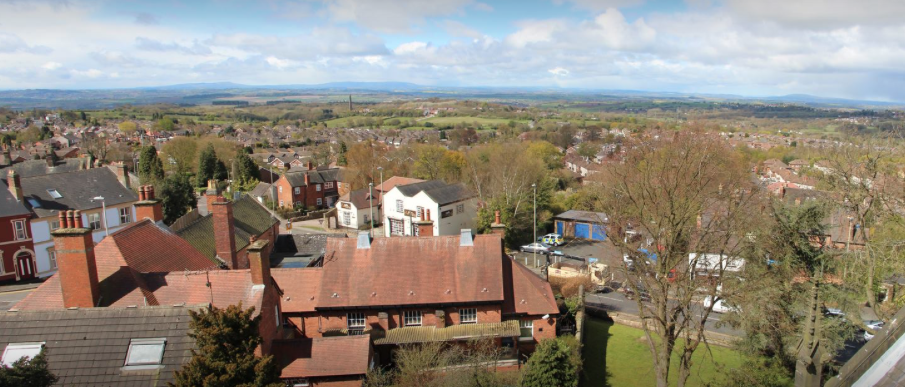 Our Facebook site provides an added facility for communicating with other members of our church community and with our Team Ministry.
PARISH OFFICE
Address:
All Saints' Parish Office
Ladies Walk
Dudley
DY3 3UA
Phone number: 01902 540289
Our Administration Assistant is Gail Griffiths.
Other contact email addresses:
Keith Tomlinson, Churchwarden:
churchwardenkeith@allsaintssedgley.co.uk
John Anderson, Treasurer and Churchwarden:
treasurer@allsaintssedgley.co.uk
Jenny Lavender, Assistant Treasurer:
asstreasurer@allsaintssedgley.co.uk
Our website
If you'd like to contribute any information about forthcoming church events, write an article, or correct anything on the site, please send your information to Martin our website editor.