Welcome to the Gornal and Sedgley Team Ministry website.
Our parish includes All Saints' Church in Sedgley, St Andrew's in The Straits and St Peter's in Upper Gornal.
We've been a team ministry since 2005: team working allows us to provide spiritual and pastoral care to a wide area including Upper Gornal, the Straits and Sedgley.
We look forward to meeting you at one of the churches in our parish soon.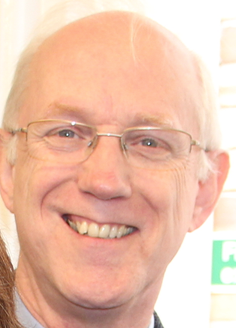 Revd Guy Hewlett (Team Rector, Gornal and Sedgley Team Ministry)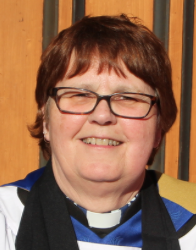 Revd Catherine Mitchell (Team Vicar, Gornal and Sedgley Team Ministry)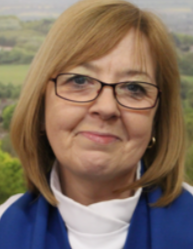 Canon Jan Humphries (Licensed Lay Minister, Gornal and Sedgley Team Ministry)
Gornal and Sedgley Team Ministry
SERVICES AND EVENTS AT ALL SAINTS'

Click here for a list of services and events at All Saints'
Please notify us of any services or events that are missing from the listings.
THE BEACON CHURCH MAGAZINE
The Beacon Parish Magazine December/January 2018
LATEST CHURCH NEWS FROM THE PEWSHEET
All Saints' pewsheet 13th January 2019
Our Facebook site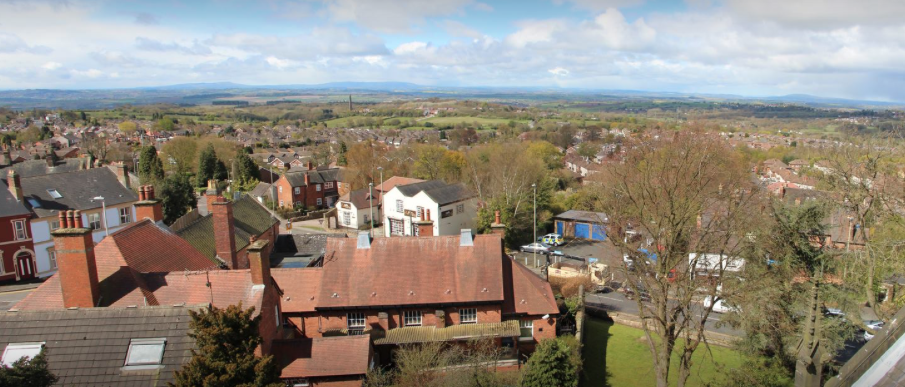 Our Facebook site provides an added facility for communicating with other members of our church community and with our Team Ministry.
Who's Who at All Saints' - updated 14/1/19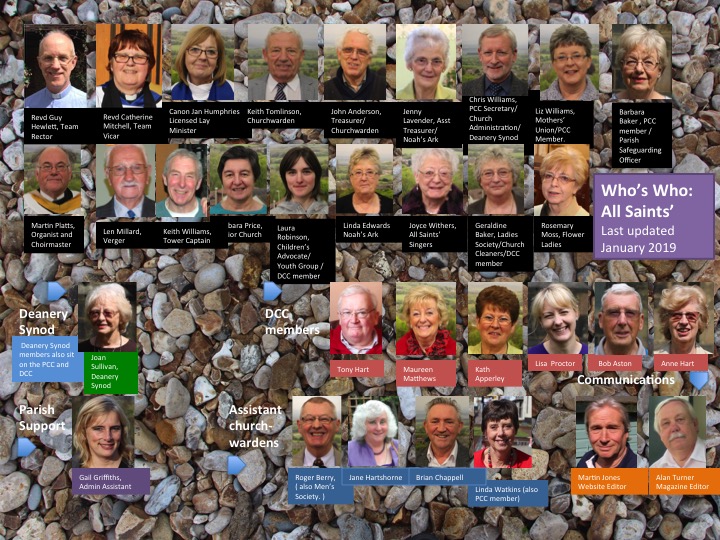 All Saints' Who's Who, January 2019
Click on the image above to view an enlarged version.
...........................................................................................................................................................
A REVIEW OF THE YEAR IN PICTURES, 2018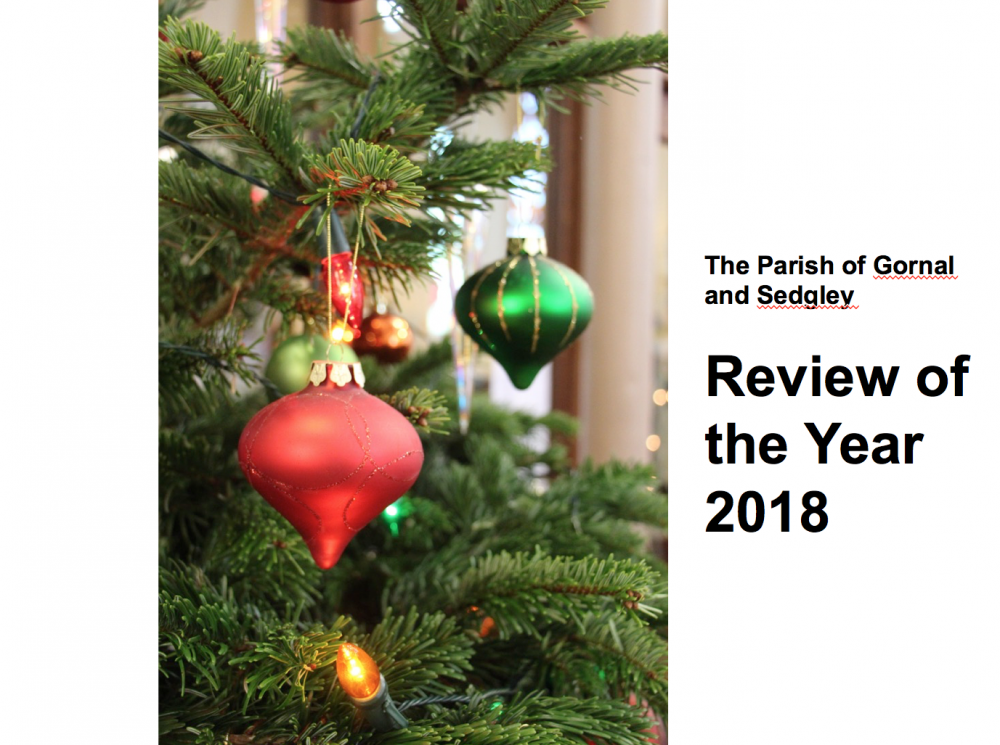 We've chosen a selection of images to represent some of the services and social activities of the Parish in 2018. If you have any photos or information you'd like to add, please let us know.
RON BAKER - TRIBUTES PAGE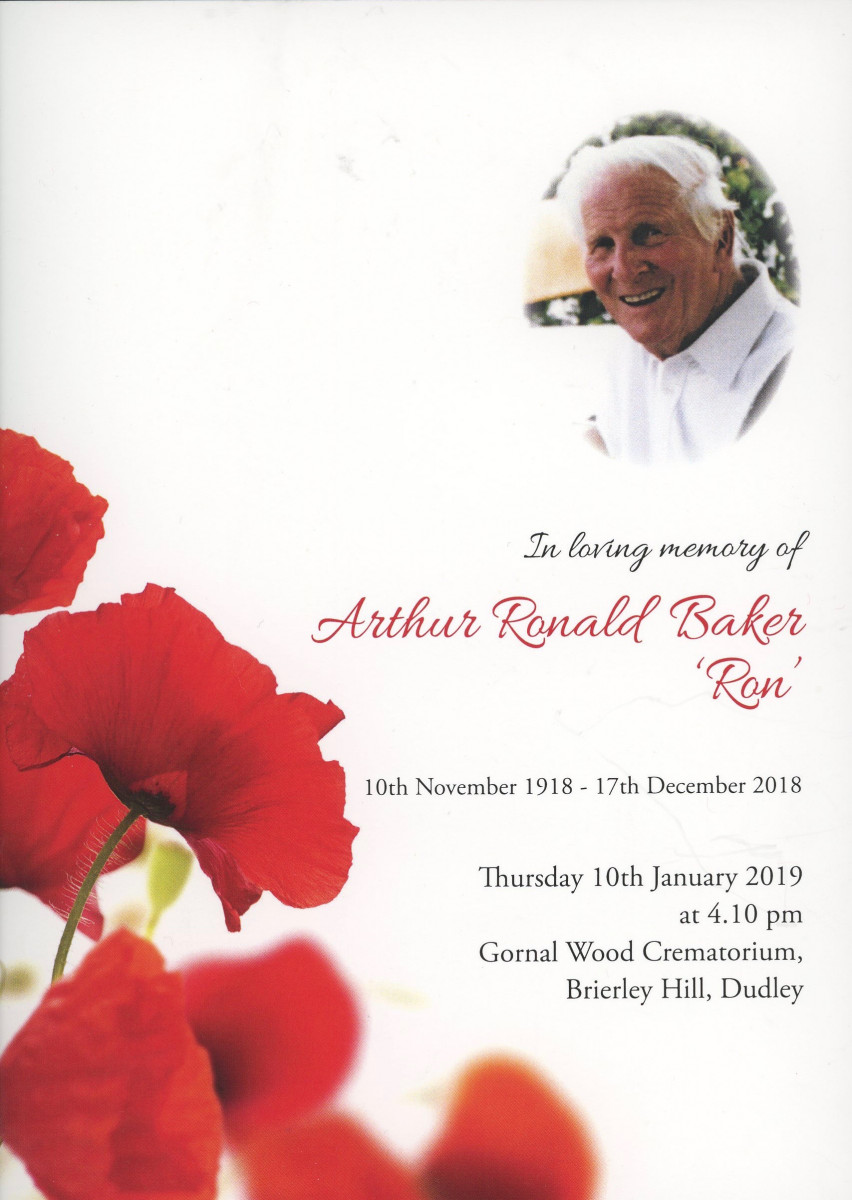 Ron's service sheet.
Ron Baker's funeral and cremation took place on Thursday 10th January 2019 at Gornal Wood Crematorium.
We've started a tributes page on this website, where local people can contribute their memories of Ron's life.
If you'd like to send your memory, please email Martin: mmjones29@blueyonder.co.uk
ALL SAINTS' CHURCH ARCHIVE - MANY THANKS!
Thank you to Tony Wright who has supplied a collection of photos covering All Saints' social activities, including the Walking Club and Skittles nights, for our Church Archive.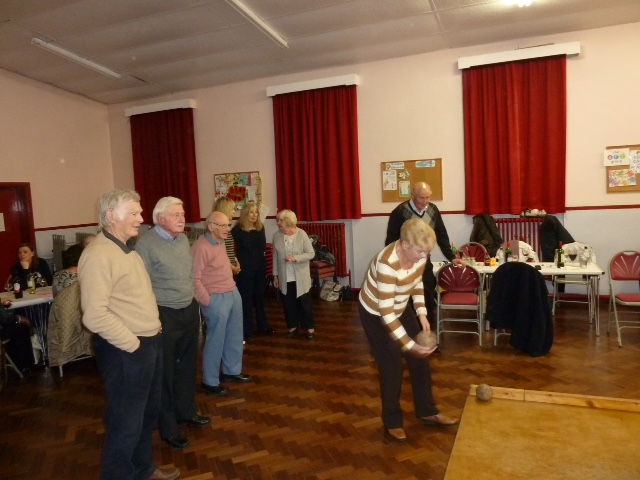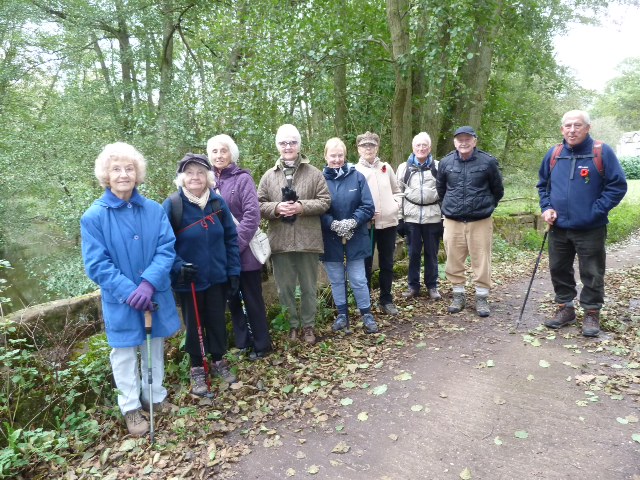 Our review on Friday.....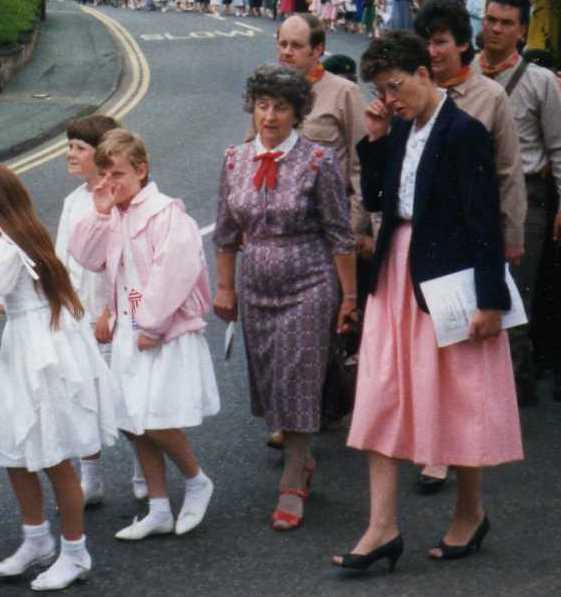 A Sunday School Parade in the late 1980s - featuring two of the teachers: Margaret Castle and Liz Williams.
Many thanks to everyone who contributed names and memories for All Saints' Church Archive at our Friday Coffee Morning on Friday 21st December 2018. We looked at over 200 images selected to represent the spread of church activities, from worship to social groups, as well as reviewing the many members of our clergy and lay helpers over the years.
Participants included Liz and Chris Williams, Pam Parton and Margaret Woodhall; memories in some cases reached right back as far as 1942!
The enlargement of images made possible through using a projector and screen helped us to identify many previously unnamed past members of the congregation.
One fascinating feature to emerge was the number of different roles undertaken by Mrs Sargeant, wife of Vicar Sargeant 1946-57. She appears in photos with Mothers' Union; The Guides and the Sunday School teachers and we assume she took an active part in all of these groups!
Backgrounds to photos are also intriguing - we were able to identify certain parts of Sedgley through which various Sunday School parades passed.
We were also able to review the classification categories for our Archive.
UPDATING AND ADDING INFORMATION
There's now quite a sizeable task to transcribe the raft of new audio information into text format, after which we will commit the images and captions to the formal archive at Dudley Archives.
There is still time to add to or correct the drafts we're working on to produce a first version of our church archive:
Draft Part 1 - All Saints' Church Archive images and captions 2019
Draft Part 2 - All Saints' Church Archive images and captions 2019
So please let Martin know if you need to correct any text or add any information:
We've cleared the Home Page ready for 2019
However Christmas 2018 content can still be found in the Archive Home Page folder:
Link to Christmas 2018 content
..............................................................................................................................................................
How to book a wedding or baptism:
Baptism and weddings - bookings
If in doubt whether a Vestry Hour will be held at All Saints', and to avoid a wasted trip, call our Parish Secretary Gail:
01902 540289 between 10am-12noon, Monday - Friday.
Parish contact details
PARISH OFFICE
Address:
All Saints' Parish Office
Ladies Walk
Dudley
DY3 3UA
Phone number: 01902 540289
Our Administration Assistant is Gail Griffiths.
TEAM RECTOR
Revd Guy Hewlett
Gornal and Sedgley Team Ministry
All Saints, Sedgley
St Peters, Upper Gornal
St Andrews, The Straits
Phone and email contact details:
Phone: 01902 295164
email: guyhewlett18@gmail.com
TEAM VICAR
The Revd Catherine Mitchell
Team Vicar
Gornal and Sedgley Team Ministry
All Saints, Sedgley
St Peters, Upper Gornal
St Andrews, The Straits
Tel 01902 677897
revcatherinemitchell13@gmail.com
LICENSED LAY MINISTER
Canon Jan Humphries: 01902 661275
Other email addresses:
Keith Tomlinson, Churchwarden:
churchwardenkeith@allsaintssedgley.co.uk
John Anderson, Treasurer and Churchwarden:
treasurer@allsaintssedgley.co.uk
Jenny Lavender, Assistant Treasurer:
asstreasurer@allsaintssedgley.co.uk
The parish office is open 10am-12noon, Monday to Friday.
Information should be sent to Gail by Wednesday for inclusion in Sunday's pewsheet.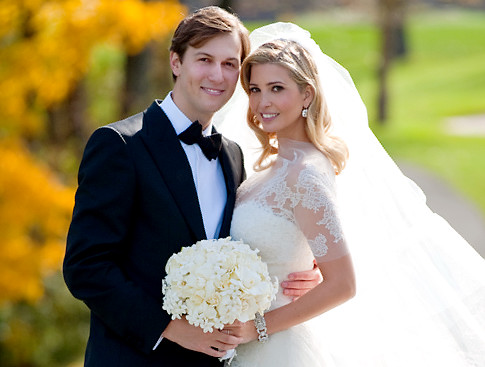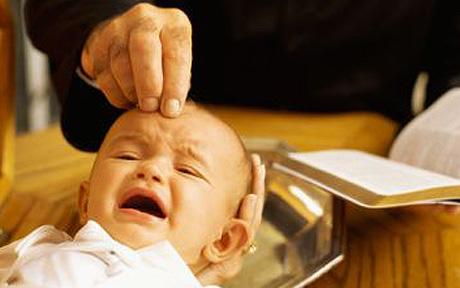 Arranging a wedding or baptism? - click here
Our website
If you'd like to contribute any information about forthcoming church events, write an article, or correct anything on the site, please send your information to Martin our website editor.