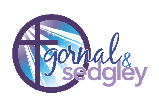 Welcome to the Gornal and Sedgley Team Ministry website.
Our parish includes All Saints' Church in Sedgley, St Andrew's in The Straits and St Peter's in Upper Gornal.
We've been a team ministry since 2005: team working allows us to provide spiritual and pastoral care to a wide area including Upper Gornal, the Straits and Sedgley.
We look forward to meeting you at one of the churches in our parish soon.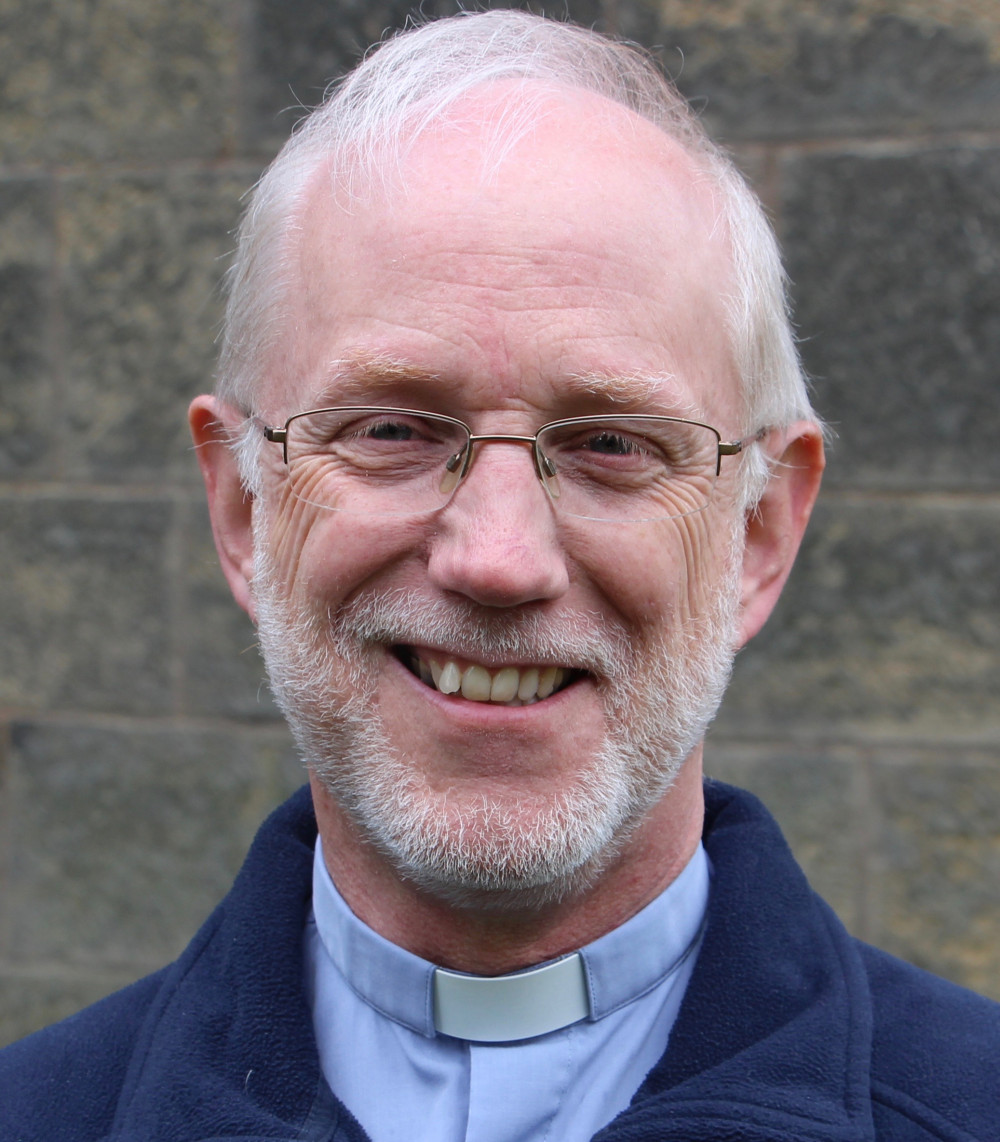 Revd Guy Hewlett (Team Rector, Gornal and Sedgley Team Ministry)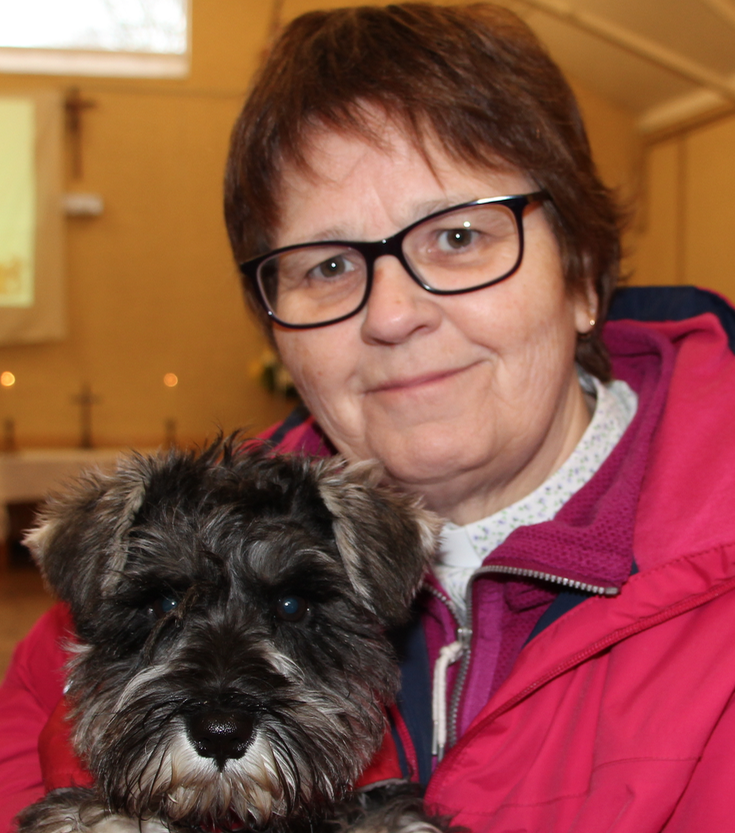 Revd Catherine Mitchell (Team Vicar, Gornal and Sedgley Team Ministry)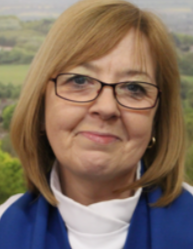 Canon Jan Humphries (Licensed Lay Minister, Gornal and Sedgley Team Ministry)
Gornal and Sedgley Team Ministry
Safeguarding
The Parish of Gornal and Sedgley takes the issue of safeguarding very seriously.
Ensuring that children and young people as well as adults are kept safe whilst in our care is an integral part of our church life.
If you or someone you know feels unsafe the following information may be helpful to you:
In the Parish:
Barbara Baker, Parish Safeguarding Co-ordinator. Tel 01902 882847
safeguarding@allsaintssedgley.co.uk
Revd Guy Hewlett, Team Rector:
Phone: 01902 295164
email: rectorgornalandsedgley@allsaints.co.uk
In the Diocese:
Hilary Higton Safeguarding Adviser
07495 060869
hhigton@cofe-worcester.org.uk
In emergency situation:
Dudley Social Services: 01384 813200
If there is an immediate risk or danger contact the Police by dialling 101.
Other helplines:
Childline 0800 1111
Samaritans 116123
NSPCC 0808 800 5000
Domestic Violence 0808 2000 247
Action on Elder Abuse 020 8835 9280
Use this link for the Diocese of Worcester Safeguarding Team contact details:
CHURCH OF ENGLAND SAFEGUARDING STATEMENT
BAPTISM AND WEDDING BOOKINGS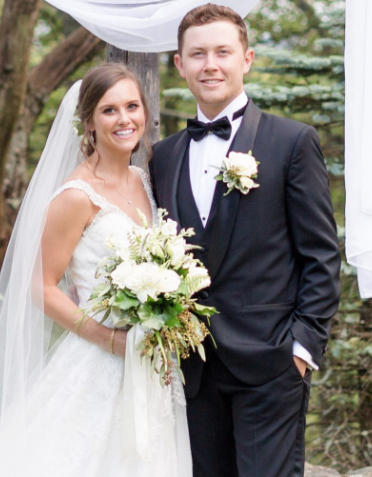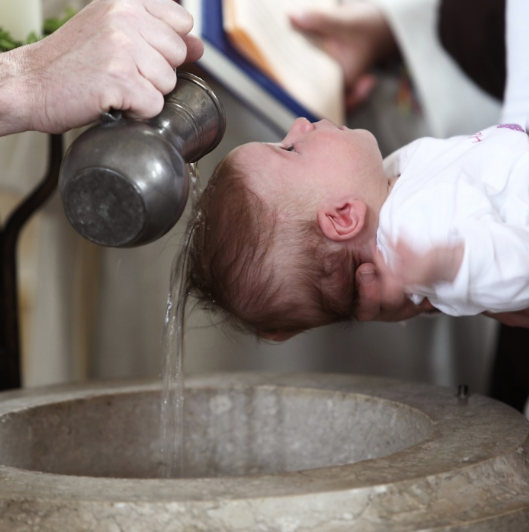 For baptism and wedding bookings, please click here.
SERVICES AND EVENTS AT ALL SAINTS'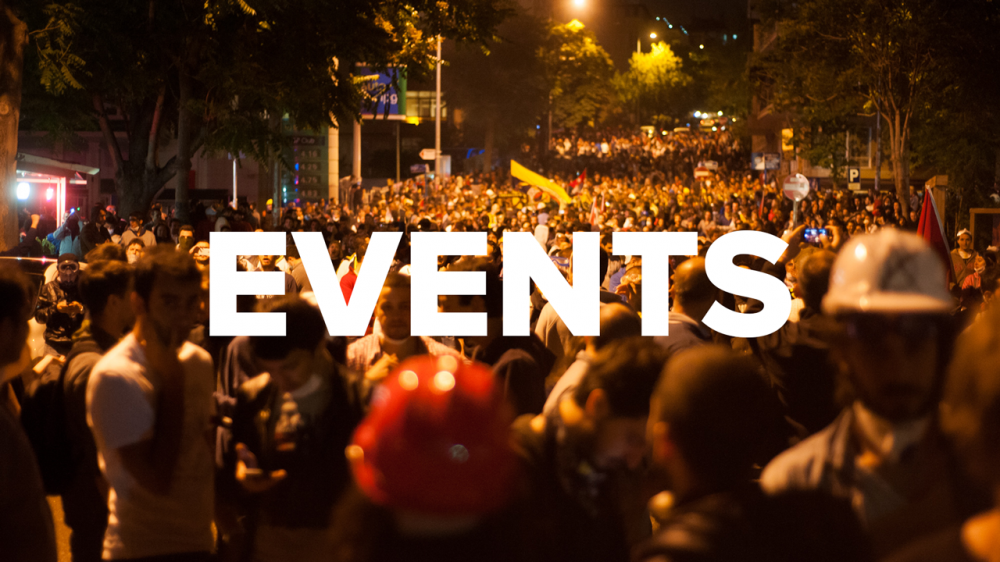 Click here for a list of services and events at All Saints'
Please notify us of any services or events that are missing from the listings.
NEWS FROM THE PEWS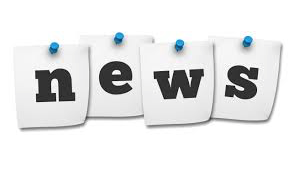 Services, news and events from the latest notice sheet:
Parish notice sheet 21st July 2019
The Beacon Parish Magazine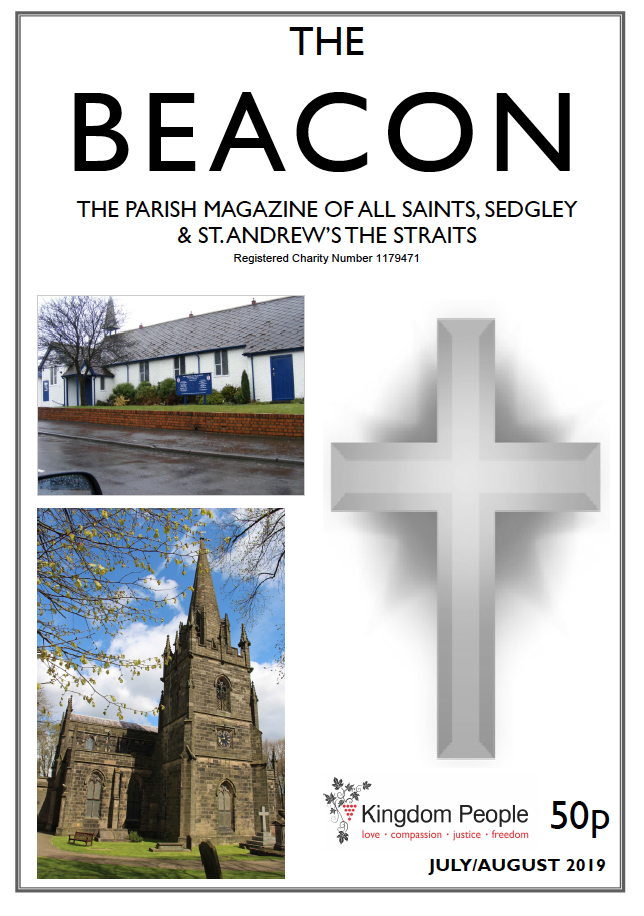 Our Facebook site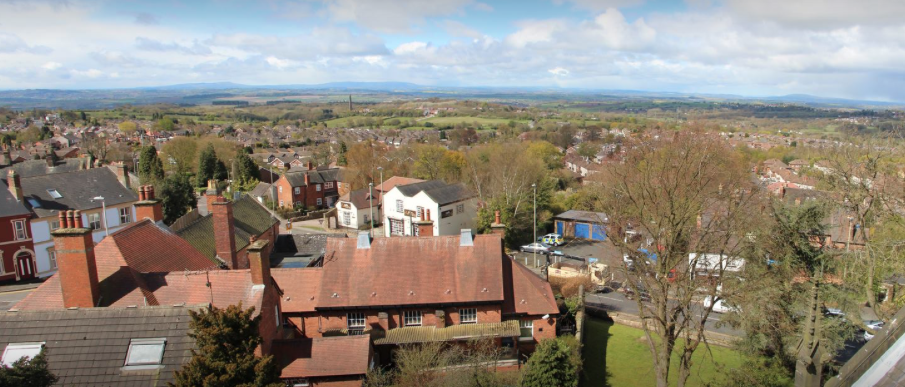 Our Facebook site provides an added facility for communicating with other members of our church community and with our Team Ministry.
JULY 2019 SERVICES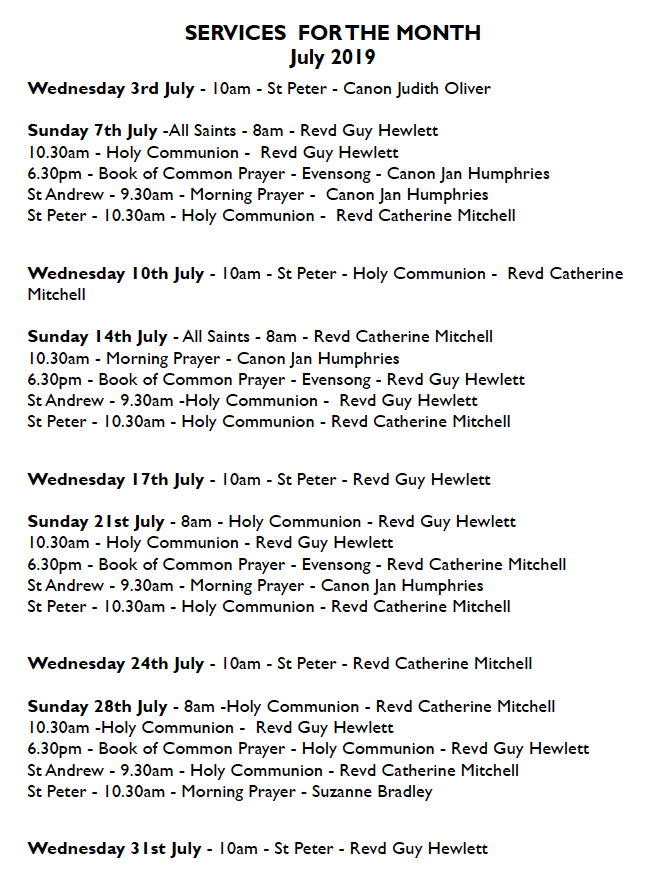 NOAH'S ARK END-OF-TERM PARTY
Noah's Ark held their end of term party on Tuesday 16th July 2019, and as usual there were lots of activities for the children and of course lovely party food.
Each child was given a party bag to take home.

We welcomed Guy and Catherine this term - they come in alternately each month and tell the children (and adults) a short bible story which has been welcomed and enjoyed by all. Many of the children from Noah's Ark have also attended the Good Friday and Half Term Workshops and also All Saints' latest venture The Teddy Bears Picnic.

We said goodbye to Charlotte, Evie, Chloe, Avana and Olivia - we hope they enjoy the new adventure in their lives.

Noah's Ark gives a wonderful service to our community it's where moms dads nans aunties (and staff) can have a good natter while the children enjoy the toys and crafts.
Linda Watkins
PHOTOS OF NOAH'S ARK END-OF-TERM PARTY 2019
PARISH VISIONING DAY
THE PARISH VISION DAY WAS HELD ON SATURDAY THE 20TH JULY IN ALL SAINTS' PARISH HALL.
IT WAS A VERY PRODUCTIVE MEETING - ALTHOUGH ALAS ONLY 21 CAME ALONG!
Here's the slide presentation we showed over lunchtime - covering some of the excellent initiatives and events held since our last Vision Meeting.
Gornal and Sedgley Events and Initiatives August 2018- July 2019
ROB PARKER-MCGEE - INDUCTION TO A NEW PARISH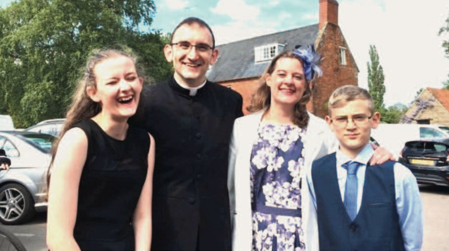 Revd Rob Parker-McGee and his family today. Jasmine, Rob, Sarah and Thomas.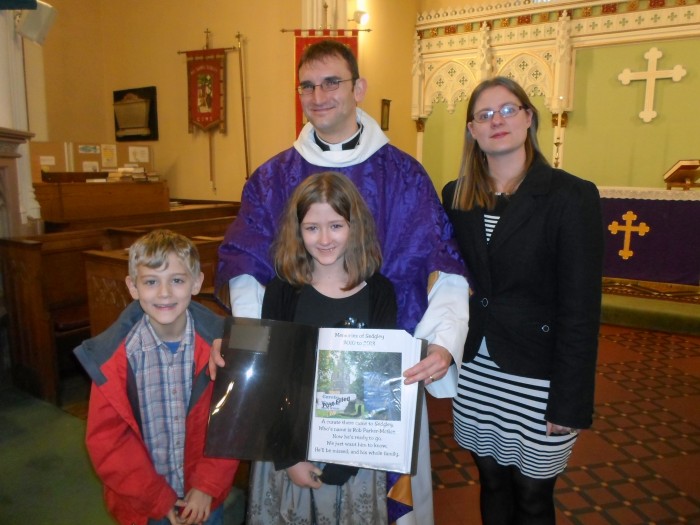 Revd Rob Parker-McGee and family - when he was our curate in Gornal and Sedgley.
The Rev Robert Parker-McGee is to be the next rector of the Box River Benefice, Robert is presently the Vicar of All Saints Parish Church, Orpington, in the Diocese of Rochester. He will be instituted (by the Bishop of Dunwich) and inducted (by the Archdeacon of Sudbury) as rector of the Box River Benefice at a service on Tuesday 20 August 2019 at 7.30 pm at St Lawrence's Church, Little Waldingfield.
The family would appreciate prayers for the move, and the new start.
ALL SAINTS' CLAVERLEY CHOOSES 'CHILDREN'S TV CHARACTERS' AS THEME FOR THEIR 2019 FLOWER FESTIVAL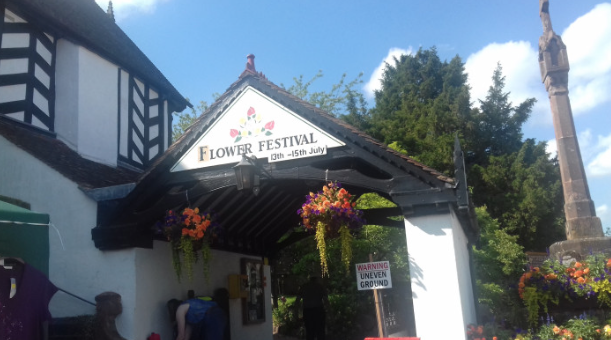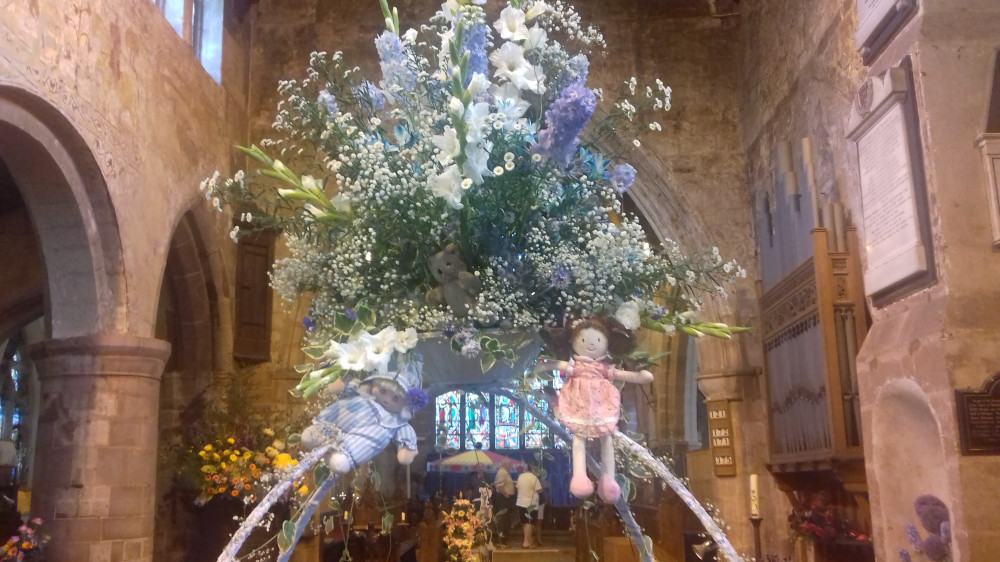 All Saints' Claverley, well known for its annual flower festivals, chose Children's TV as the theme for their event which was held in church on the 13th, 14th and 15th July 2019.
Martin and Magda attended the final day of the Festival - alas Martin only had his smartphone to take pictures rather than his 35mm Canon camera so the images aren't as sharp as usual - but this album gives a flavour of the variety of children's TV shows covered and the high quality of the exhibits.
All Saints' Claverley is well worth a visit in any case, with its medieval 'Good and Evil' fresco on the wall of the nave.
Local schools were also involved in doing project work for the show, producing exhibition panels.
Martin met up again with Revd Garry Ward, the vicar of All Saints' Claverley - when Garry was vicar at Holy Trinity Wordsley, he led Martin's 2010-11 Bishop's Certificate course.
Children's TV Flower Festival at Claverley
TEDDY BEARS' PICNIC A GREAT SUCCESS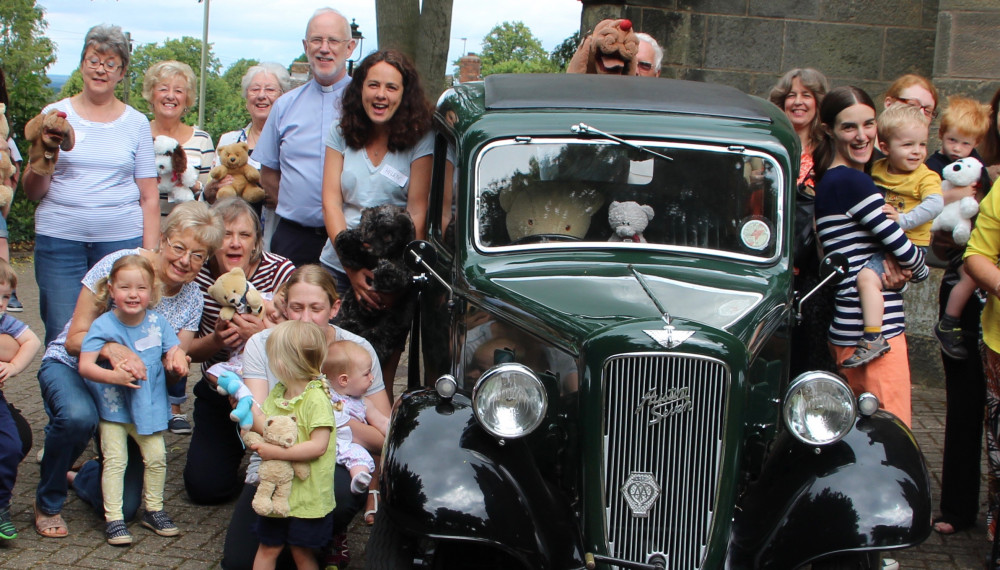 Helen Laird our young people's motivator with parents and children - and John Anderson's Austin 7, driven by Teddy and his friend.
A Teddy Bears' picnic and Bear Hunt took place at All Saints' on Thursday 11th July 2019 for our baptismal children, their parents - and members of Noah's Ark Pre-School Playgroup.
Children heard the story of the 'Bear Hunt' by Michael Rosen - and then had the chance to experience all the 'obstacles' in the well-known children's story. They travel through grass, a river, mud, a forest and a snowstorm before coming face-to-face with a bear in his cave.
Congratulations to Helen Laird our youth motivator, and everyone who was involved in staging this wonderful inspiring fun event.
Teddy Bears' Picnic at All Saints'
and
more info about the picnic on the Diocesan website....
DAYS OUT - WITH A RELIGIOUS CONNECTION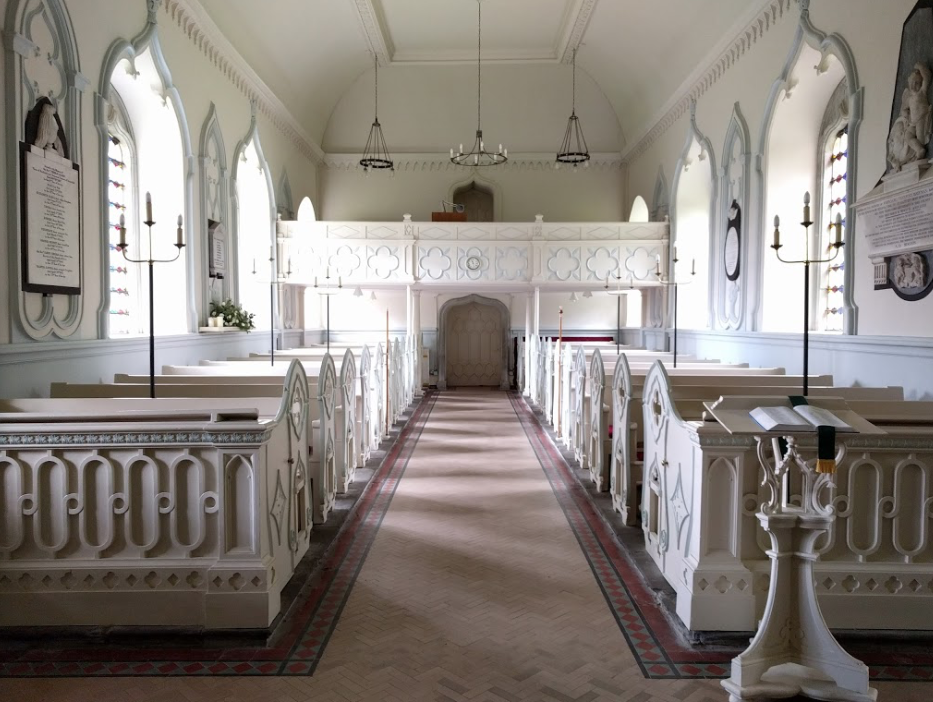 In the latest of our series of suggestions for 'Days Out with a Religious Connection' that can be reached on a day's trip from Sedgley, Martin and Magda recently visited Shobdon Church and Hergest Croft Garden - a very unusual church and a beautiful garden, both in Herefordshire, close to the Welsh border.
Shobdon Church and Hergest Croft, Herefordshire
Could you be one of the Flower Ladies?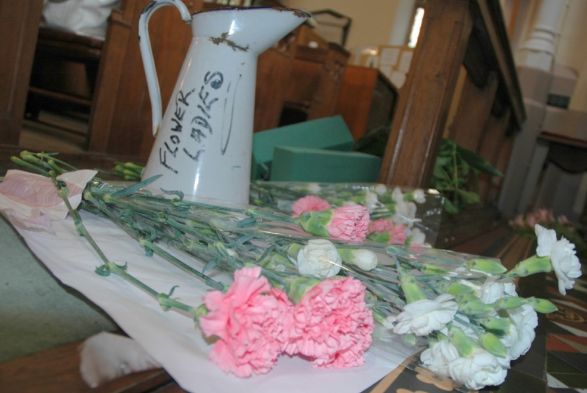 The flower ladies at All Saints' are in need of some help. From having four people doing the church's flowers on Friday mornings, they are now down to two.
If you would like to join the team, please contact Gail in the Parish Office - 01902 540289.
The following article was written a few years back, but it shows the work done by the team.
All Saints' Church Hall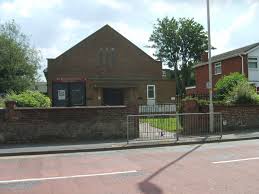 The church hall at All Saints' is a great local facility.
Both the church hall and meeting room at the rear can be hired for a range of activiites.
Have a look at all the groups that currently use it, day-by-day:
St Peter's Patronal Festival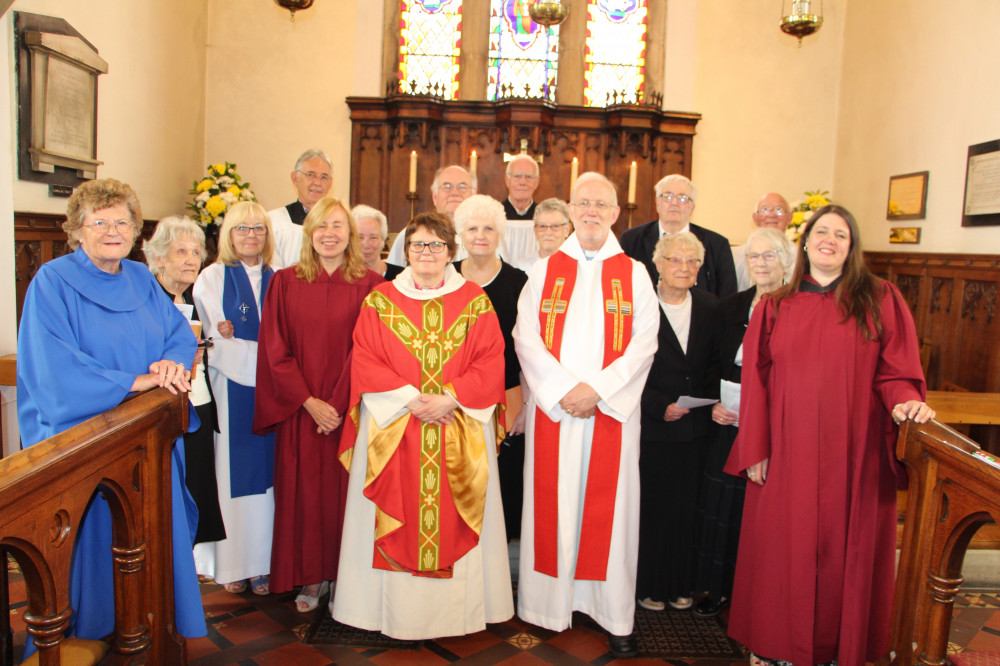 St Peter's Upper Gornal held its Patronal Festival on Sunday 30th June 2019, marking the 175th anniversary of the opening of the church in 1844.
More pictures can be found here:
St Peter's Patronal Festival 2019
WHO'S WHO - NOW AND THEN
NOW.......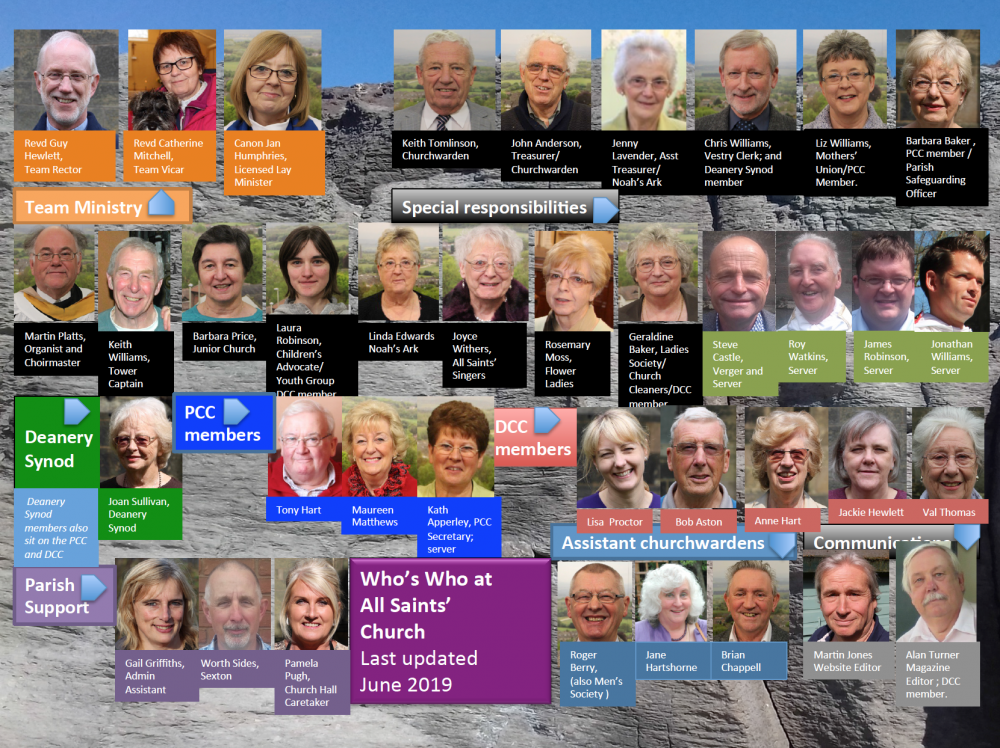 Revised All Saints' Who's Who, June 2019
The latest update to All Saints' Who's Who, including our new Church Hall Caretaker, our Sexton, and our team of altar servers.
This is now mounted on an easel and displayed in the Narthex.
Click on the image above to view an enlarged version.
AND THEN (2011)
Looking back - this was the first Who's Who poster Martin produced for All Saints' Church in November 2011.
The way we were in 2011.
Click on picture to enlarge the image.
THE BELLS!
Listen to All Saints' church bells, recorded before morning Holy Communion, Sunday 2/6/19.
A GREAT TIME AT ST PETER'S 175TH ANNIVERSARY FAIR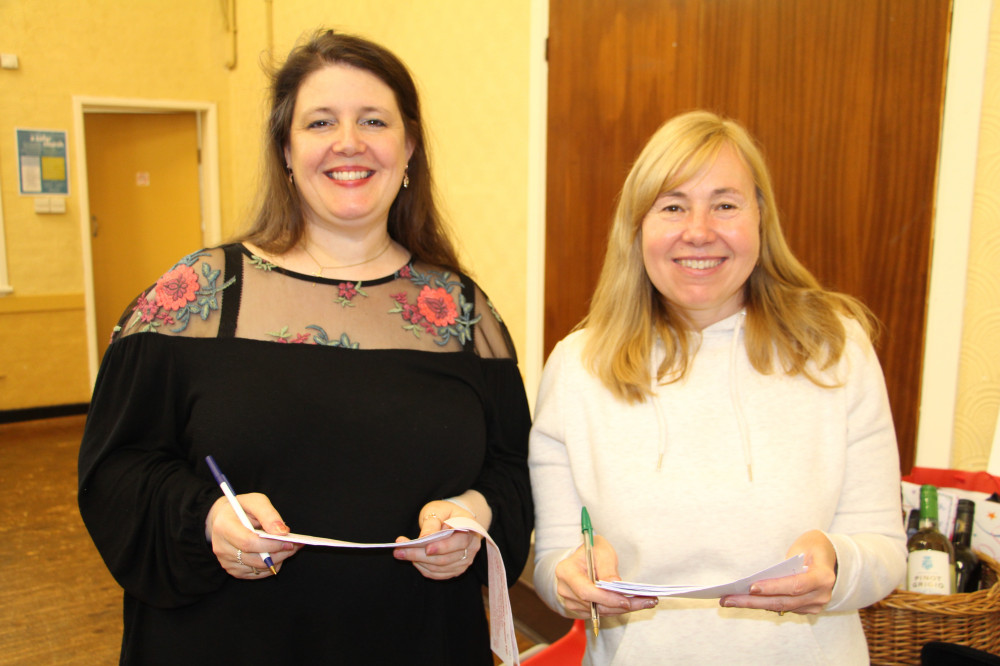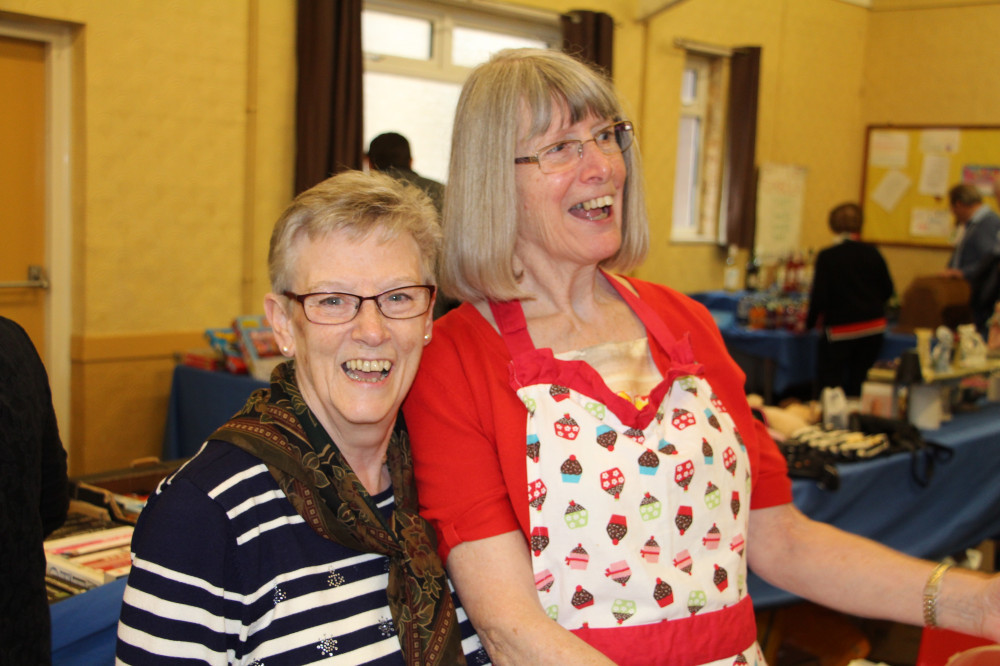 Many congratulations to the congregation at St Peter's Upper Gornal who once again held a magnificent summer fair in the church hall.
This year the event was extra special as the community celebrated 175 years since the opening of the church in 1844. The hall was filled with people and was a hive of activity - the food was excellent.
Thank you to everyone for all your hard work in preparing, running - and in tidying up afterwards!
St Peter's 175th anniversary summer fair 2019
A PHOTO OF THE CHOIR IN THE LATE 1970s - WHOM DO YOU RECOGNISE?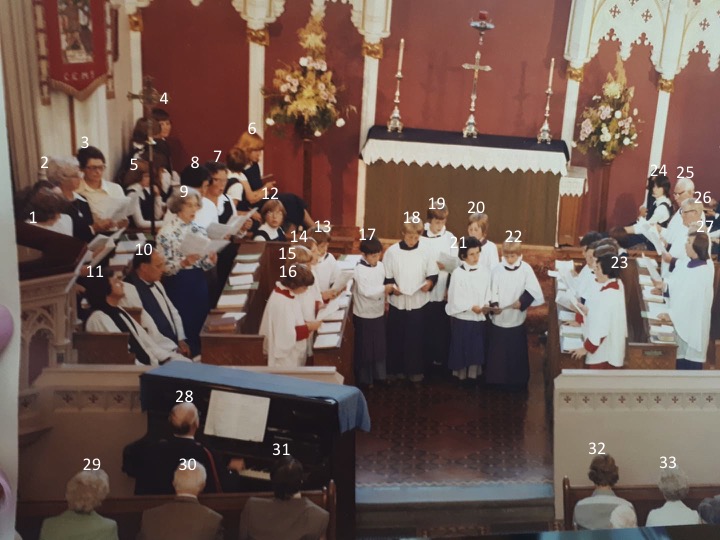 We've posted this on our Facebook page. If you know any choir members from the late 1970s, please tell us their name and give us their number. Some faces are obscured and have not been numbered.
or email
BISHOP GRAHAM TO LEAVE THE DIOCESE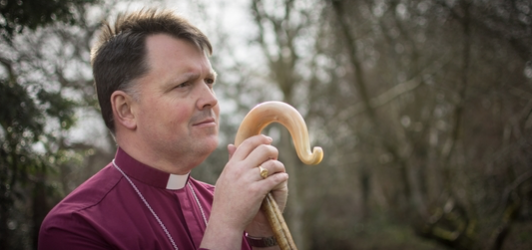 Bishop Graham Usher will be leaving our diocese at the end of the summer, to move to Norwich.
The Bishop of Dudley will be bidding farewell to worshippers at a special event at the Black Country Living Museum this month, before he leaves the region to take up his new post as the Bishop of Norwich.
Bishop Graham Usher will lead an outdoor service in a 'big top' at the Tipton Road museum on Sunday July 21 at 4pm to mark his departure from the Diocese of Worcester at the end of July to become the Bishop of Norwich.
Worship will be led by the band from Top Church in Dudley and after the service worshippers can enjoy a curry provided by the Ahmadiyya Muslim community.
Bishop Graham's time as the Bishop of Dudley will also be celebrated with an evensong in Worcester Cathedral followed by a reception in the Chapter House on Saturday July 20 at 5.30pm.
Bishop Graham said: "I am so thankful for the generosity of the Cathedral, the Black Country Living Museum and the Muslim community in Dudley for enabling these two events to happen. I have had a fabulous five years as Bishop of Dudley and these events will be a fantastic way to say goodbye and thank you to everyone who has been a part of that. I'm especially looking forward to preaching in a circus tent at the museum – it's going to be a fun filled and joyous occasion which I hope that all ages will feel able to come along to!"
Both events are open to all and anyone wishing to attend should email
leonie.andrews@cofe-worcester.org.uk
ST PETER'S - WEEKEND AWAY AT PENTRENENT HALL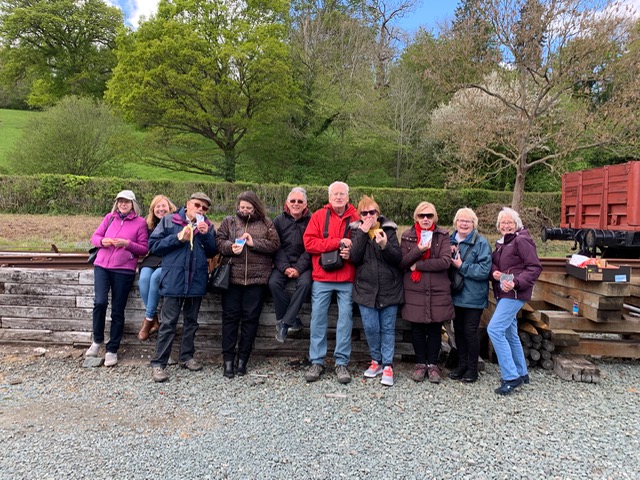 St Peter's have recently returned from their annual weekend away, which was spent at Pentrenant Hall near Church Stoke, Montgomery, a holiday centre in Wales for Christian retreats.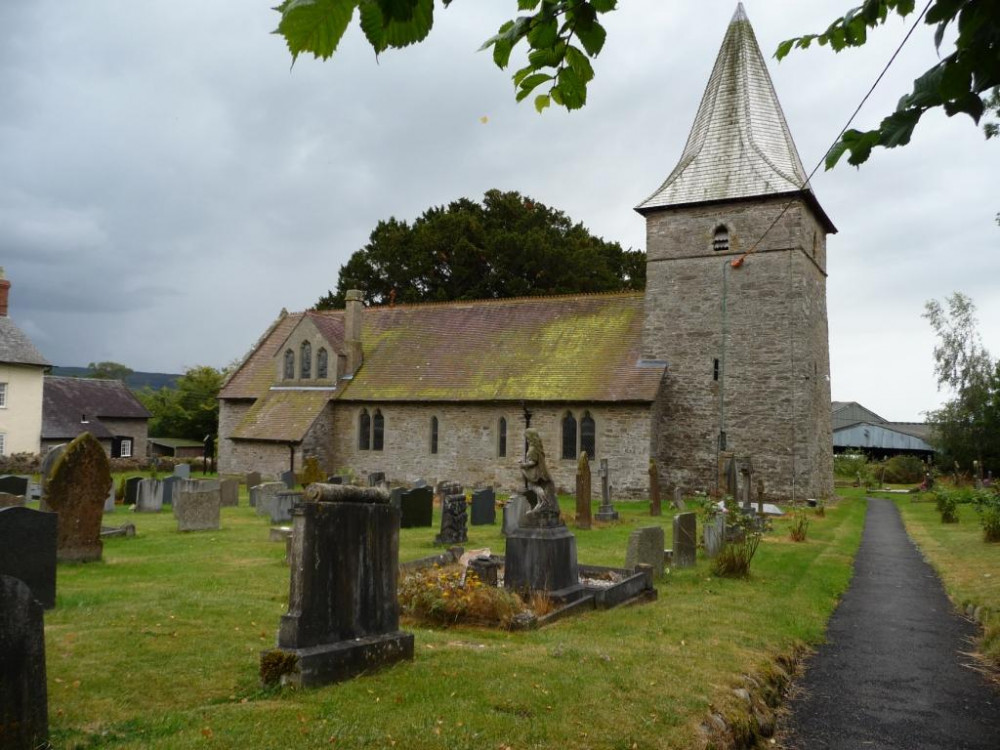 All Saints' Norbury
They went for a trip on the Welshpool and Llanfair Light Railway; and the church is the one just over the border in Shropshire where they attended for a service on the Sunday morning - it's called All Saints', Norbury.
More photos of St Peter's at Pentrenant Hall 2019
OUR NEW PAROCHIAL CHURCH COUNCIL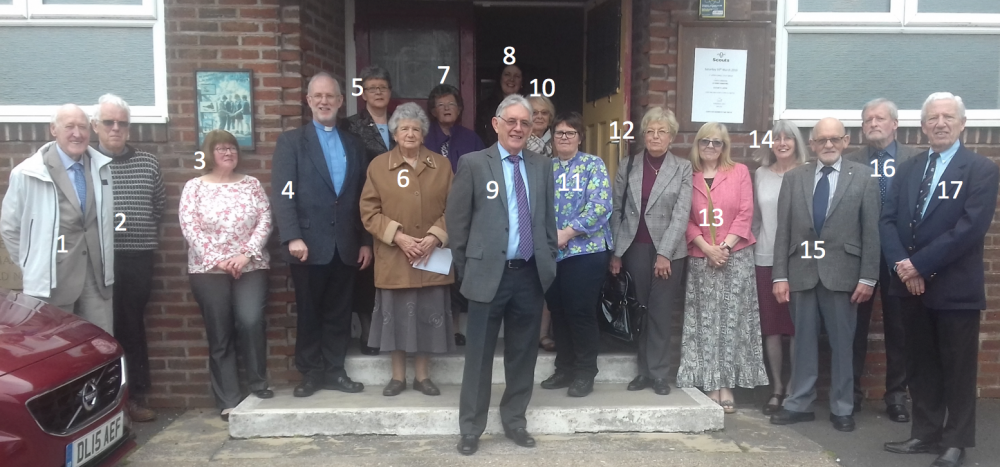 This is our new Parochial Church Council (PCC) for 2019-20.
A parochial church council (PCC) is the executive committee of a Church of England parish and consists of clergy and churchwardens of the parish, together with representatives of the laity.
Legally the council is responsible for the financial affairs of the church parish and the maintenance of its assets, such as churches and church halls, and for promoting the mission of the church.
1. Gordon Betteley (St Andrew's)
2. John Anderson (All Saints')
3. Kath Apperley (All Saints')
4. Revd Guy Hewlett ( Team Rector)
5. Liz Williams (All Saints')
6. Rosemary Reed (St Andrew's)
7. Margaret Dain (St Andrew's)
8. Suzanne Bradley (St Peter's)
9. Edward Grist (St Peter's)
10. Joan Sullivan (All Saints')
11. Revd Catherine Mitchell (Team Vicar)
12. Barbara Baker (All Saints')
13. Canon Jan Humphries (Licensed Lay Minister)
14. Sheila Moss (St Peter's)
15. David Moss (St Peter's)
16. Chris Williams (All Saints')
17. Keith Tomlinson (All Saints')
Also on the PCC, but not pictured are:
18. Maureeen Matthews (All Saints')
19. Pam Oliver (St Andrew's)
20. Tony Hart (All Saints')
21. Tracey Bate (St Peter's)
Are you searching for the grave of a relative?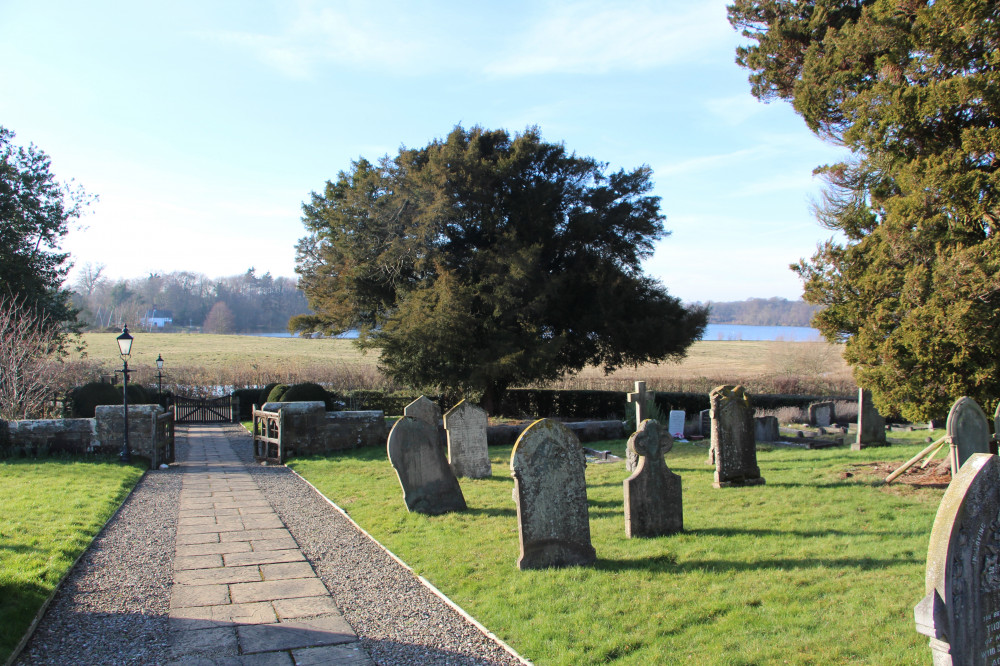 If you're searching for a relative who was buried in one of All Saints' three graveyards, please let us know if you are intending to visit. We may be able to do some preparatory work that can help you in locating the grave.
Alas, there is little we can do to help when people arrive unexpectedly.
There is usually a Friday Coffee Morning from 10.30am - 12 noon, when All Saints' Church is open to all (ring us 01902 540289 to confirm one is definitely on), and you can come and talk to us then.
To contact us in advance, please email the Parish Office:
Parish contact details
PARISH OFFICE
Address:
All Saints' Parish Office
Ladies Walk
Dudley
DY3 3UA
Phone number: 01902 540289
Our Administration Assistant is Gail Griffiths.
TEAM RECTOR
Revd Guy Hewlett
Gornal and Sedgley Team Ministry
All Saints', Sedgley
St Peter's, Upper Gornal
St Andrew's, The Straits
Phone and email contact details:
Phone: 01902 295164
email: guyhewlett18@gmail.com
TEAM VICAR
The Revd Catherine Mitchell
Team Vicar
Gornal and Sedgley Team Ministry
All Saints', Sedgley
St Peter's, Upper Gornal
St Andrew's, The Straits
Tel 01902 677897
revcatherinemitchell13@gmail.com
LICENSED LAY MINISTER
Canon Jan Humphries: 01902 661275
Other email addresses:
Keith Tomlinson, Churchwarden:
churchwardenkeith@allsaintssedgley.co.uk
John Anderson, Treasurer and Churchwarden:
treasurer@allsaintssedgley.co.uk
Jenny Lavender, Assistant Treasurer:
asstreasurer@allsaintssedgley.co.uk
The parish office is open 10am-12noon, Monday to Friday.
Information should be sent to Gail by Wednesday for inclusion in Sunday's pewsheet.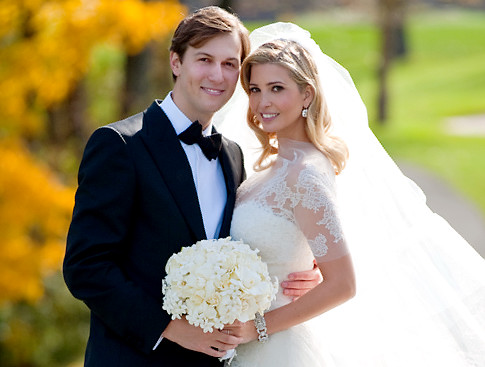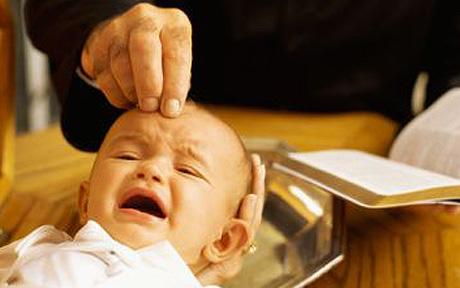 Arranging a wedding or baptism? - click here
Our website
If you'd like to contribute any information about forthcoming church events, write an article, or correct anything on the site, please send your information to Martin our website editor.