Welcome to the Gornal and Sedgley Team Ministry website.
Our parish includes All Saints' Church in Sedgley, St Andrew's in The Straits and St Peter's in Upper Gornal.
We've been a team ministry since 2005: team working allows us to provide spiritual and pastoral care to a wide area including Upper Gornal, the Straits and Sedgley.
We look forward to meeting you at one of the churches in our parish soon.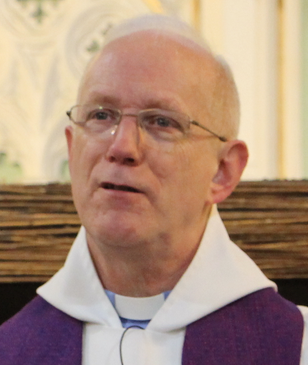 Revd Guy Hewlett (Team Rector, Gornal and Sedgley Team Ministry)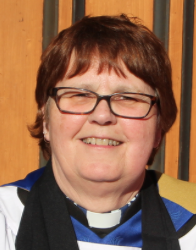 Revd Catherine Mitchell (Team Vicar, Gornal and Sedgley Team Ministry)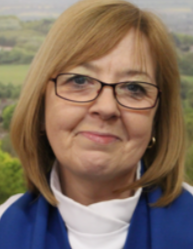 Canon Jan Humphries (Licensed Lay Minister, Gornal and Sedgley Team Ministry)
Gornal and Sedgley Team Ministry
SERVICES AND EVENTS AT ALL SAINTS'

Click here for a list of services and events at All Saints'
Please notify us of any services or events that are missing from the listings.
LATEST CHURCH NEWS FROM THE PEWSHEET
All Saints' pewsheet Sunday 14th January 2018
Our Facebook site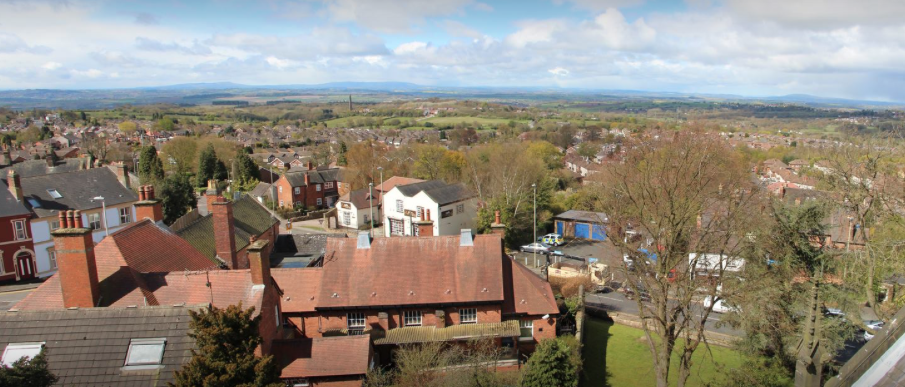 We've had a Facebook site for nearly 2 years now. It provides an added facility for communicating with other members of the church community and with our Team Ministry.
Who's Who at All Saints'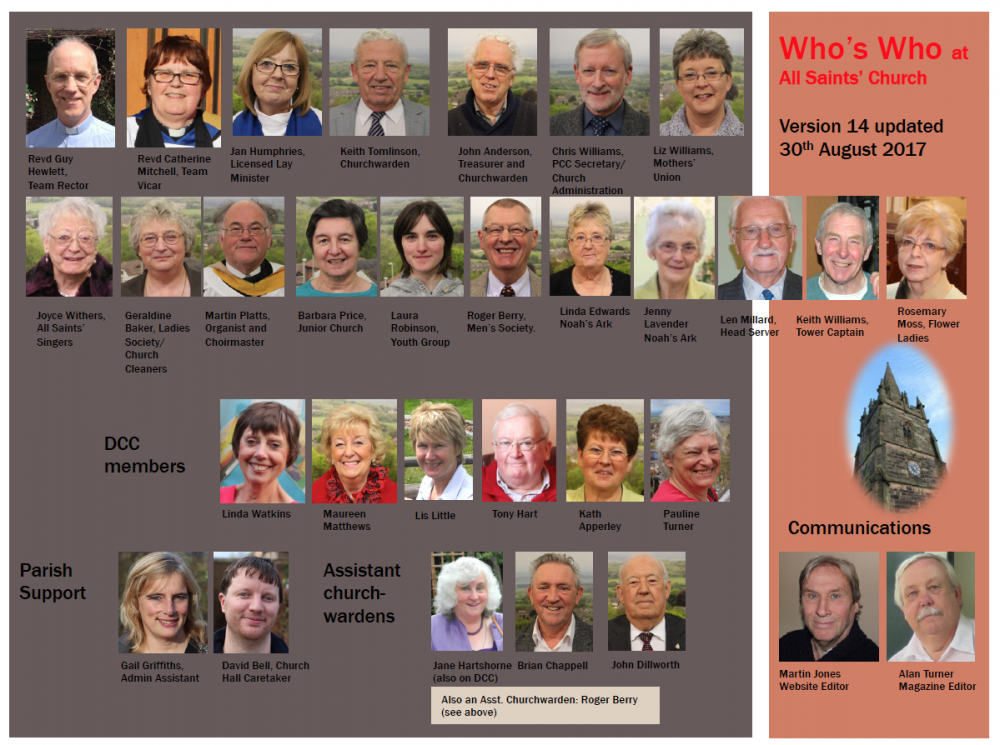 Click on the image above for a larger version of All Saints' Who's Who.
'VESTRY HOUR' - ENQUIRING ABOUT WEDDINGS AND BAPTISMS
If anyone wishes to enquire about weddings or baptisms, from 1st February 2018 this will only be done on the first and third Sundays in each month at All Saints' Sedgley, from 12noon to 1.00pm.
ALL SAINTS' IN 1941!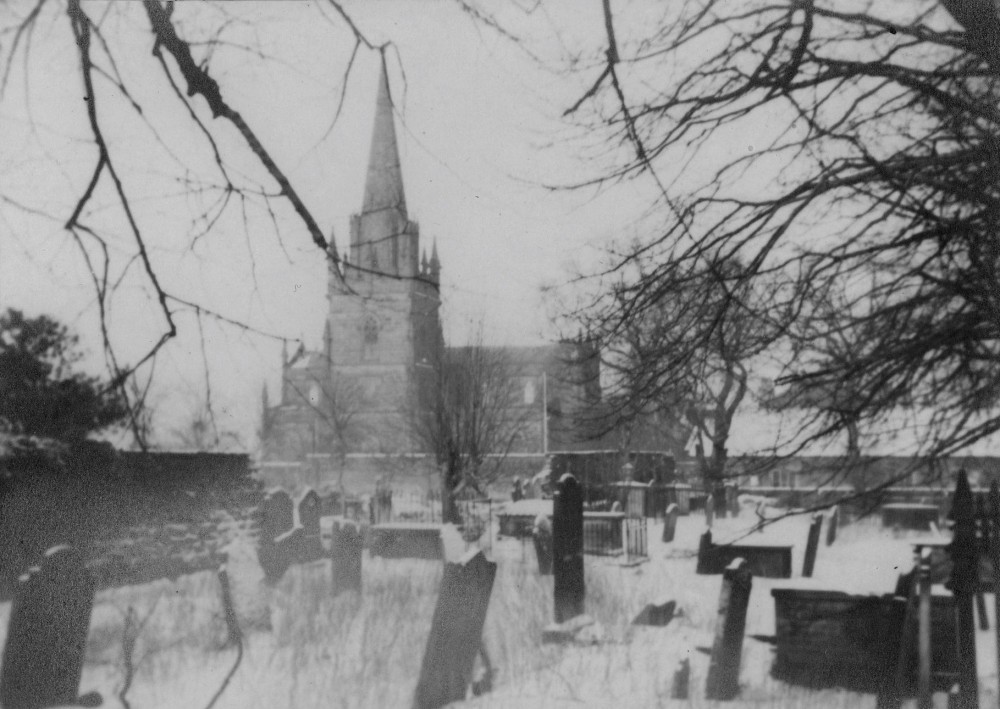 All Saints' burial ground under snow in 1941.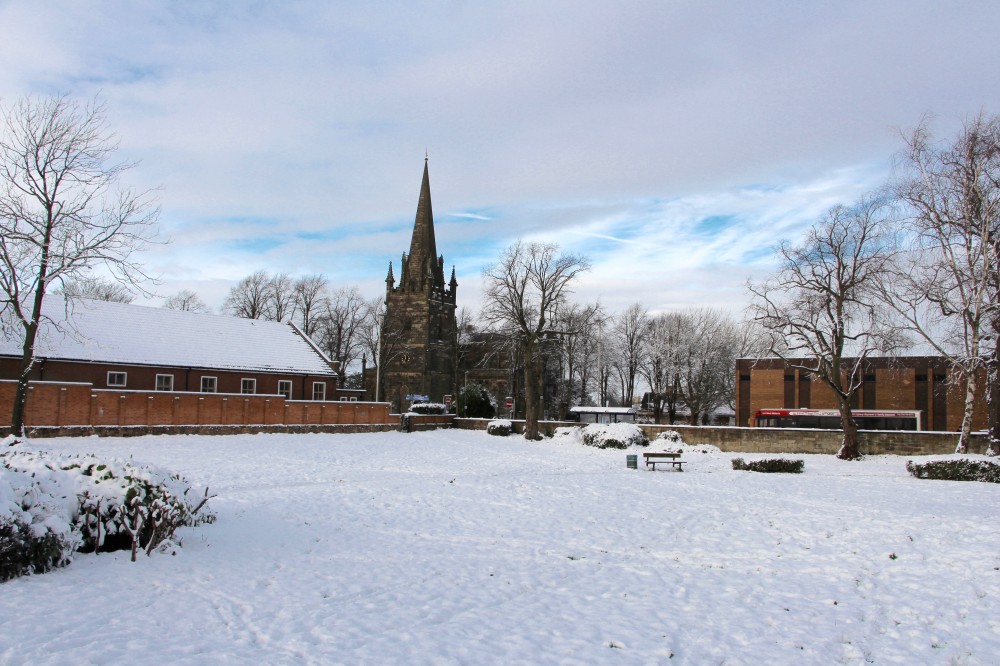 The same scene in December 2017 - the graveyard is now a public park. It looks like the tree to the right of the church has survived till today.
A wonderful discovery, contributed by Lis Little, for our All Saints' Church Archive!
It's a photo from the depths of World War II - a 1941 image of All Saints' Burial Ground in Vicar Street, with All Saints' in the background.
The significant differences from today are that the burial ground was deconsecrated in the 1980s, and is now a public gardens; through the trees what is now Iceland Car Park was then All Saints' Church Hall before it was relocated to its present site in the 1950s.
The old hall is only really discernible when you enlarge the photo however.
Thank you so much Lis!
We've added the image to our:
Archive Shots of All Saints' Album
YOU MUST WATCH THIS! - 'A VICAR'S LIFE' ON BBC2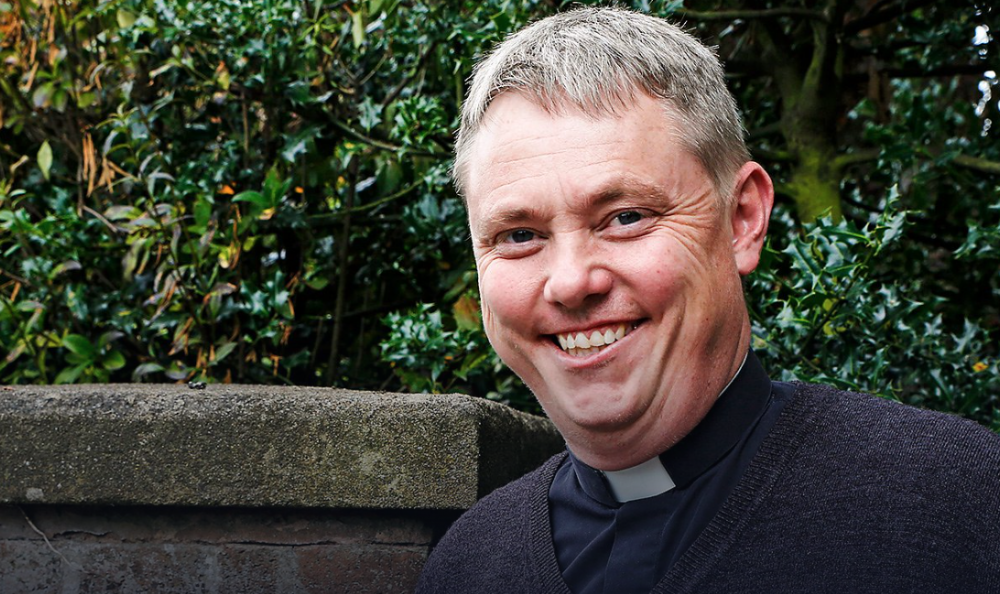 Reverend Matthew Stafford is Team Rector for the Wenlock team​​​​​​ based at Holy Trinity Much Wenlock - his working life is featured in the BBC2 documentary.
To those of you who missed the BBC2 programme 'A Vicar's Life', it is available on iPlayer. Made into a six part series, it follows four vicars in the Diocese of Hereford in their daily ministries.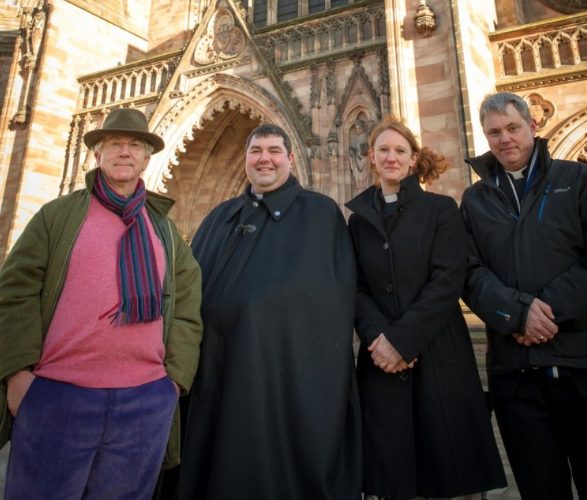 A Vicar's Life follows Matthew Stafford, rector of Wenlock Team Ministry (far right); Ruth Hulse, team vicar at West Hereford Team Ministry; Nicholas Lowton, rural dean of Abbey Dore (far left); and Matthew Cashmore, assistant curate West Hereford Team Ministry (second left).
It's a wonderful exposition of the state of the church today. It has great relevance to all of us in the Church of England and provokes a great deal of thought on how we move forward as a church community.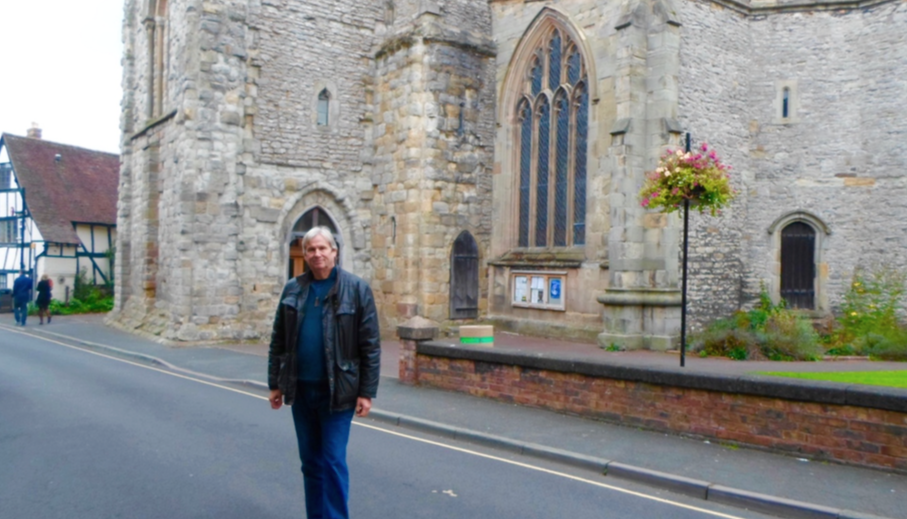 In Episode One, a wedding is held at Holy Trinity, Much Wenlock.
Holy Trinity Church, Much Wenlock was featured in one of our 'Days Out with a Religious Theme', in October 2015.
Another of our Days Out series featured Holy Trinity & St Mary (Dore Abbey) which is one of the churches in the Abbeydore Deanery of the Diocese of Hereford.
TWO OF OUR FORMER CURATES ON THE MOVE:
FATHER ROB TO MOVE TO ORPINGTON IN FEBRUARY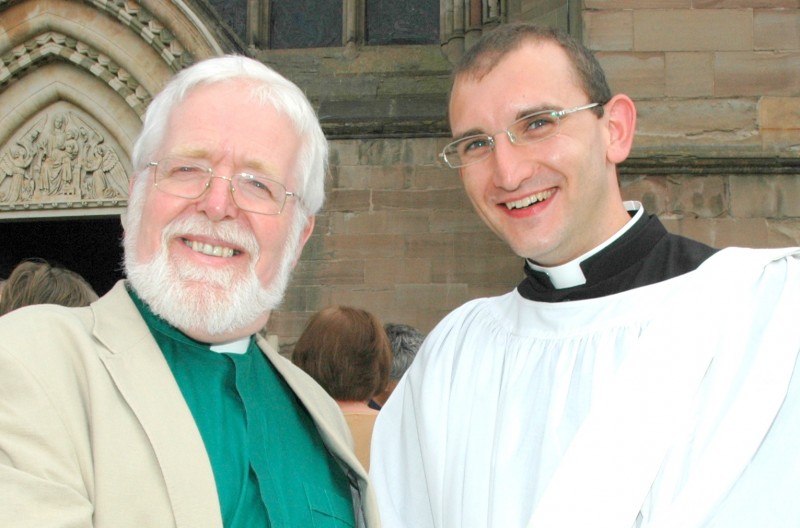 Father Rob Parker McGee (right), who was curate in Gornal and Sedgley 2010-14, with our former Team Rector, Canon Stephen Buckley at his ordination in Worcester.
Father Rob Parker McGee, who was curate at Gornal and Sedgley 2010-14, is to be the Vicar of All Saints', Orpington in the London borough of Bromley, moving from his current incumbency in Geddington, Northamptonshire in February. A full announcement is on the Geddington parish website:
Father Rob and his family.
Father Rob to move to a London parish - Geddington website
Notice on the Orpington website
CANON SUSAN ANNOUNCES HER RETIREMENT FROM SEPTEMBER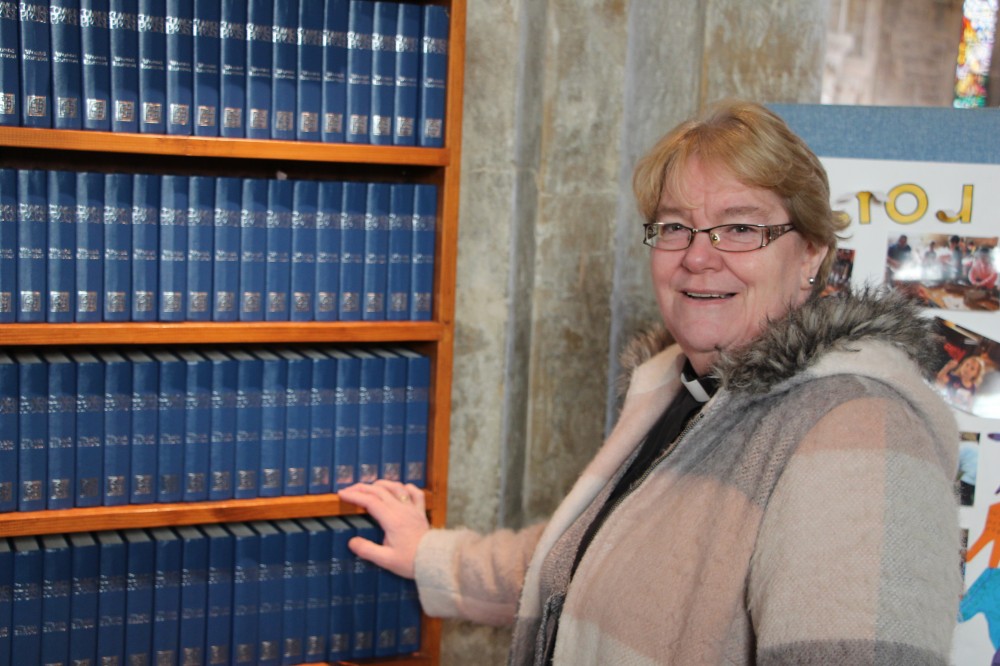 Canon Susan Renshaw at Holy Trinity, Eckington in Pershore Deanery, in March 2017.
Canon Susan Renshaw was curate at All Saints' Sedgley from 2002-2006.
Her term as Rural Dean of Pershore finishes at the end of January, and she is hoping to retire as Vicar of Holy Trinity Eckington in September 2018.
Martin's tour of Holy Trinity, Eckington, with Canon Susan Renshaw in March 2017

DOROTHY INETT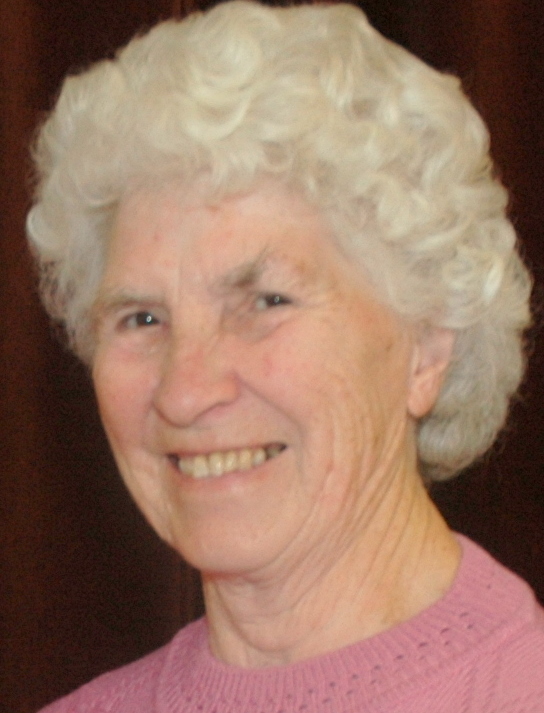 Dorothy at her 80th birthday celebrations organised by Mothers' Union in 2011.
FUNERAL – the funeral of the late Dorothy Inett took place at All Saints' Church on Thursday 11th January at 2.30pm, followed by Gornal Wood Crematorium at 3.30pm.
Dorothy was a very active member of All Saints' for many decades, and we owe her a huge debt of gratitude for what she achieved.
Her work has greatly assisted in making All Saints' a wonderful church, and in providing a great deal of support and assistance to people in the village and in the wider Dudley area.
You may wish to add your own reflections on Dorothy's contribution to our church - on Dorothy Inett tributes page.
If you'd like to, please email your personal thoughts about Dorothy's life at our church and in our village to:
The page will remain open throughout January 2018 so everyone who wishes to contribute may do so.
CHRISTINGLE WORKSHOP MAKES RECORD 280 CHRISTINGLES!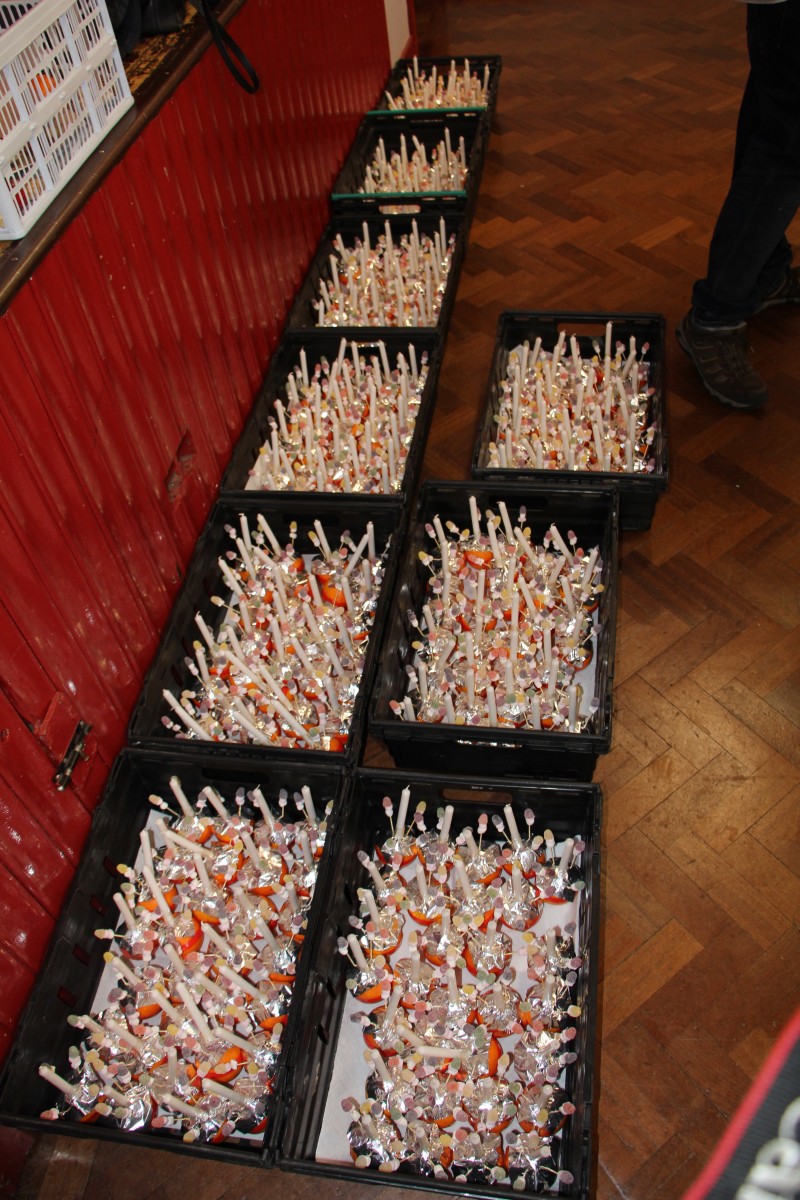 9 full boxes of Christingles ready for the Christingle Service - the elves have been busy!
The Christingle-making workshop in the Church Hall at All Saints' worked overtime to cater for record demand at the Christingle Service on Christmas Eve.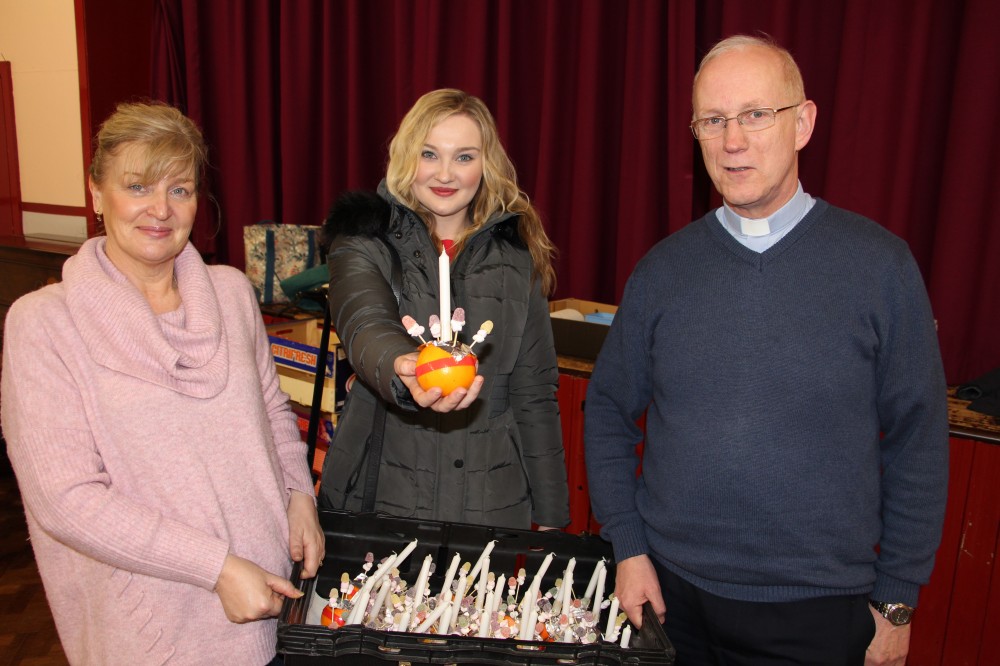 Revd Guy and Christingle helpers with the finished product!
Around 20 helpers came along to work on the Christingle 'conveyor belt', each assigned a specific assembly task!
Some put sweets onto cocktail sticks, others pushed candles into the oranges. A record 280 Christingles were made to give to children.
Many thanks to Barbara Price and all her assistants for organising this event for the children and families, who look forward to this special annual service.
Album of Christingle Workshop 2017
Highlights of our 'Diocese' exhibition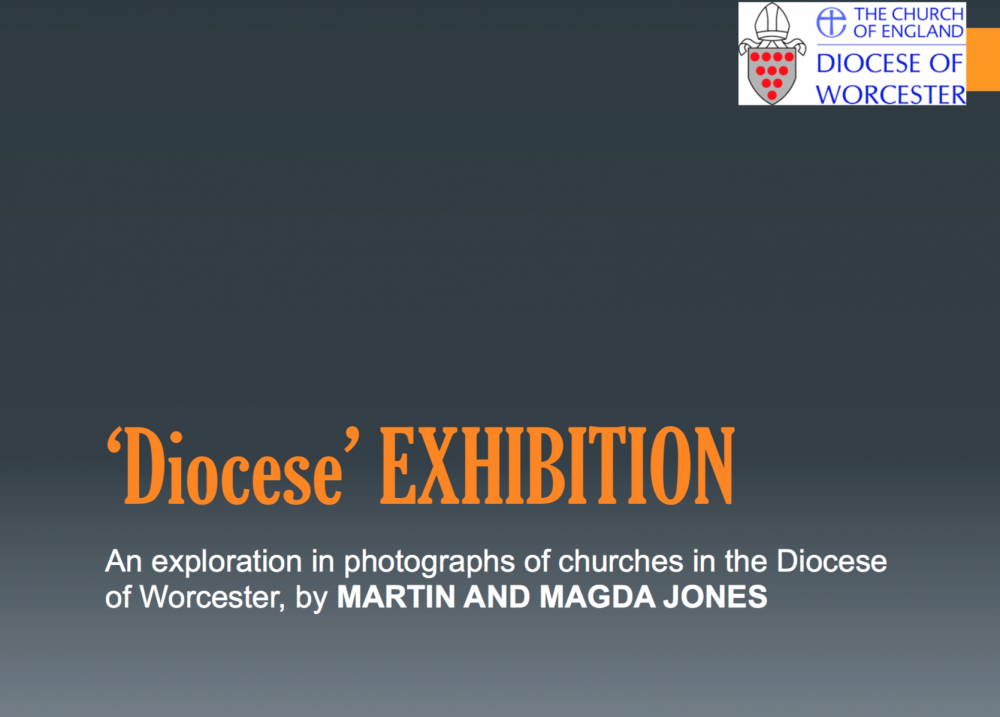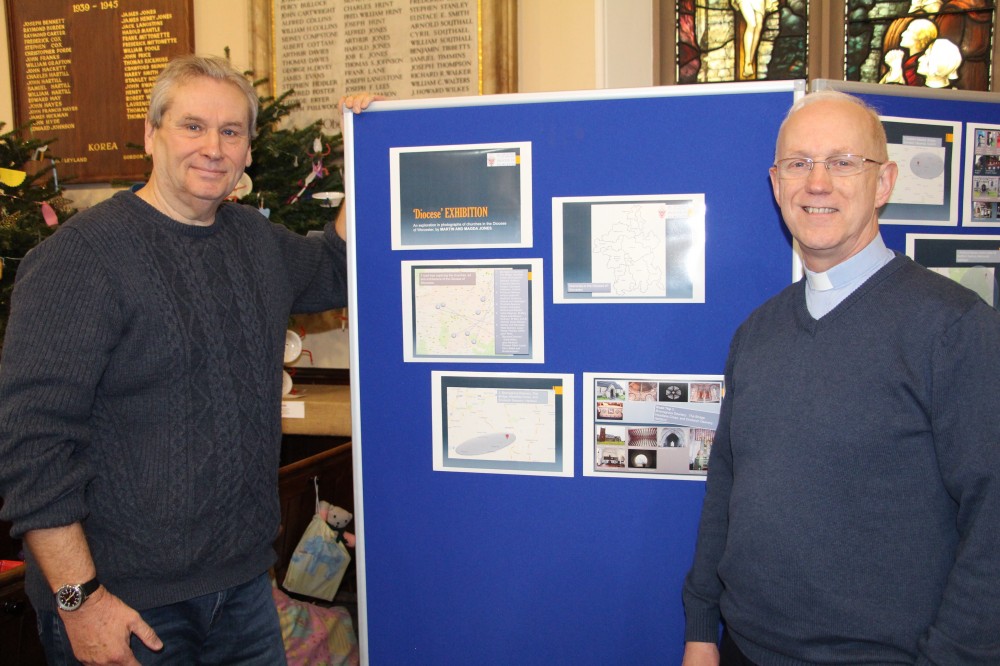 Martin Jones with Revd Guy Hewlett at the opening of the 'Diocese' exhibition on Friday 22nd December 2017 at All Saints'.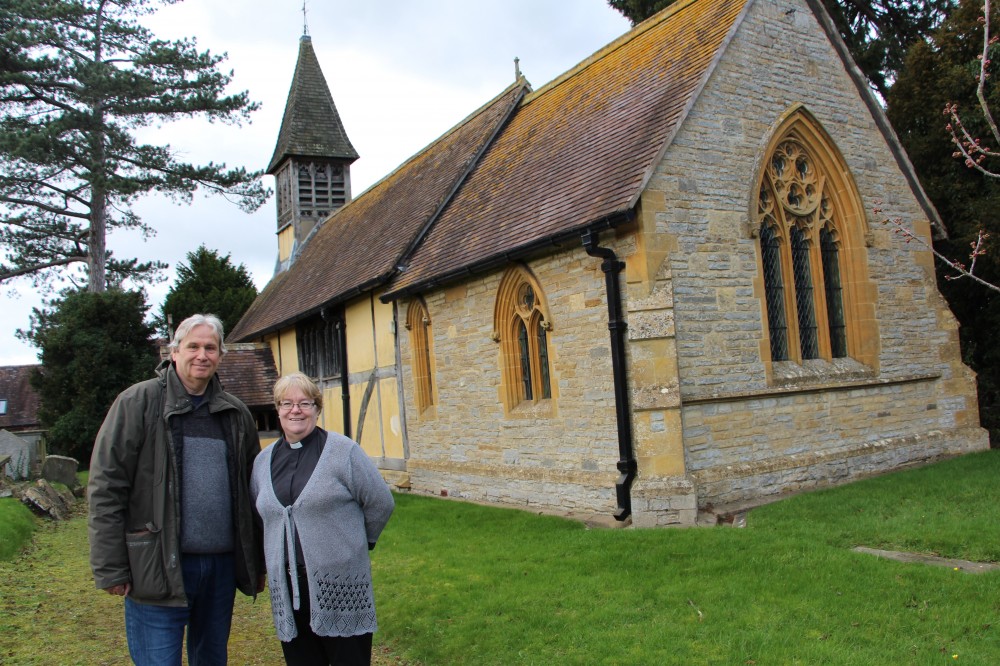 Martin began his journey around the Diocese in the Pershore Deanery, where he met our ex-curate Canon Susan Renshaw. Susan showed him round St Peter's, Besford and two other churches in the Deanery.
Revd Guy Hewlett launched the 'Diocese' exhibition at our coffee morning (22nd December 2017) at All Saints'. The show was on display over Christmas and New Year - and has now been taken down.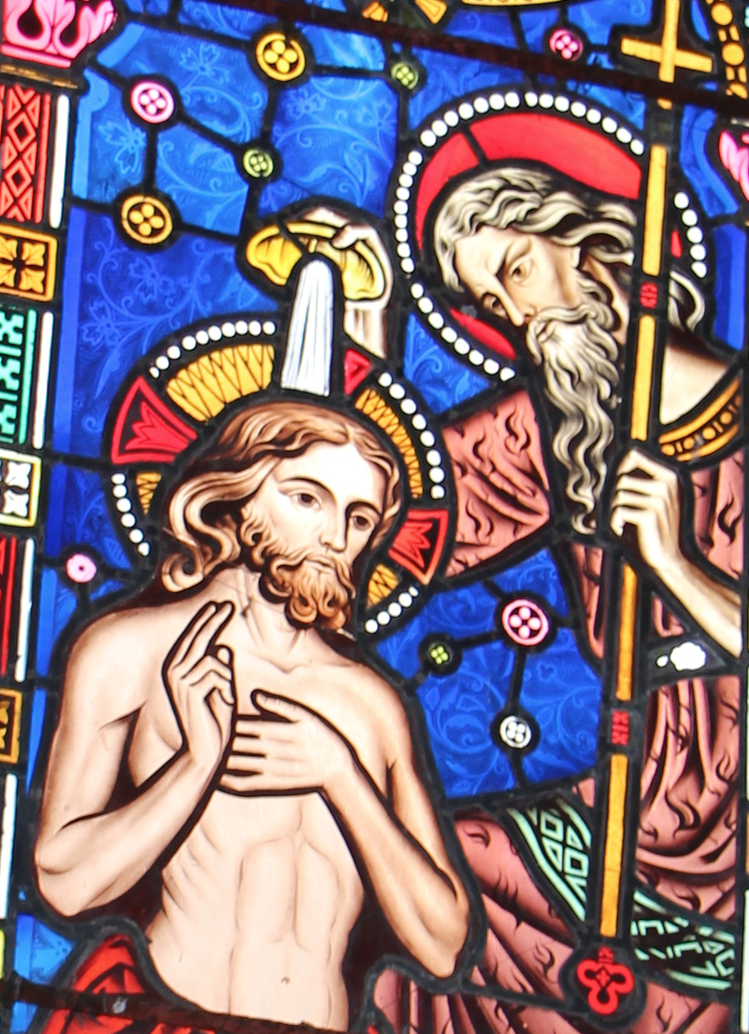 A beautiful window at St Kenelm's, Clifton-upon-Teme: John the Baptist baptises Jesus.
The show featured a selection of images from seven excursions to various parts of the Diocese undertaken in 2017, exploring the wonderful churches, art and architecture to be seen in the Diocese of Worcester.
Each was in the form of a 'road trip', visiting 3-4 churches within easy reach of one another in a day's trip from Sedgley. All Deaneries in the south of the Diocese were visited.
Martin said: 'Some of the treasures Magda and I visited are well known, like the Tom Denny windows at Malvern Priory, but other are less celebrated, like The Bridge (formerly St Luke's - now an ecumenical church) at Headless Cross, Redditch which has some glorious Victorian frescos.'
Here are some highlights from the exhibition:
Online highlights of the Diocese exhibition
Noah's Ark Christmas Party, Father Christmas and Blessing by Revd Guy
Father Christmas and an elf were in the Meeting Room Grotto to greet the children.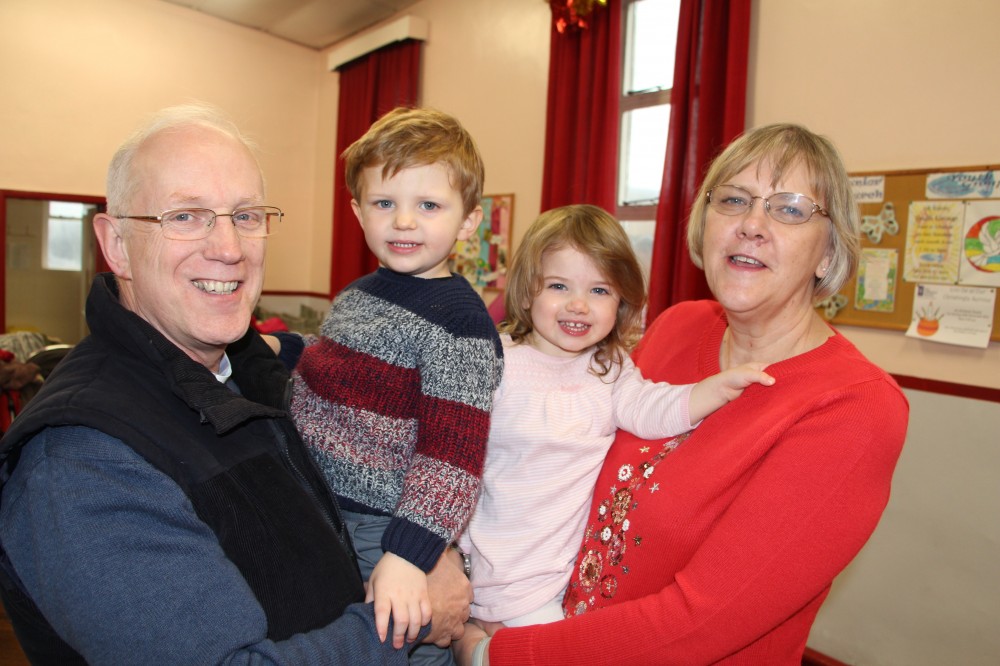 Our Team Rector Revd Guy Hewlett and his wife Jackie brought their grandchildren along.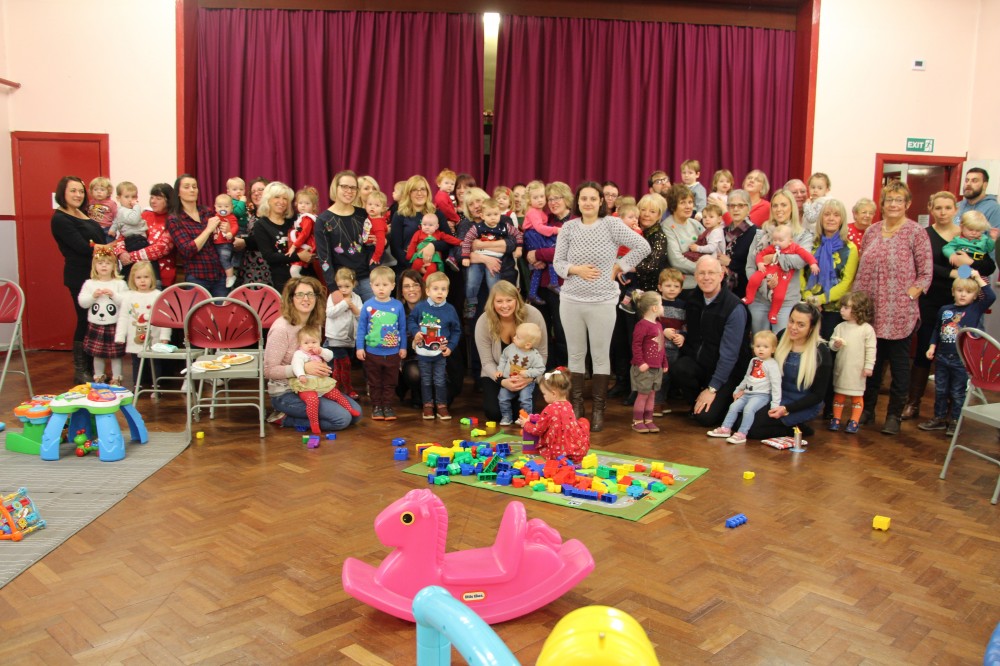 Everyone had their photo taken at the end.
Thanks to Jenny Lavender, Linda Edwards and all volunteers for organising a huge Christmas party for Noah's Ark children and parents on the morning of Tuesday 19th December 2017.
The hall was absolutely packed and Father Christmas arrived at the end to meet the children.
Revd Guy blessed the children and their parents - and everyone did a long 'AAAAAAAh-Meeeeeen!
Noah's Ark Christmas Party 2017 photo album
ARCHIVE WEB CONTENT
Periodically older news items need to be cleared from the Home Page to accommodate new material.
Some items that have appeared on the Home Page of this website covering Autumn 2017 have now been archived and are available here:
Baptism and weddings - bookings
If in doubt whether a Vestry Hour will be held at All Saints', and to avoid a wasted trip, call our Parish Secretary Gail:
01902 540289 between 10am-12noon, Monday - Friday.
Parish contact details
PARISH OFFICE
Address:
All Saints' Parish Office
Ladies Walk
Dudley
DY3 3UA
Phone number: 01902 540289
Our Administration Assistant is Gail Griffiths.
TEAM RECTOR
Revd Guy Hewlett
Gornal and Sedgley Team Ministry
All Saints, Sedgley
St Peters, Upper Gornal
St Andrews, The Straits
Phone and email contact details:
Phone: 01902 295164
email: guyhewlett18@gmail.com
TEAM VICAR
The Revd Catherine Mitchell
Team Vicar
Gornal and Sedgley Team Ministry
All Saints, Sedgley
St Peters, Upper Gornal
St Andrews, The Straits
Tel 01902 677897
revcatherinemitchell13@gmail.com
LICENSED LAY MINISTER
Canon Jan Humphries: 01902 661275
Other email addresses:
Keith Tomlinson, Churchwarden:
churchwardenkeith@allsaintssedgley.co.uk
John Anderson, Treasurer and Churchwarden:
treasurer@allsaintssedgley.co.uk
Jenny Lavender, Assistant Treasurer:
asstreasurer@allsaintssedgley.co.uk
David Bell: caretaker@allsaintssedgley.co.uk
Telephone Number: 07933 204132
The parish office is open 10am-12noon, Monday to Friday.
Information should be sent to Gail by Wednesday for inclusion in Sunday's pewsheet.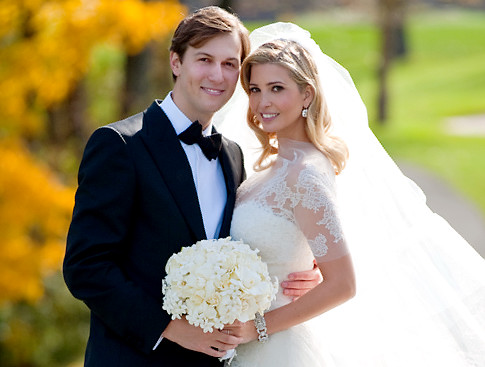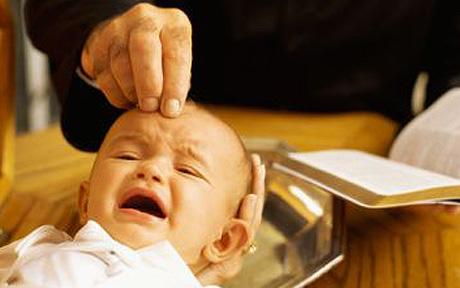 Arranging a wedding or baptism? - click here
Our website
If you'd like to contribute any information about forthcoming church events, write an article, or correct anything on the site, please send your information to Martin our website editor.