Welcome to the Gornal and Sedgley Team Ministry website.
Our parish includes All Saints' Church in Sedgley, St Andrew's in The Straits and St Peter's in Upper Gornal.
We've been a team ministry since 2005: team working allows us to provide spiritual and pastoral care to a wide area including Upper Gornal, the Straits and Sedgley.
We look forward to meeting you at one of the churches in our parish soon.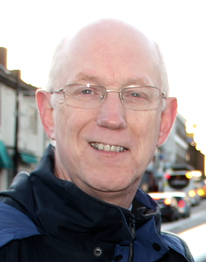 Revd Guy Hewlett (Team Rector, Gornal and Sedgley Team Ministry)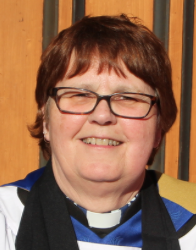 Revd Catherine Mitchell (Team Vicar, Gornal and Sedgley Team Ministry)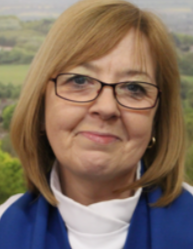 Canon Jan Humphries (Licensed Lay Minister, Gornal and Sedgley Team Ministry)
Gornal and Sedgley Team Ministry
SERVICES AND EVENTS AT ALL SAINTS', ST ANDREW'S AND ST PETER'S

Click here for a list of services and events at All Saints', St Andrew's and St Peter's
Please notify us of any services or events that are missing from the listings.
LATEST CHURCH NEWS FROM THE PEWSHEET
All Saints' pewsheet Sunday 10th December 2017
Our Facebook site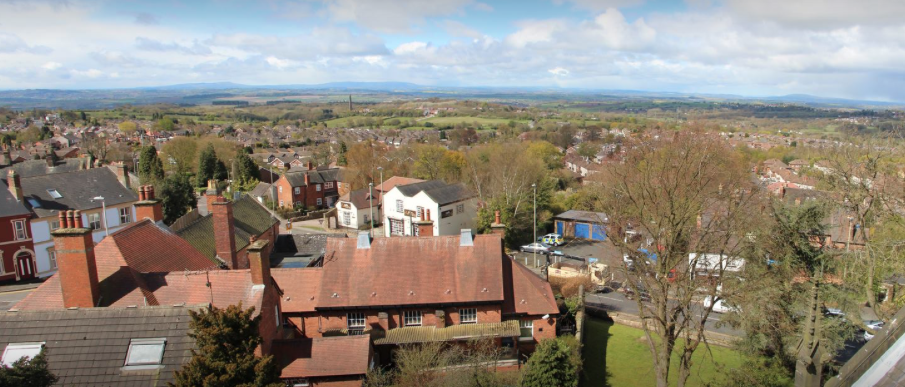 We've had a Facebook site for nearly 2 years now. It provides an added facility for communicating with other members of the church community and with our Team Ministry.
Who's Who at All Saints'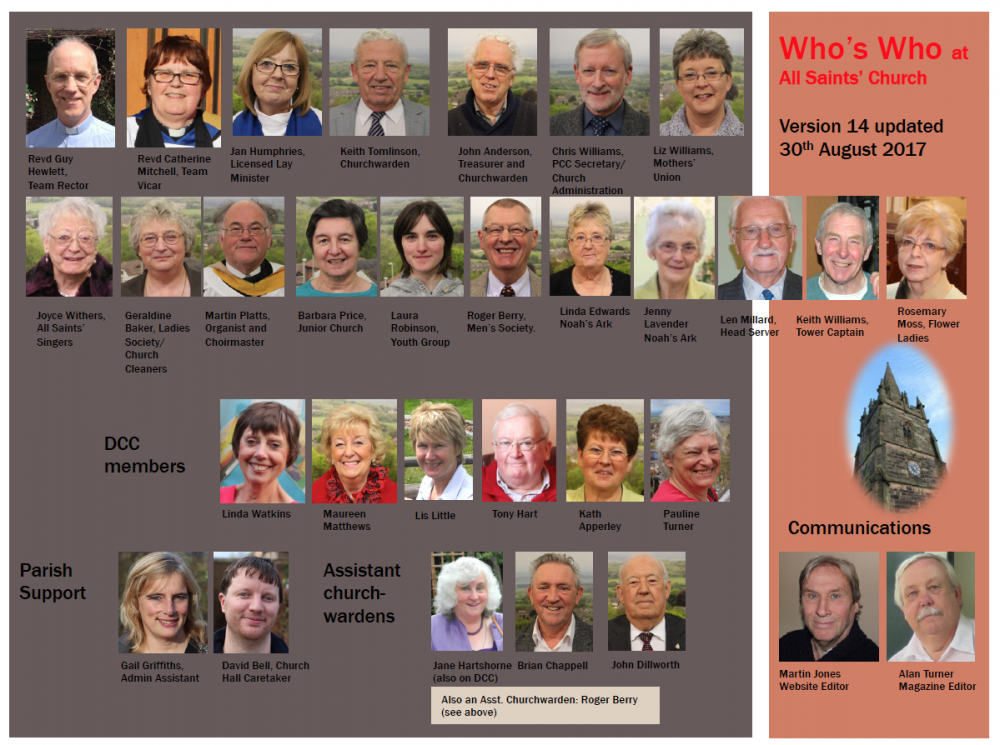 Click on the image above for a larger version of All Saints' Who's Who.
CHRISTMAS SERVICES AROUND THE PARISH
Click here for a full guide to Christmas services around the Parish
Our Advent wreath and candles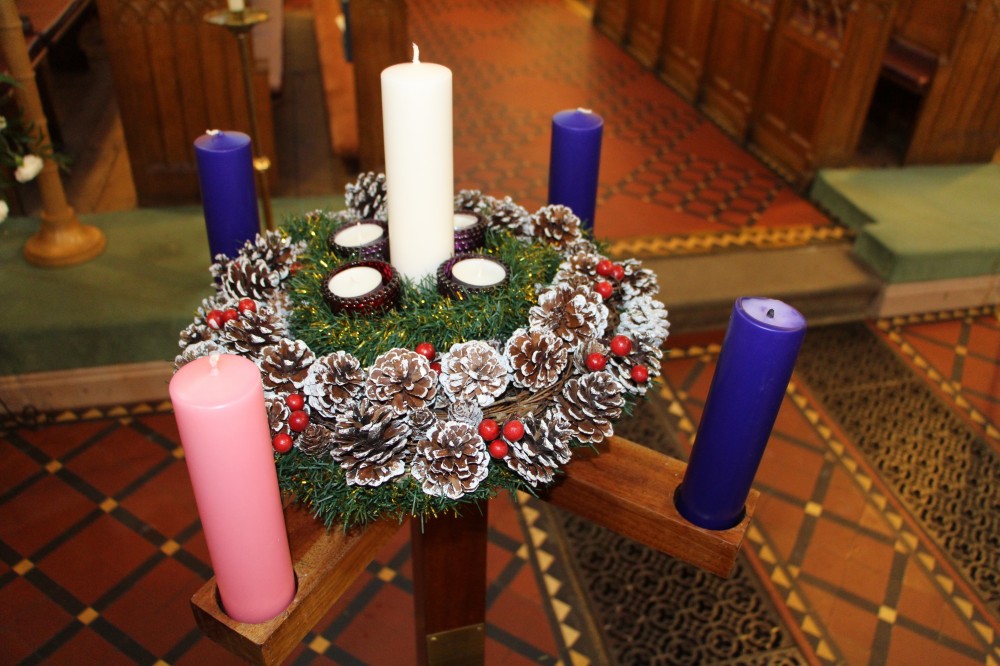 All Saints' Advent wreath and candles.
The first candle, bottom right, lit last Sunday, represents the Patriarchs: Abraham, our father in faith and David.
The second candle, top right, to be lit on 10th December, represents the Prophets - how the birth of the Messiah, Jesus was foretold.
The third candle, bottom left, which is pink, represents John the Baptist: the forerunner of Jesus.
The fourth candle, top left, represents Mary: Mary the Mother of Jesus.
The final candle, centre, white, lit on Christmas Eve, represents Christ.
As we discovered last year, custom and practice regarding the orientation, significance and order of lighting the candles varies significantly between churches and there is no 'correct' way; local churches has evolved their own practice over the years:
The Advent Wreath - customs and practice
Revd Guy has provided us with prayers to accompany each week of Advent:
Sedgley unites to sing carols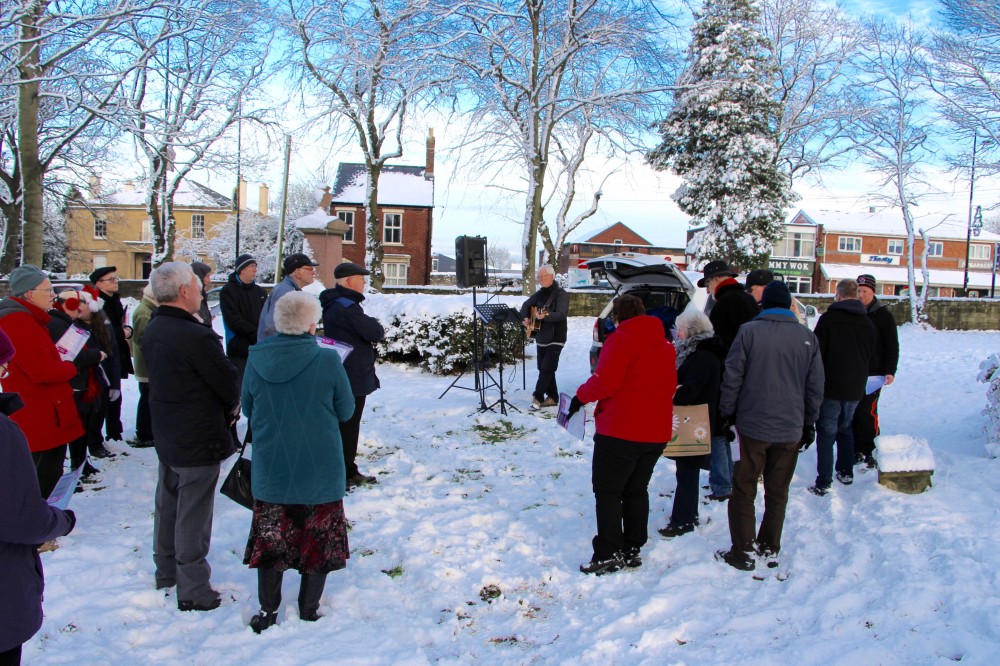 St Andrew's, St Chad's, All Saints' and Sedgley Community Church united to sing carols in the middle of Sedgley.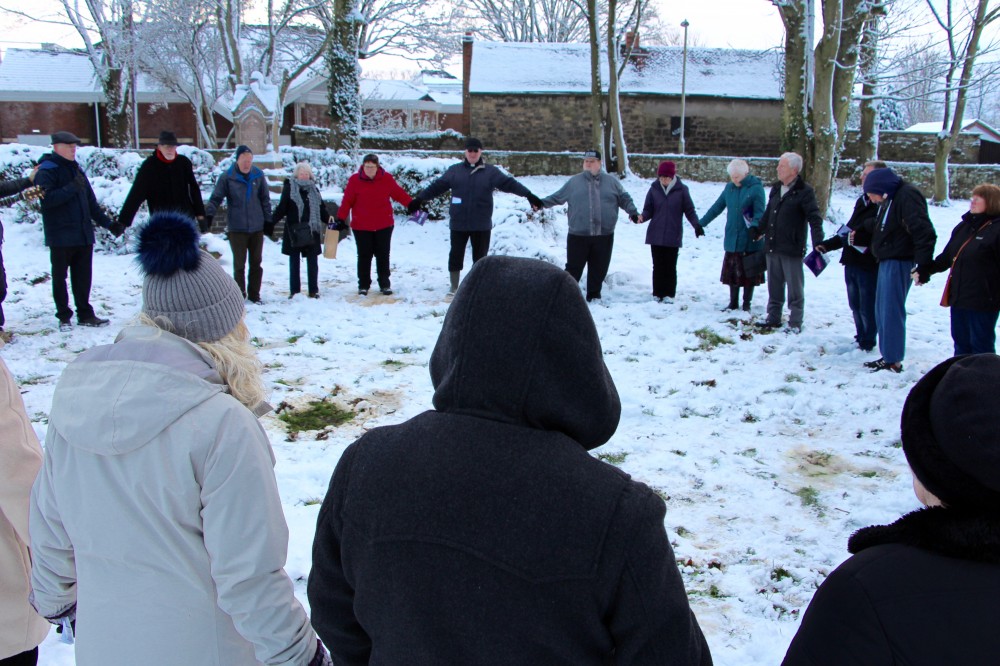 The gathering from all four Sedgley Christian churches in Vicar Street Gardens.
Members of the congregations of all four Sedgley Christian denominations united in Vicar Street Gardens on the afternoon of Saturday 9th December to sing carols, listen to the Nativity story and hear the message of Christmas together.
More pictures of the Carol Singing in Vicar Street Gardens
Sedgley under snow
A few shots of Sedgley, and All Saints' over the weekend: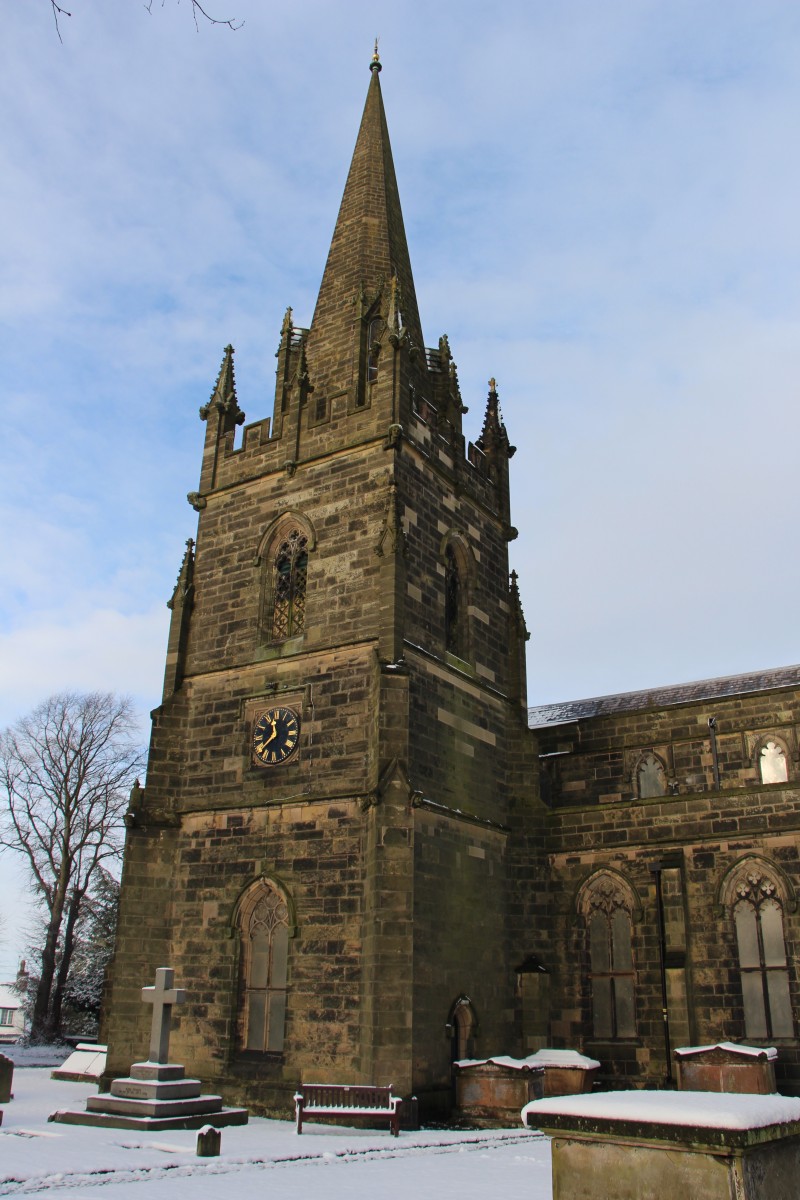 All Saints' churchyard under snow on Saturday morning 9/12/17.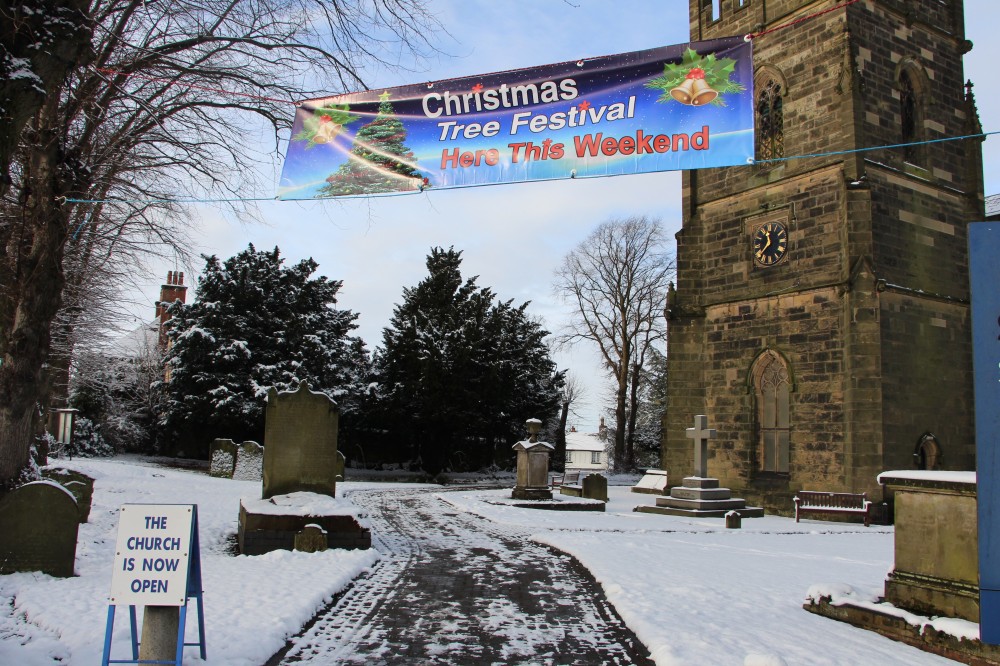 The final weekend of the Christmas Tree Festival at All Saints'.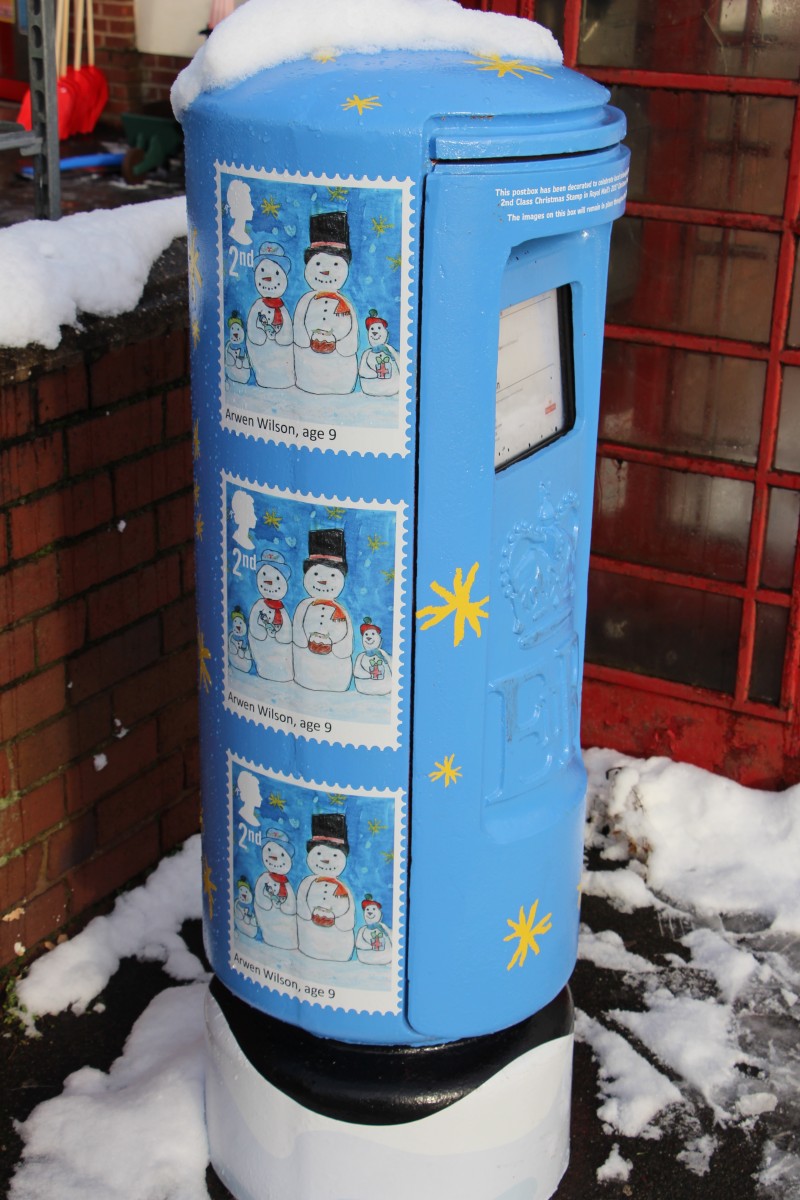 The Christmas postbox outside Yummy Wok.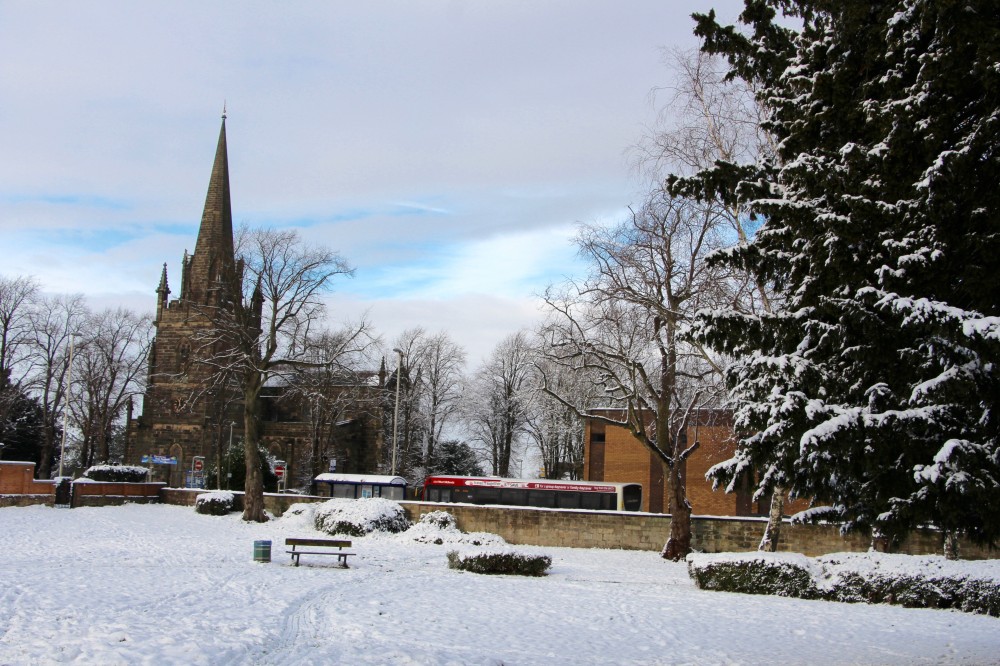 Vicar Street Gardens, with All Saints' in the distance.
A picture review of Gornal and Sedgley in 2017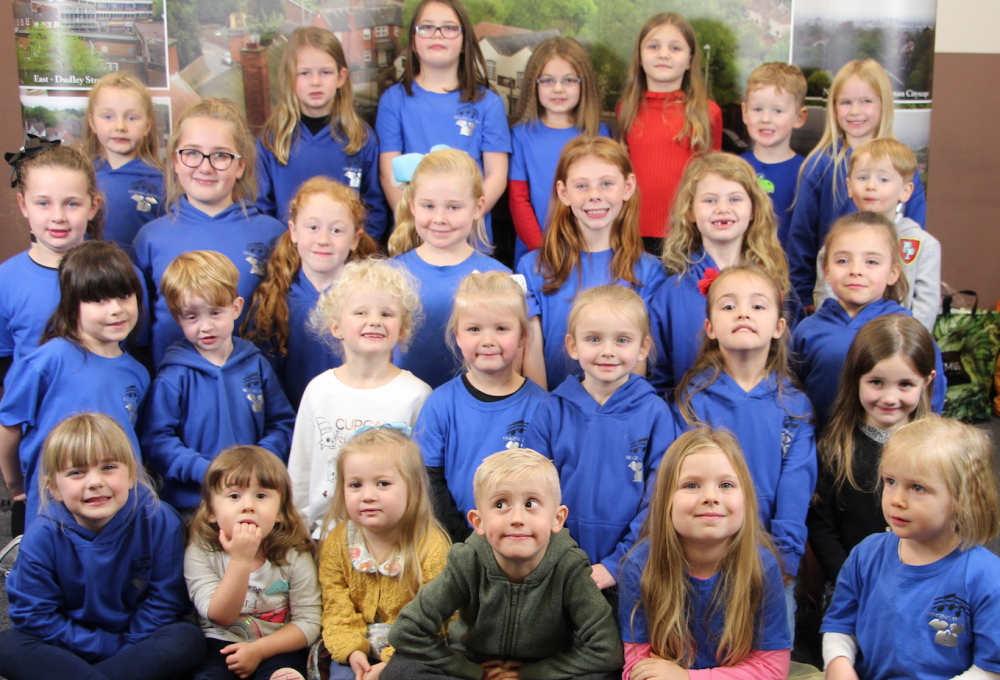 Singing Angels, the children's choir based at St Andrew's The Straits.
The year has seen much change in the Team Ministry, not least the installation of Revd Guy Hewlett as Team Rector and Revd Catherine Mitchell as Team Vicar - plus the welcome recognition of Jan Humphries' ministry by the Diocese of Worcester, who conferred upon her the title of Honorary Canon.
2017 - A Review of Gornal and Sedgley Team Ministry in pictures
Ladies' Society Christmas Events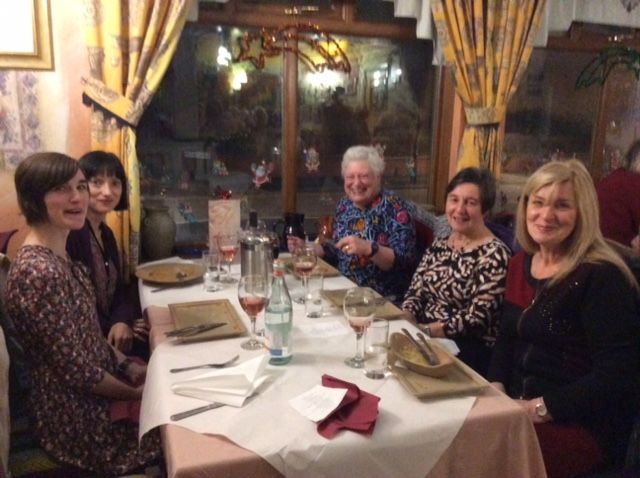 Linda Watkins writes:
"Ladies Society have spent two lovely evenings together this week, the first one with a bring and share in the function room - for the second one we ventured out to Cafe Casita, where we enjoyed an excellent meal.
We would like to thank Geraldine our chair lady and our committee for putting so much time and thought into planning our meetings.
Thank you all of you from Ladies Society members."
Photos of the Ladies' Society Christmas events
JENNY WINS £50 COOP FOOD VOUCHERS IN ARCHIVES EXHIBITION COMPETITION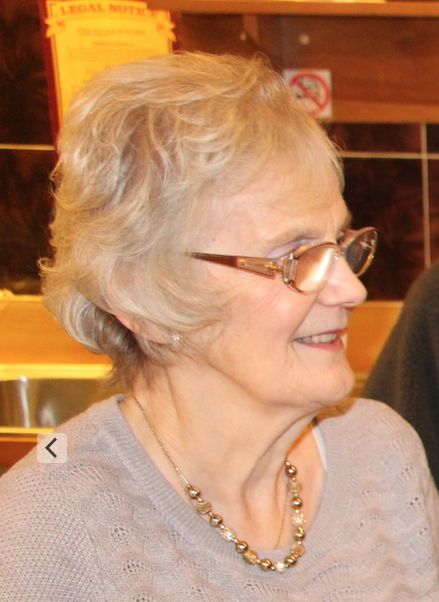 Jenny Lavender was the lucky winner of £50 in Coop food vouchers in the People's Archive Competition. A shop was secretly chosen by Revd Guy - entrants then had to fill in a card with their memory of a property/shop in Bull Ring, High Street or Dudley Street. The entry sited closest to Guy's choice of location was the winner.
Jenny's memory is of her great grandfather's bakery in the Bull Ring.
In 1940, Jenny's great grandfather Frank Roden was running a baker's shop at 2 High Street, next to Hartills Butchers, with his loading bay at the back, in what is now Whitesmiths Close.
The People's Archive exhibition was sponsored by Midcounties Co-operative.
CHRISTMAS BEGINS AT ALL SAINTS' - FAIR RAISES £2439.08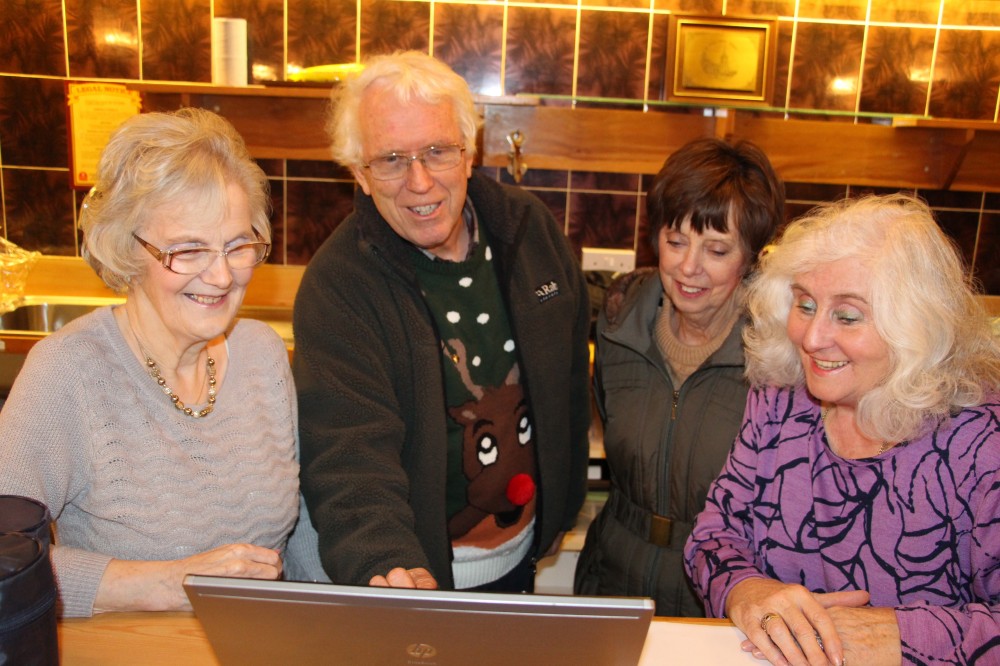 Pleased with the total raised at the Christmas Fair - Jenny Lavender, John Anderson, Linda Watkins and Jane Hartshorne
A message from John and Keith our Churchwardens:
"A splendid effort by all those involved, either those running stalls or behind the scenes, in supporting the Christmas Fayre which raised £1,978.54.
Cynthia Round assisted and enabled income from the Bottle Stall and Tombola to be matched by Barclays' Community Charity Engagement Initiative so we have secured a further £460.54. This sum yet to be claimed."
Thank you, and well done to all the volunteers who made this year's event a resounding success!
Here are some picture highlights from Friday, Saturday and Sunday, at the start of Advent:
Looking up towards The Clifton, Sedgley Bull Ring throngs with people attending the Christmas Lights switch-on on Sunday 3rd December at 6pm.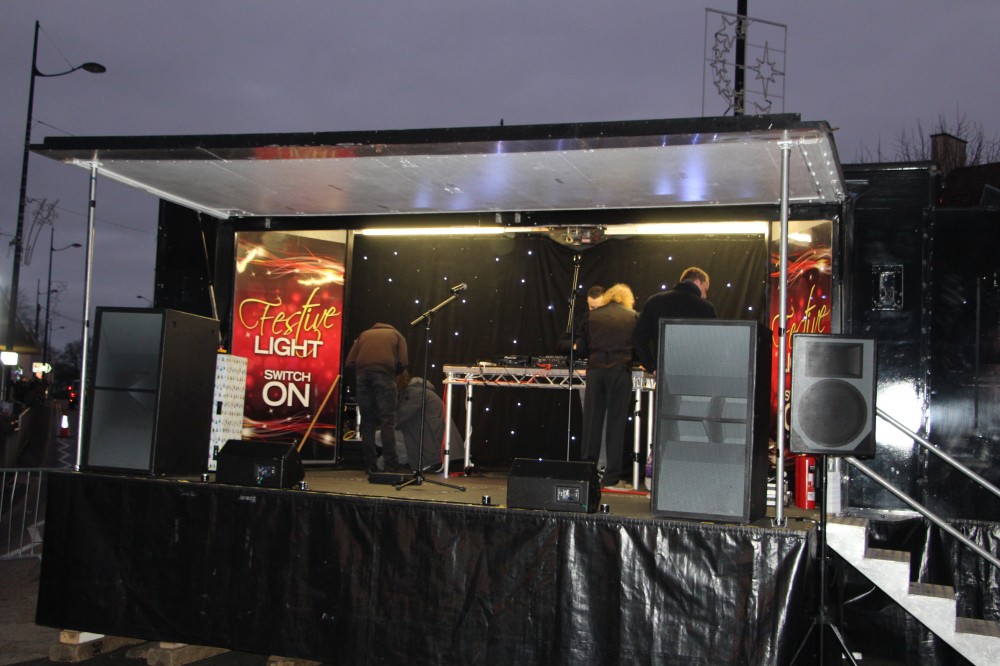 The stage erected in the Bull Ring.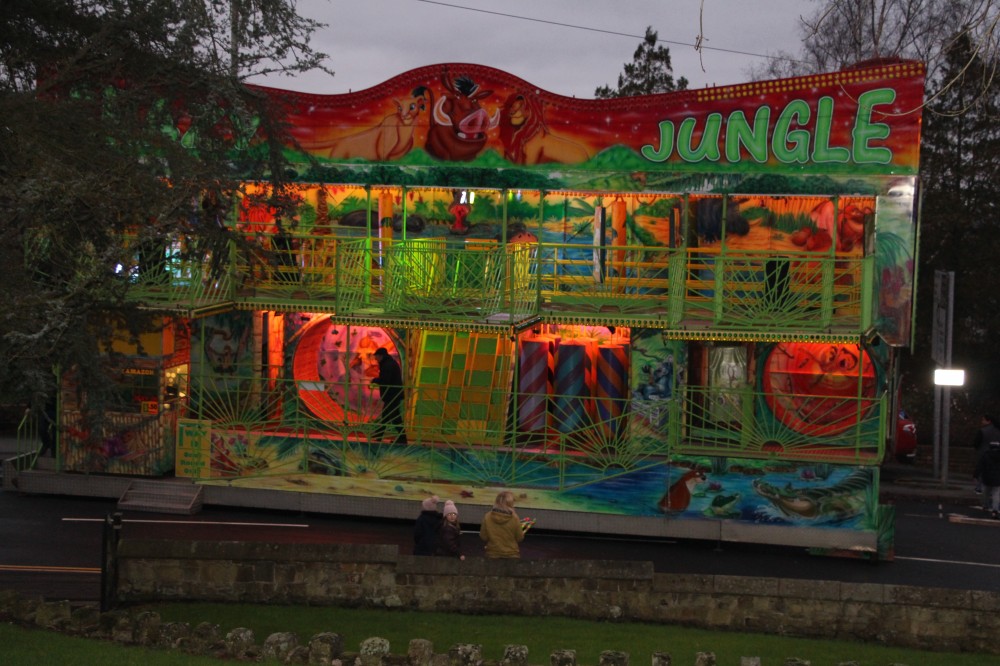 The 'Jungle' attraction in Gospel End Street.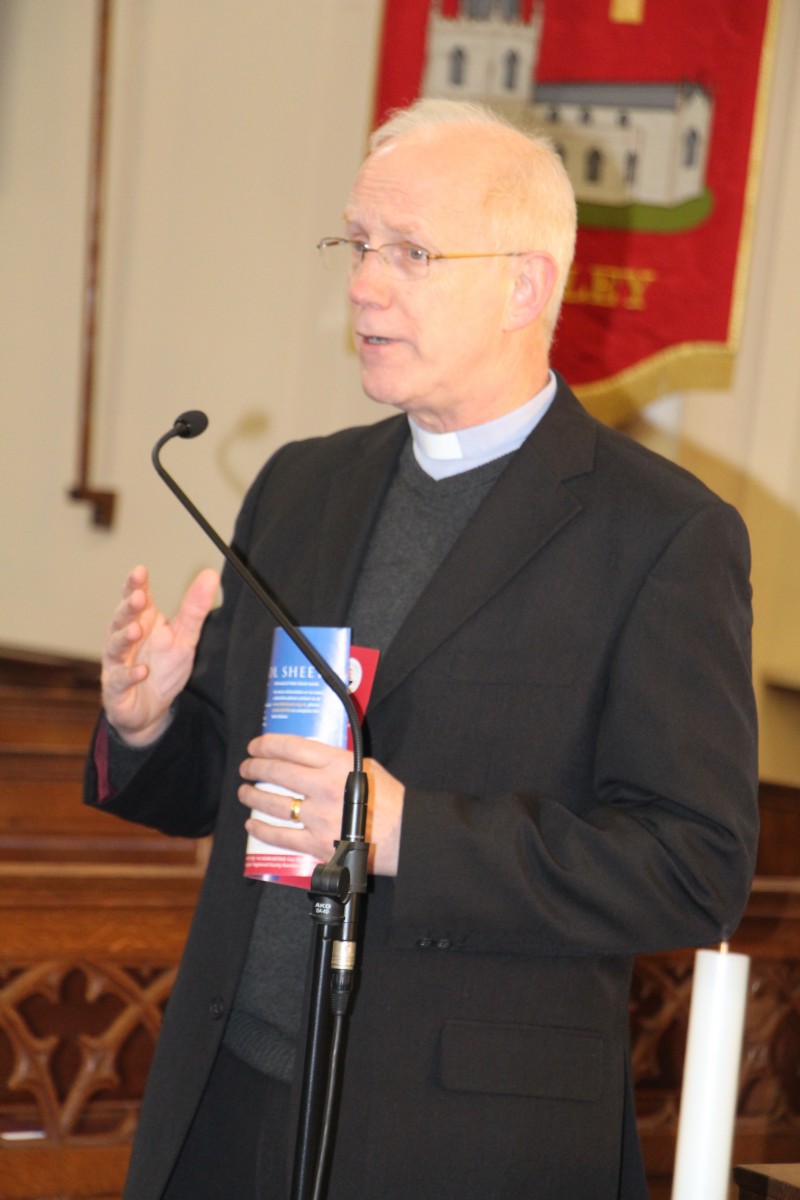 Revd Guy blesses the trees at the opening of the Christmas Tree Festival 2017 on Friday 1st December.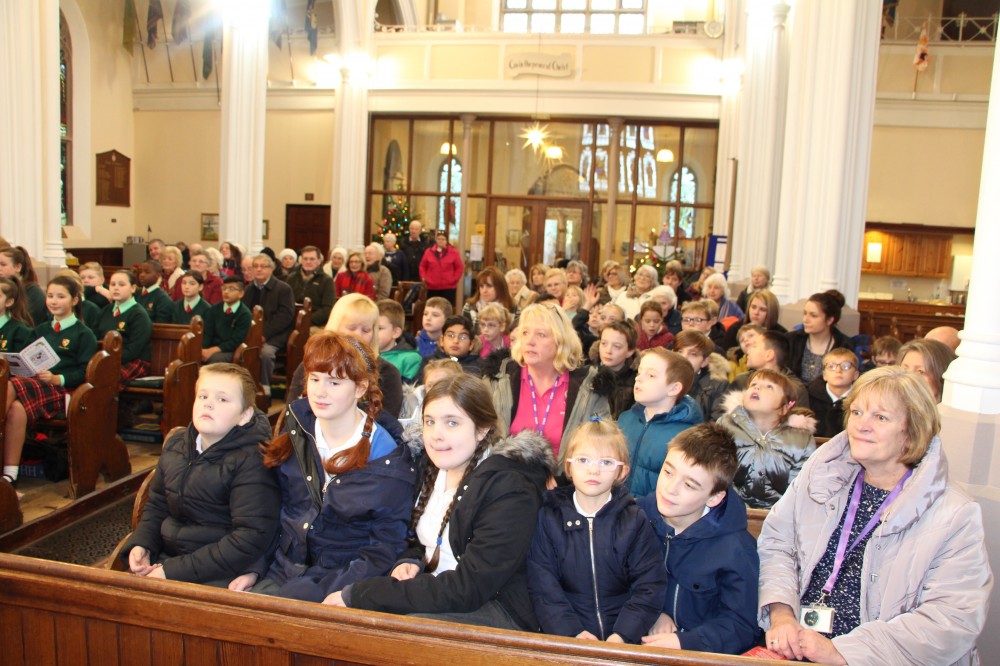 All Saints' fills with children, parents and parishioners for Friday's Christmas Tree opening event.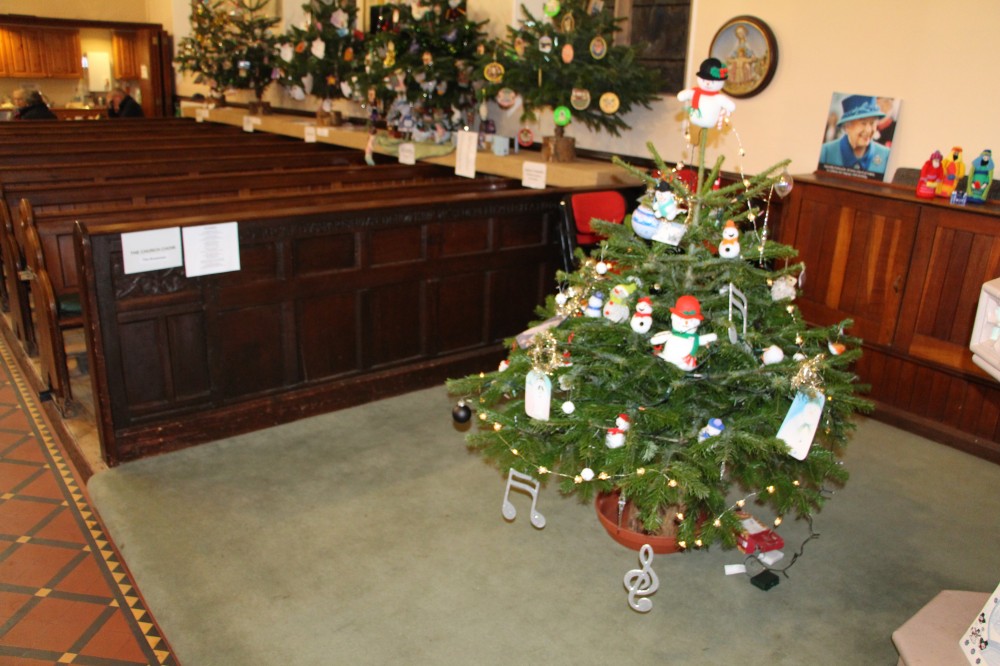 Trees at the Christmas Tree Festival at All Saints'.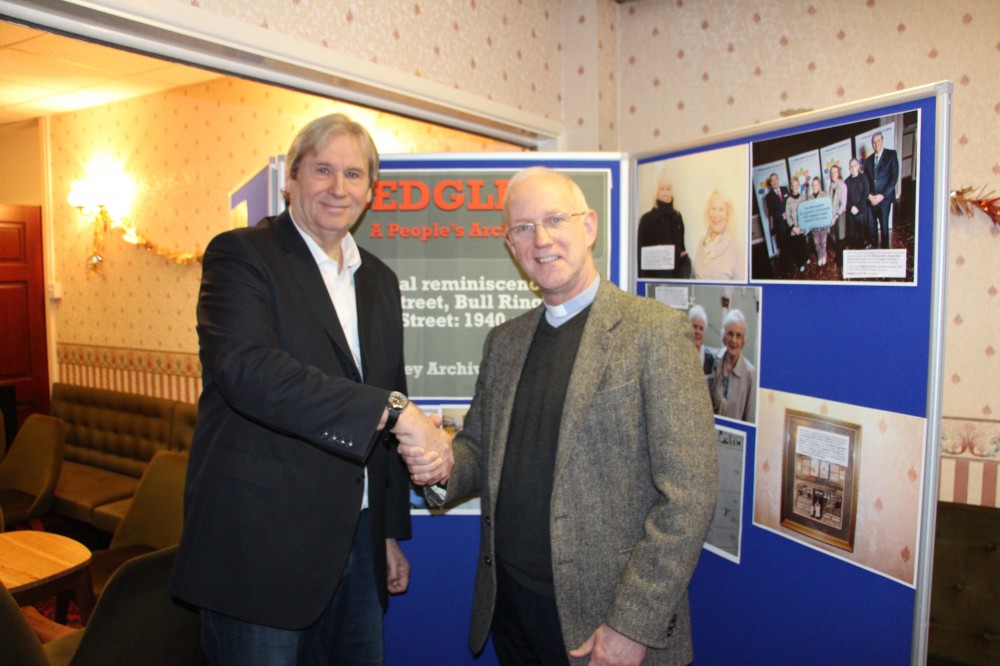 Revd Guy officially opens the 'Sedgley: A People's Archive' exhibition in the Church Hall Meeting Room.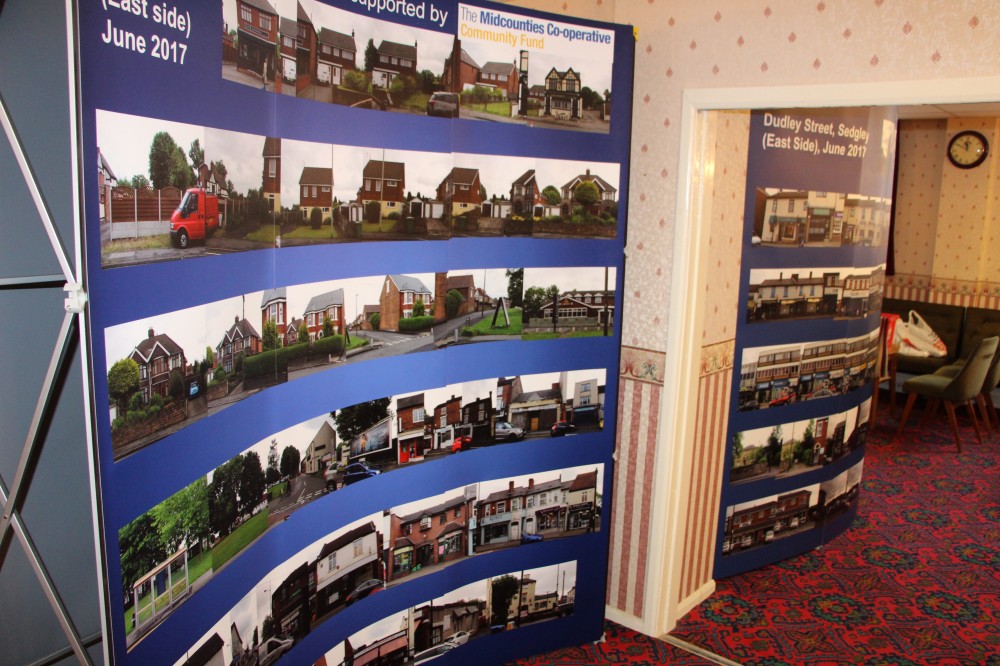 More than 150 shops feature in the People's Archive exhibition. So far 80 people have so far left their reminiscences at the exhibition and at Reminiscence Cafe sessions in the autumn. A 'lucky memory' chosen at random by Revd Guy had a £50 voucher prize from Coop to spend in one of their food stores.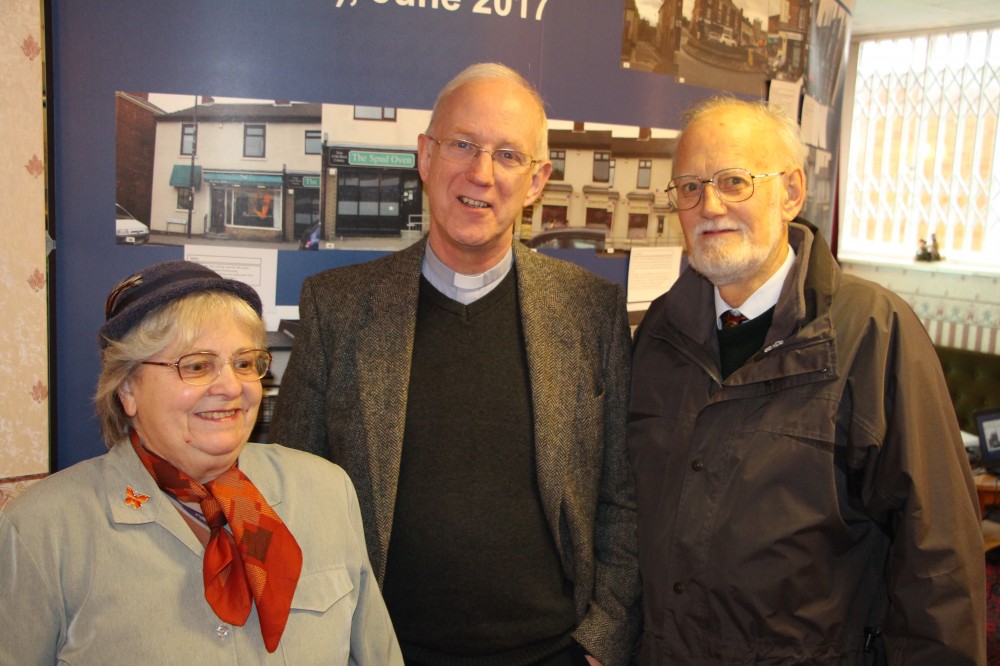 Revd Guy talks to visitors to the exhibition about the history of Sedgley's shops.
The crowd at All Saints' Christmas Fair 2017. The new layout of cafe and stalls worked very well.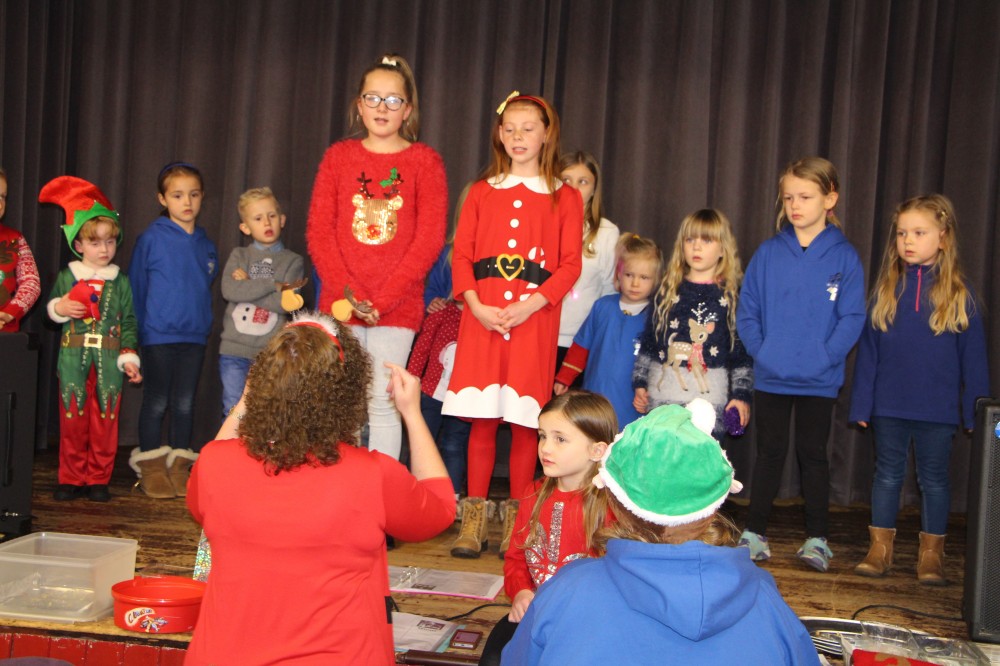 The brilliant Singing Angels entertain the All Saints' Christmas Fair in the Church Hall.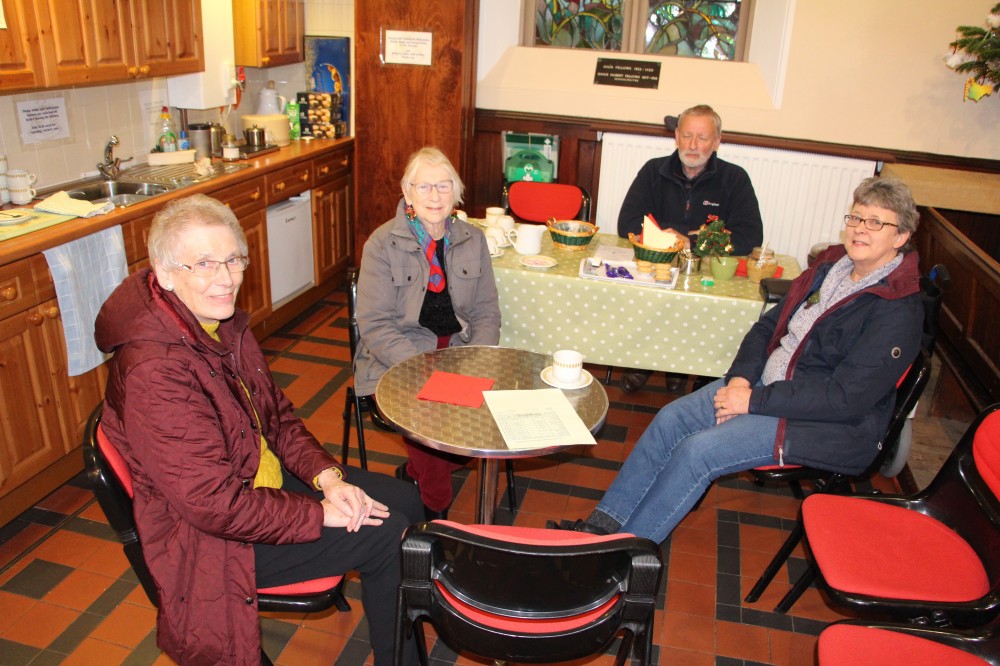 After a huge collective effort, organisers Chris and Liz Williams relax with All Saints' helpers in the Christmas Tree Festival tea and coffee area.
All Saints' Christmas Tree Festival 2017
Sedgley Christmas Lights Switch On Event 2017
A message from our Treasurer John Anderson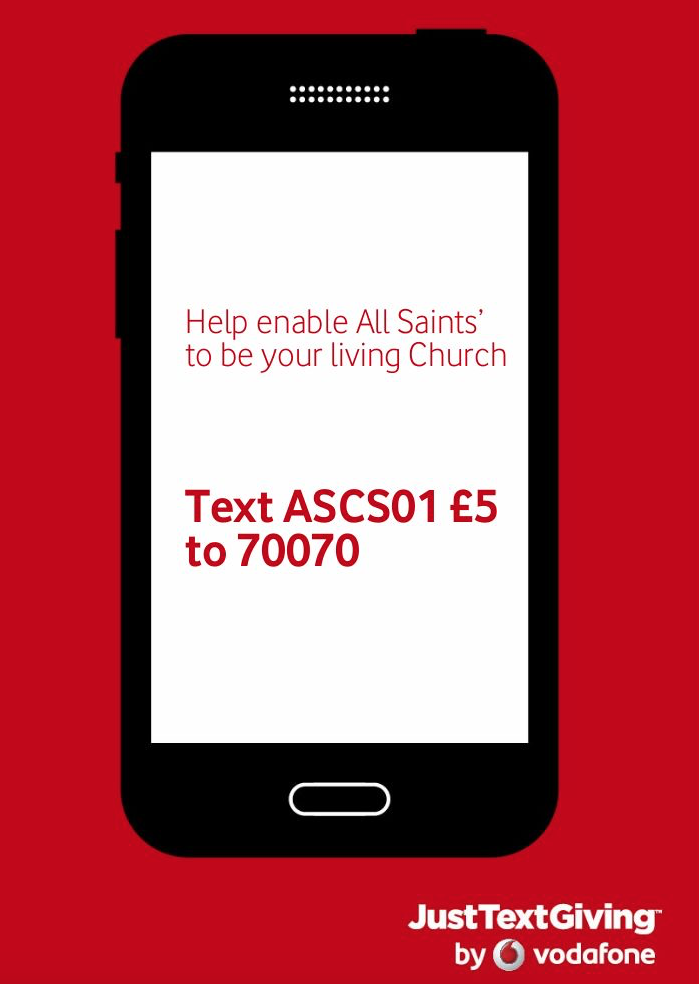 "I have registered with JustTextGiving for donations to All Saints'. Unlike JustGiving this does not incur a fee, but can only accept donations by text.
I have just sent a test donation that has been accepted - I await to see it work it's way through the system to All Saints'."
Parishioners are encouraged to use this method of giving to benefit All Saints'.
Miss Moslett's (Coslett's?) School, Sedgley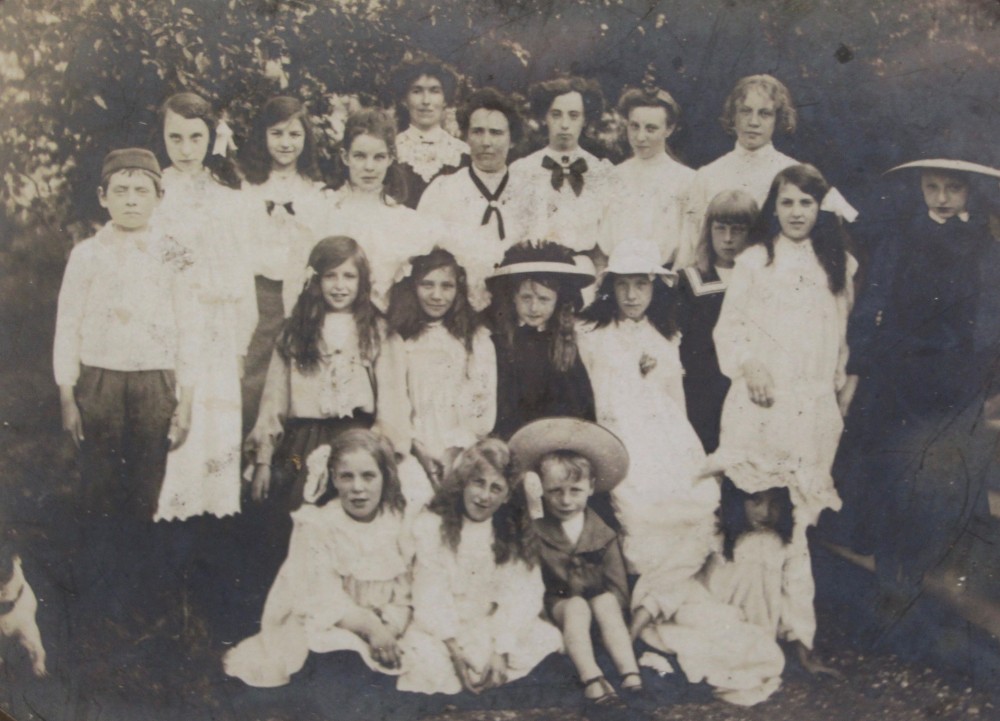 Miss Moslett's School, Sedgley. Malcolm Smith is the boy on the far left.
At St Andrew's Christmas Fair, Irene Baines handed us an enigmatic photo of a school in Sedgley, which would probably have been in existence in Edwardian times, judging by the children's dress.
Irene's father Malcolm Smith is one of only three boys in what appears to be predominantly a girls' school, which Irene says was located in Sedgley.
She recalls it being called 'Miss Moslett's', but can't say where it was.
It has the appearance of a small 'Dame School' which were still around in the early 20th century - or a small private educational establishment.
Christine Buckley has researched a family called Coslett who were teachers, and it's likely this was their school.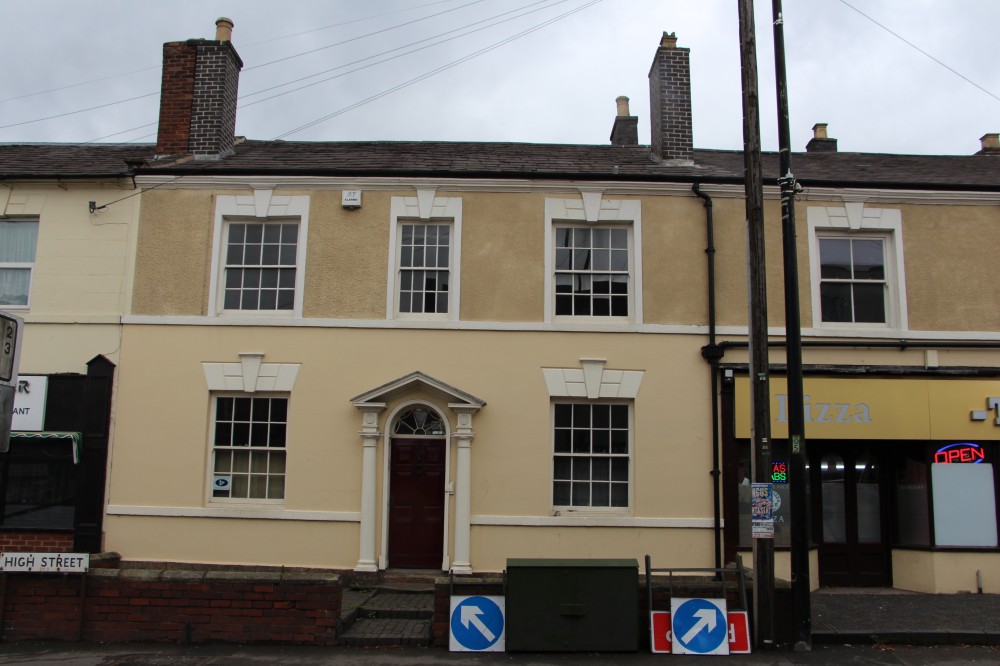 This house is said to have been a private school in the early part of the 20th century.
Another property of interest regarding Sedgley schools came from our reminiscence cafe at Sedgley Library - a property in the High Street terrace, next door to what is now the Tasty Plaice, is said to have once been Mrs Brassington's school.
Can anyone help with more information? If so, contact Martin:
St Andrew's lovely new windows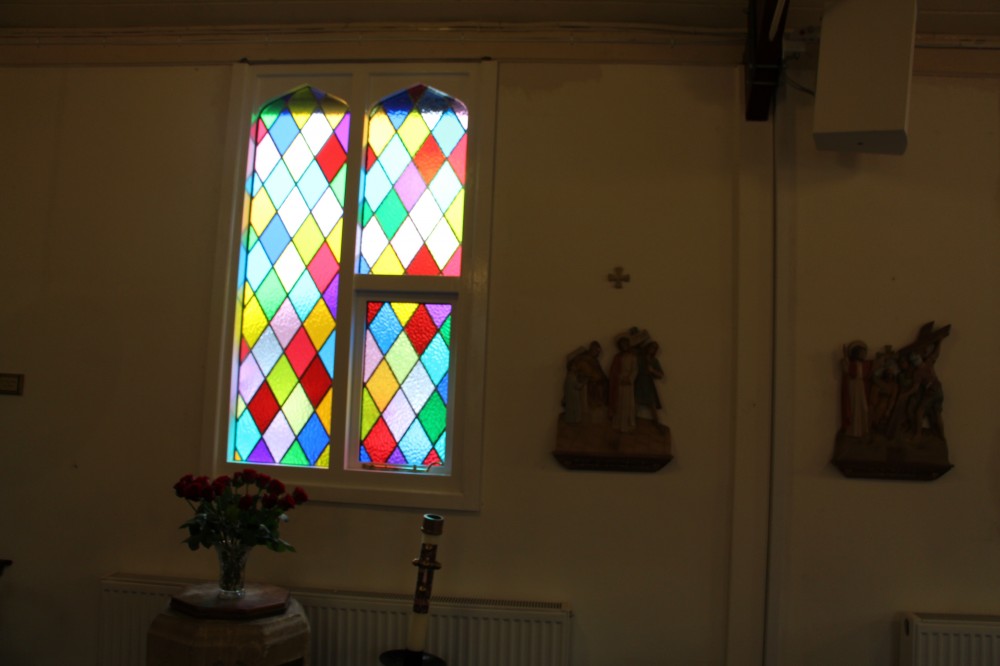 St Andrew's The Straits has replaced some of its stained glass windows, thanks to energetic local fundraising, generous donations and bequests.
Well done to everyone involved - they look very colourful and smart. Here's a look at the new windows - and a note of the people in whose memory they are dedicated:
St Andrew's new stained glass windows 2017
St Andrew's raises £1,895 at their Christmas Fair!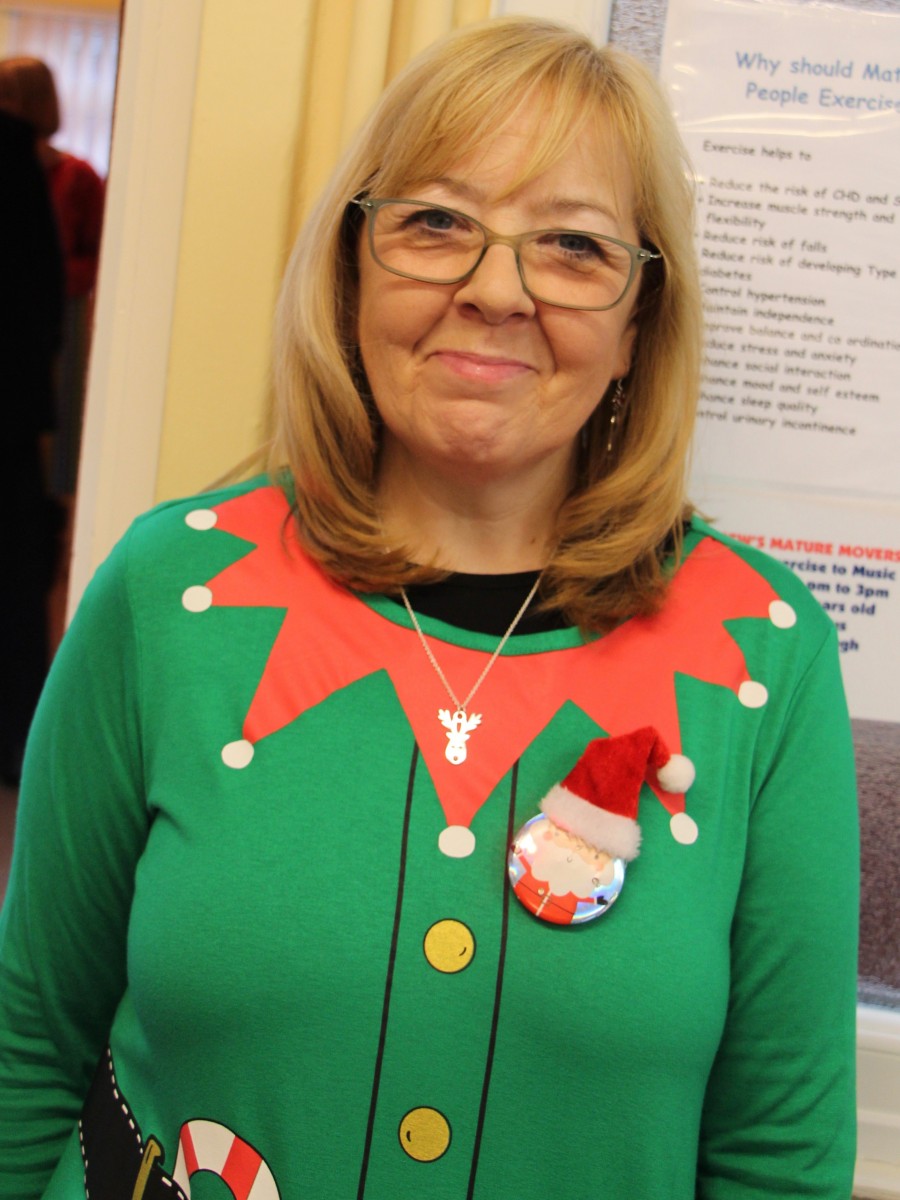 Jan Humphries the elf - who was on cafe duty at the Christmas Fair.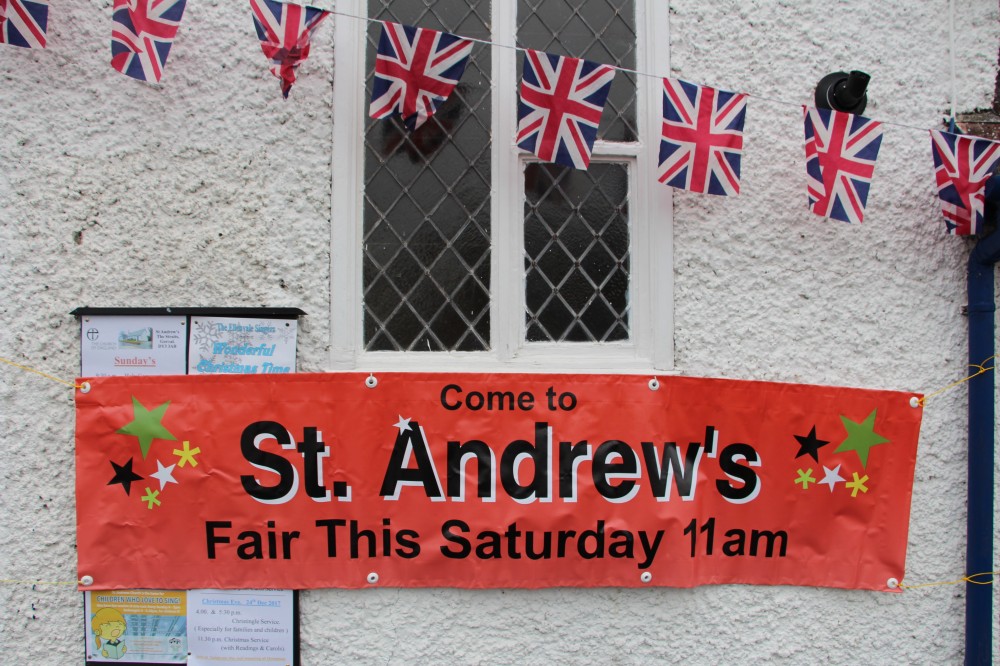 The Christmas Fair banner.
Christmas began at St Andrew's The Straits with their Christmas Fair on Saturday 18th November.
All the customary stalls were there again this year, plus the cafe, with wonderful food cooked and served by volunteers to cheer us up on a cold wet day.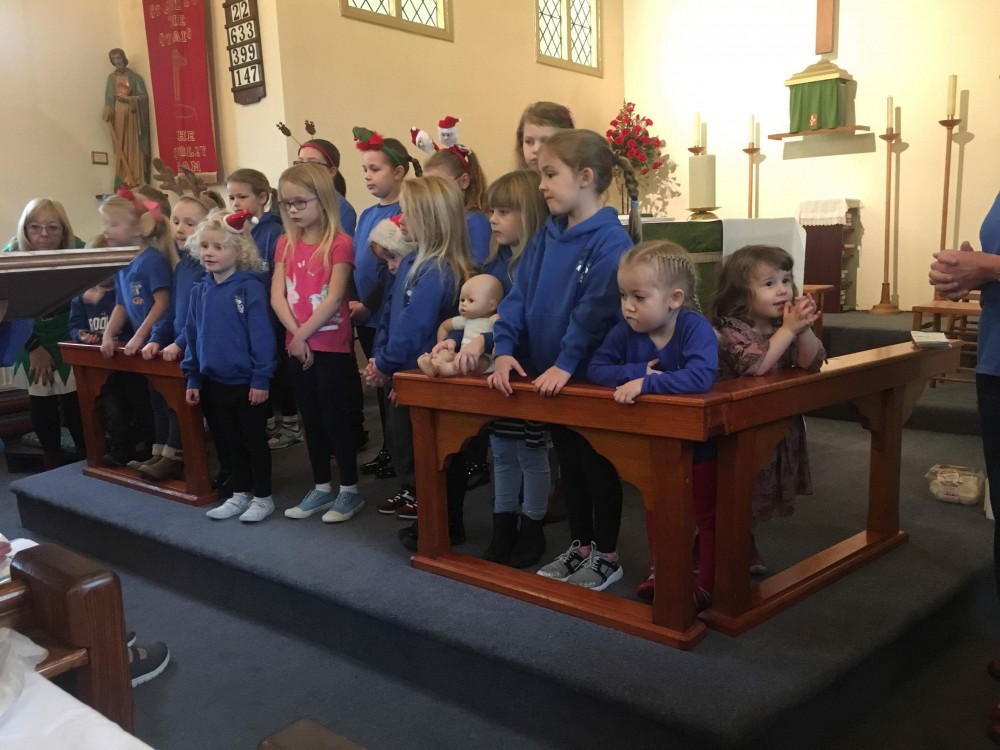 St Andrew's Singing Angels Choir launched St Andrew's Christmas Fair.
The event was beautifully launched by the Singing Angels choir who are based at St Andrew's and who meet there every Sunday afternoon.
Congratulations to all concerned for another really enjoyable event!
They raised £1,895 for church funds, which is an outstanding achievement!
Pictures:
St Andrew's Christmas Fair 2017
All Saints' Quiz Night raises £100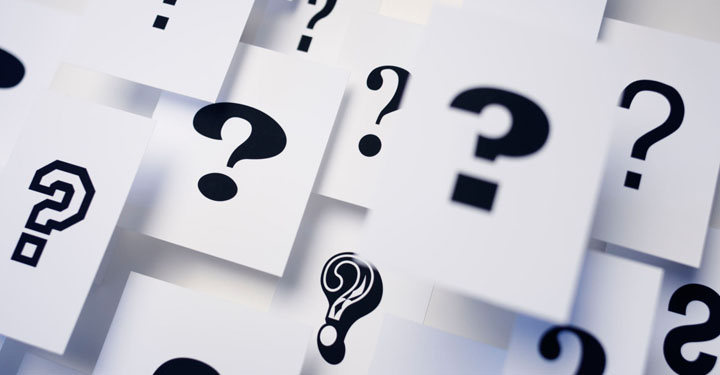 The Quiz Night held by All Saints' raised £100 for church funds - they had 10 teams of 4 persons in each team - £10 entry per team.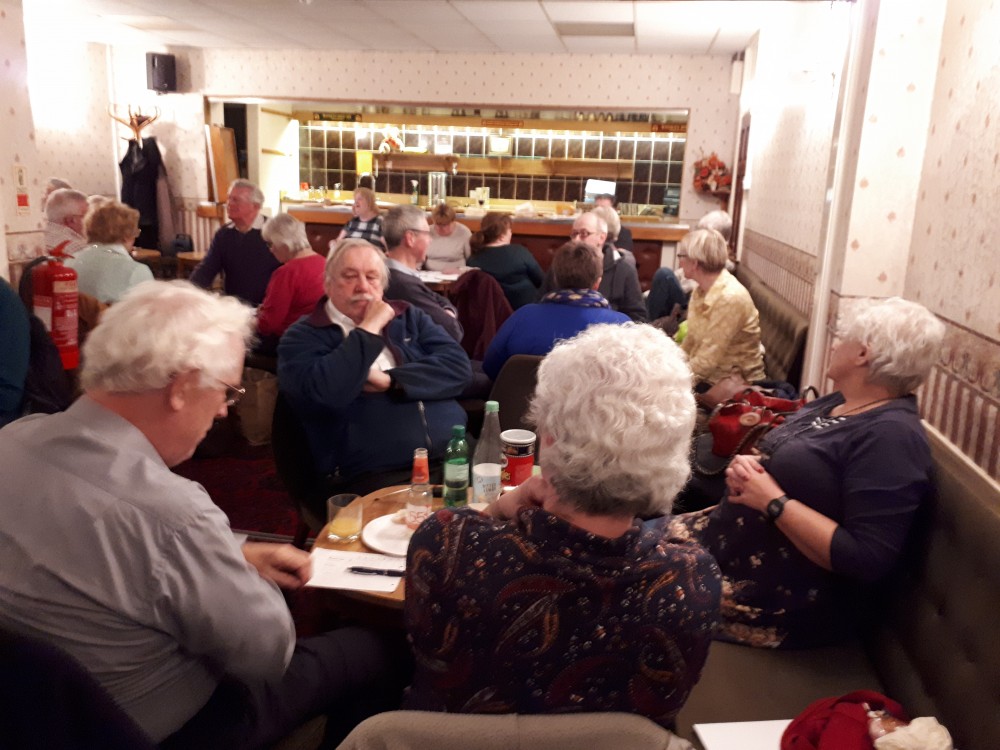 The Quiz was held in the Meeting Room at the Church Hall.
Thank you to Mike Edwards' sister Di who set and marked the questions, and to All Saints' Events/Entertainments Team for making the arrangements.
The event was held in the Meeting Room at the Church Hall on Saturday 18th November 2017. Congratulations to the winners - Geraldine Baker's team.
Another photo of Quiz Night (thanks to Kath Apperley for the photos.)
Scottish bagpipe band leads Remembrance Sunday Parade 2017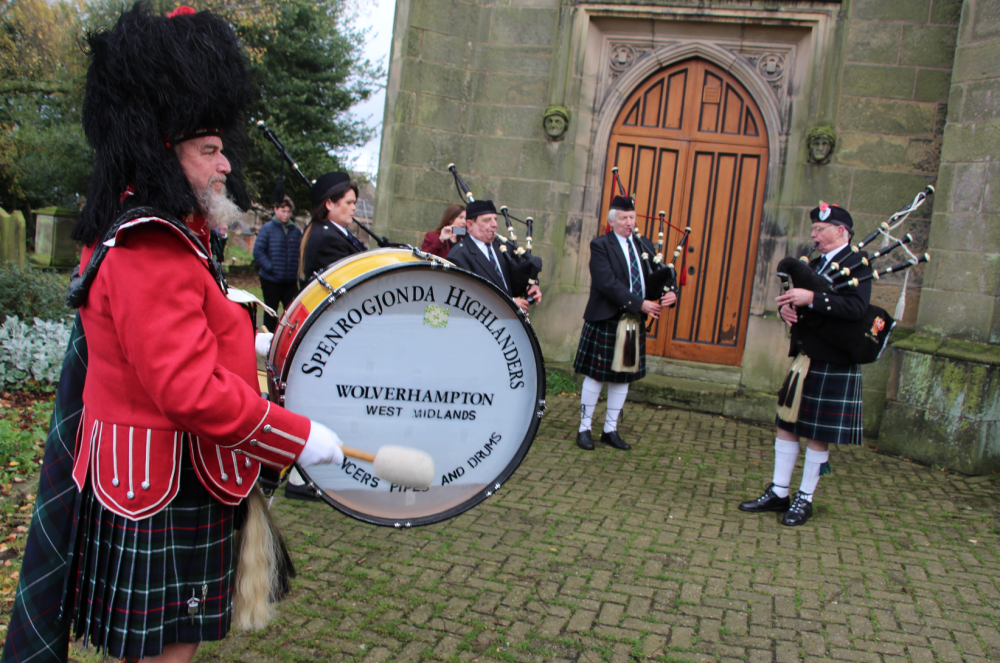 The Spenrogjonda Highlanders from Wolverhampton led the Remembrance Sunday Parade.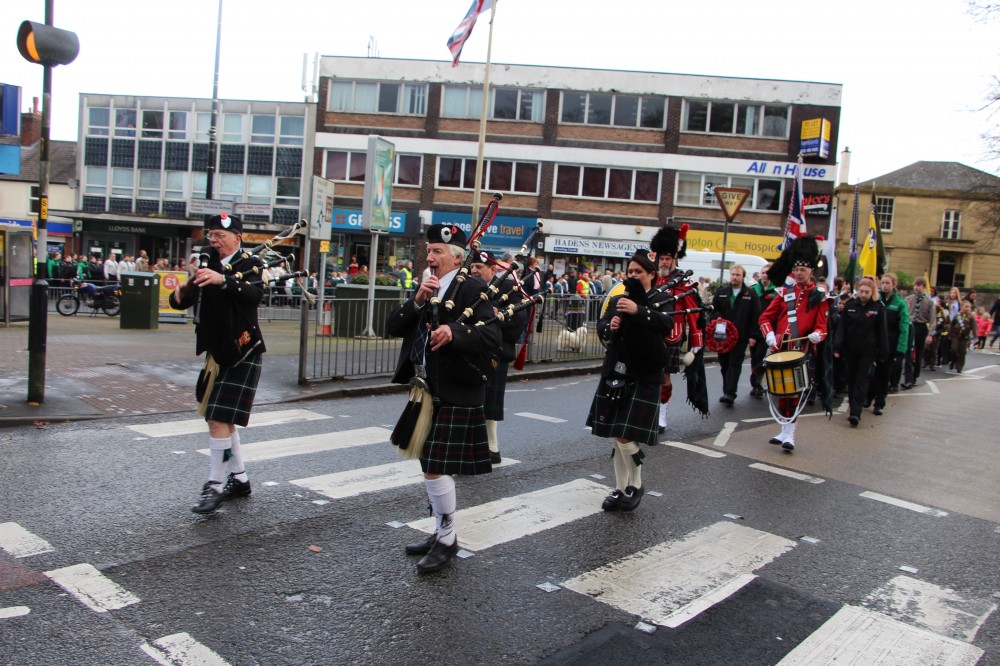 The pipers lead the parade from Dudley Street into Vicar Street.
Sedgley marked Remembrance Sunday with the annual Sedgley Royal British Legion Parade and Service on 12/11/17.
This is always Sedgley's most impressive show of community spirit - over 400 people combine to remember the sacrifice made by people from our village (and servicemen and women throughout the country) for freedom and for peace.

From 10am organisations began to gather in The Walk, Sedgley - in the area between the Ex-Servicemen's Club and The Crown pub. Organisations included the Scouts and Guides, Brownies and Beavers and St John Ambulance.

They were put into marching order by Bob Hill of the Sedgley Royal British Legion, and at 10.15am the march began, proceeding down High Street towards the Bull Ring.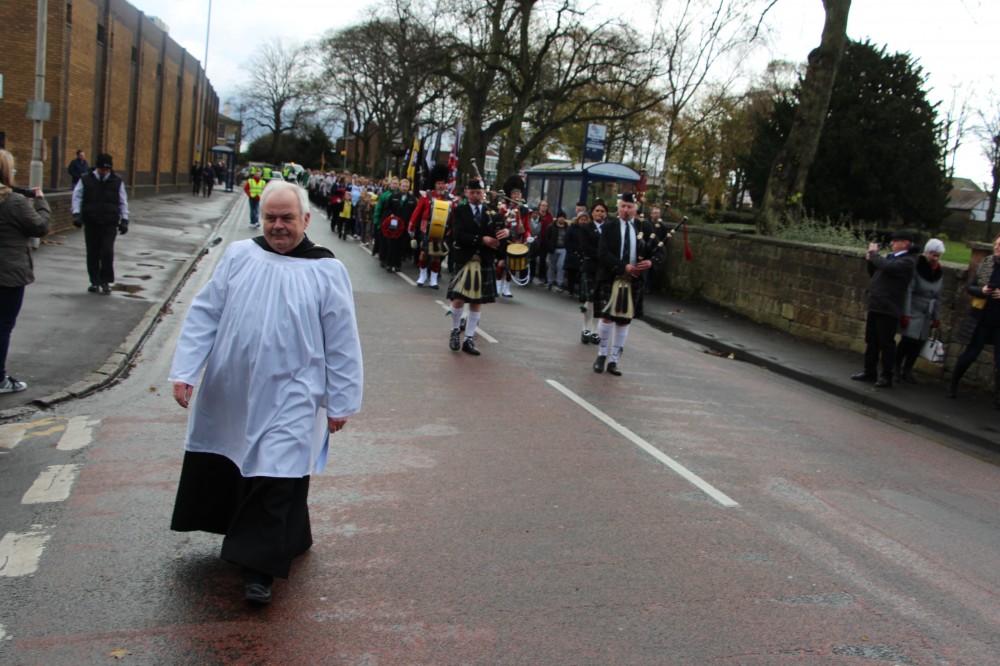 The parade turns into All Saints' churchyard.
Police and a team of volunteers provided marshalling along the route. Roads were temporarily sectioned off to allow safe passage through the Bull Ring and up Dudley Street, wheeling right into Vicar Street. Once in Vicar Street, the procession was led into All Saints' churchyard.

Colour parties remain outside on the paved area as organisations file into church.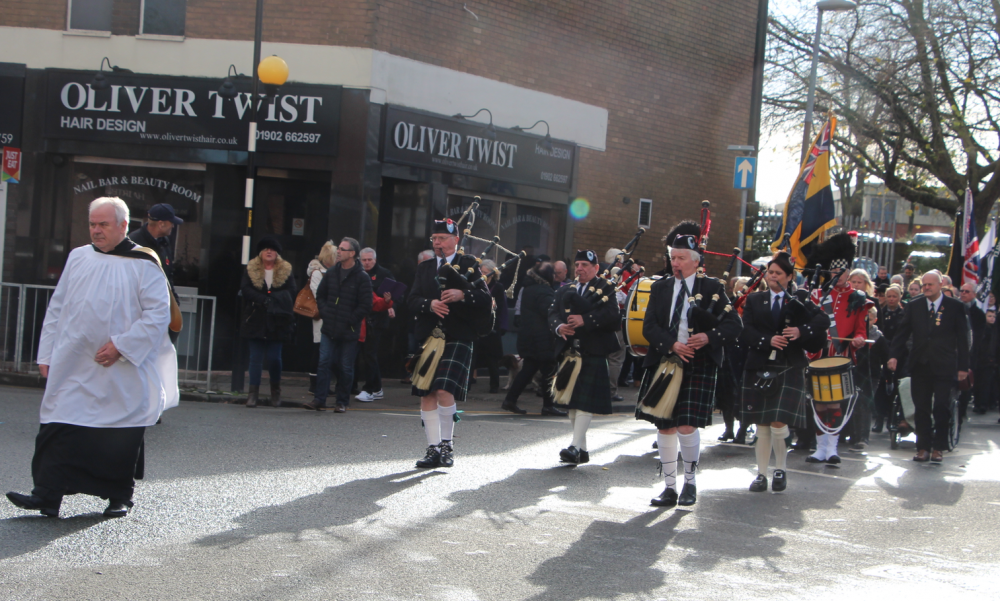 The return parade passes through the Bull Ring.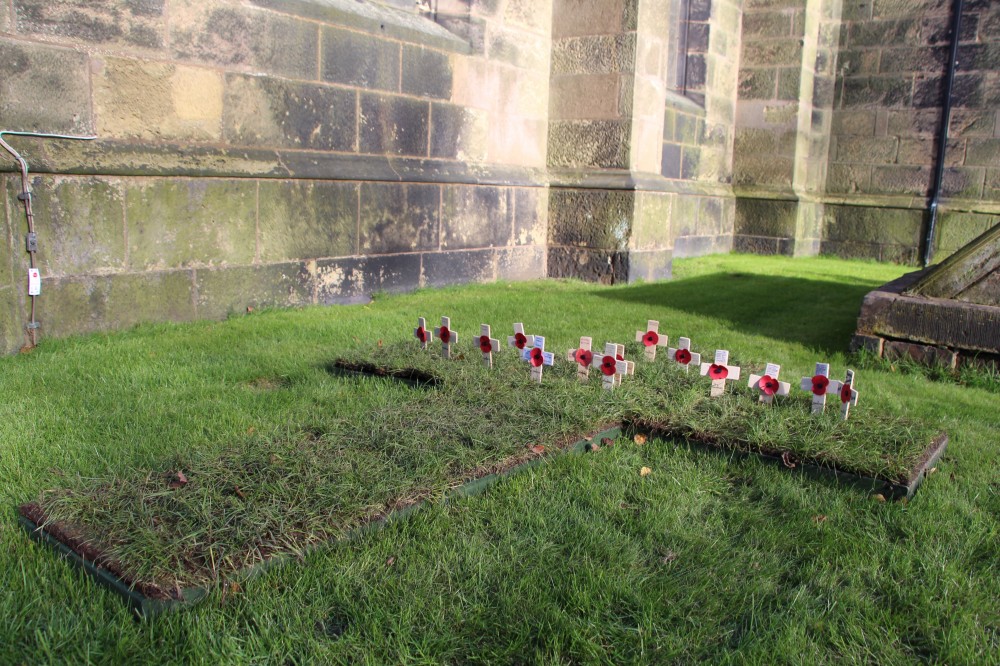 This year by arrangement with Dudley Council, a special cross-shaped grassed area was set aside in the churchyard for those who wished to remember the fallen by placing wooden poppy crosses.
Remembrance Sunday Parade 2017
Revd John Linford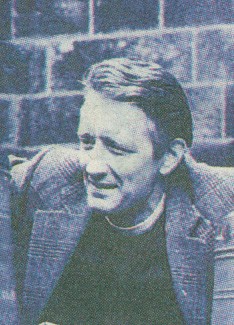 Revd John Linford, Vicar of All Saints' 1970-78
Revd John Linford's funeral was held on 8th November in Staffordshire. Parishioners' memories of John, who was All Saints' vicar from 1970-78, are still welcome.
Contact us with your memories of Revd John Linford
So far we have received the following:
Memories of Revd Linford by Tony Wright
Parishioners' memories of John Linford
Revd Linford is remembered along with other vicars of All Saints' in our photo gallery:
Vicars of Sedgley photo gallery
Martin completes his (second) Bishop's Certificate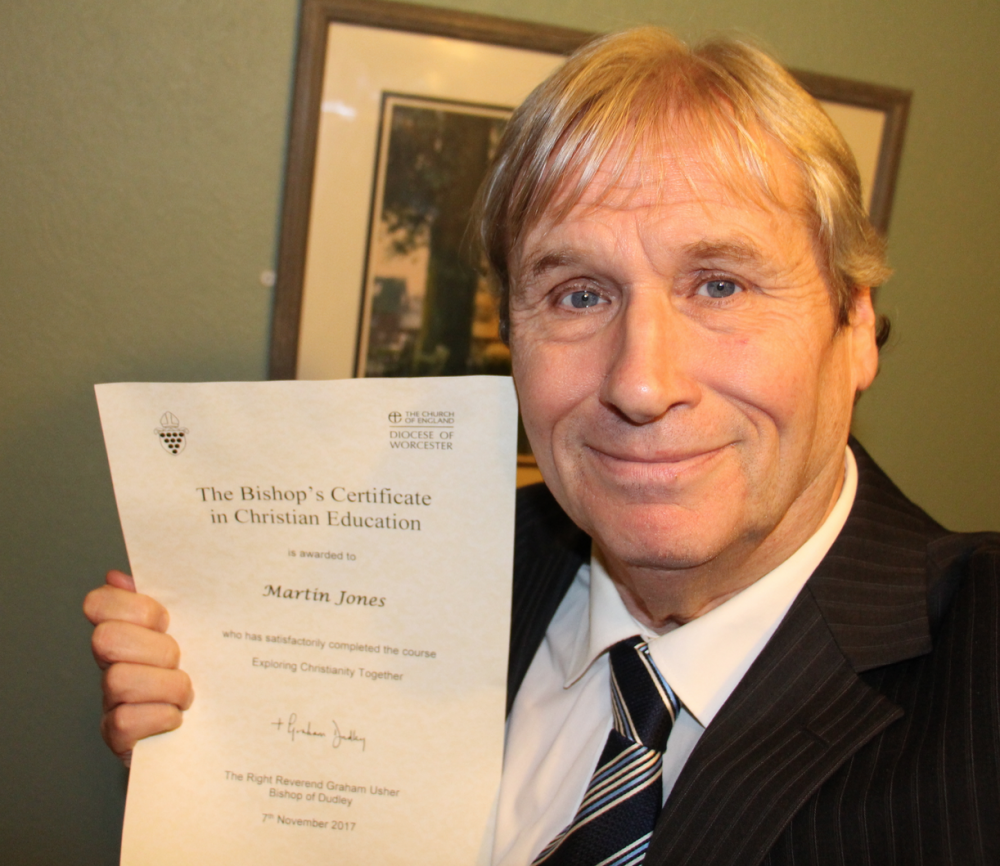 Martin was awarded his Bishop's Certificate (for the second time!) during a service at Worcester Cathedral, alongside others from the St Mary's Oldswinford Group who studied under Revd Stephen Agnew's leadership on Tuesday nights over 30 weeks in 2016-2017.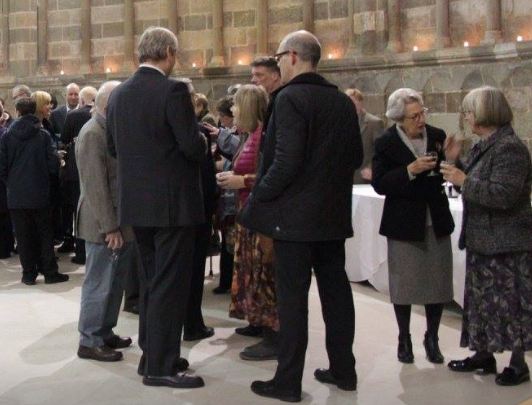 There was a drinks reception in the Chapter House on arrival.
Around 40 students and their supporters in groups from Droitwich, Evesham, Old Hill and Oldswinford were present at the ceremony, which was held in the Cathedral's Chapter House. Certificates were presented by the Bishop of Dudley, The Right Reverend Graham Usher during a service of Compline.
Martin had already received a certificate when he first studied the course led by Revd Gary Ward (now Vicar of Claverley) at Holy Trinity Wordsley in 2009/10.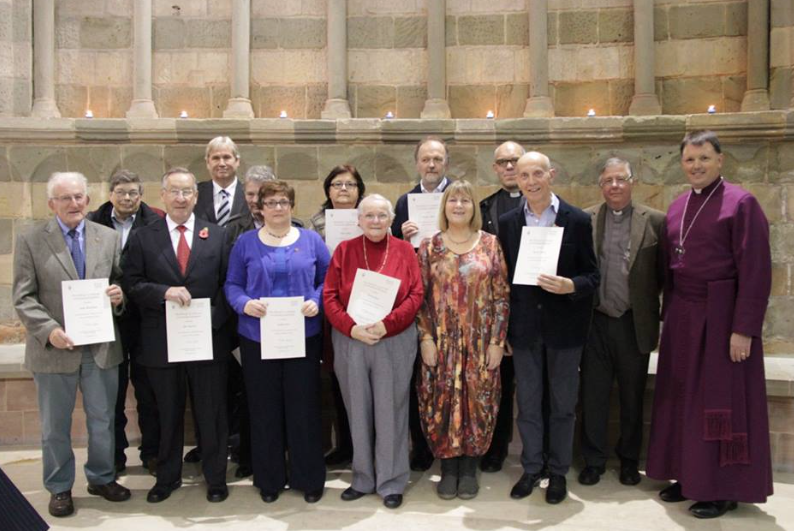 The Oldswinford Study Group in the Chapter House with the Bishop of Dudley after the presentation of certificates.
He said: " I wanted to do a course of religious study again, and Stephen Agnew kindly accepted me on the St Mary's Oldswinford course. Clearly there was some repetition, but it was beneficial to look at old topics again, and there is so much to study you could never say 'been there, done that!'.
We met each week in the beautiful old Coach House at St Mary's. I greatly value the Christian fellowship we shared in our study group.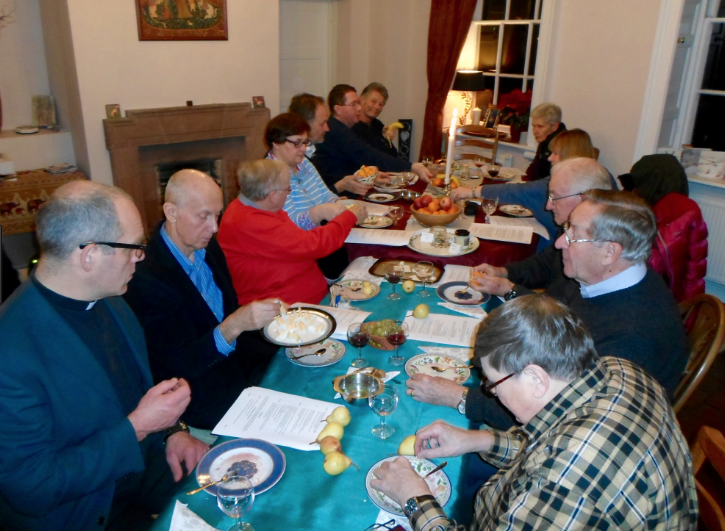 The Jewish 'Seder' meal shared during the Bishop's Certificate course.
One of the highlights early in the course was a 'Seder' Passover meal involving a symbolic retelling of the story of the liberation of the Israelites from slavery in ancient Egypt. It helped students to understand the Jewish beliefs, customs and traditions that relate to the story of the Jews and led me to a better understanding of the Old Testament."
The group was co-led by LLM Mary German and Revd Alex French, curate at St Mary's.
Coverage on the Diocesan website
Photos from the evening's service and presentation
NEW! Days Out with a Religious Theme: Ripple and Great Malvern, in the Diocese of Worcester.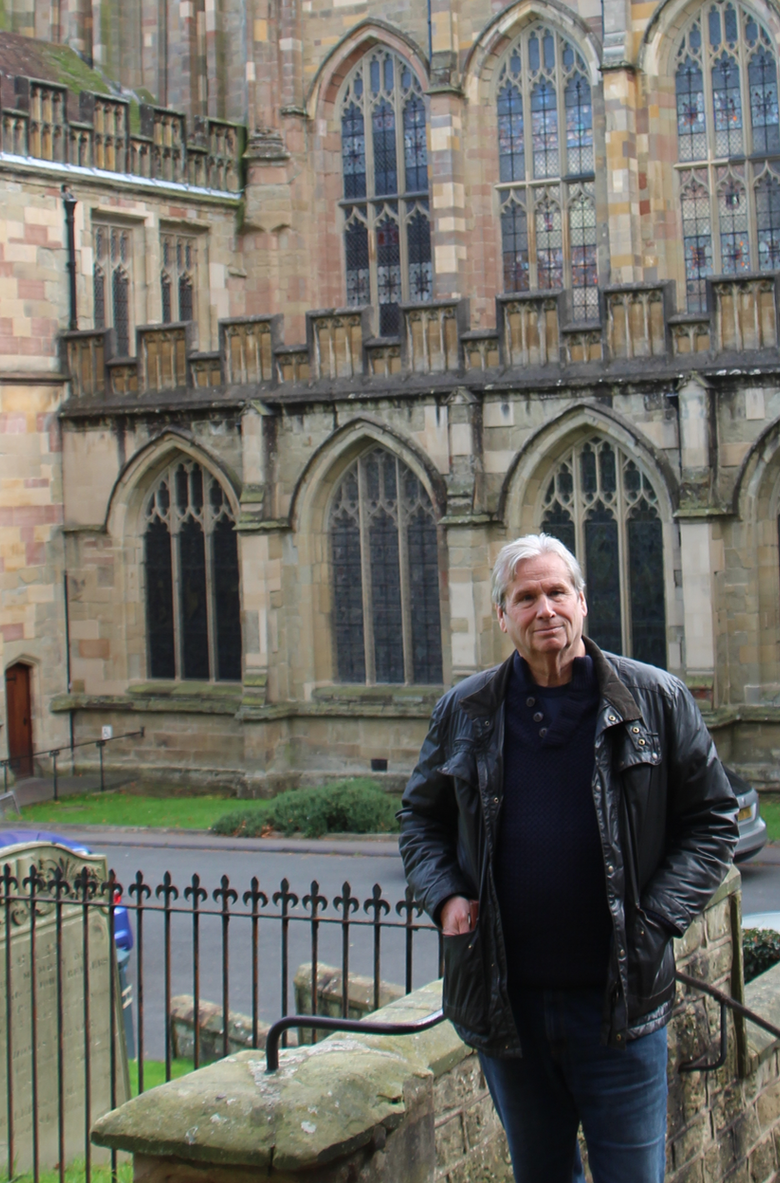 Martin at Great Malvern Priory Church.
Martin and Magda visited St Mary's, Ripple; and Great Malvern Priory Church on a sunny day in late October 2017. These churches are located in the southwest of the Diocese of Worcester, north of the M50 near Tewkesbury on the Gloucestershire border.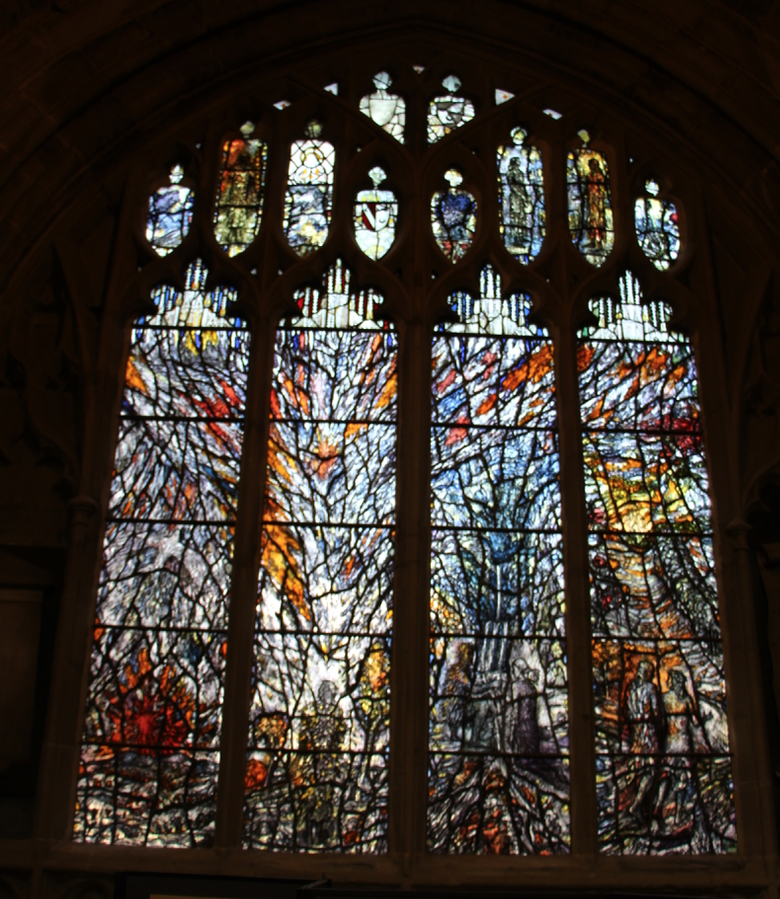 A detail from the Millennium Stained Glass at Great Malvern Priory. These windows were designed and made by Thomas Denny and take their inspiration from Psalm 36 verses 5-10. Denny also has windows in the Audley Chapel at Hereford Cathedral, inspired by the writings of Thomas Traherne.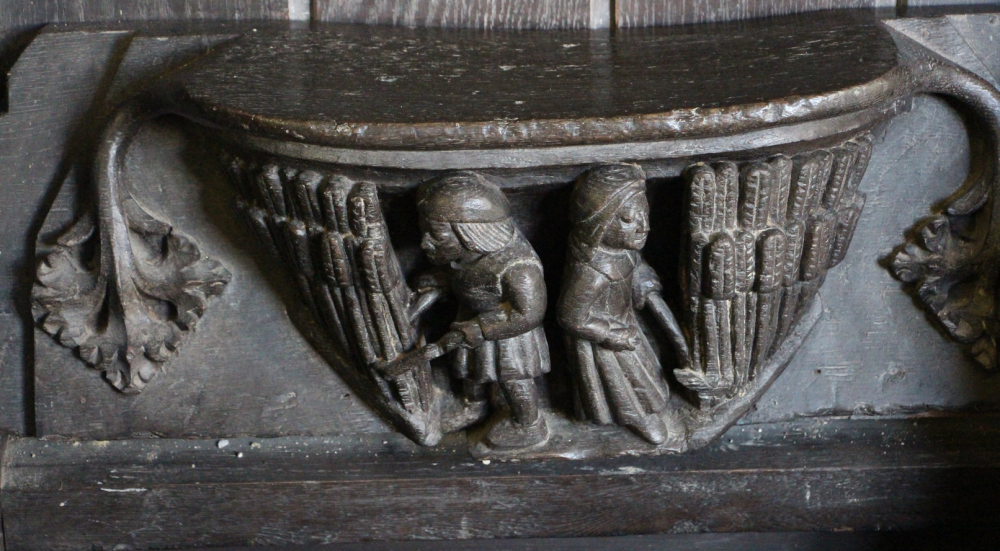 Medieval misericords at St Mary's, Ripple.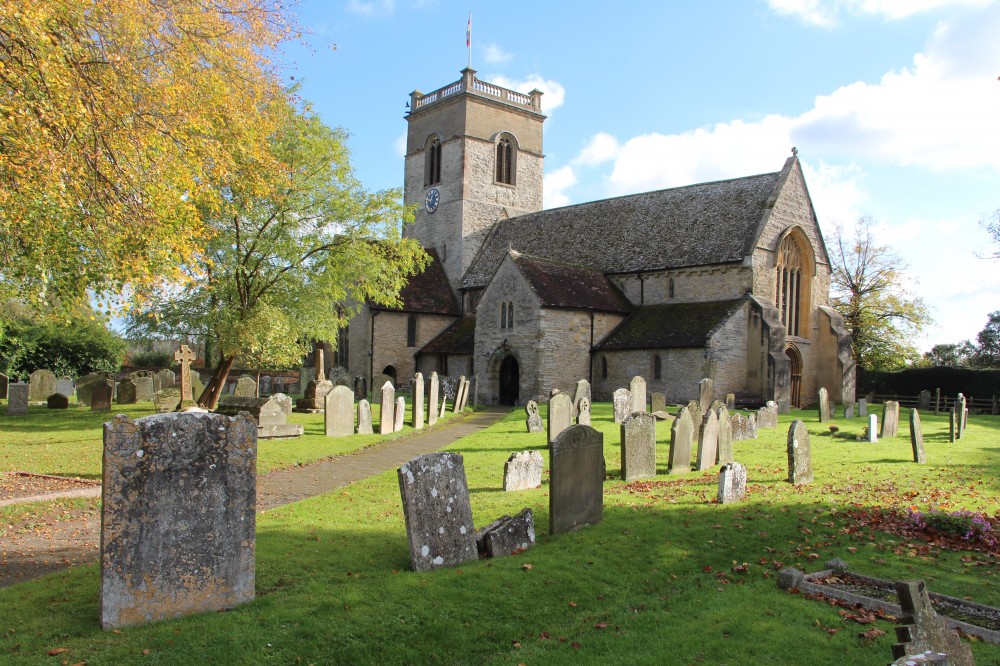 St Mary's, Ripple.
St Mary's Ripple and Great Malvern Priory
Ukulele concert raises £480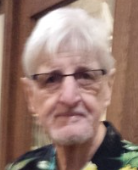 Mike Edwards
Congratulations to Mike Edwards and colleagues, who raised £480 for All Saints' Church at the Ukulele concert in church on 21 October.
Children's Society Autumn Fayre - Saturday 14th October 2017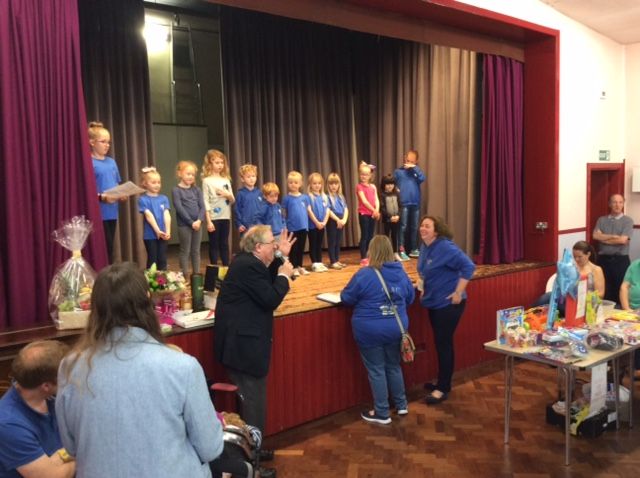 Singing Angels delight and entertain at the Children's Society Autumn Fayre.
Linda Watkins writes:
"It was the Children's Society Autumn Fayre on Saturday 14th October.
The churches that participated were St Chad's, St Mary's, St Francis's, St Peter's, St James's and All Saints'.
What a wonderful occasion to see so many different churches working together for such a good cause!
There was in excess of £1,500 raised on the day, with more funds to come in.
Thank you all so very much to all the helpers and to all who came to support, and extra special thanks to Singing Angels -they were delightful."
Children's Society Autumn Fayre 2017 photos

The way we were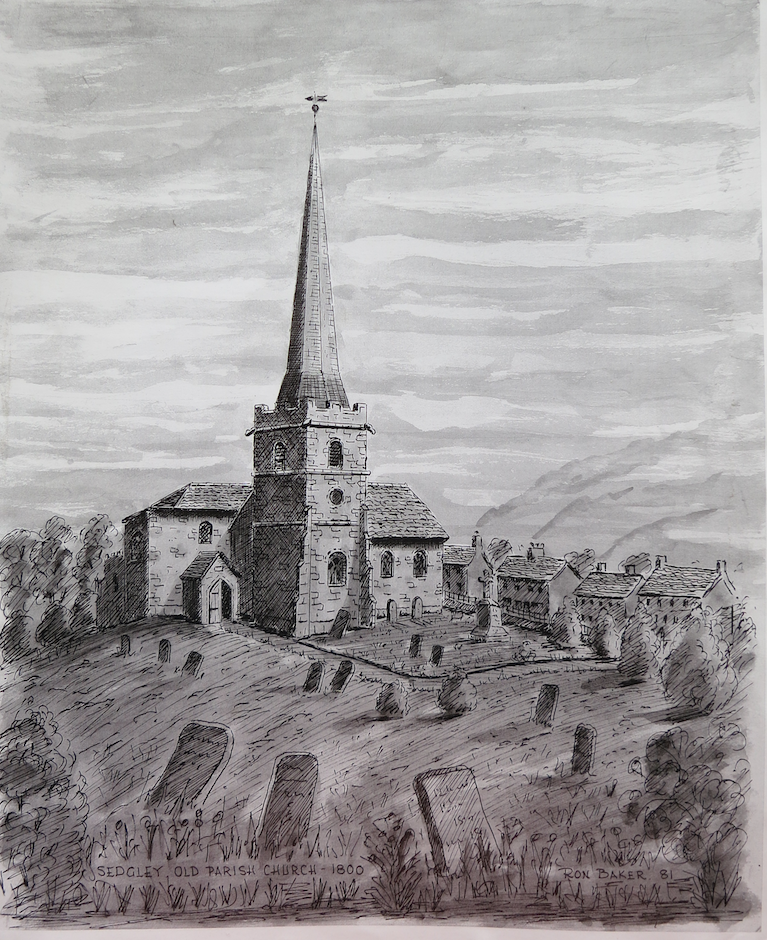 Ron Baker's 1981 sketch of All Saints' as it might have appeared pre-1826.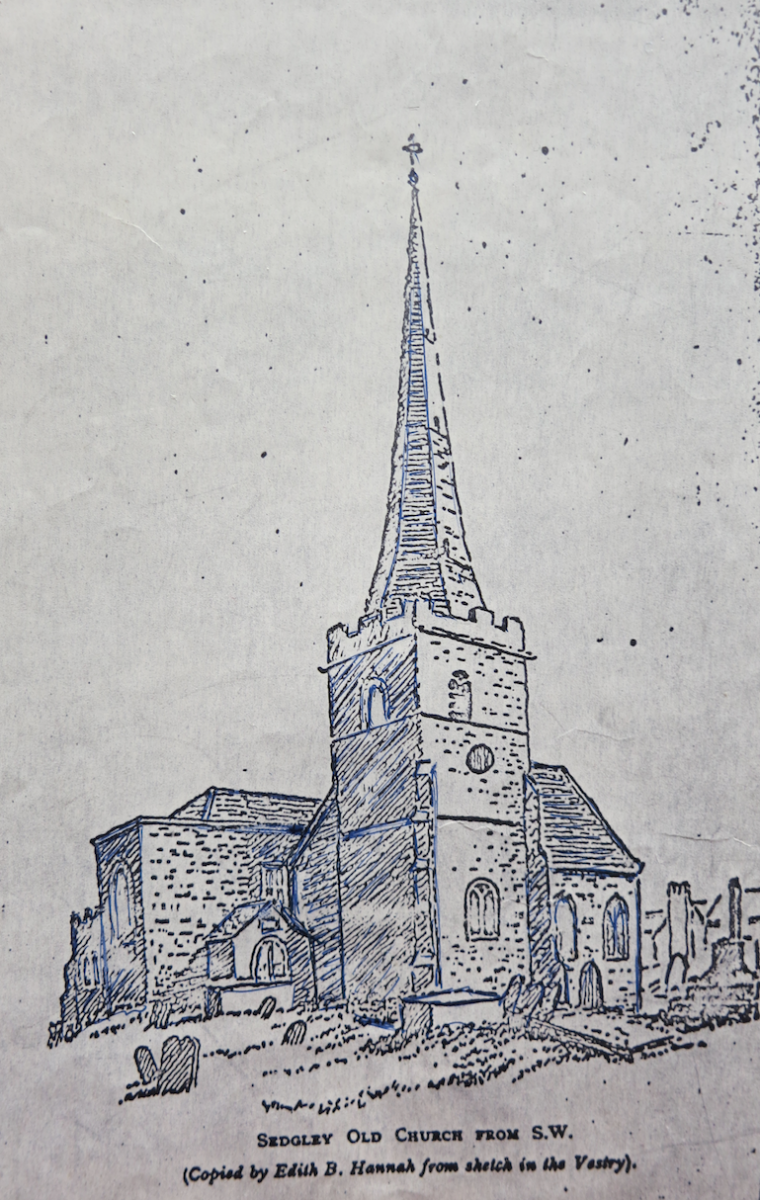 Drawing based on a sketch found in the vestry.
George Blackham of Sedgley Local History Society has kindly sent us drawings of All Saints', as it might have appeared before it was rebuilt between 1826-9.
The top image is by Ron Baker, a local businessman who was also a prolific artist, who created a wonderful record of Sedgley's buildings from 1947 onwards.
DIOCESAN WEBSITE COVERAGE OF JAN'S CEREMONY

Here's diocesan coverage and photos of Jan Humphries' ceremony investing her as an Honorary Canon of the Cathedral. More coverage further down this page.
Six new honorary canons - Diocesan website
Facebook photos of the service
BISHOP JOHN TO REMARRY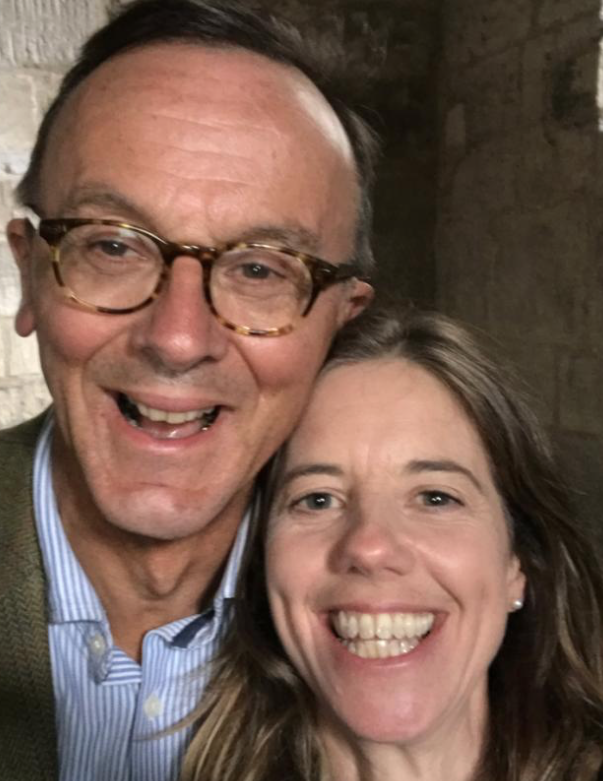 Bishop John Inge is to remarry - story on the Diocesan website
Baptism and weddings - bookings
If in doubt whether a Vestry Hour will be held at All Saints', and to avoid a wasted trip, call our Parish Secretary Gail:
01902 540289 between 10am-12noon, Monday - Friday.
Parish contact details
PARISH OFFICE
Address:
All Saints' Parish Office
Ladies Walk
Dudley
DY3 3UA
Phone number: 01902 540289
Our Administration Assistant is Gail Griffiths.
TEAM RECTOR
Revd Guy Hewlett
Gornal and Sedgley Team Ministry
All Saints, Sedgley
St Peters, Upper Gornal
St Andrews, The Straits
Phone and email contact details:
Phone: 01902 295164
email: guyhewlett18@gmail.com
TEAM VICAR
The Revd Catherine Mitchell
Team Vicar
Gornal and Sedgley Team Ministry
All Saints, Sedgley
St Peters, Upper Gornal
St Andrews, The Straits
Tel 01902 677897
revcatherinemitchell13@gmail.com
LICENSED LAY MINISTER
Canon Jan Humphries: 01902 661275
Other email addresses:
Keith Tomlinson, Churchwarden:
churchwardenkeith@allsaintssedgley.co.uk
John Anderson, Treasurer and Churchwarden:
treasurer@allsaintssedgley.co.uk
Jenny Lavender, Assistant Treasurer:
asstreasurer@allsaintssedgley.co.uk
David Bell: caretaker@allsaintssedgley.co.uk
Telephone Number: 07933 204132
The parish office is open 10am-12noon, Monday to Friday.
Information should be sent to Gail by Wednesday for inclusion in Sunday's pewsheet.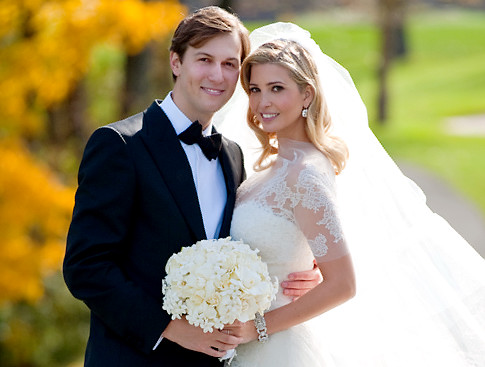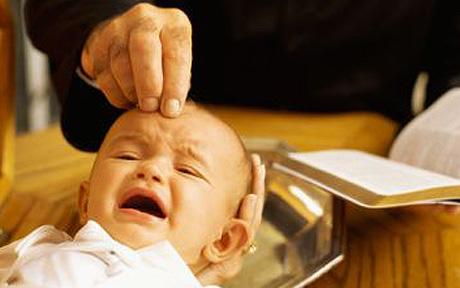 Arranging a wedding or baptism? - click here
Our website
If you'd like to contribute any information about forthcoming church events, write an article, or correct anything on the site, please send your information to Martin our website editor.