Welcome to the Gornal and Sedgley Team Ministry website.
Our parish includes All Saints' Church in Sedgley, St Andrew's in The Straits and St Peter's in Upper Gornal.
We've been a team ministry since 2005: team working allows us to provide spiritual and pastoral care to a wide area including Upper Gornal, the Straits and Sedgley.
We look forward to meeting you at one of the churches in our parish soon.
Jan Humphries (Licensed Lay Minister)
Gornal and Sedgley Team Ministry
SERVICES AND EVENTS AT ALL SAINTS' AND ST ANDREW'S

Click here for a list of services and events at All Saints', St Peter's and St Andrew's in October 2016
Please notify us of any services or events that are missing from the listing.
All Saints' most recent pewsheet:
Click here for pewsheet 23/10/16
Booking weddings and baptisms - 'Vestry Hour'
'Vestry Hour', usually held after the morning service at 12 noon at All Saints' Sedgley, is the time when the public are able to make bookings for baptisms and marriages at All Saints' Sedgley and St Andrew's The Straits.
Vestry Hour is only held after a morning service at All Saints' - however please note that on some Sundays there is no morning service at All Saints'.
There will be no Vestry Hour on the following Sundays:
27th November (Team Service at St Andrew's)
Sunday 1st January (Team Service at St Peter's)
If in doubt whether a Vestry Hour will be held at All Saints', and to avoid a wasted trip, call Gail:
01902 540289 between 10am-12noon, Monday - Friday.
Bible Sunday
Thank you to Suzanne Bradley for a very informative Homily at St Peter's on 23/10/16.
Suzanne delivered a talk about the Bible, as it was Bible Sunday.
Suzanne Bradley's Homily 23/10/16
Super Singing Angels!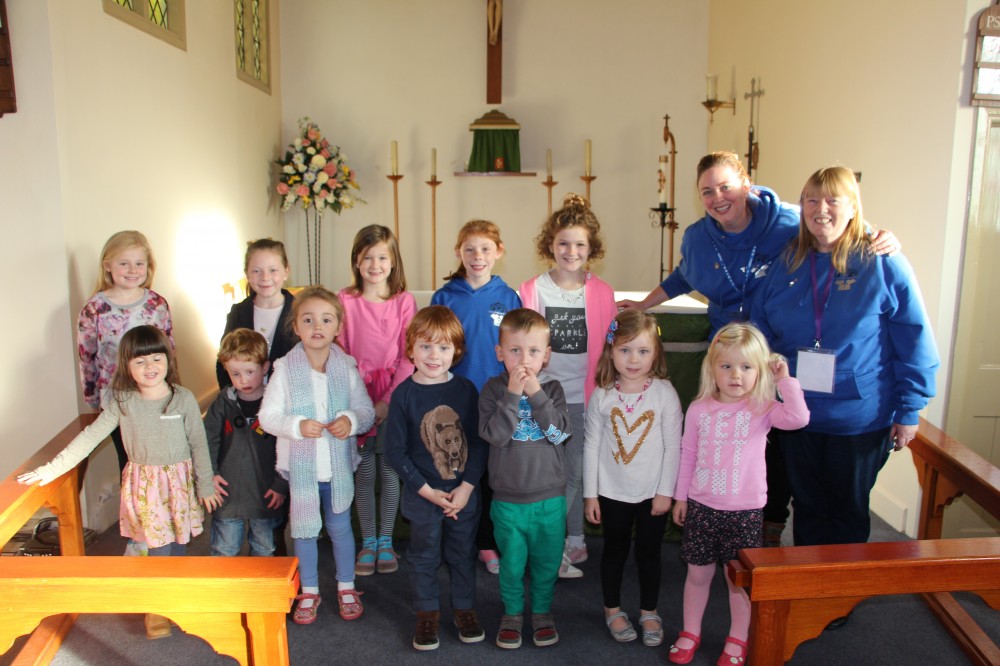 Congratulations to Claire Cox and her Singing Angels for a wonderful uplifting singing session on Sunday afternoon (23/10/16) at St Andrews.
Twelve young children spent an hour totally engaged in the beauty and inspiration of singing, trying a variety of different songs.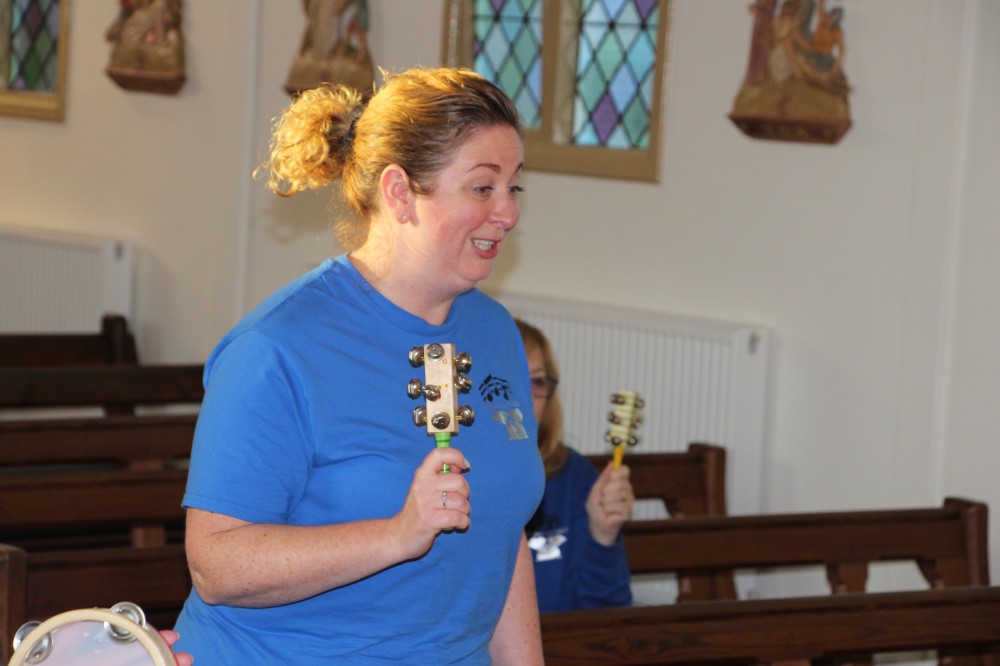 This is a great initiative and something that could, and should be followed at other churches.
New singers are welcome - just come along at 4pm on Sundays to St Andrews!
More photos to follow soon
Who's Who October 2016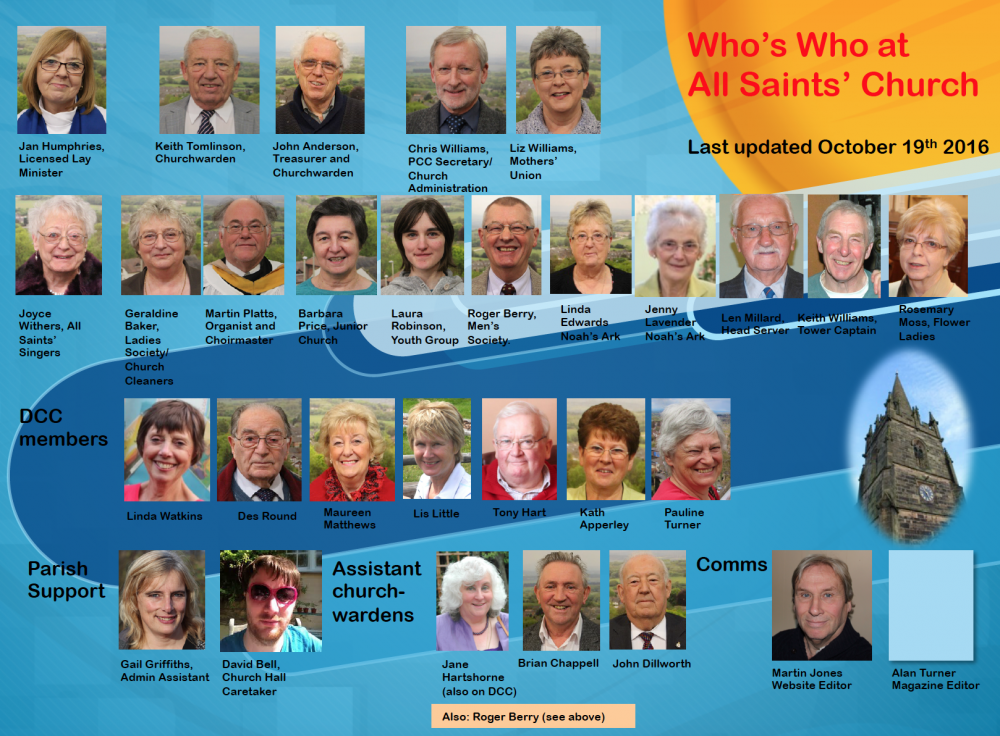 Here's an online update of the All Saints' Who's Who poster.
Please let us know if there are any additions/corrections - eg we have no photo yet for Alan Turner, our magazine editor.
All Saints' Who's Who v10 October 2016
All Saints' Friday Coffee Morning - more info on Harry's Civil War Cannonball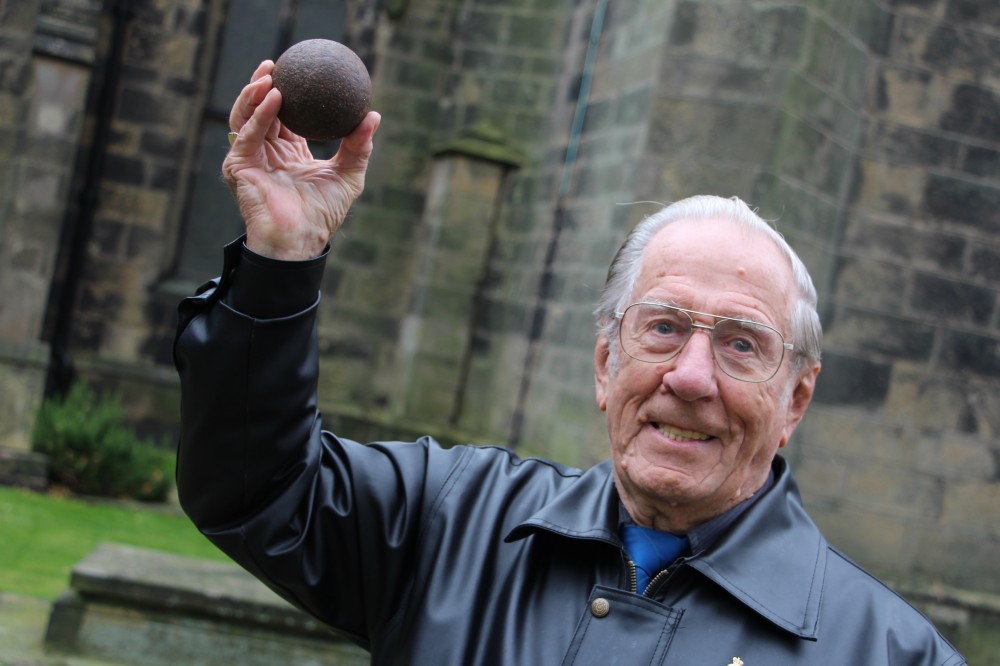 Harry Shaw kindly arrived at our Friday Coffee Morning with more information on the cannon ball he found over 60 years ago at his works on Birmingham Road.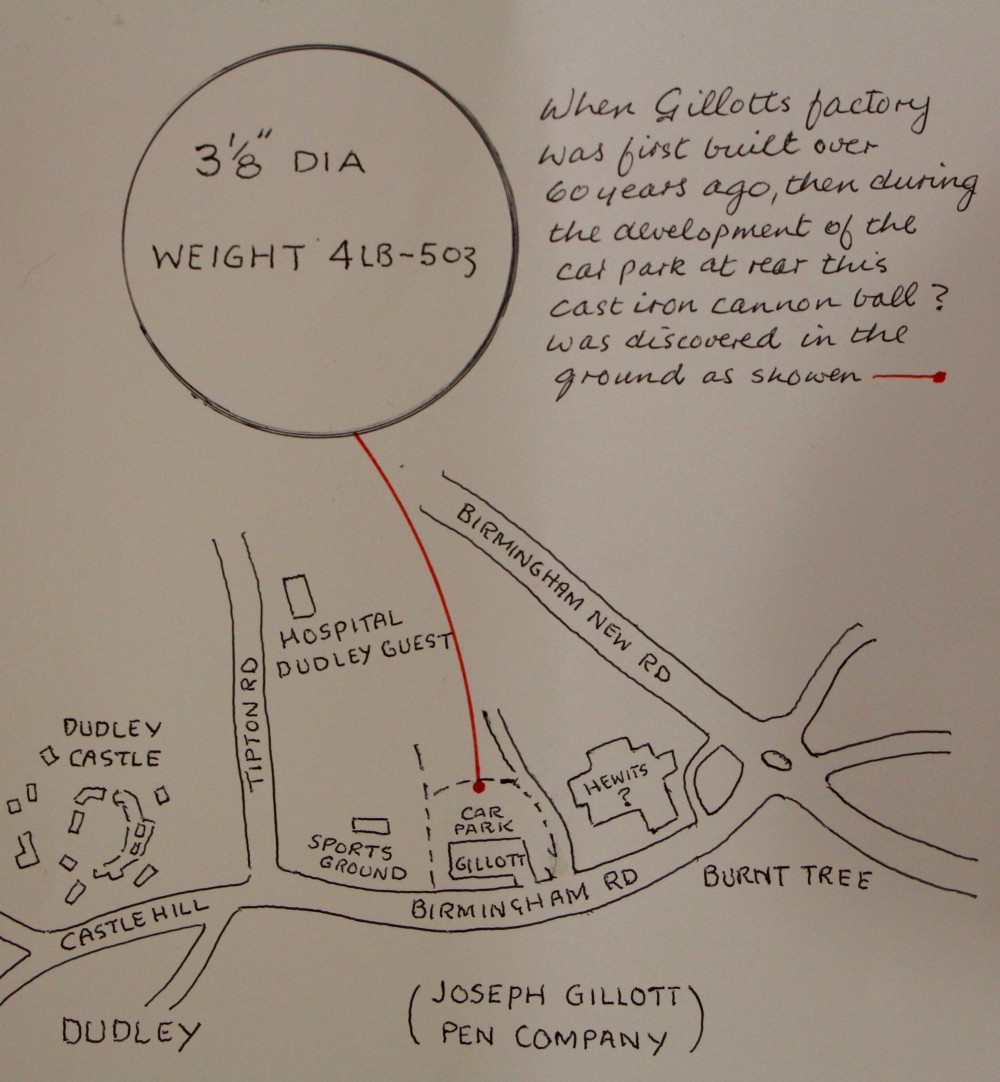 The Joseph Gillott Pen Company in Birmingham Road where the Village Hotel is now located. Harry was Head Draughtsman for the whole company, whose HQ was in Birmingham. The car park is within range of the Castle and it's thought that the cannon ball was probably fired at the castle (or from the castle) by a 'saker' or 'demi culverin' cannon during the Civil War. He gives the weight and dimensions of the cannon ball on the map.
Harry's workmates at the Gillott company in Birmingham Road, Dudley in the 1950s. Harry is fourth from the left.
Harry Shaw brought in a very informative map and the dimensions of the Civil War projectile he found to our coffee morning.
He also told us about the artefacts and memorabilia about Gillott's pens that he donated to the Birmingham pen museum.
Thank you very much for all your care and trouble in making the map and telling us about your wonderful find Harry!
Thanks to Revd Judith Oliver for our Team Service at St Andrew's
Thanks to Revd Judith Oliver for leading our Team Service at 9.30am at St Andrew's on Sunday 16th October 2016.
There were a couple of special announcements at the service...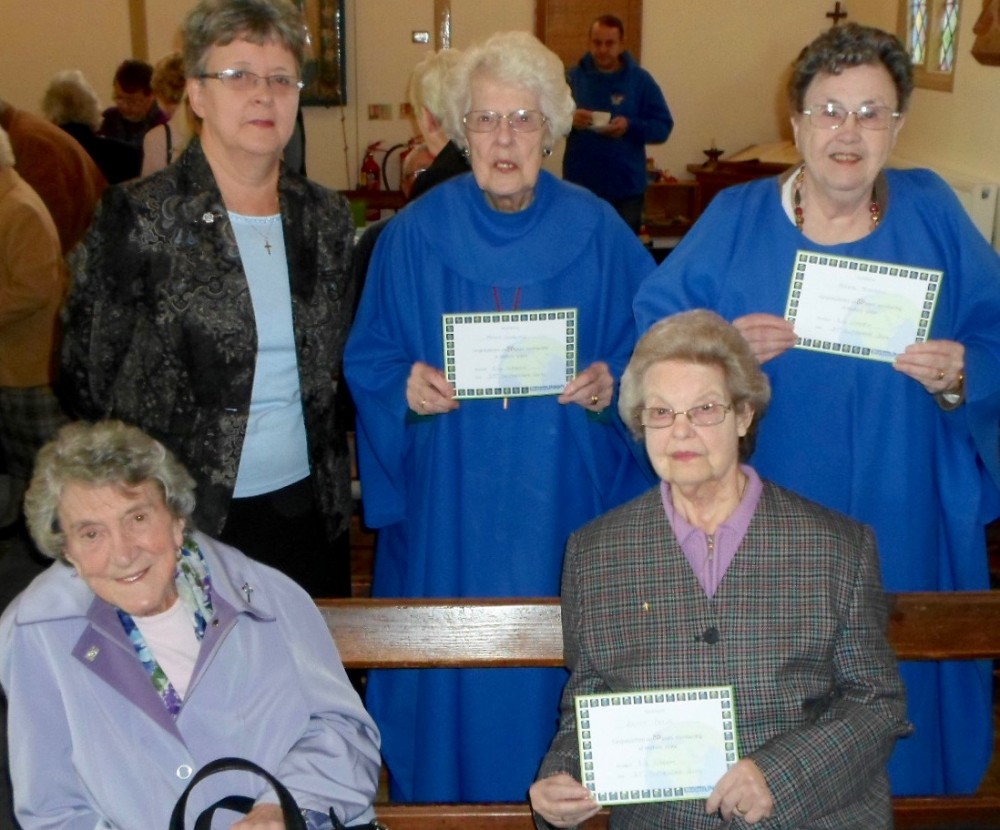 Mothers' Union Long Service Awards:
Standing - [Liz Williams, Chairman]; Mavis Gosling (30years), Beryl Morgan (30years).
Sitting - [Jessie Tomkins, Mothers' Union member]; Betty Payne (20years).
Three members of the congregation were presented with long service awards for their commitment to the Mothers' Union over the years.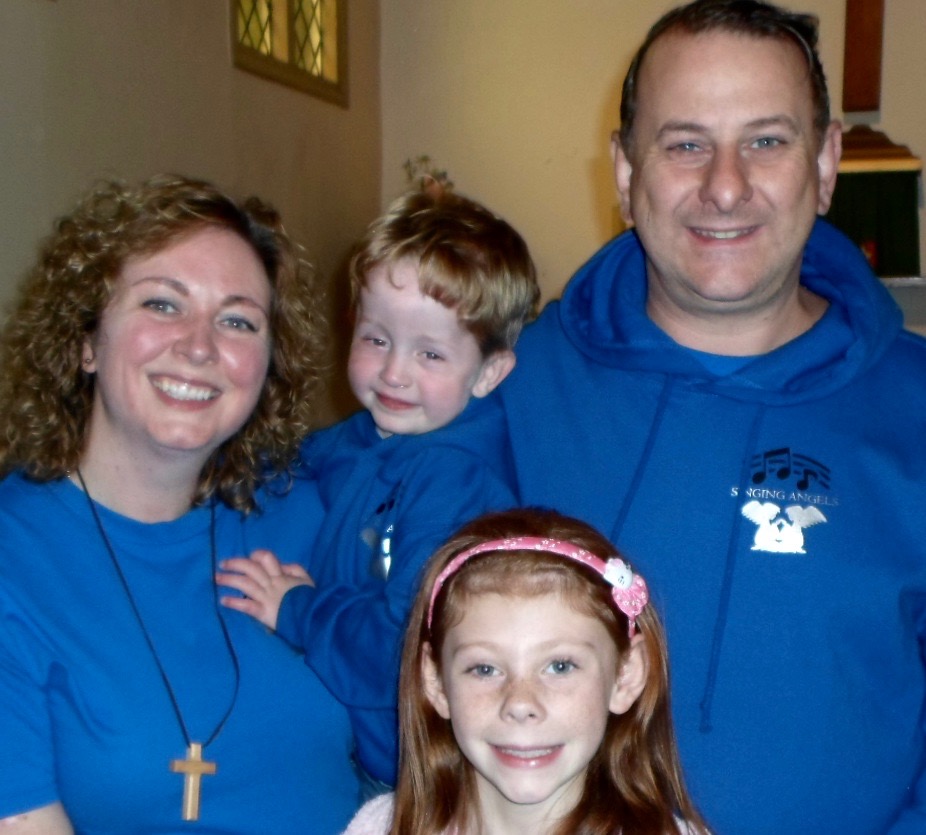 The Cox family, who are leading the Singing Angels sessions at 4-5pm on Sundays at St Andrew's Church.
Also, last week saw the first Singing Angels session at St Andrew's - designed to encourage young people aged 4-11 to sing.
This week (16/10/16) the group attracted 12 young singers. They sang 'If I were a Butterfly'; and 'Love' from Frozen.
Any new children who'd like to join the group may just turn up on Sundays at 4pm at St Andrew's Church The Straits.
Many thanks to the Cox family who are leading the sessions. They have designed and printed some beautiful 'Singing Angels' T shirts in blue, to promote the group.
We wish them every success in their efforts.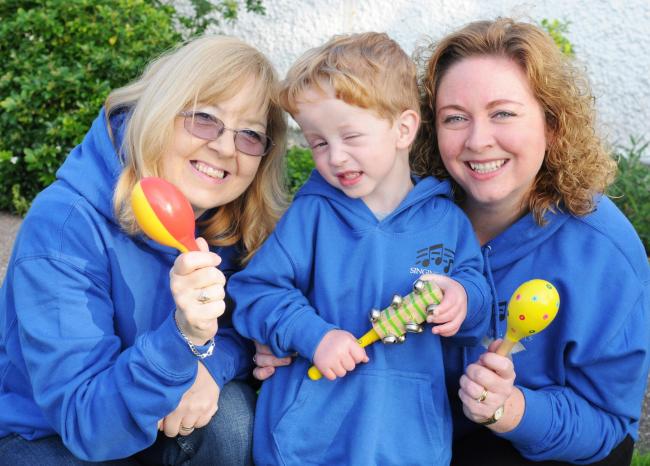 Claire Cox (far right) with her son Albert and the LLM at St Andrew's, Jan Humphries. Picture - Dudley News.
Read more about Singing Angels in the Dudley News
Days Out with a Religious Connection - Nash and Boraston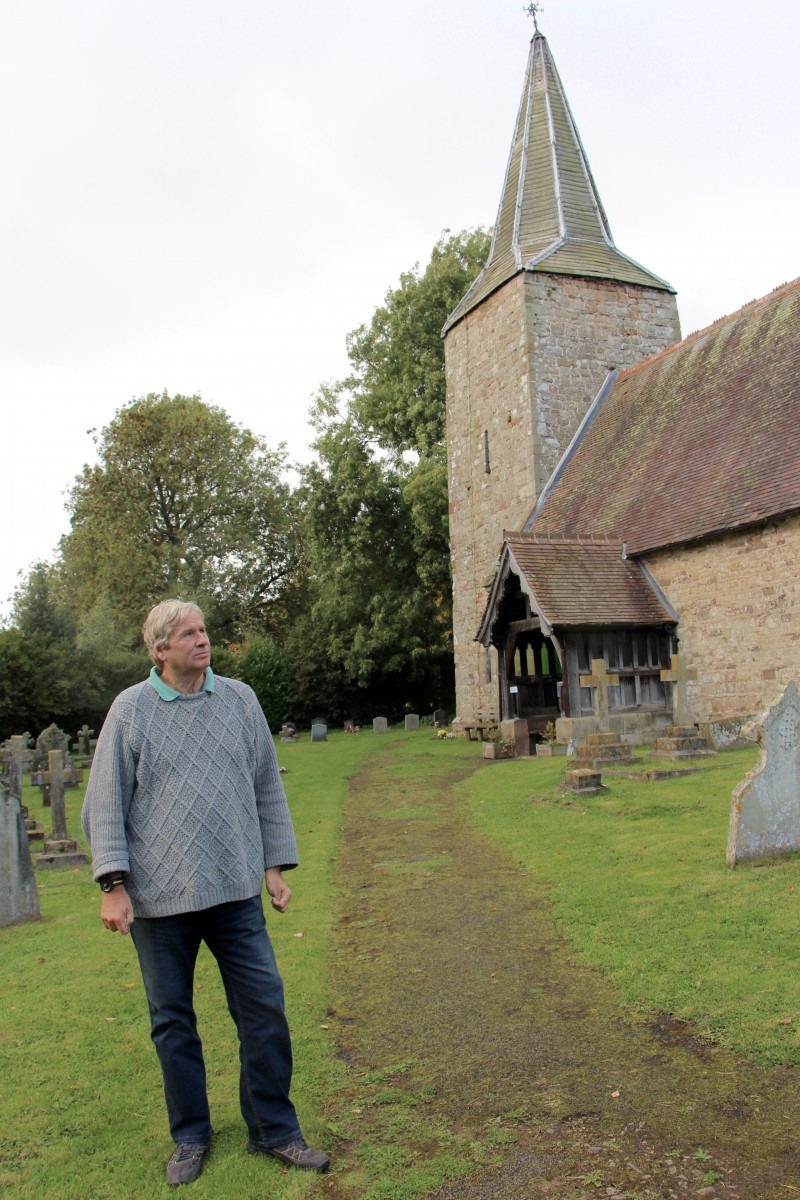 St John the Baptist at Nash, near Ludlow.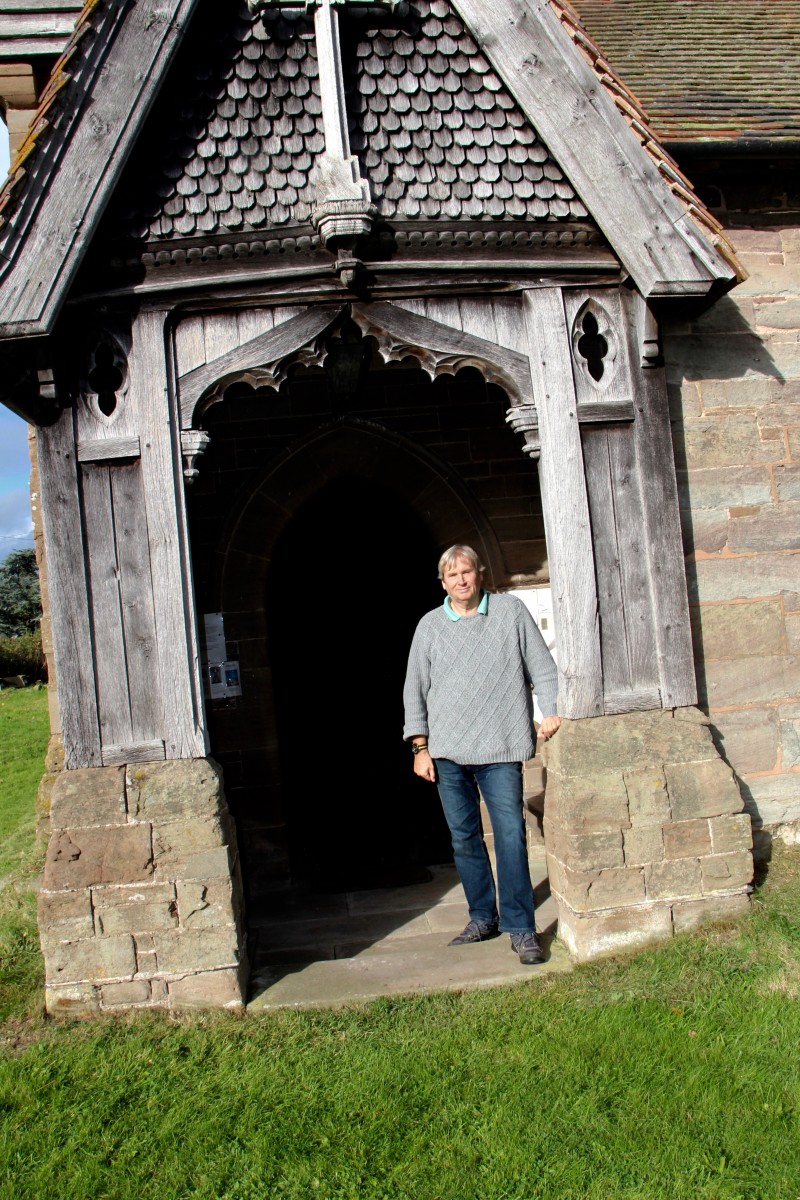 Nash's sister church, St John the Baptist at Boraston - with its astonishingly intricate woodwork porch.
Continuing the exploration of Sacred Shropshire, Magda and Martin journeyed south to the area around Titterstone Clee.
Nash and Boraston, both dedicated to St John the Baptist, are sister churches within the Burford Ministry, and are very secluded.
Every twist and turn of the rural journey was a delight, with breathtaking autumnal landscapes unfolding around every corner.
South Shropshire - Farlow, Nash and Boraston
Come along to Church - and listen to the Jookulele Band and the Rough Diamonds for Macmillan Cancer Support!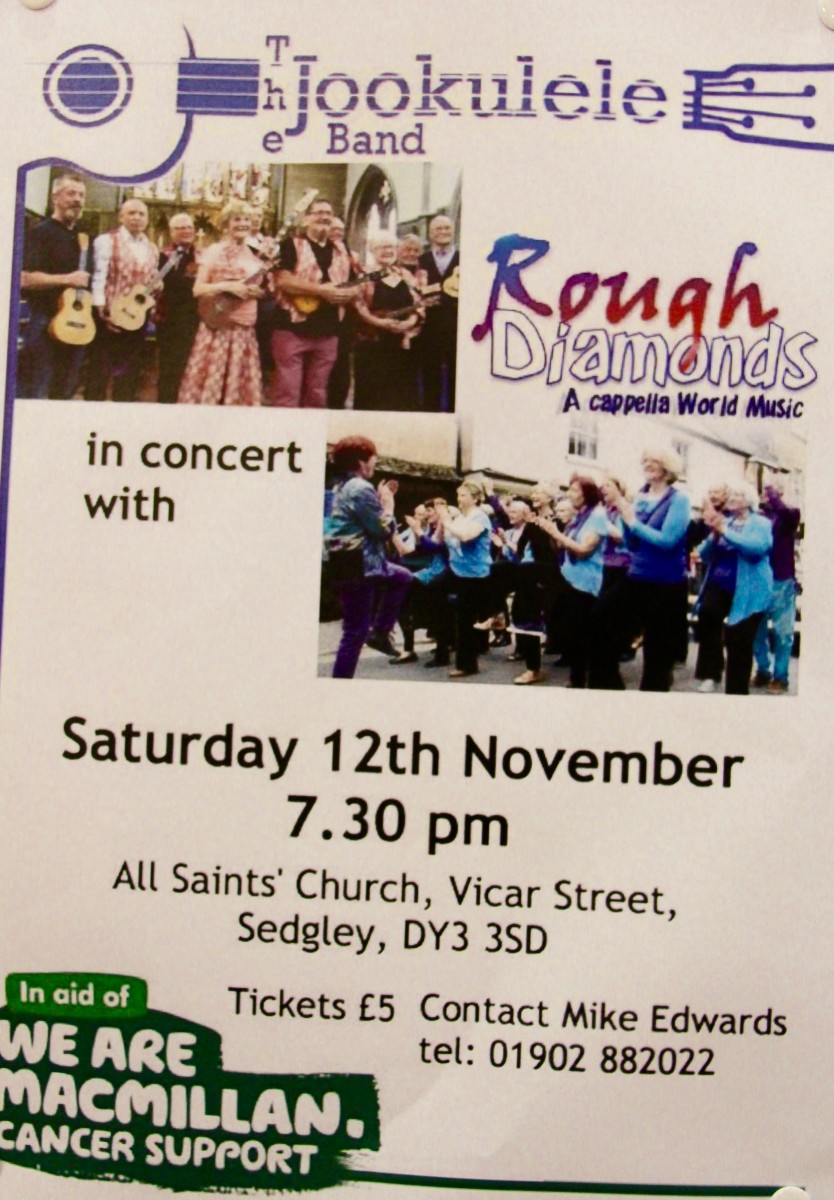 More valuable finds at our Friday coffee morning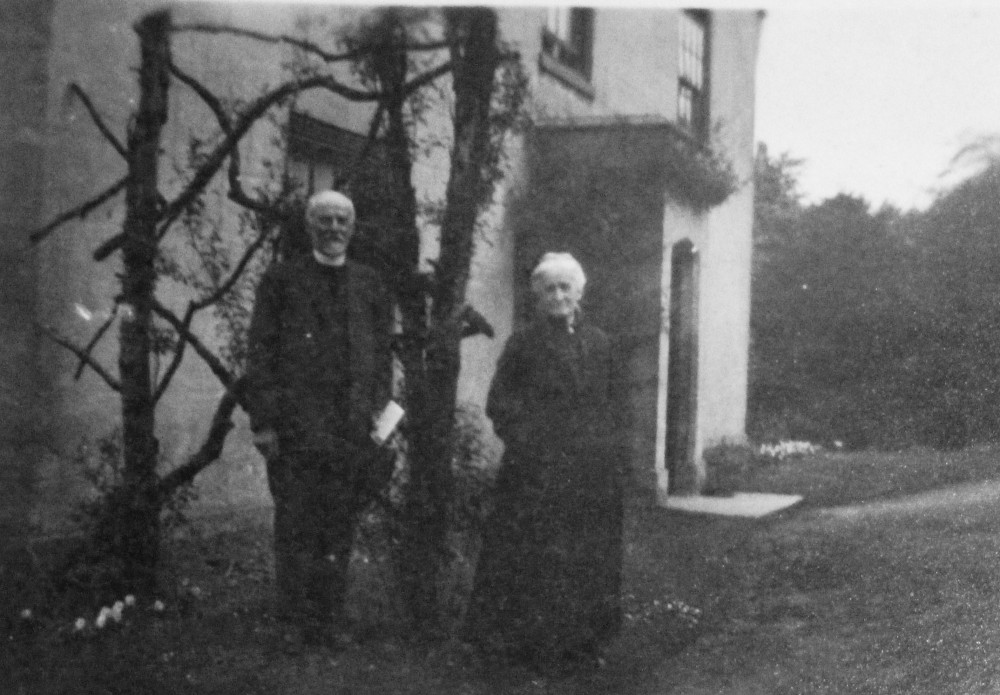 Revd TG Swindell and his wife in front of the old Vicarage.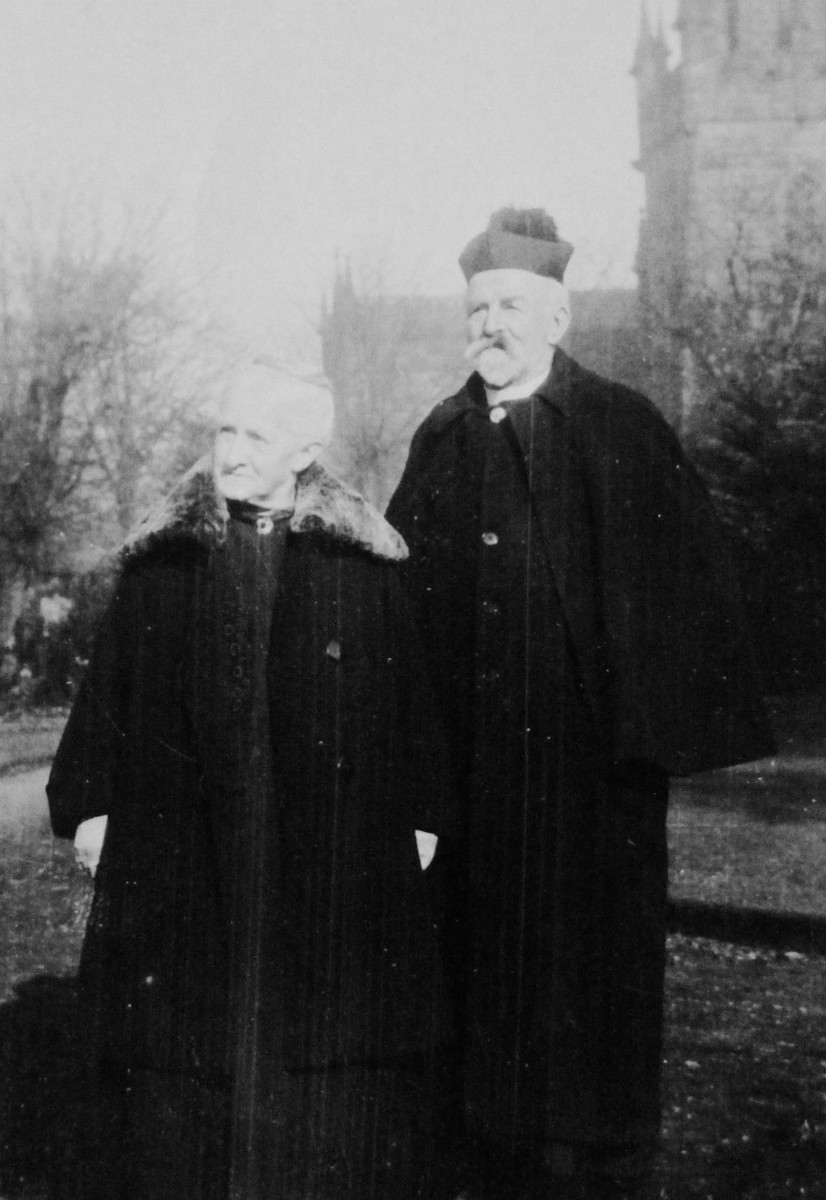 Revd TG Swindell in his trademark biretta (often associated with Roman Catholic clergymen) with his wife in front of All Saints' in the 1920s.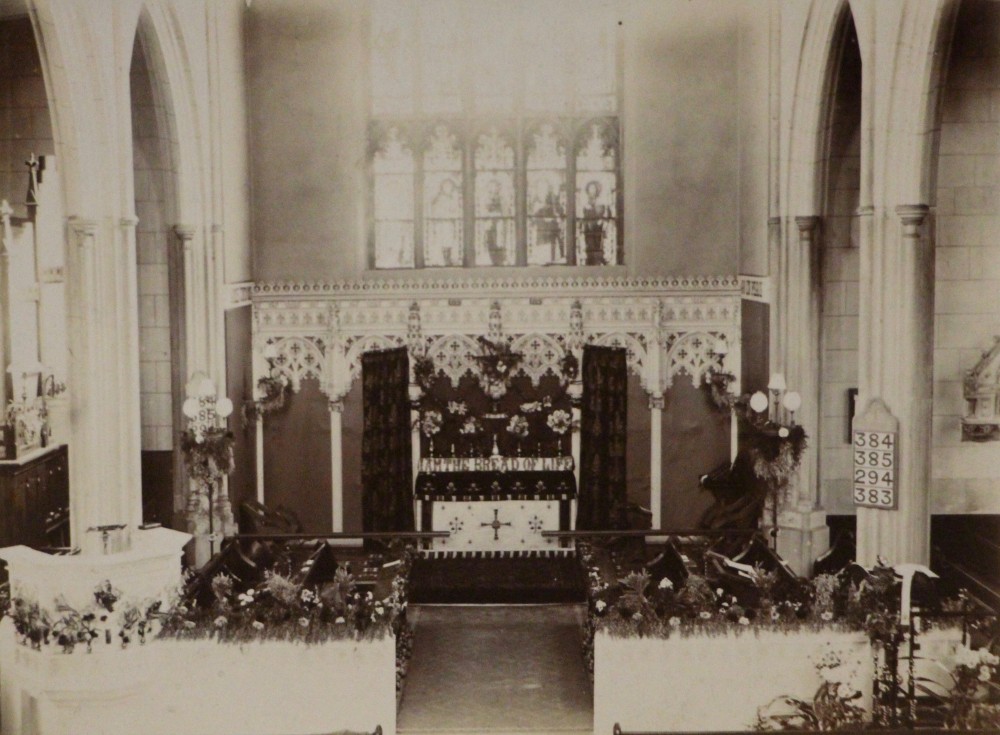 The way we were in 1909 - the chancel at All Saints'. We now have a large cross where previously the patterned mouldings were in the reredos behind the altar and we no longer have the 'planters' full of flowers in front of the Choir. The reredos bore the inscription from John 6:35 - 'I am the bread of life' and there appear to be curtains around the altar. There are what appear to be gas lights either side and the old pipe organ is just visible on the left of the picture. Otherwise, suprisingly little has changed.
Friday morning in church is swiftly becoming a local history bonanza as local people drop in with rare memories of the church and village.
This Friday 14th October two ladies brought items of great local significance to show us. Doreen Onions' aunt was the live-in maid at the vicarage in the 1920s, and she brought in some rare shots of the vicar TG Swindell and his family from the 1920s.
A shot of the chancel in 1909 shows the altar with the inscription from John 6:35: 'Jesus said to them, "I am the bread of life". Whoever comes to me will never be hungry, and whoever believes in me will never be thirsty.'
We've started a Thomas Swindell album with Doreen Onions' photos:
Revd Thomas Swindell-related photos
Many thanks to Doreen for providing this vital link with our church's past.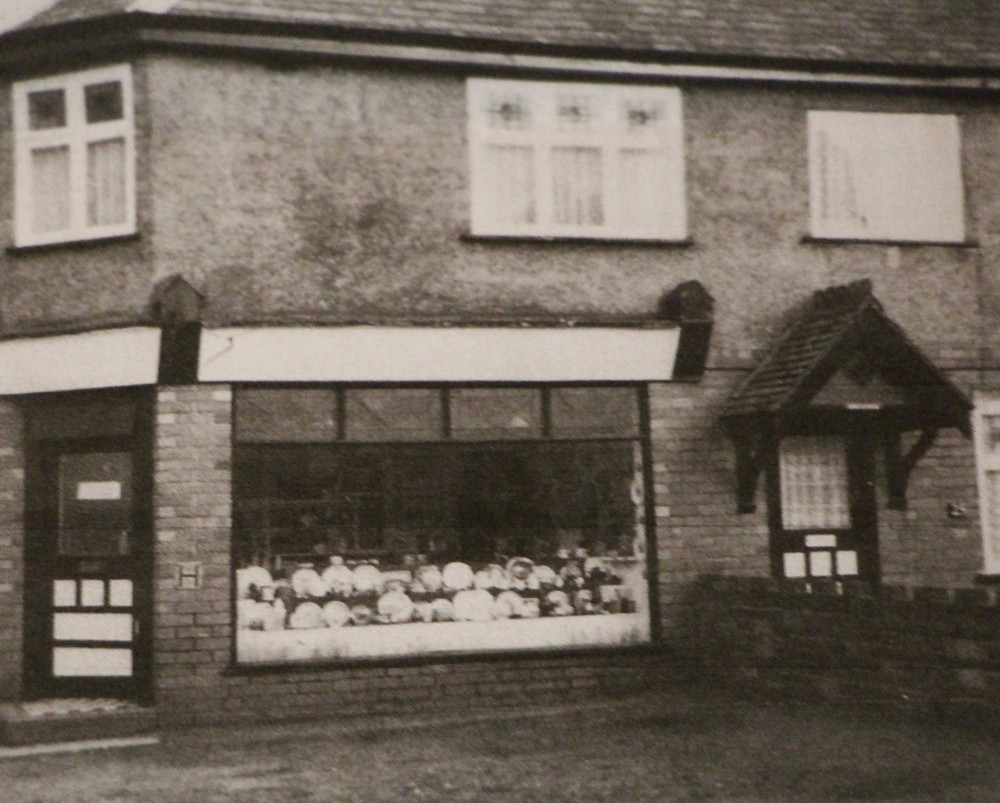 'Byfield's' at 23 Vale Street Upper Gornal sold TVs and radios - and charged accumulator batteries for radios.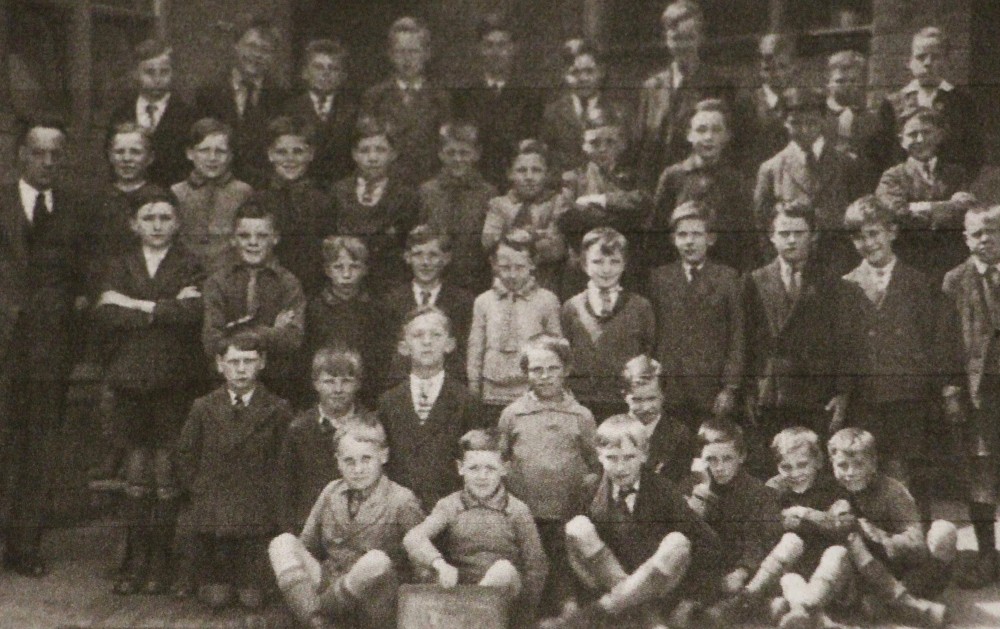 The Board School in Upper Gornal in the 1920s. Arthur Byfield is fourth from the right on the front row.
Iris Byfield also visited our coffee morning, bringing memories of her husband Arthur Byfield, who ran an electrical shop at 23 Vale Street in Upper Gornal.
Thanks everyone and keep those memories coming in!
Children's Society Fayre raises £1,300! - thank you to everyone who helped - and especially to our neighbouring churches!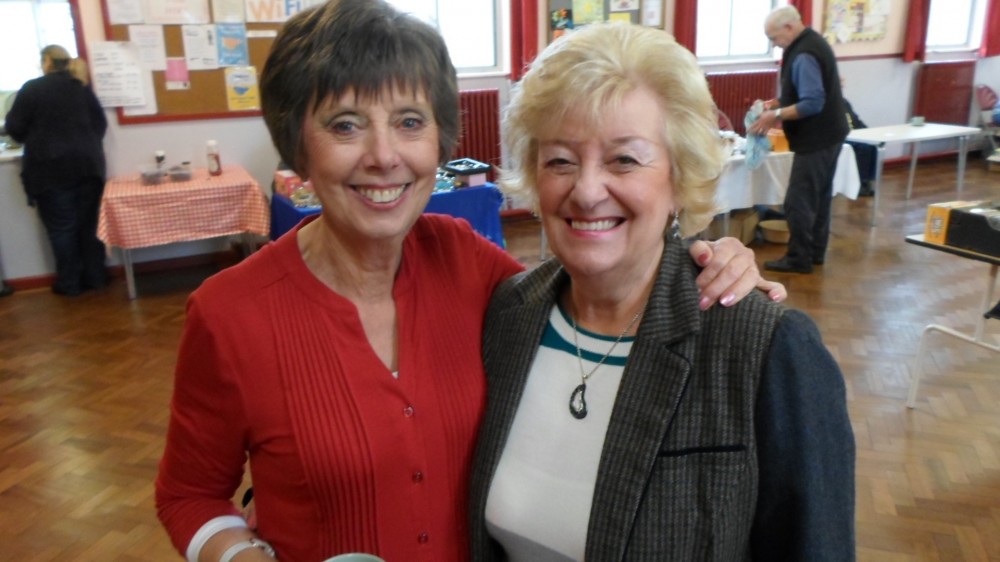 Another successful collaboration at the annual Children's Society Fayre at All Saints' Church Hall on Saturday 8th October 2016 raised £1,300 for the Children's Society's invaluable work in this area.
Thank you to all the churches in the Borough who contributed to this magnificent fundraising event to benefit needy children and their families.
Children's Society Fayre October 2016
The work of the Children's Society in the West Midlands
Archbishop Justin's visit to Dudley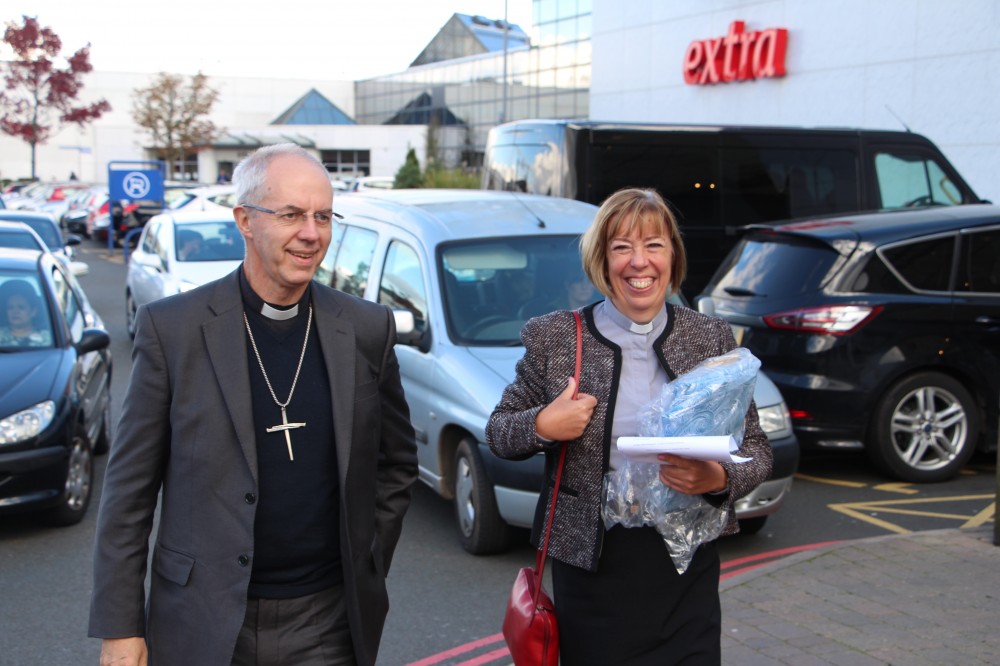 The Archbishop arrives with Archdeacon Nikki at Merry Hill.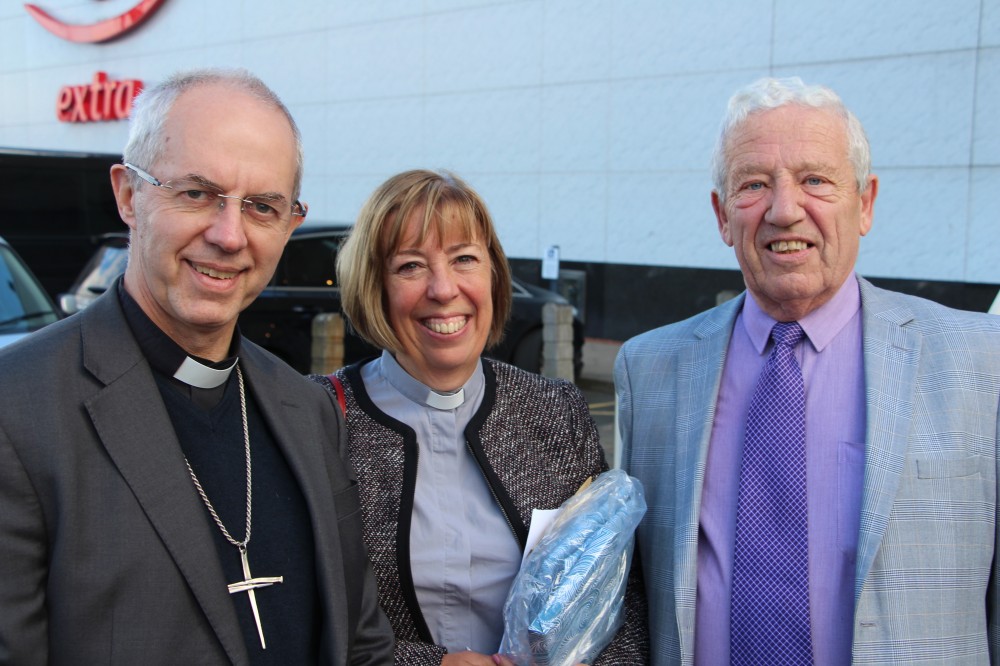 Churchwarden Keith Tomlinson greets Archbishop Justin at Merry Hill with Archdeacon Nikki on Sunday afternoon 9/10/16.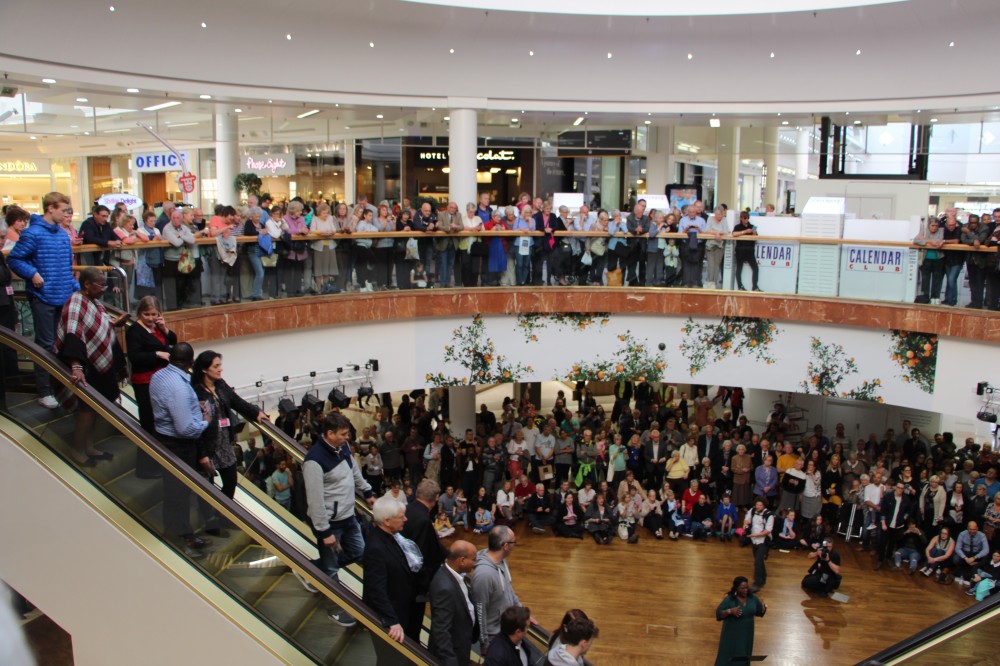 The Arena at Merry Hill - full to greet the Archbishop of Canterbury on his visit to Dudley.
On Sunday afternoon Archbishop Justin visited Merry Hill Arena to lead a Songs of Praise gathering in the Atrium (by Marks and Spencer) - and to preach.
It was one of the most inspiring events I've ever attended. There were hundreds there to see him; the wonderful uplifting atmosphere reached its peak when some of our most popular hymns were sung - the sound threatened to raise the roof of the shopping centre!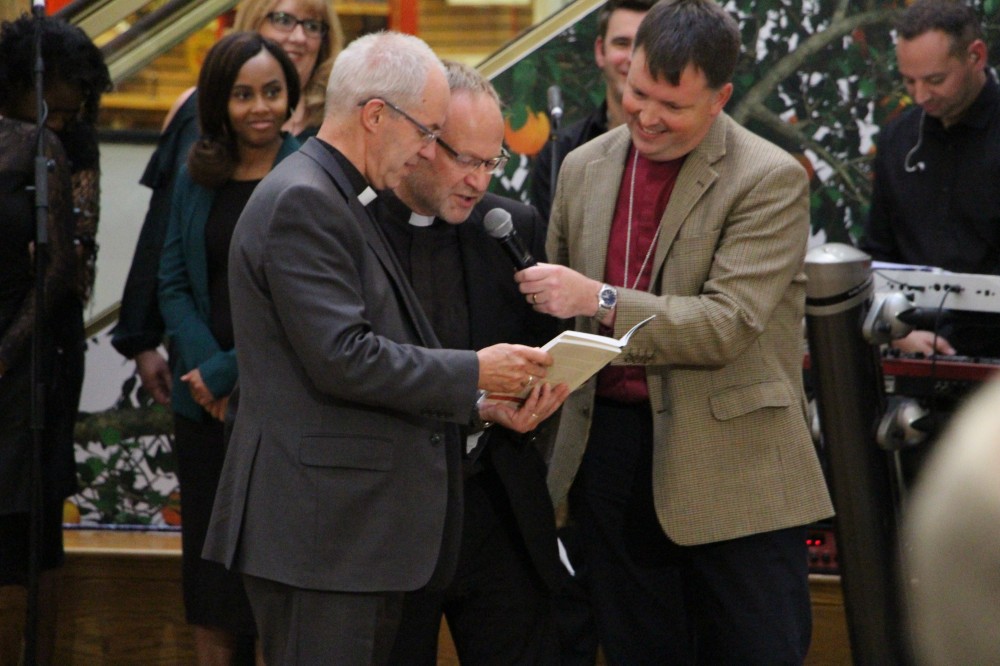 Archdeacon of Worcester Canon Robert Jones translates Archbishop Justin's gift of The Bible in 'Black Country-spake'!
A superb community gospel choir warmed everyone up with some sensational singing and there was a very warm friendly feel to the gathering.
Churches from our parish were represented - many other churches and indeed other Christian denominations in Dudley were also represented.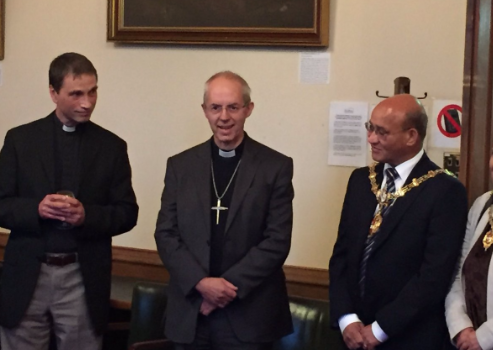 Archbishop Justin Welby with Revd Canon Andrew Wickens and the Mayor of Dudley at the Council House on Saturday.
More photos from Archbishop Justin's visit to Merry Hill 9/10/16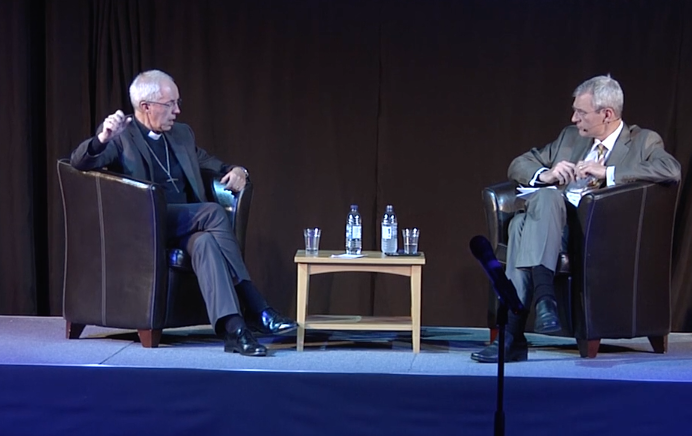 The Archbishop's superb interview with the BBC's Jeremy Vine at Worcester Arena may be viewed in full here:
Complete Video of Archbishop talking to Jeremy Vine at Worcester
Archbishop at Merry Hill Video Short Clip 1 - 'What is my life for?'
Merry Hill Short Video Clip 2 - 'How Great Thou Art' (Boberg) hymn
Merry Hill Short Video Clip 3 - Bishop Graham - gifts for the Archbishop
Merry Hill Short Video Clip 4 - 'Jesus chooses us'
Diocese of Worcester Twitter Feed
Diocese of Worcester Video Library
Let there be light!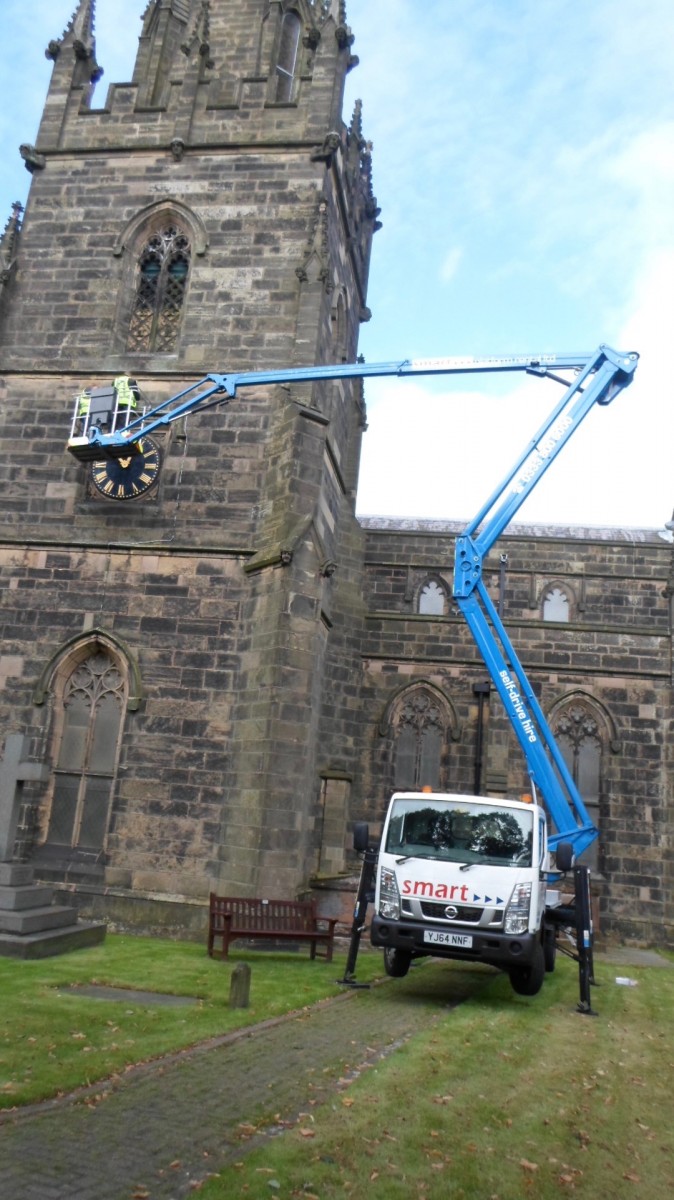 Our kindly roofing contractor Stuart Harrison lent us the use of the 'cherry picker' vehicle he'd hired for his next job to allow electricians access to the church tower clock, and replace the light above it. Thank you!
Return to Ford and Alberbury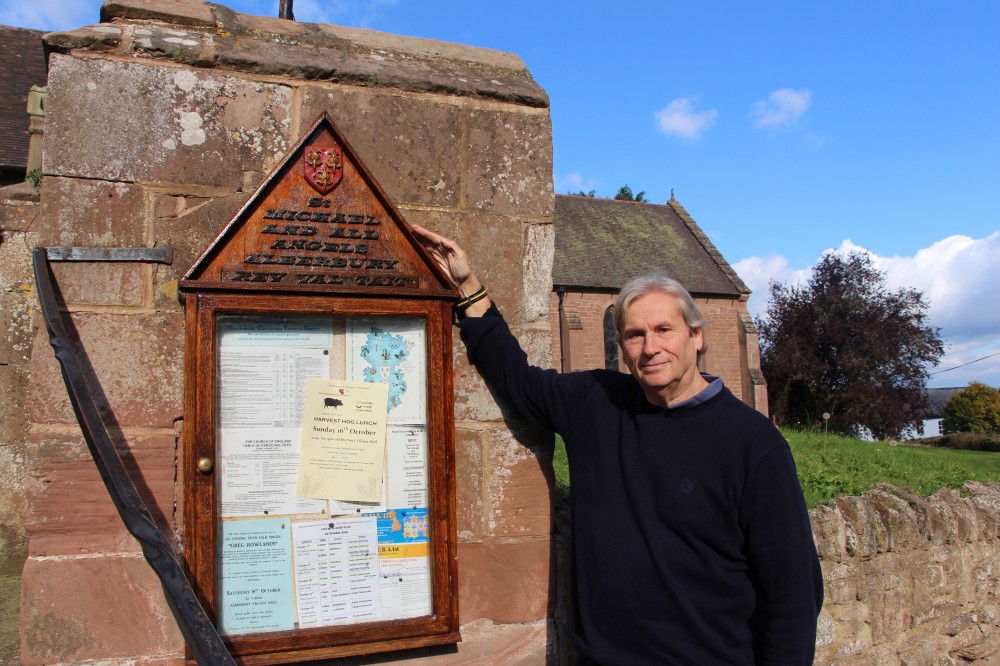 The Church of St Michael and All Angels in Alberbury, west of Shrewsbury.
Back in March this year, Martin and Magda explored a group of churches in the area between Shrewsbury and the Welsh border. Alas three churches were closed - only Melverley, a 'black and white' church of wooden construction was viewable.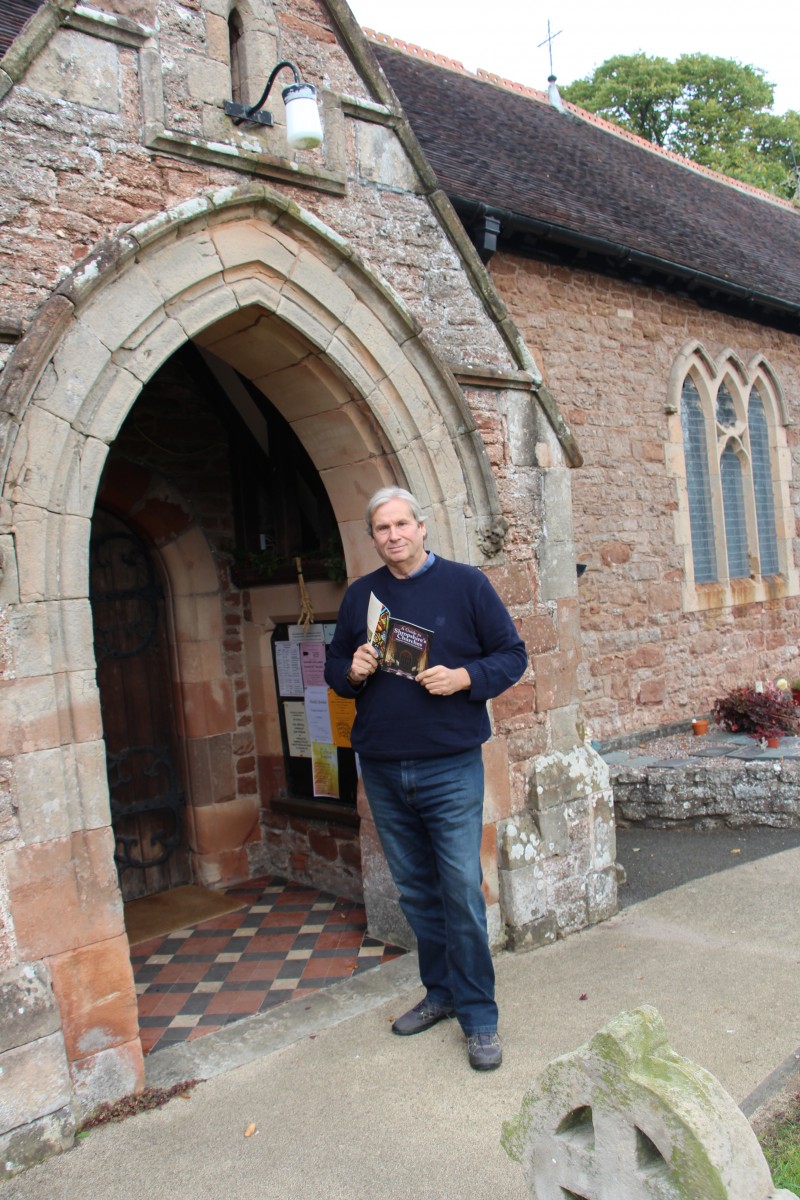 Martin at St Michael Church, Ford near Shrewsbury.
They resolved to return, but this time rang in advance (always advisable anyway!) and spoke to the Priest in Charge, Revd Val Tait, who very kindly arranged for Ford and Alberbury churches to be open for their visit.
It was well worth the return, as both churches were splendid.
It's all over now! - Church and Vicarage work complete!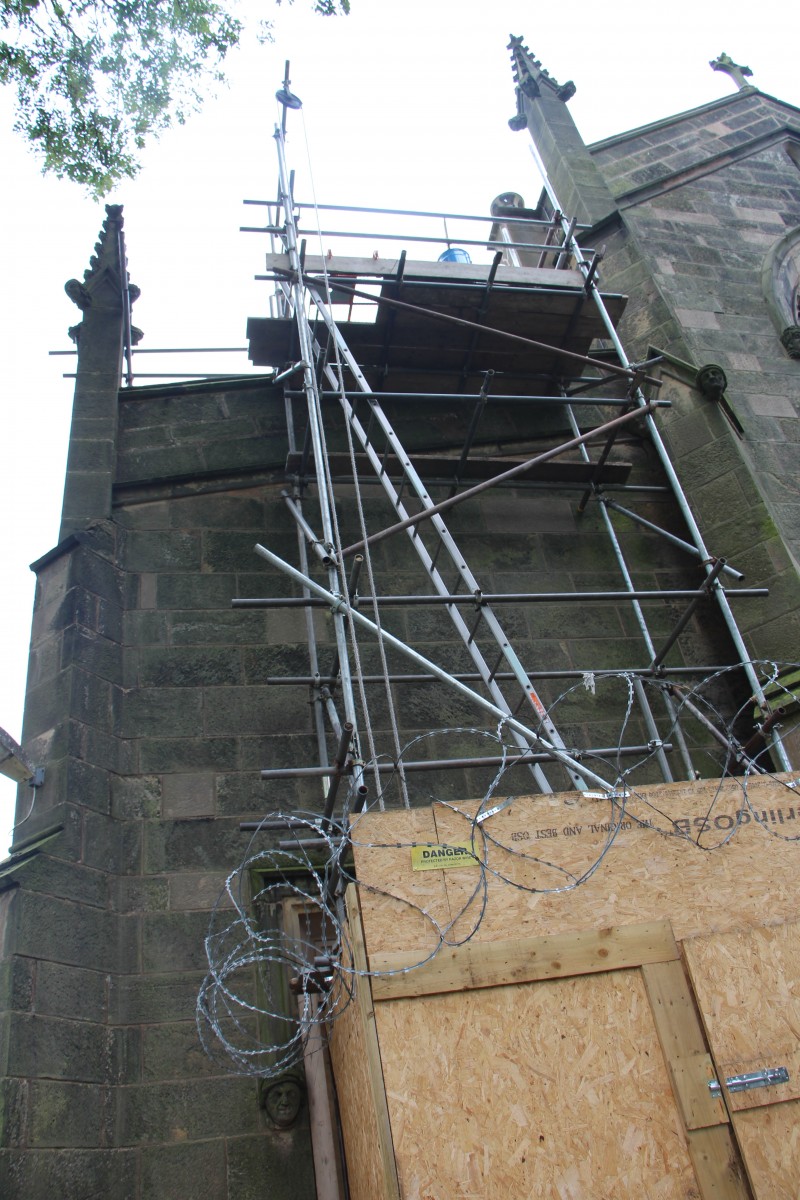 Two years after the lead on our roof was stolen, contractors have finally replaced it with a non-lead substitute of no commercial resale value.
Thank you to our churchwardens Keith and John who steadfastly ensured that a solution appropriate to our building was adopted, for the benefit of the church and village.
Thieves - let it be known that there is now nothing of any value on our roof, so stay away!
The other good news is that work on refurbishing All Saints' Vicarage is also complete!
Harry's 'Cannonball Run'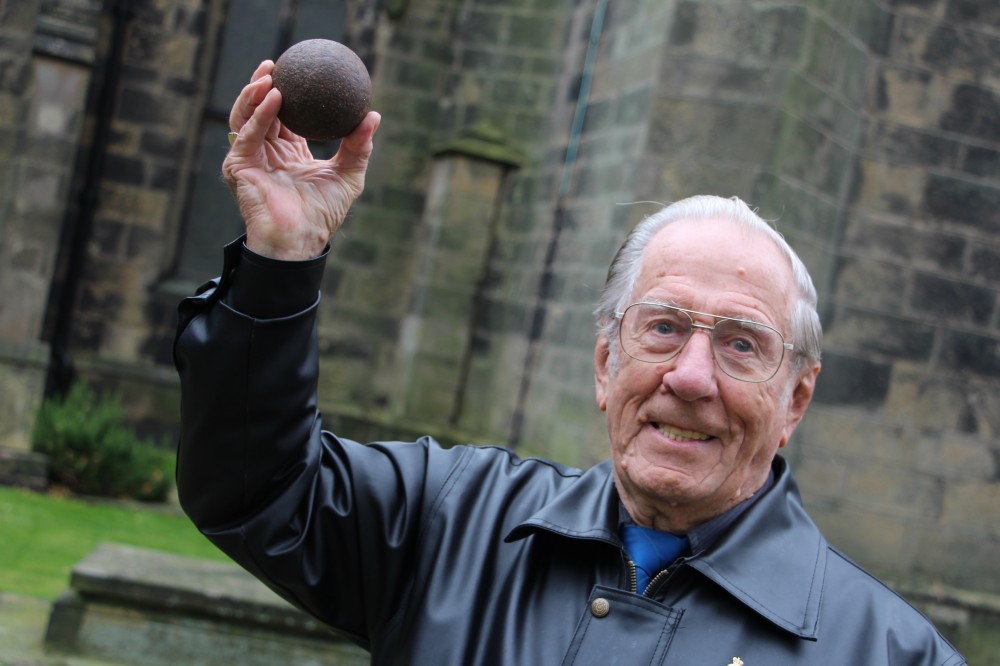 Harry with his cannonball from the siege of Dudley Castle.
Over 50 years ago, Harry Shaw was working as a draughtsman for the Joseph Gillott company, who made pens. A new factory was built on Birmingham Road, close to Dudley Castle.
One day Harry came across a cannonball in the grounds turned up by bulldozers, probably left over from one of the two sieges of Dudley Castle during the English Civil War.
The first siege was repelled by the Royalists in 1644. However in 1646 Sir William Brereton commanded the Parliamentarians in the second siege of the Castle against the Royalists led by Colonel Leveson. The castle was surrendered on 13 May 1646.

We asked civil war expert Adrian Durkin of Dudley Council about the find, and he said: "From the look of it, the cannon ball could be from a saker (a field piece) or a demiculverin (possibly the smallest possible siege piece)." Investigations are continuing!
Harry kindly brought this relic in to show fellow attendees at our Friday coffee morning.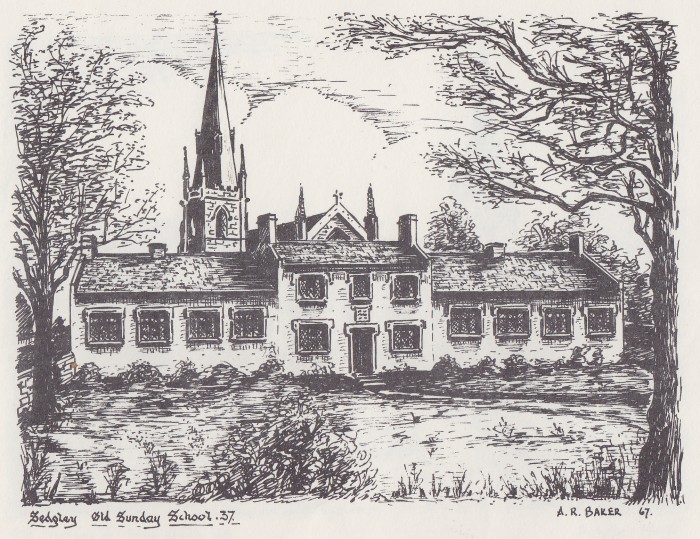 The National School - now Iceland. All Saints' Sunday School was held in the former school building in the 1940s. In the original school, the Boys was on the left, the Girls on the right - the headmaster lived in the middle! After Queen Victoria School was built, it ceased to be a school and the church used it for various activities including Sunday School. Drawing by Ron Baker.
On another historical theme, Doreen Onions whose aunt Sarah Bunn worked as a live-in maid at the old All Saints' Vicarage for Revd TG Swindell and his wife in the 1920s, came to see us.
She told us her memories of All Saints' Sunday School, which was held in the Old School Room (now the site of Iceland) in the late 1940s. She swapped memories with Dorothy Inett, who was our Sunday School Teacher in the 1960s - by this time the Old School Room was dilapidated, so Sunday School was held in Church.
A wonderful Harvest Supper and Concert!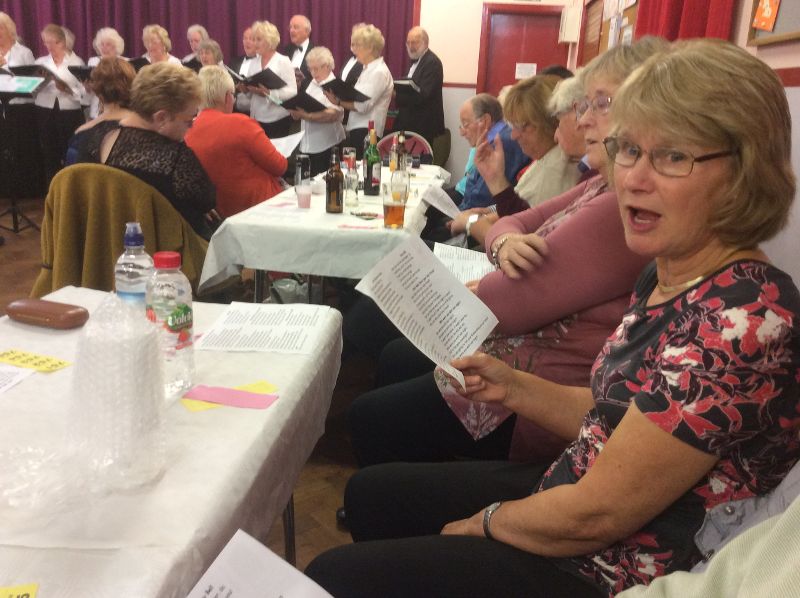 All Saints' arranged a great fundraising Harvest Supper and Concert on Saturday 1st October 2016. The event raised over £700!
Well done to all the organisers and everyone who worked so hard to make it a resounding success.
Well done everyone! Macmillan Coffee Morning was a great success!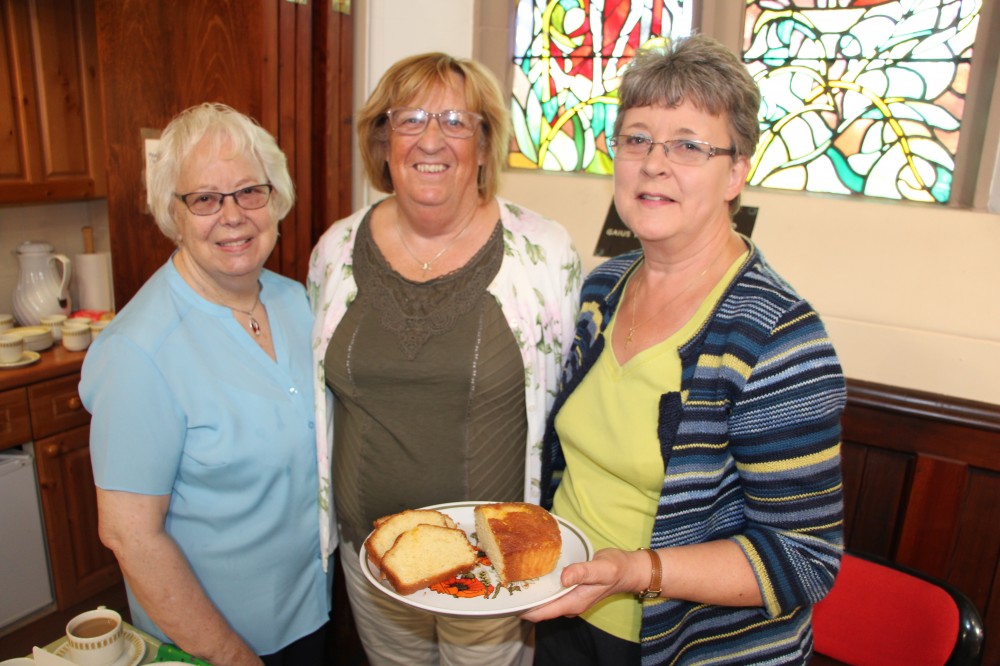 The team who organised our Macmillan event.
Over 50 people came along to support the Macmillan Coffee Morning to assist the work of Macmillan Nurses/ Macmillan Cancer Support on Friday 30th September 2016. £380 was raised!
Macmillan Coffee Morning at All Saints' September 2016
Harvest Festival October 2nd 2016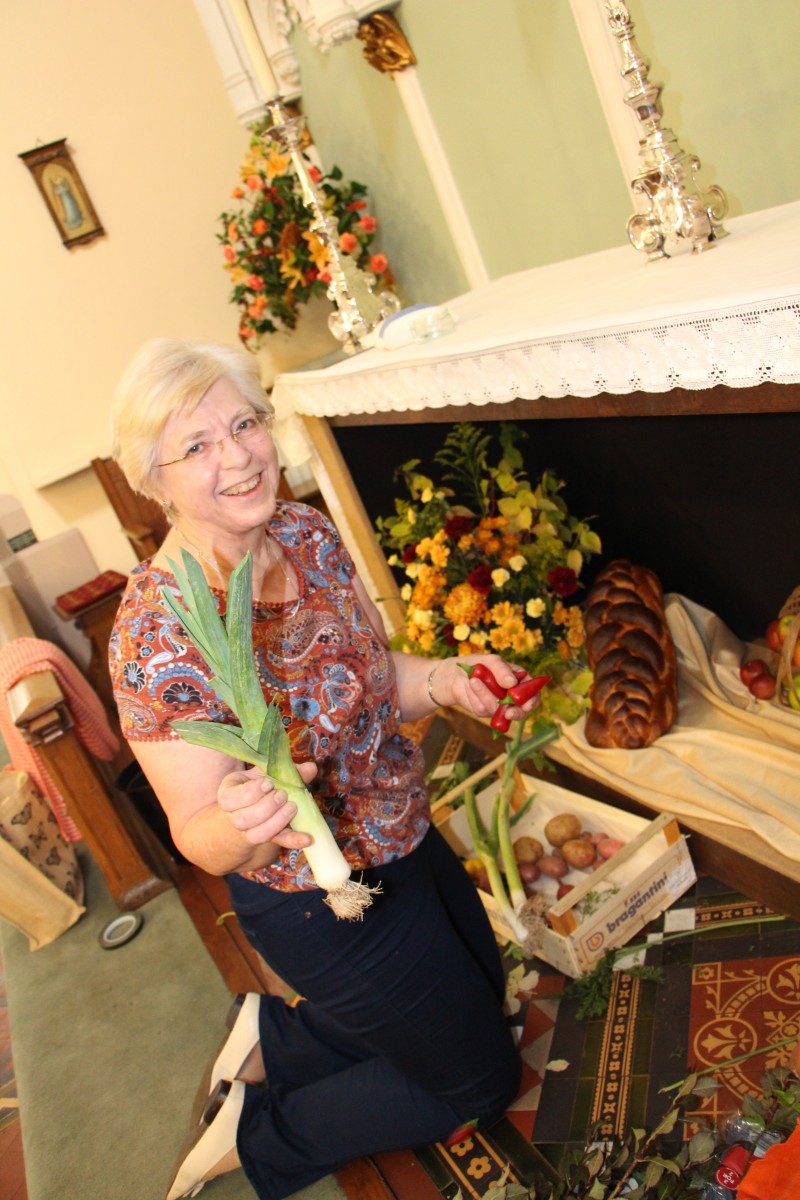 Preparations for the church's Harvest Festival services took place on Friday - the Flower Ladies again decorating the porch, altar and nave, to dress the church for Harvest season.
Photos of Harvest flowers preparations
New Bishop's Certificate course begins in Stourbridge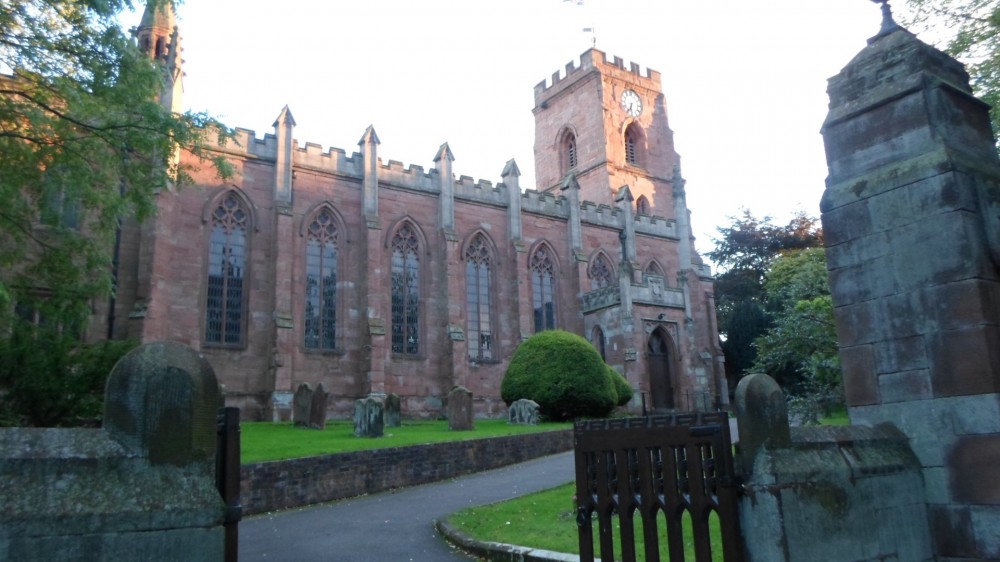 St Mary's Old Swinford
The new Bishop's Certificate course has begun in Stourbridge - other courses are taking place in other parts of the Diocese.
The venue is the beautiful Coach House belonging to St Mary's Church in Old Swinford - the course is led by the priest-in-charge, Revd Stephen Agnew, assisted by his curate Revd Alex French.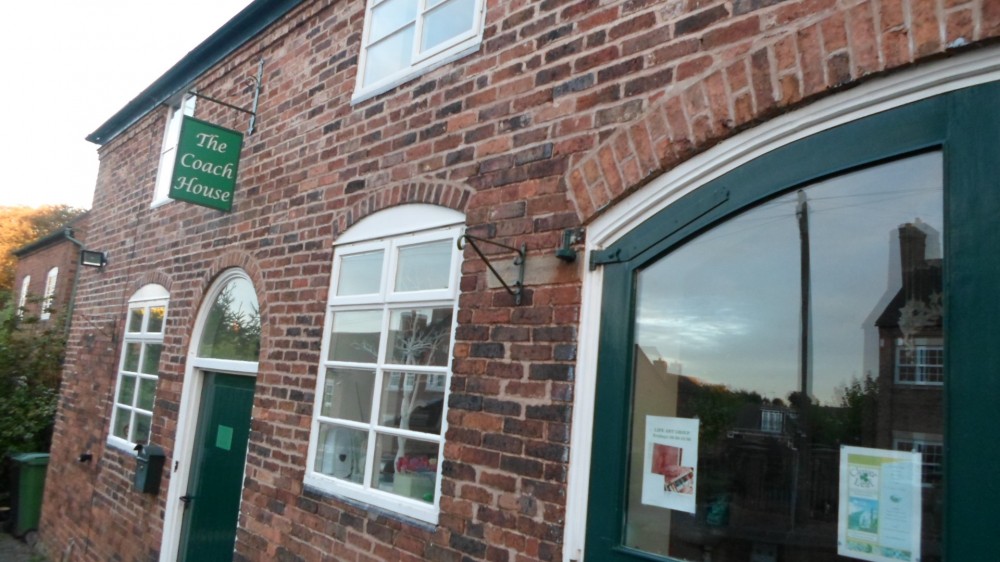 The Coach House, St Mary's.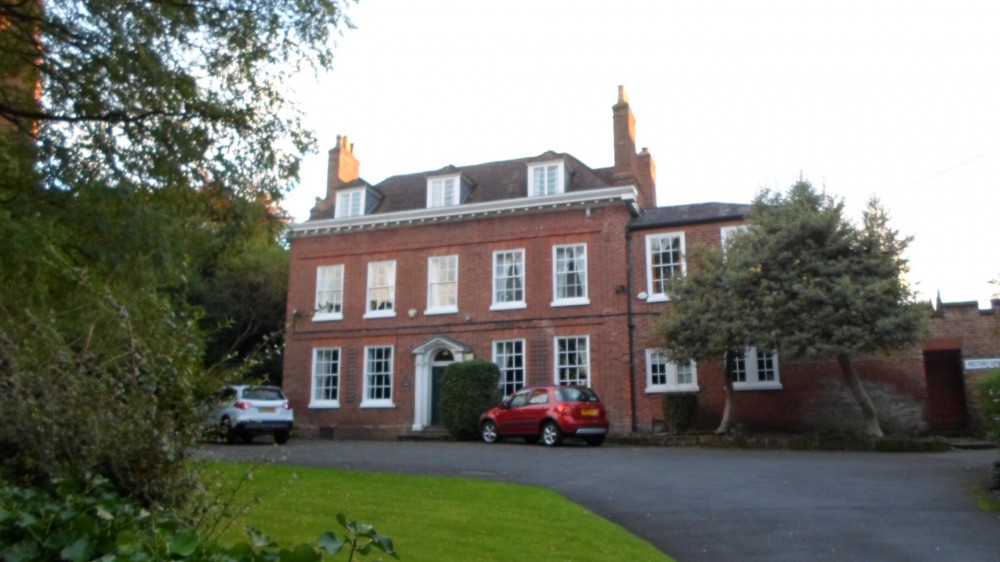 St Mary's Vicarage, Old Swinford.
Twelve people are on the course - some are from St Mary's - others have travelled some distance from other churches.
The course lasts 30 weeks and covers all sections of the Bible - as well as worship, prayer, aspects of contemporary Christianity, and discipleship.
Martin is repeating the Certificate which he first undertook in 2010/11 - as a 'refresher' course. He feels it was so rewarding the first time round that it's more than worth a 'second visitation'! Martin will be commenting about his experiences week by week...
Martin's Bishop's Certificate Blog
...........................................................................................................................................
Parish contact details
Address:
All Saints Parish Office
Ladies Walk
Dudley
DY3 3UA
Phone number: 01902 540289
The Administration Assistant is Gail Griffiths.
Other email addresses:
Keith Tomlinson, Churchwarden:
churchwardenkeith@allsaintssedgley.co.uk
John Anderson, Treasurer and Churchwarden:
treasurer@allsaintssedgley.co.uk
Jenny Lavender, Assistant Treasurer:
asstreasurer@allsaintssedgley.co.uk
David Bell: caretaker@allsaintssedgley.co.uk
Telephone Number: 07933 204132
The parish office is open 10am-12noon, Monday to Friday.
Information should be sent to Gail by Wednesday for inclusion in Sunday's pewsheet.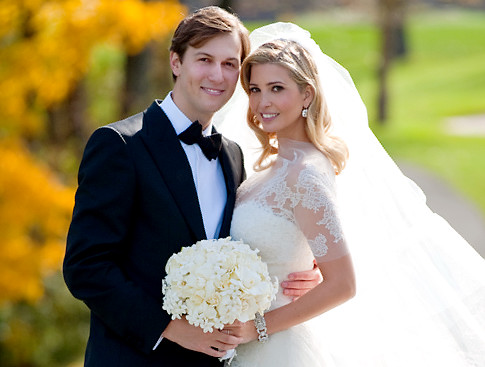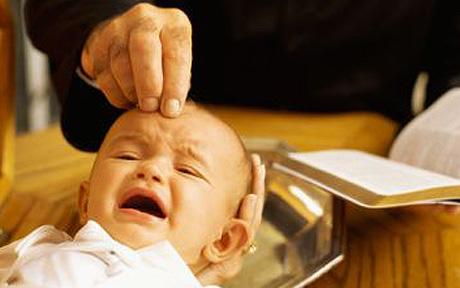 Arranging a wedding or baptism? - click here
Our website
If you'd like to contribute any information about forthcoming church events, write an article, or correct anything on the site, please send your information to Martin our website editor.