Welcome to the Gornal and Sedgley Team Ministry website.
Our parish includes All Saints' Church in Sedgley, St Andrew's in The Straits and St Peter's in Upper Gornal.
We've been a team ministry since 2005: team working allows us to provide spiritual and pastoral care to a wide area including Upper Gornal, the Straits and Sedgley.
We look forward to meeting you at one of the churches in our parish soon.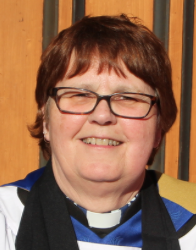 Revd Catherine Mitchell (Team Vicar)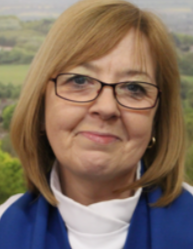 Jan Humphries (Licensed Lay Minister)
Gornal and Sedgley Team Ministry
SERVICES AND EVENTS AT ALL SAINTS', ST ANDREW'S AND ST PETER'S

Click here for a list of services and events at All Saints', St Andrew's and St Peter's
Please notify us of any services or events that are missing from the listings.
LATEST NEWS ON THE PEWSHEET:
BEACON MAGAZINE
Who's Who at All Saints'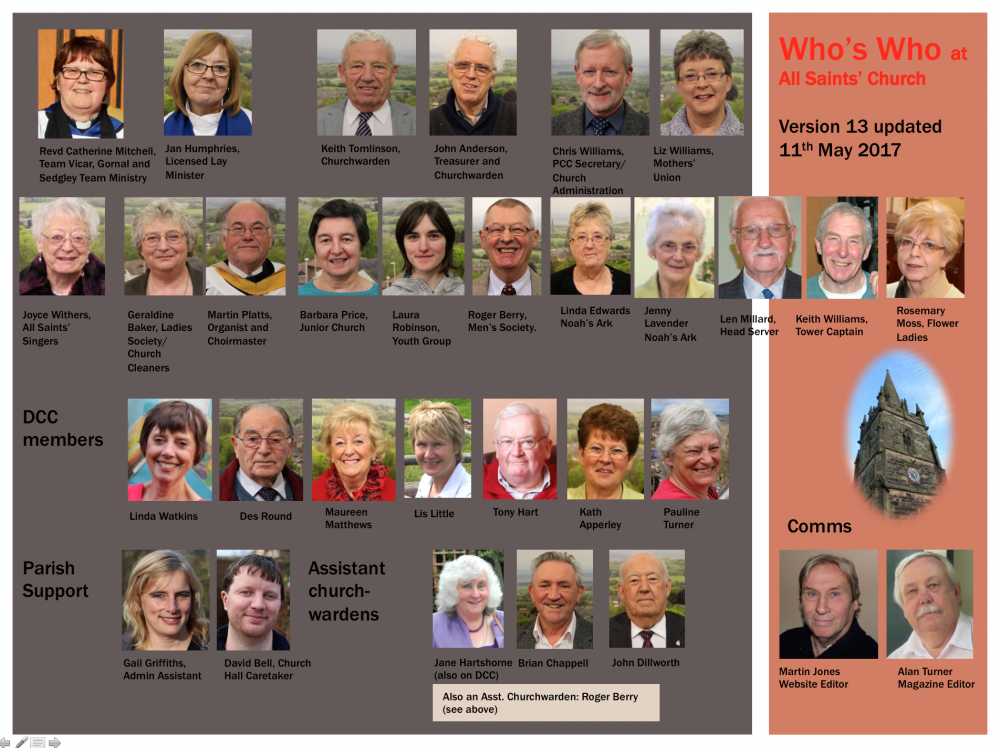 See larger version of Who's Who
ASCENSION DAY - LET'S HOPE FOR GOOD WEATHER!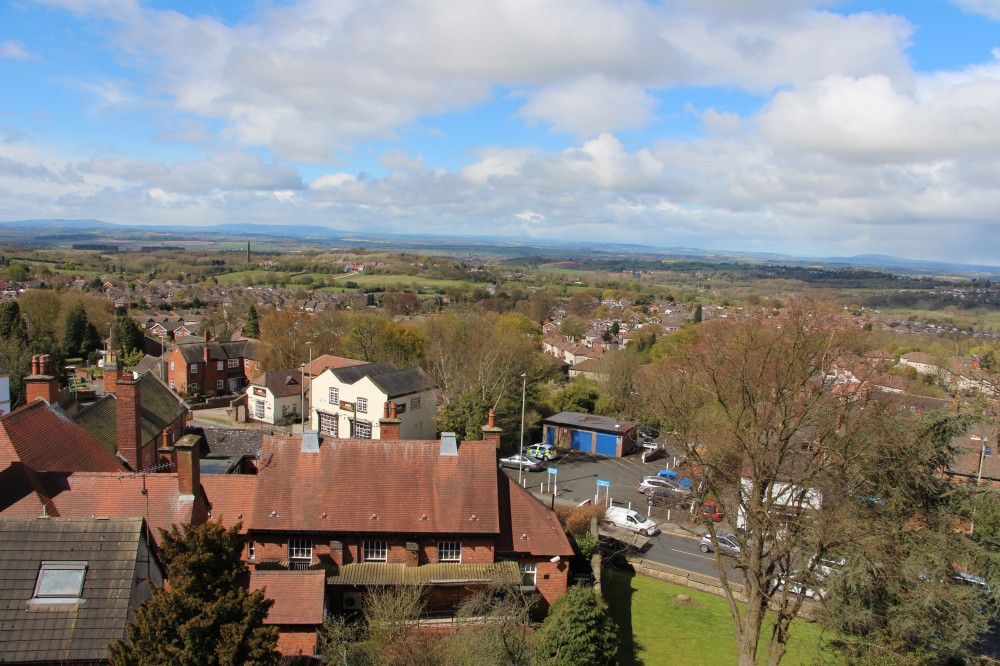 Looking towards Titterstone Clee, from All Saints' Tower.
Ascension Day, Thursday 25th May, 7.30am is our once-a-year opportunity to climb the church tower at All Saints' and view our surrounding countryside and city areas from a great height!
Our ascent of the tower begins at 7.30am. Once on the parapet we sing 'Hail the Day That Sees Him Rise' by Charles Wesley, and say Ascension Day prayers.
At 8am there is Holy Communion in church led by Revd Catherine Mitchell.
Afterwards, around 8.45am, we meet at Cafe Cappella for a fellowship breakfast.
BEACON CENTRE TALKS
The Beacon Centre in Sedgley is offering free community sessions on Sight Awareness to local groups, which can if requested include the Beacon Bus, their low vision advice and resource service.
If any All Saints' groups would like to book a talk, please contact Martin mmjones29@blueyonder.co.uk
FATHER GUY'S LICENSING DATE ANNOUNCED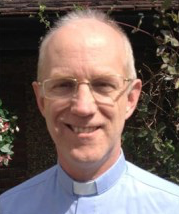 Revd Guy Hewlett, who will be licensed as our new Team Rector.
A date for the licensing of Father Guy Hewlett as Team Rector of Gornal and Sedgley has been announced. It's on Sunday 3rd September at 4pm at All Saints'.
Father Guy is currently Healthcare Chaplain working for the Worcestershire Acute Hospitals NHS Trust.
He was born in London, raised in Cambridgeshire, and studied Psychology in London.
He served as a police officer for 20 years in many different roles, including a police motorcyclist and was ordained as a minister in 1996, working part time with the church and the police. He was vicar in Harrow for a number of years. He is married to Jackie, a nurse, and has two children, both married.
St Peter's 'Floral' Fayre 20/5/17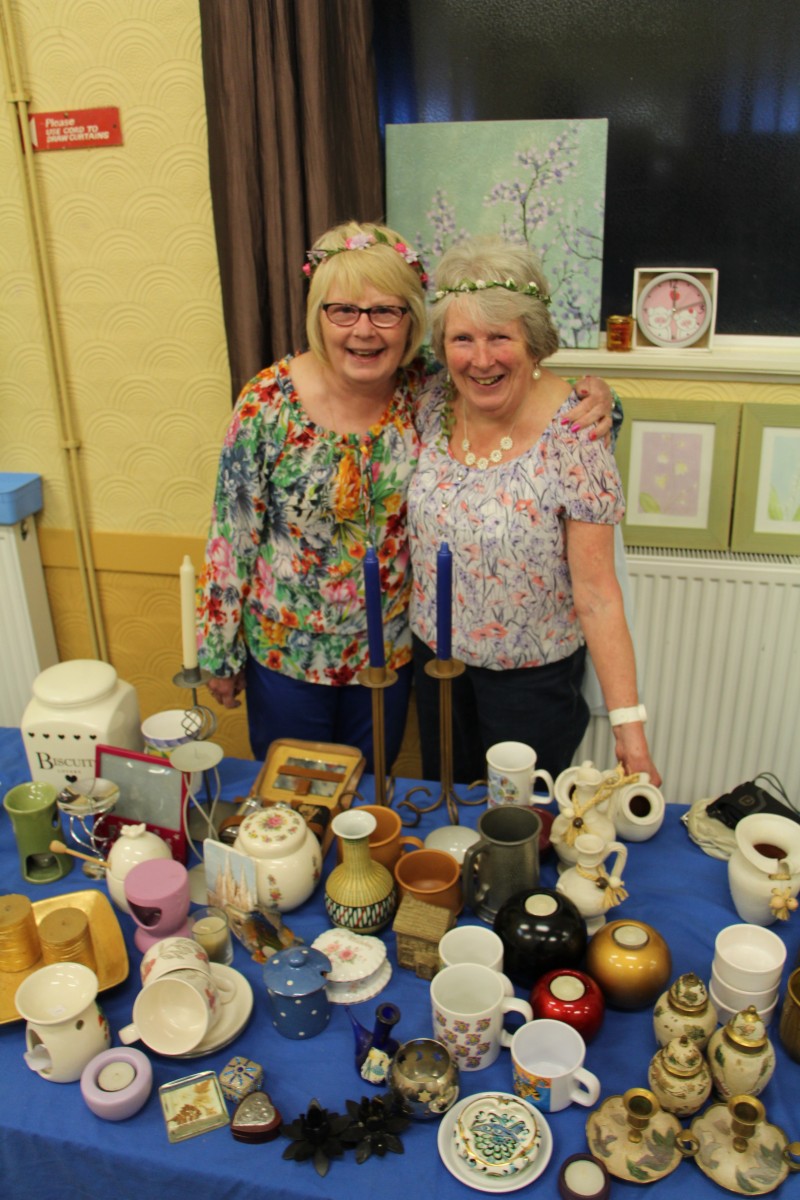 St Peter's stallholders get into the 'floral' theme!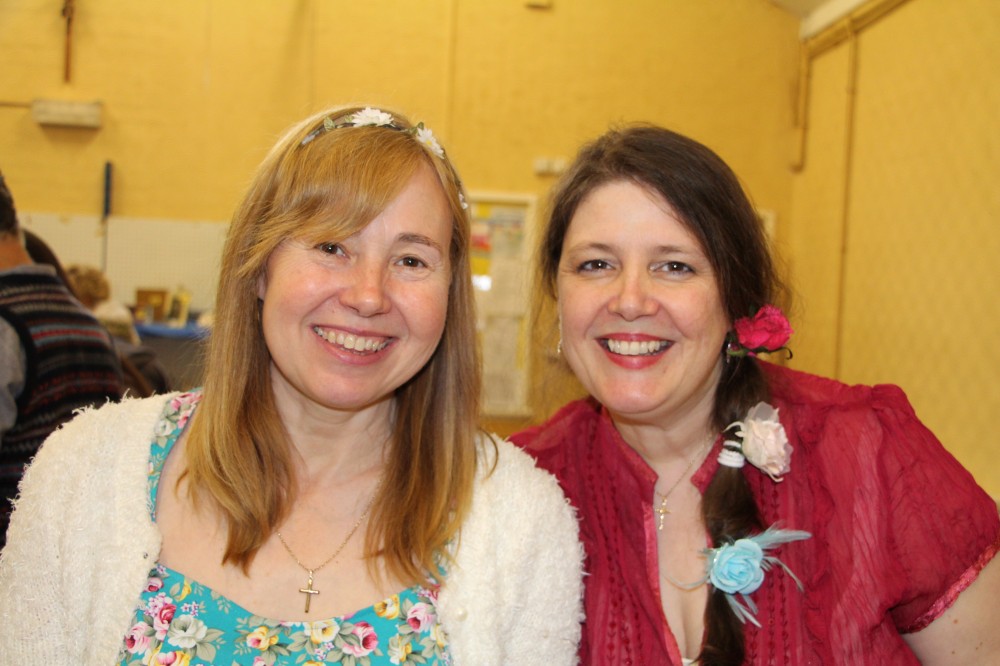 ALMs Tracey Bate and Suzanne Bradley, also in the floral theme at the Fayre.
St Peter's held its Fayre on Saturday 20th May 2017, this year it was on a floral theme and many stallholders wore floral dresses or flower chains in their hair. As usual everyone put in a huge amount of hard work, and the place was buzzing. Well done everyone, it was great to visit!
More shots of St Peter's Fayre 2017
Well done Sedgley Morris Men!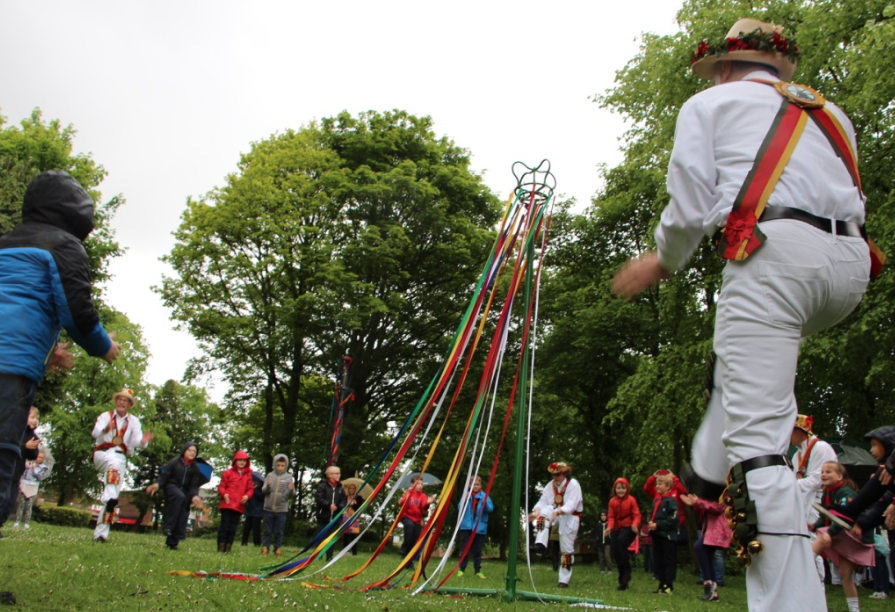 Sedgley Morris Men led the May celebrations in Vicar Street Gardens.
Well done to church member Mike Edwards, Sedgley Morris Men and all the local schools who took part in the May celebrations in Vicar Street Gardens, featuring Maypole dancing.
Despite the rain it was a lovely community event and there was some very enjoyable dancing by the children.
Mike and his men had clearly done a lot of work with the schoolchildren in the village to prepare them.
Congratulations for all your hard work and your dedication to fostering community spirit!
Sedgley May celebrations 2017 1 (Procession)
Sedgley May celebrations 2017 2 (Maypole dancing, St Chads Part 1)
Sedgley May celebrations 2017 3 (Maypole dancing, St Chads Part 2)
Sedgley May Celebration 2017 4 (St Chad's Part 3)
Sedgley May Celebrations 2017 5 (Morris Men Dance)
Sedgley May Celebrations 2017 6 Alder Coppice
Sedgley May Celebrations 2017 7 Sedgley Scouts
STILL PHOTOS OF SEDGLEY MAY CELEBRATIONS 2017
St Peter's welcomes Catherine!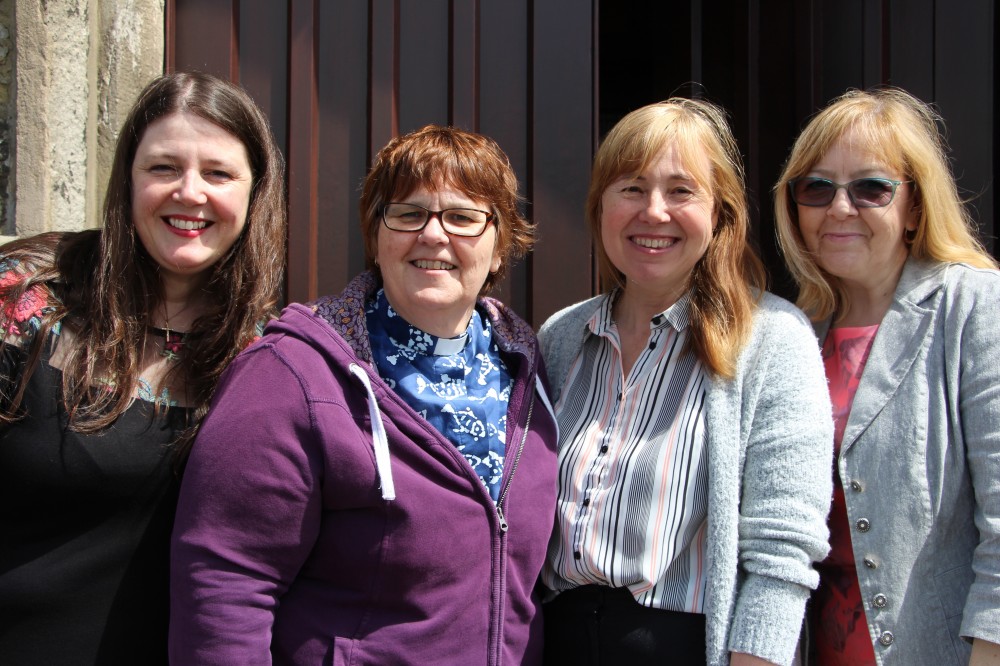 Revd Catherine Mitchell, our new Team Vicar in Gornal and Sedgley (second left) is welcomed by Jan Humphries our LLM (far right) as well as Suzanne Bradley (far left) and Tracey Bate (second right) our ALMs at St Peter's Holy Communion on Sunday 14th May 2017.
Our new Team Vicar, Revd Catherine Mitchell conducted her first Sunday service and delivered her first sermon to the Parish on Sunday May 14th at St Peter's.
Afterwards she met and chatted to several members of the Parish in the hall.
Catherine is busy settling into the Parish and has arranged a number of meetings with people to familiarise herself with our church services, groups and events.
Catherine has invited all parishioners to an 'Open House' at St Andrew's Vicarage, The Straits. Saturday 27th May, 2-4pm.
There is also a Garden Party at St Andrew's Vicarage from 1.30pm - 4pm on Saturday 10th June.
Please note that her day off is Friday.
A BIG THANK YOU from Catherine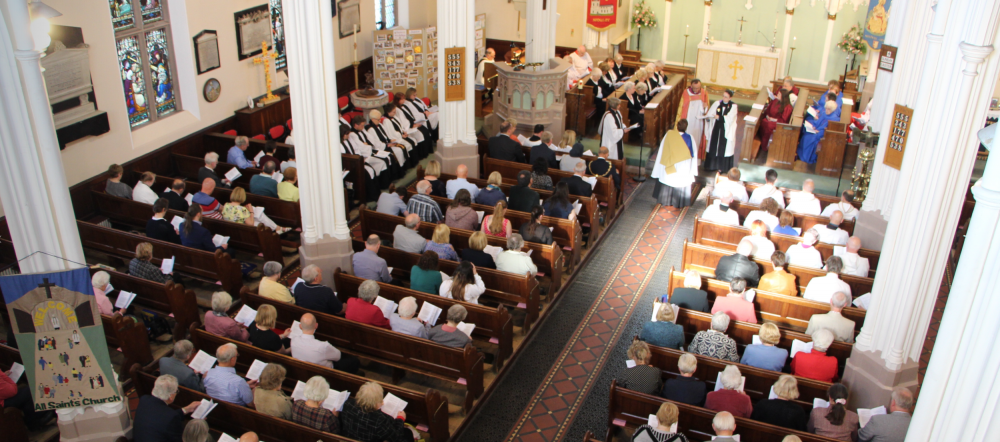 All Saints' Church was full on Sunday 7th May for Catherine's licensing.
Catherine has sent us this message thanking the Parish for its warm welcome on Sunday 7th May:
"THANK YOU - I wanted to thank everyone for giving me such a warm welcome at my licensing service last Sunday, it was a wonderful service.
Also, a big thank you to all who put so much work in making the day happen, those providing and serving the teas and coffees after the service, those involved with ushering and the practicalities of car parking and helping visitors.
Thank you also for making my friends and family welcome, they all enjoyed the occasion too. I look forward to getting to know you all in the coming weeks and months."
OUR PARISH'S NEW REPRESENTATIVE ON THE DEANERY SYNOD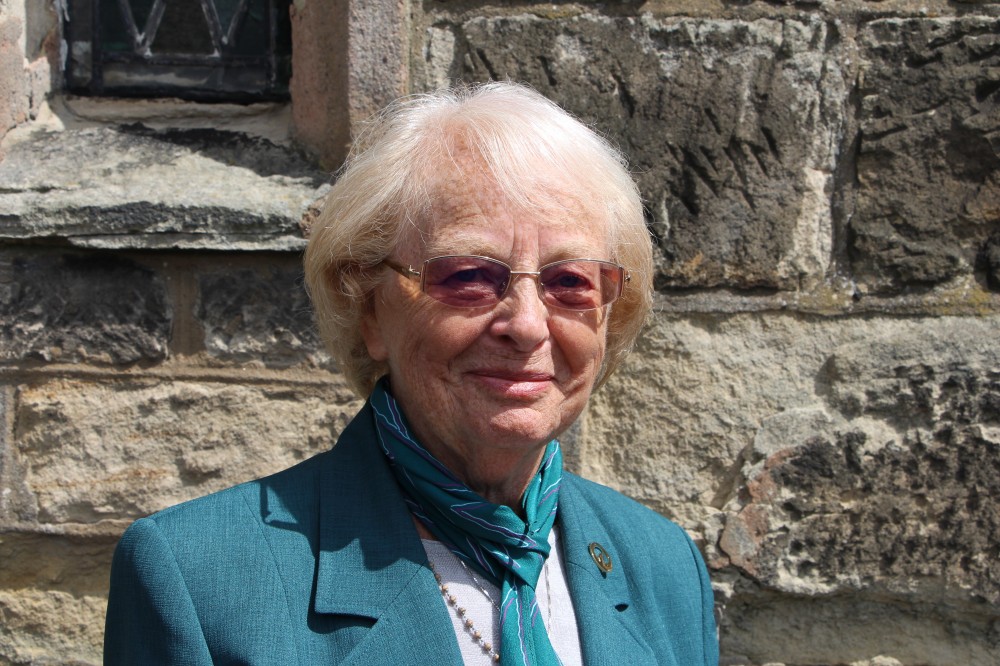 Joan Sullivan, the new Gornal and Sedgley representative on Deanery Synod.
Joan Sullivan is to be the new representative for Gornal and Sedgley Parish on the Deanery Synod.
THE BISHOP OF DUDLEY'S OPEN GARDEN EVENT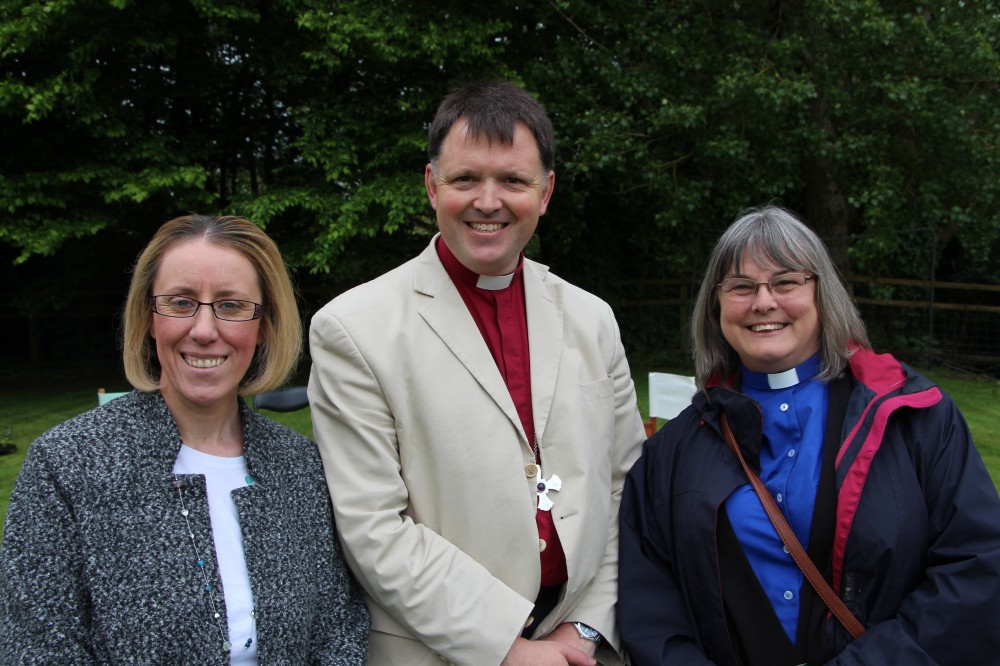 Bishop Graham welcomed guests to his garden at Bishop's House in Cradley Heath. Left: Anna Gillespie, Chief Executive of CHADD, the church housing association in Dudley, and The Revd Joanna Anderson, Chaplain at CHADD and Team Vicar in the Dudley Team.
On Saturday 13th May Bishop Graham welcomed guests for an enjoyable day raising funds for Three Choirs Festival and CHADD – who run sheltered housing and the Women's Refuge in Dudley. The event was held in the extensive gardens at his residence in Bishop's Walk, Cradley Heath.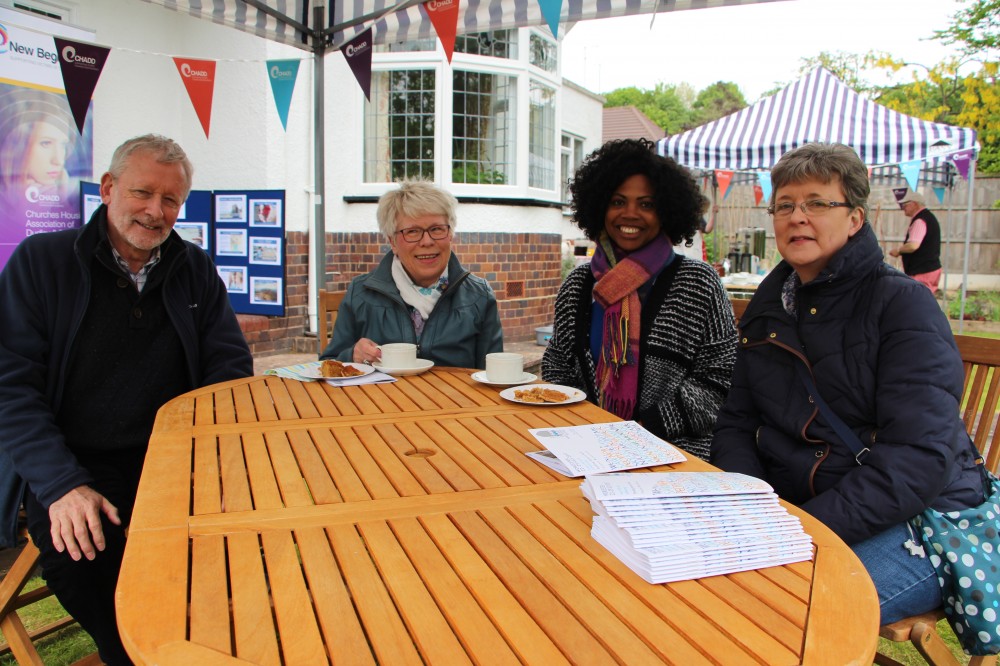 Chris and Liz met guests from other churches in Dudley at the Bishop's Open Garden event.
Chris, Liz and Martin from All Saints' attended the event. It was an opportunity to meet friends from churches in other parts of Dudley.
One of the beneficiaries of the event was CHADD, a church organisation who provide housing services to vulnerable people in the Borough of Dudley and it was great to learn more about their work.
They are sometimes chosen as our charity of the month - and we have also held coffee mornings to raise money for them. They run the Women's Refuge in Dudley.
The Bishop's Open Garden May 2017
Ken and Ivy meet up with Eva again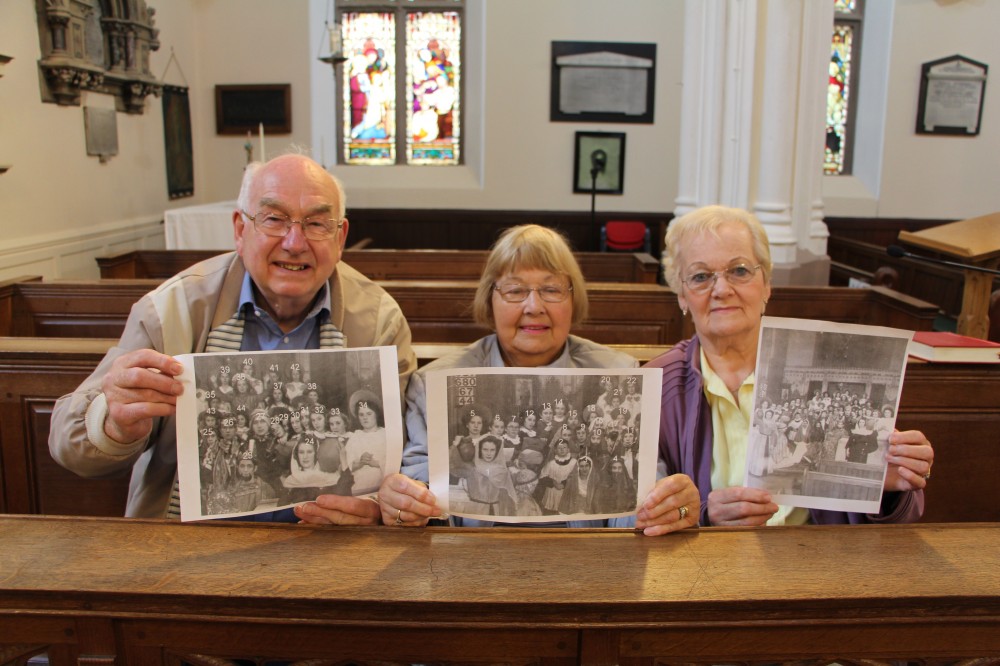 Ken, Ivy and Eva looked at the photo of the All Saints' 1948 Sunday School Nativity Play, and identified many of the cast.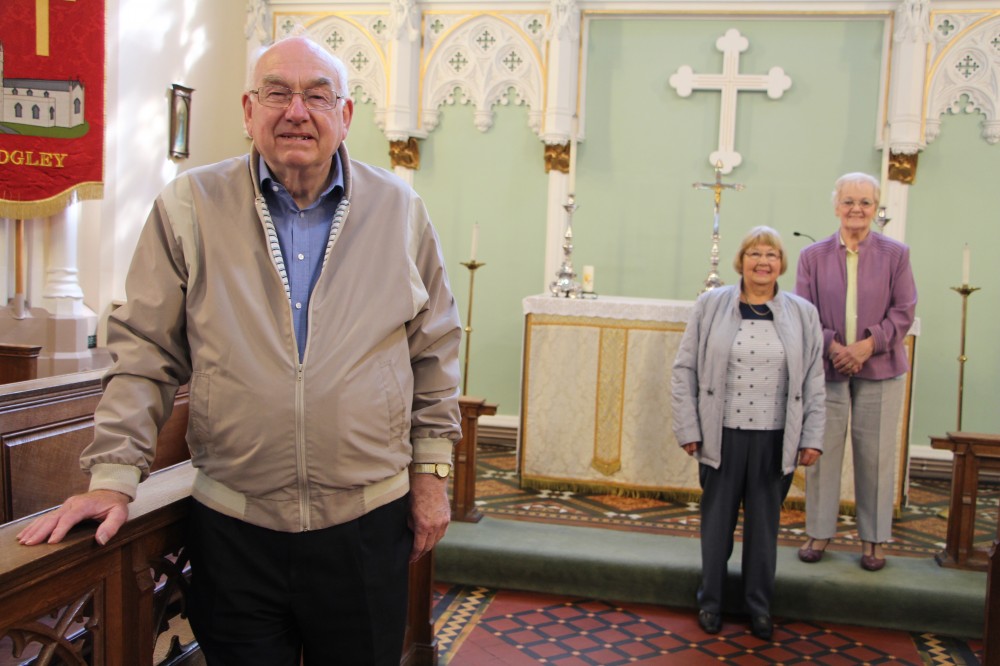 Ken, Ivy and Eva stand exactly where they did in 1948, when the Nativity Play photo was taken.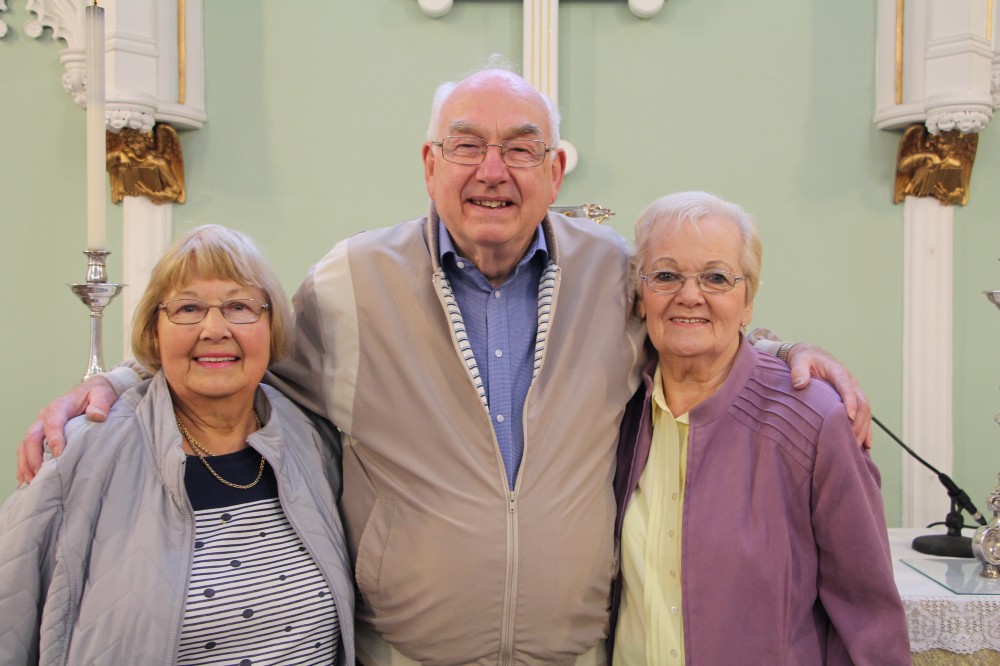 The former Sunday School pupils enjoyed their chat about the Sunday School, and about growing up in Sedgley in the 1940s.
Former All Saints' Sunday School pupils Ken and Ivy Slater met up with Eva Wixon again this week to reminisce about life in Sedgley in the 1940s, and their childhoods in the Sunday School at All Saints'.
We will be featuring excerpts from their interview over the coming weeks.
The 1948 Sunday School Nativity Play photo and other archive shots of All Saints' can be found here:
Pray for Dudley - Sunday 4th June 2017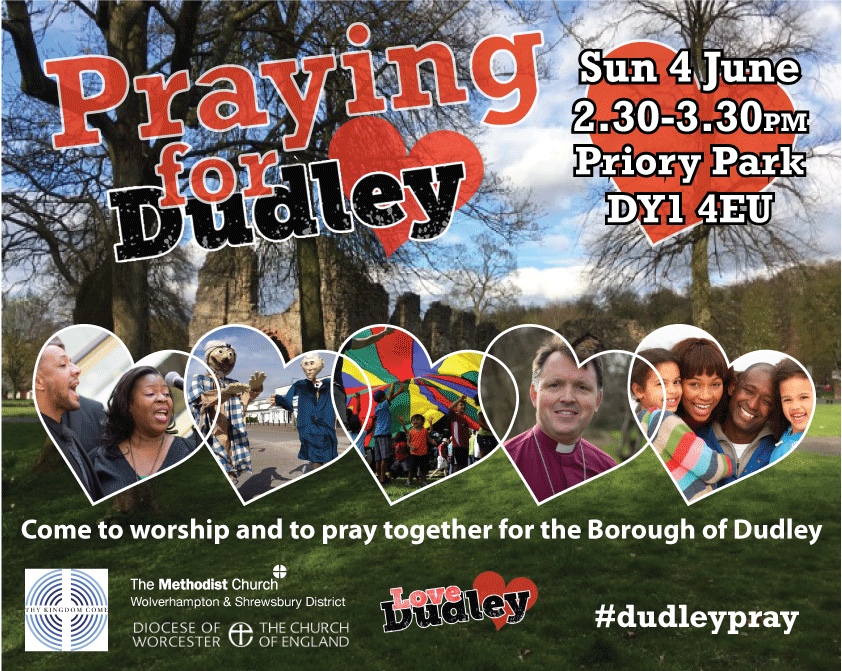 A letter from Rt Revd Graham Usher, Bishop of Dudley:
"I am writing to invite you to an outdoor service to be held in Priory Park on Pentecost Sunday 4th June 2017, 2.30pm to 3.30pm.
Christians of all denominations from across the Dudley Metropolitan Borough Council area will be gathering to pray for the life of our borough as part of a worldwide 'Thy Kingdom Come' invitation from the Archbishop of Canterbury.
I hope that you will be able to attend. I would be grateful if you would publicise the event and encourage your congregations to attend.
With every blessing in this Easter season of Resurrection, Hope and Joy."
Catherine is licensed as our new Team Vicar...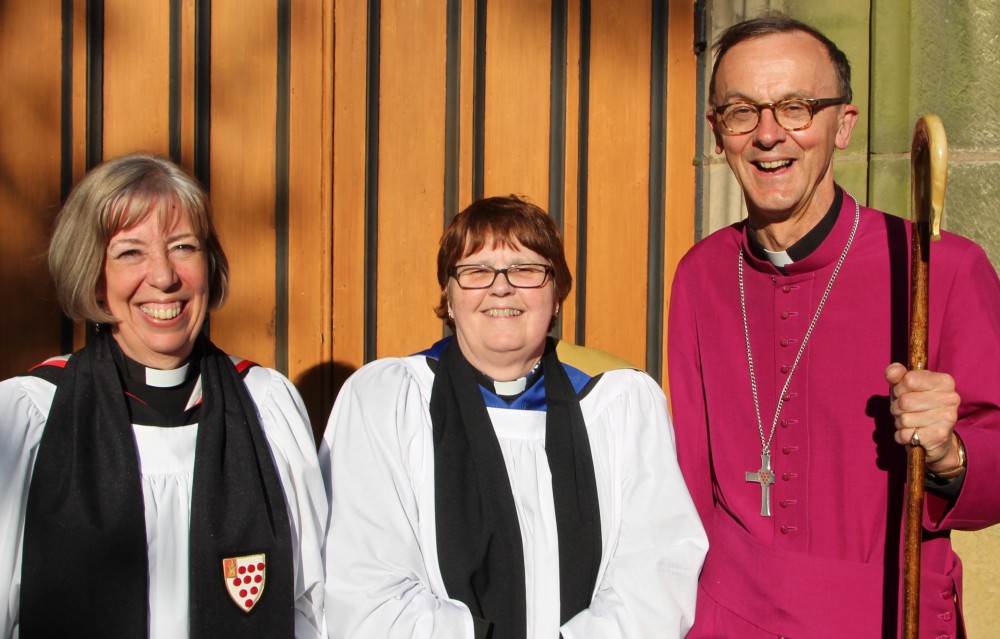 Revd Catherine Mitchell was licensed to serve as Team Vicar in Gornal and Sedgley Team Ministry on Sunday May 7th at All Saints'. With her are The Venerable Nikki Groarke, Archdeacon of Dudley and the Bishop of Worcester, Rt Revd Dr John Inge.
Our new Team Vicar Revd Catherine Mitchell was licensed on Sunday 7th May 2017 at All Saints'.
The service was conducted by the Bishop of Worcester, Rt Revd Dr John Inge.
The licensing service began at 5pm at All Saints' Sedgley - 200 people attended, with guests coming from Catherine's past parishes in Durham and Coventry.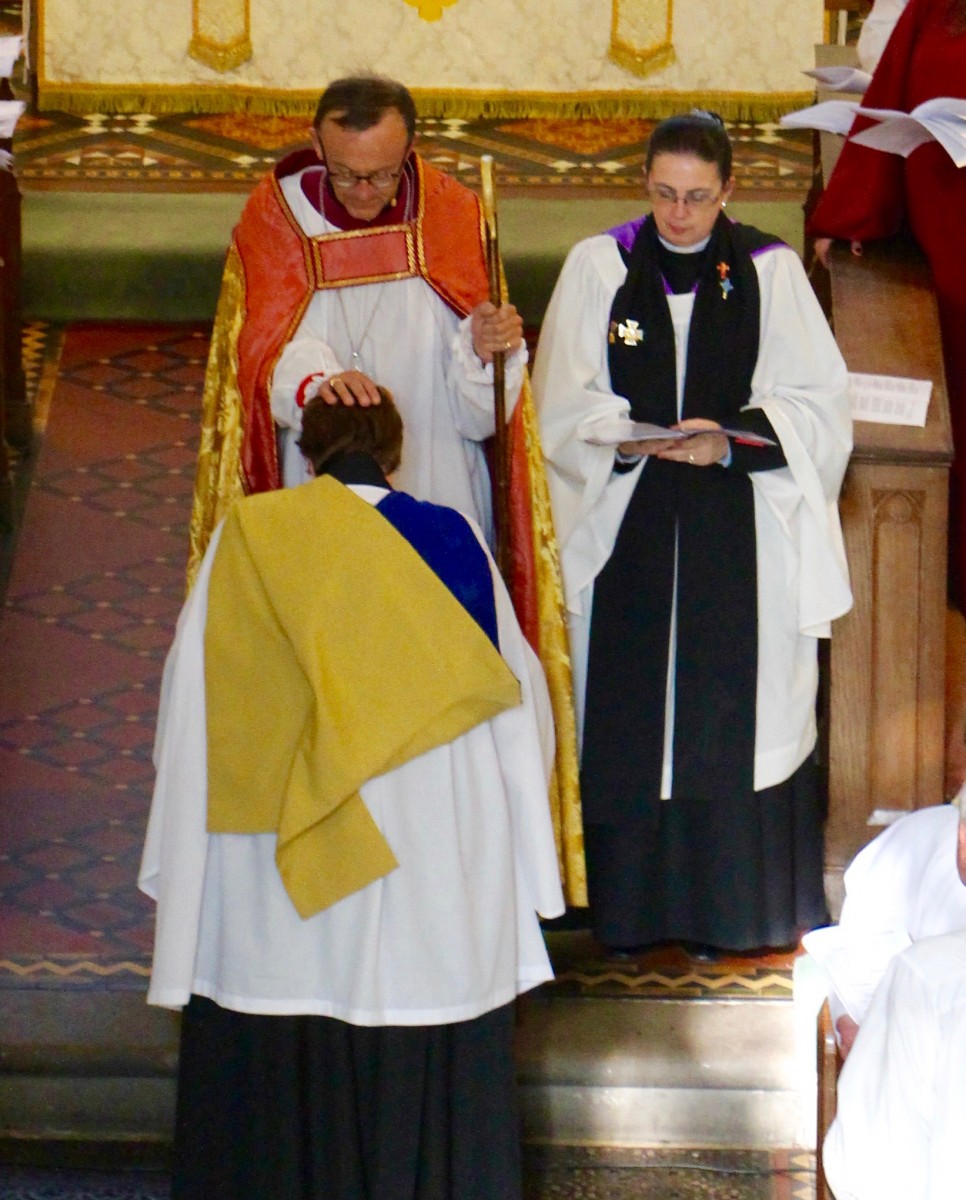 Catherine receives the Bishop's blessing to carry out her ministry in Gornal and Sedgley.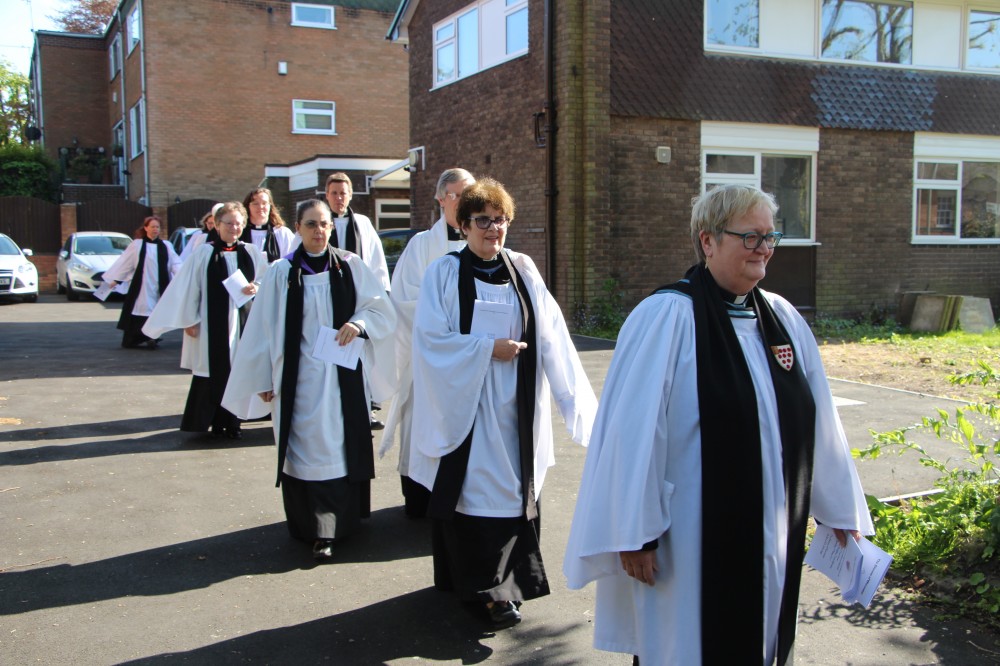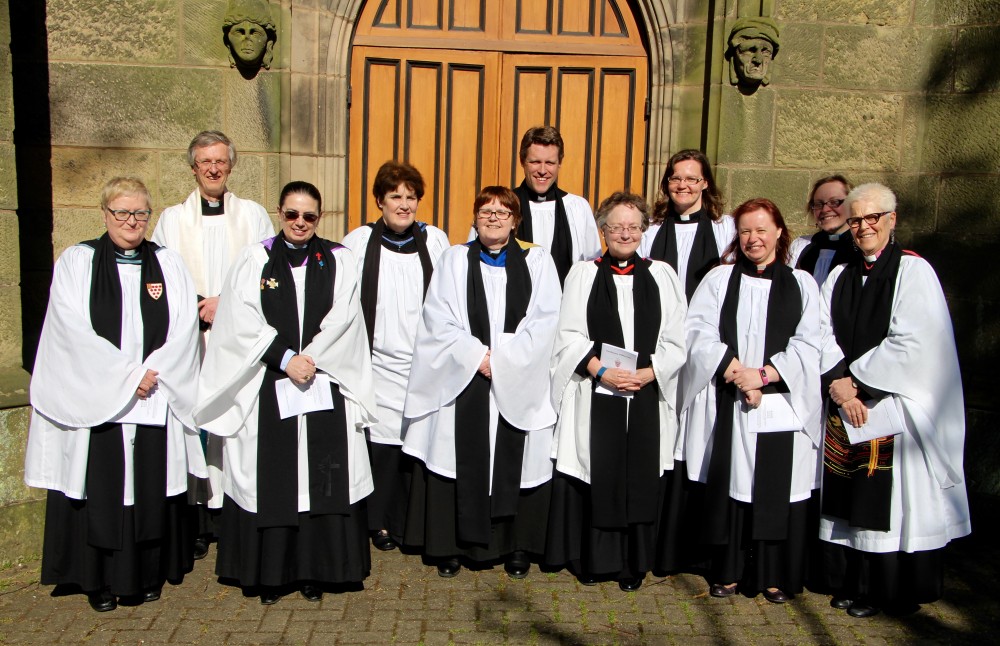 Many clergy from Catherine's former parishes in Coventry and Durham, as well as clergy who have maintained our services during the Vacancy were present. They 'robed up' in the vicarage crossing Vicar Street in procession to church.
Many clergy from around the Diocese who have assisted us as 'guest vicars' in the past 18 months were invited, as well as local politicians, statutory and voluntary organisations, and dignitaries.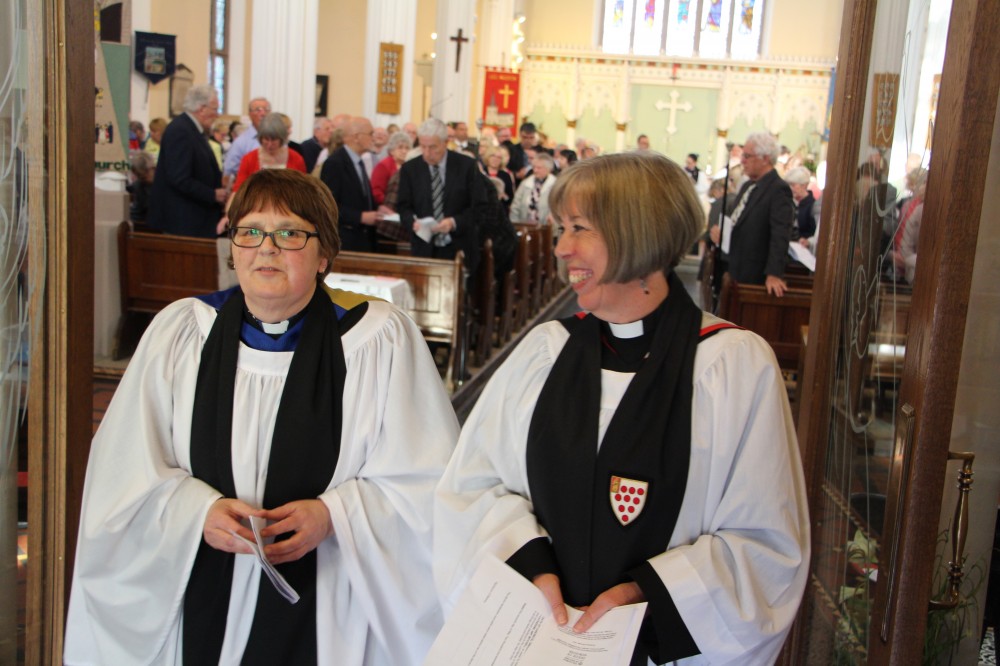 Catherine leaves All Saints' after the licensing, accompanied by Archdeacon Nikki.
Afterwards there was a Bring and Share buffet in the Church Hall.
PLUS
Video of the social/buffet in the Church Hall after the Licensing
and
Read about Catherine's licensing on the Diocesan website
GOING UP IN THE WORLD - THE CHANGING FACE OF SEDGLEY!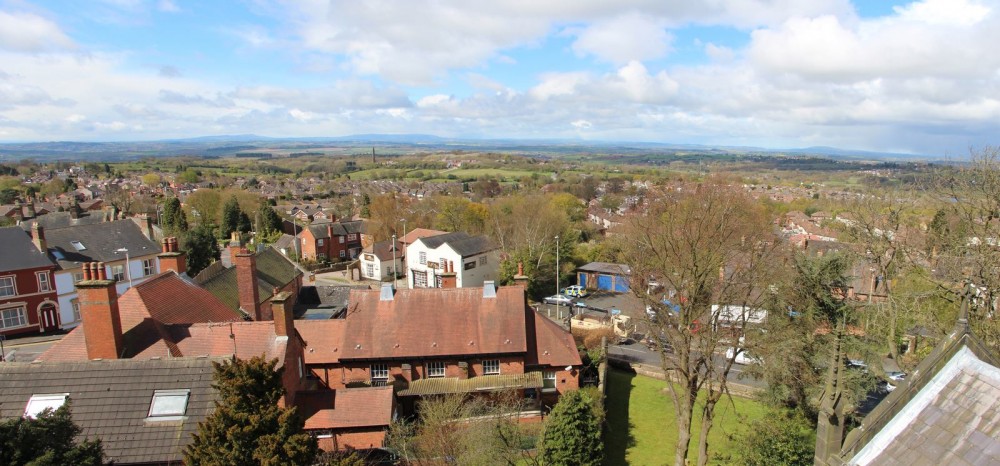 We're intending to go up the church tower again this year. It's a longstanding All Saints' tradition early on Ascension Day, which this year is on Thursday 25th May 2017.
The Ascent at 7.30am is followed by Holy Communion in church at 8.00am, then breakfast at Cafe Cappella from around 8.45am.
IF YOU REQUIRE BREAKFAST please phone Linda Watkins on 01902 678830 or email lindawatkinssedgley@gmail.com
Climbing to the parapet, there is a short service and singing of the Ascension Day hymn 'Hail the Day that Sees Him Rise' by Charles Wesley.
It's also an opportunity to photograph the glorious countryside to the west of Sedgley, and the urban areas to the east, north and south from a high vantage point.
We've been documenting the panorama from the church parapet since 2010, noting the changes that occur year on year.
This year there are a few interesting changes to record - especially shop ownership in Dudley Street; the expansion of Baggeridge Village at Gospel End - and of course the closure of Coop supermarket and its redevelopment by Asda.
THEY'VE BEEN CLEANING OUR CHURCH FOR 127 YEARS!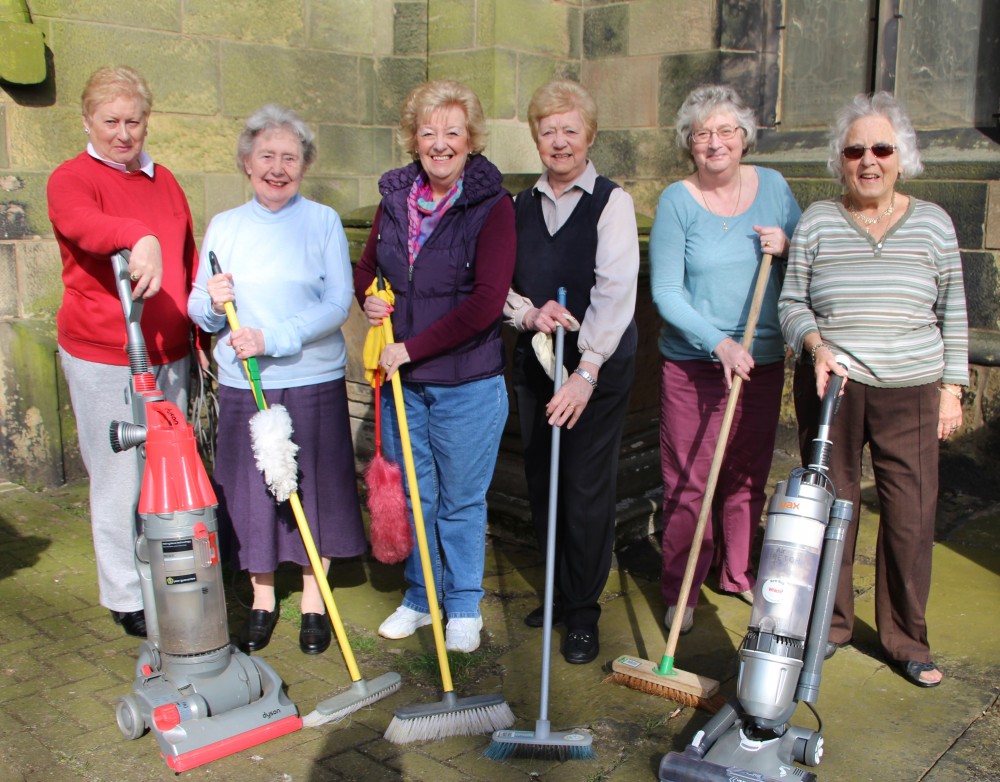 The Cleaning Team who clean our church on Tuesday mornings have notched up many years of devoted service to the church, pictured from left to right:
Katherine Osborne for 8 years.
Maureen Iddles for 35
Maureen Matthews for 10
Jean Turner for 30
Geraldine Baker for 21
Mary Hart for 23.
Total: 127 years of devotion to All Saints'!
Thanks a million from all of us at church.
Eva identifies herself in 1948 Sunday School Nativity Play photo.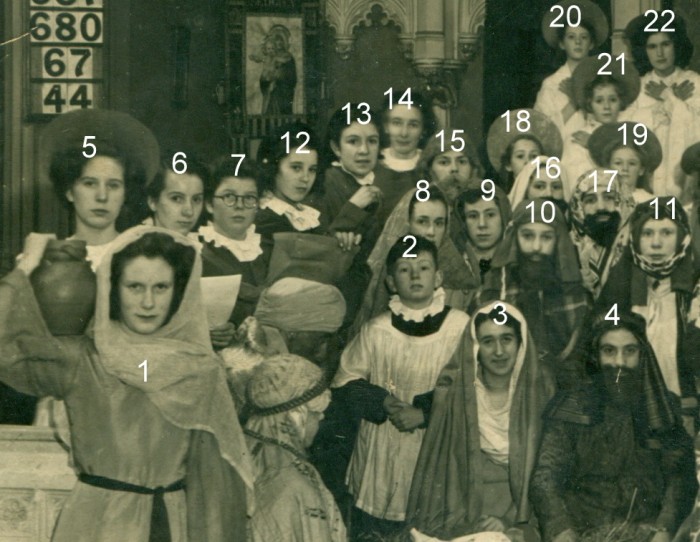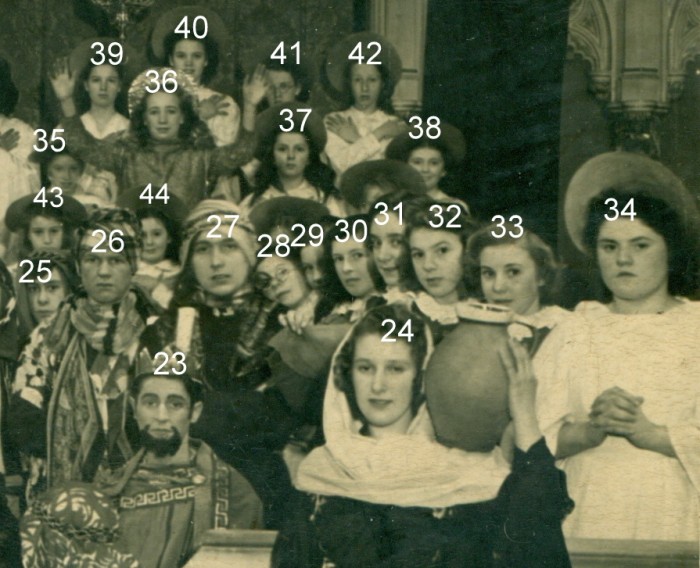 The 1948 Sunday School Nativity Play cast in front of the altar at All Saints'.
On Easter Sunday 2017, Eva Wixon (nee Cox) returned to All Saints' after 69 years for Evensong.
Purely by coincidence she got talking to Ken and Ivy Slater who were captured along with her in a photo of the cast of All Saints' 1948 Nativity Play.
Eva has now got back in touch and happily been able to identify herself.
Eva Wixon (nee Cox) No. 40; her sister, Aurea Cox, No. 39; her future husband Philip Wixon, No. 27; his close friend Tony Springthorpe No.26.
Ken Slater is the choirboy, No 2 in the top photo; Ivy Slater is No. 44; Mary Davenport (nee Ray) No. 37; Margaret Hunt (nee Taft) No. 19 - she may be visiting from Canada this summer.
GREAT NEWS! Jan is set to become an Honorary Canon of Worcester Cathedral
The Venerable Nikki Groarke, Archdeacon of Dudley (left) with our soon-to-be Honorary Canon Jan Humphries after Holy Communion at St Andrew's on Sunday 30th April 2017.
At the Team Service on Sunday 30th April 2017 at St Andrew's it was announced that in recognition of the outstanding ministry of our LLM Jan Humphries, she is soon to be made an Honorary Canon of Worcester Cathedral.
There is no one, anywhere, more deserving of this honour. Jan devotes a very large part of her life to the church, and to supporting others - she inspires everyone she meets.
During our period of Vacancy where we have had no Team Rector since December 2015, and no Team Vicar since April 2016, it would have been impossible to sustain the programme of services around the Parish, were it not for Jan's willingness to lead a large number of them.
What you don't see is the countless hours Jan spends with the lonely, the desolate, the elderly, the sick and the bereaved, quite apart from her support of Singing Angels, the children's choir at St Andrew's. It's wonderful news that Rt Revd Dr John Inge, our Bishop, has recognised her work in this way.
When Jan is invested at Worcester, at a date to be announced, many of us will want to attend to witness the award of the honour that has been conferred upon her and thereby show appreciation for her dedication to the people of the Parish over many years.
Coming soon - 'Trips out with a religious connection' series:
Chetton and the Brown Clee Group of Churches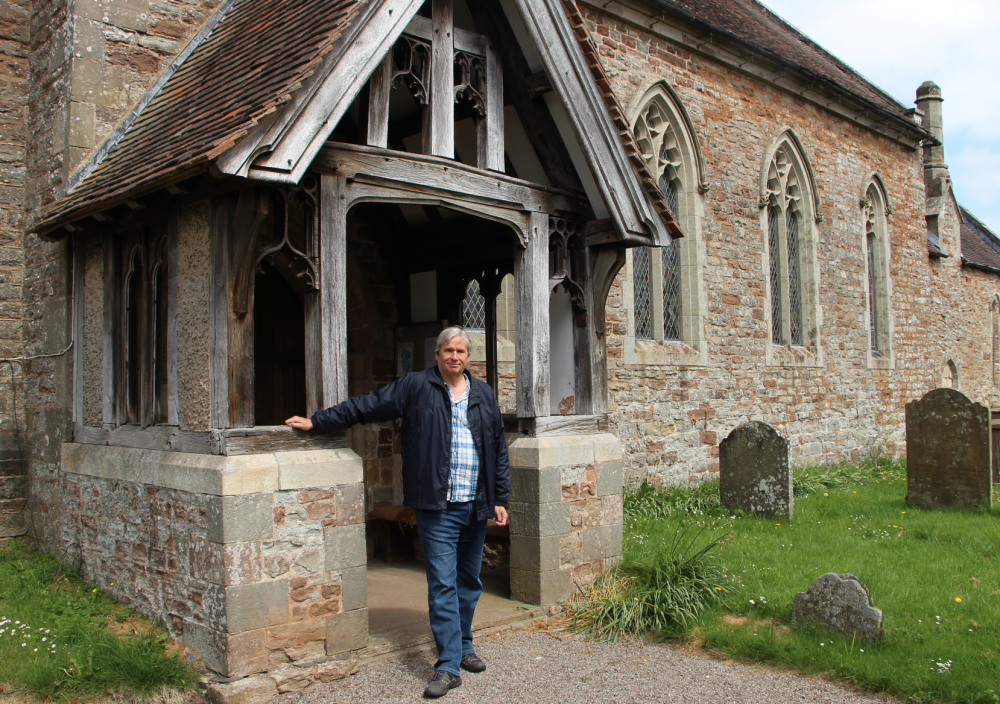 Martin at Chetton Church near Bridgnorth.
Taking a break from his year long travelogue around the churches of the Diocese of Worcester, Martin returned to familiar territory around Bridgnorth on a glorious May day.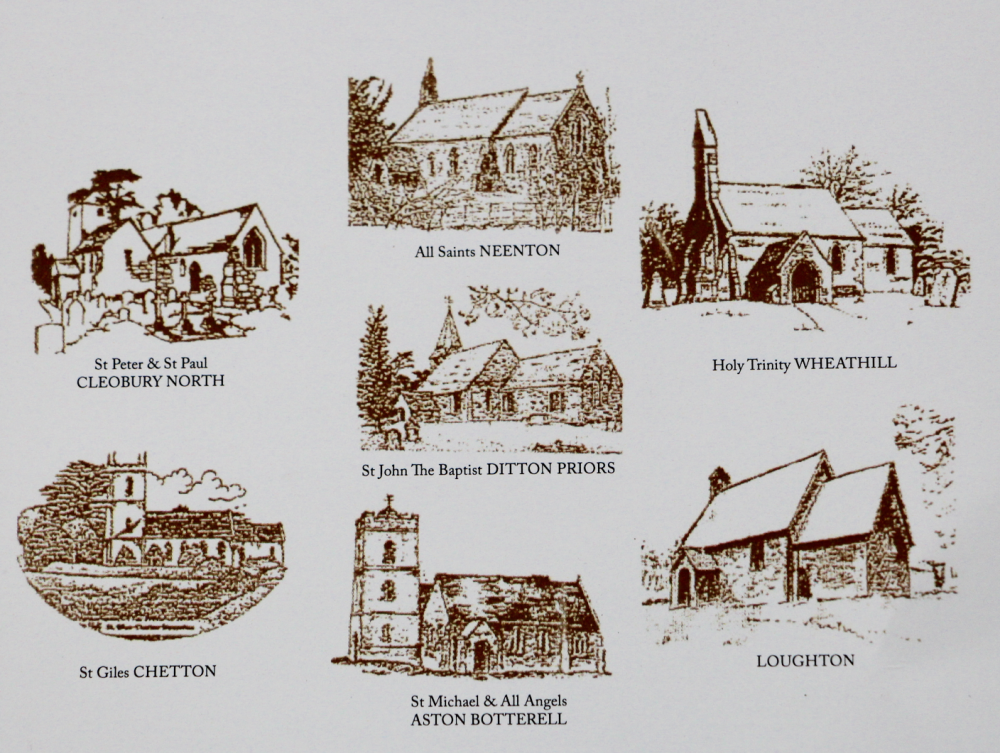 The Brown Clee group of churches.
He and Magda visited four churches in the Brown Clee Group, including Chetton, Loughton, Neenton and Wheathill.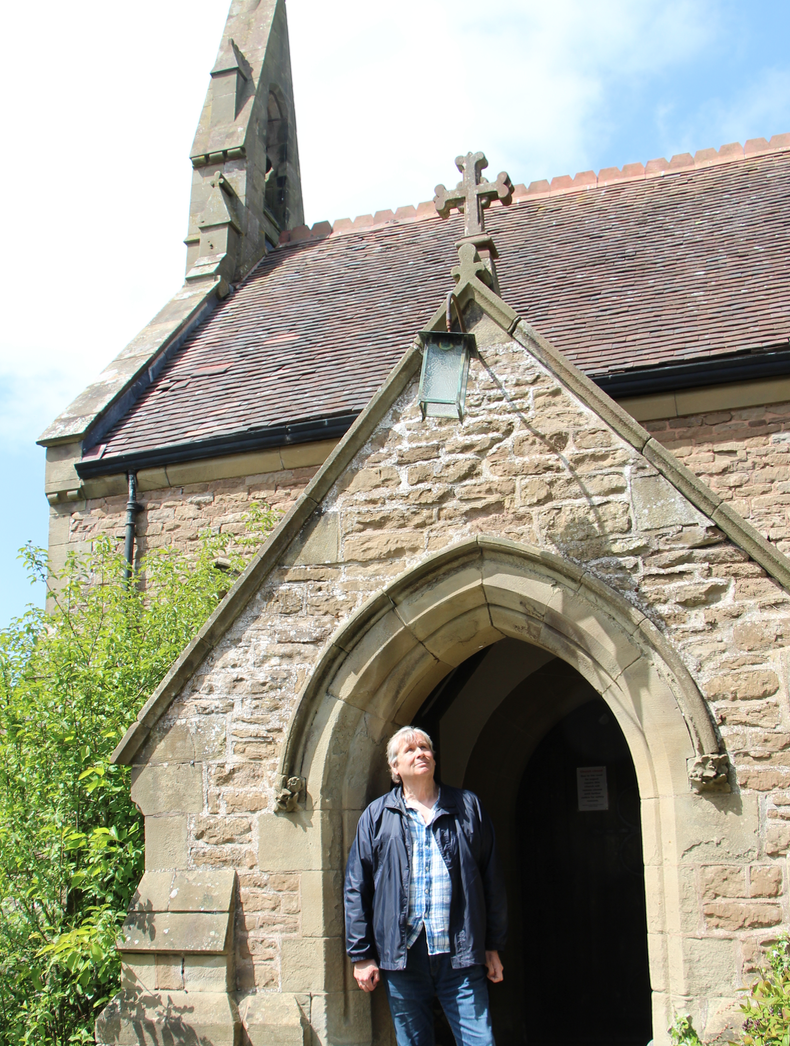 Neenton Church.
This is currently being written up and will appear soon.
Baptism and weddings - bookings
If in doubt whether a Vestry Hour will be held at All Saints', and to avoid a wasted trip, call our Parish Secretary Gail:
01902 540289 between 10am-12noon, Monday - Friday.
Parish contact details
Address:
All Saints Parish Office
Ladies Walk
Dudley
DY3 3UA
Phone number: 01902 540289
Our Administration Assistant is Gail Griffiths.
The Revd Catherine Mitchell
Team Vicar
Gornal and Sedgley Team Ministry
All Saints, Sedgley
St Peters, Upper Gornal
St Andrews, The Straits
Tel 01902 677897
revcatherinemitchell13@gmail.com
Other email addresses:
Keith Tomlinson, Churchwarden:
churchwardenkeith@allsaintssedgley.co.uk
John Anderson, Treasurer and Churchwarden:
treasurer@allsaintssedgley.co.uk
Jenny Lavender, Assistant Treasurer:
asstreasurer@allsaintssedgley.co.uk
David Bell: caretaker@allsaintssedgley.co.uk
Telephone Number: 07933 204132
The parish office is open 10am-12noon, Monday to Friday.
Information should be sent to Gail by Wednesday for inclusion in Sunday's pewsheet.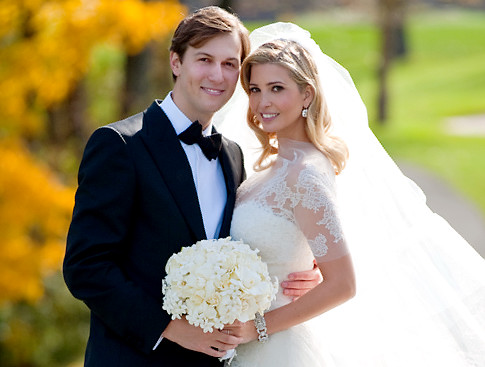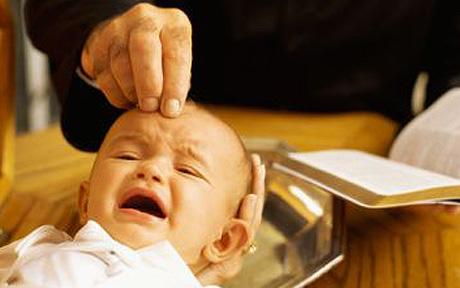 Arranging a wedding or baptism? - click here
Our website
If you'd like to contribute any information about forthcoming church events, write an article, or correct anything on the site, please send your information to Martin our website editor.