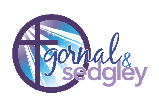 Welcome to the Gornal and Sedgley Team Ministry website.
Our parish includes All Saints' Church in Sedgley, St Andrew's in The Straits and St Peter's in Upper Gornal.
We've been a team ministry since 2005: team working allows us to provide spiritual and pastoral care to a wide area including Upper Gornal, the Straits and Sedgley.
We look forward to meeting you at one of the churches in our parish soon.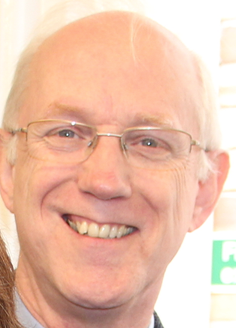 Revd Guy Hewlett (Team Rector, Gornal and Sedgley Team Ministry)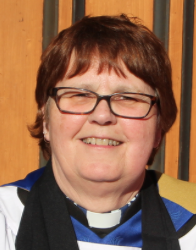 Revd Catherine Mitchell (Team Vicar, Gornal and Sedgley Team Ministry)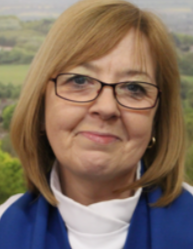 Canon Jan Humphries (Licensed Lay Minister, Gornal and Sedgley Team Ministry)
Gornal and Sedgley Team Ministry
SERVICES AND EVENTS AT ALL SAINTS'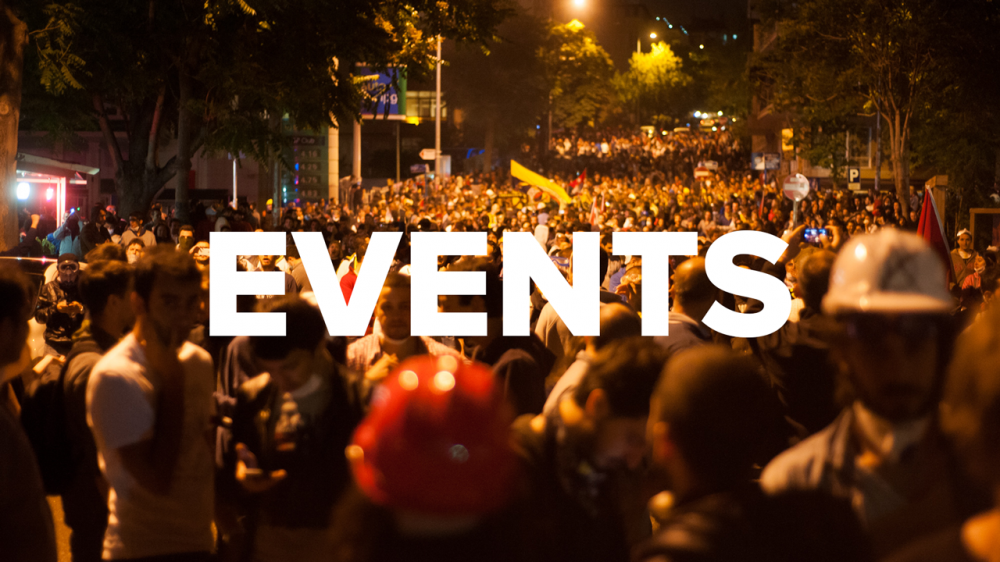 Click here for a list of services and events at All Saints'
Please notify us of any services or events that are missing from the listings.
THE BEACON CHURCH MAGAZINE
The Beacon Parish Magazine February 2019
LATEST CHURCH NEWS FROM THE PEWSHEET
All Saints' pewsheet 17th February 2019
Our Facebook site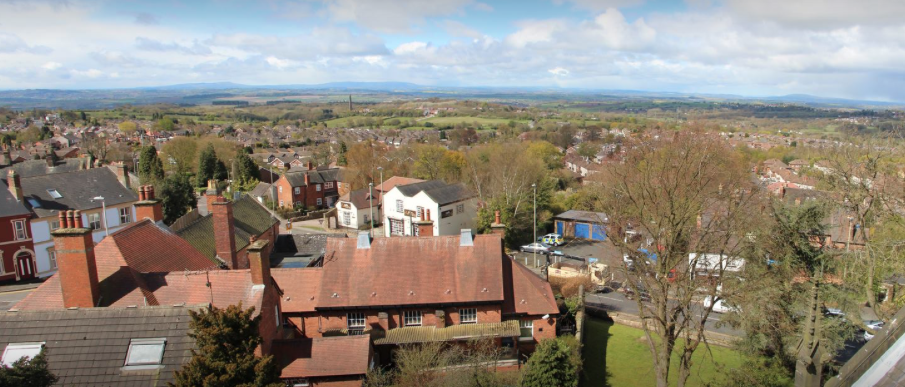 Our Facebook site provides an added facility for communicating with other members of our church community and with our Team Ministry.
Who's Who at All Saints' - updated 14/1/19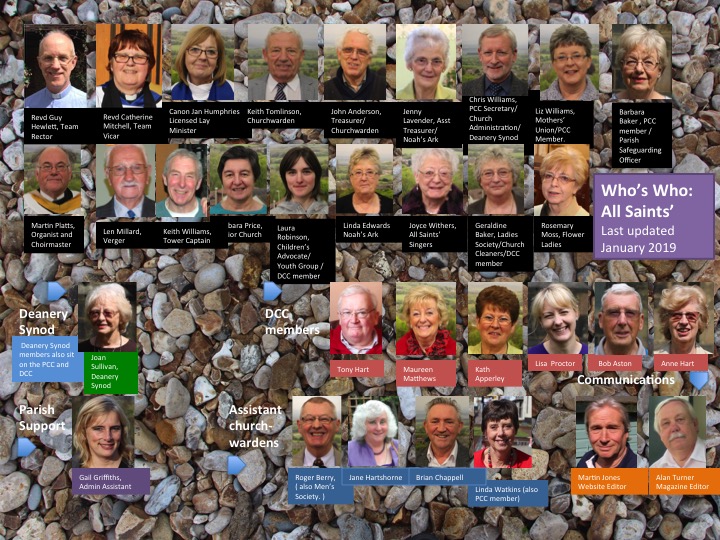 All Saints' Who's Who, January 2019
Click on the image above to view an enlarged version.
...........................................................................................................................................................
WE ARE CURRENTLY ADVERTISING FOR A HALL CARETAKER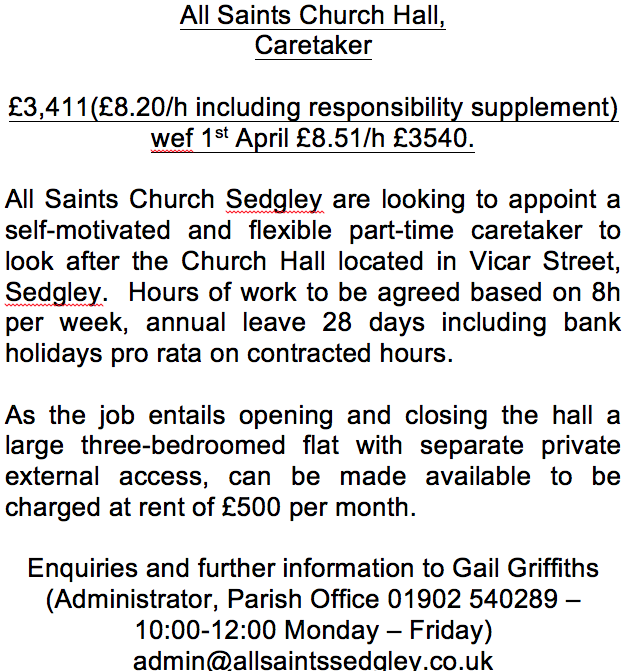 BRAMBLE IN THE NEWS!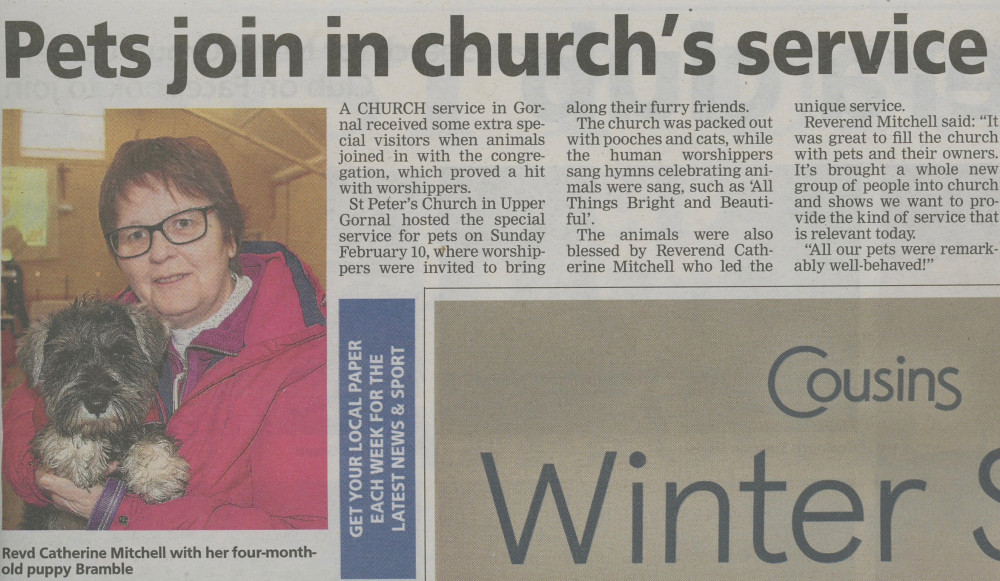 Revd Catherine Mitchell, our Team Vicar, with her puppy 4-month-old Bramble in the Dudley News 13/2/19.
A new initiative by Gornal and Sedgley Team Ministry has filled St Peter's Church in Upper Gornal - and reached the pages of the Dudley News in the bargain!
Owners of all kinds of pets were encouraged to bring them to a special service in the church hall on Sunday 10th February 2019, where they were blessed by the vicar. Hymns with an animal theme, such as 'All Things Bright and Beautiful (All Creatures Great and Small)' were sung by the congregation.
Revd Mitchell said: "It was great to fill the church with pets and their owners. It's brought a whole new group of people into church and shows we want to provide the kind of service that is relevant today. All our pets were remarkably well-behaved!"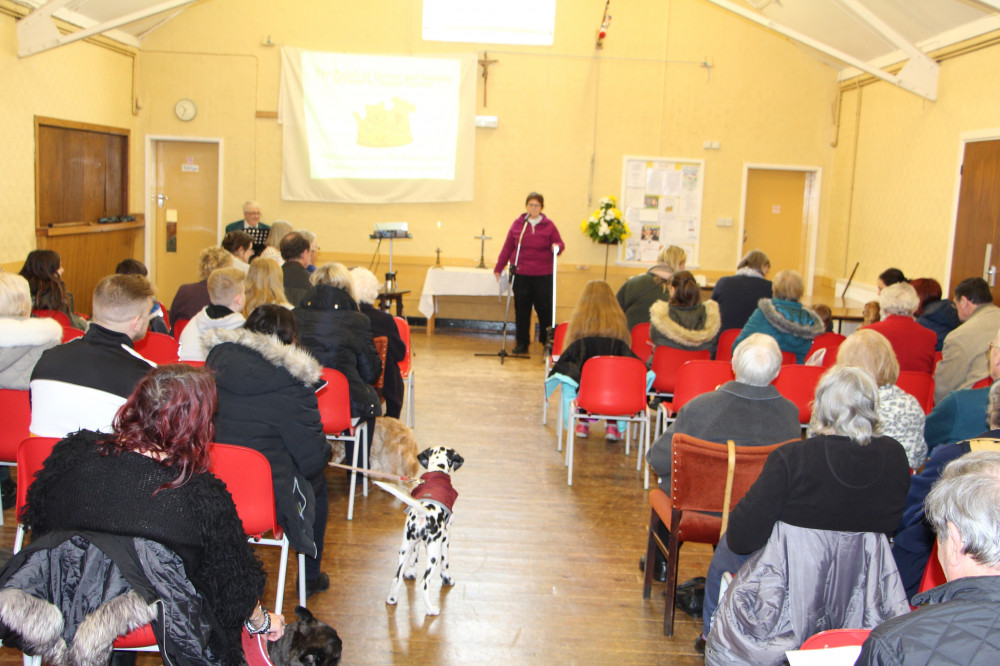 The hall was full with pets and their owners.
All the pets were remarkably well-behaved!
Over 50 people attended - we gave thanks for the love, companionship and devotion that our pets give us.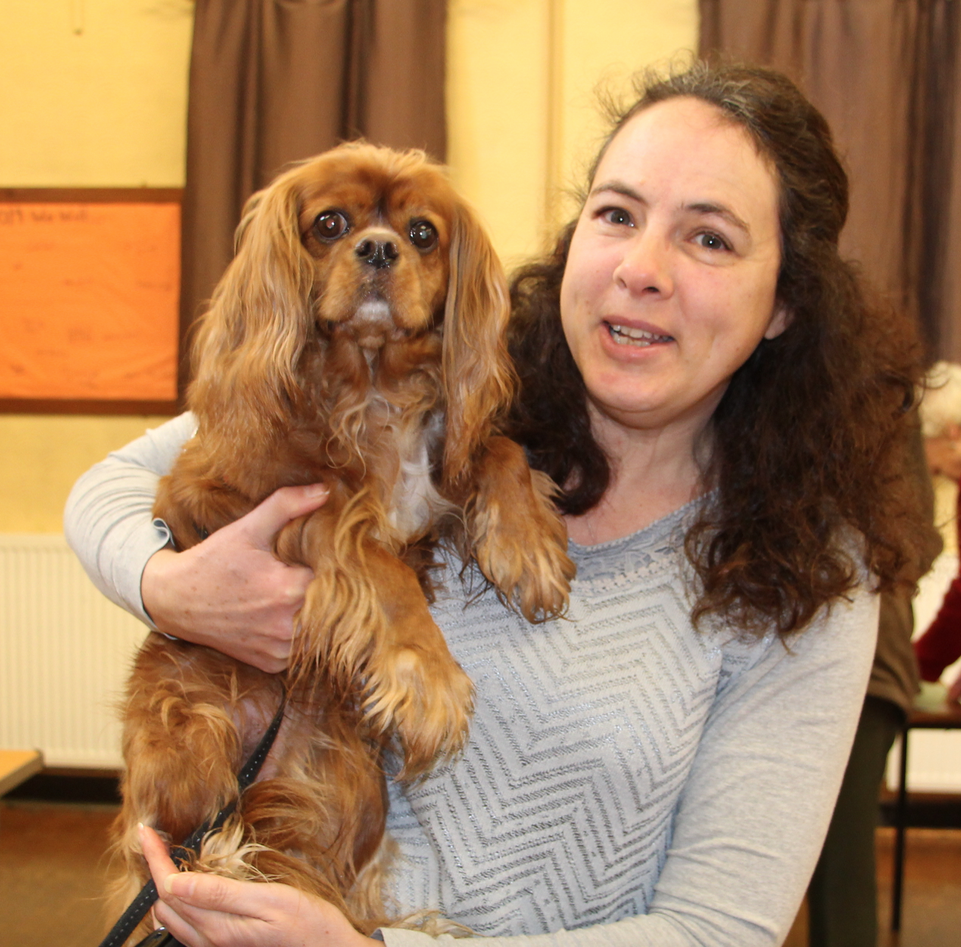 Helen Laird, our Mission Enabler - Calling Young Disciples, with her dog Tilly, 9, a King Charles Spaniel.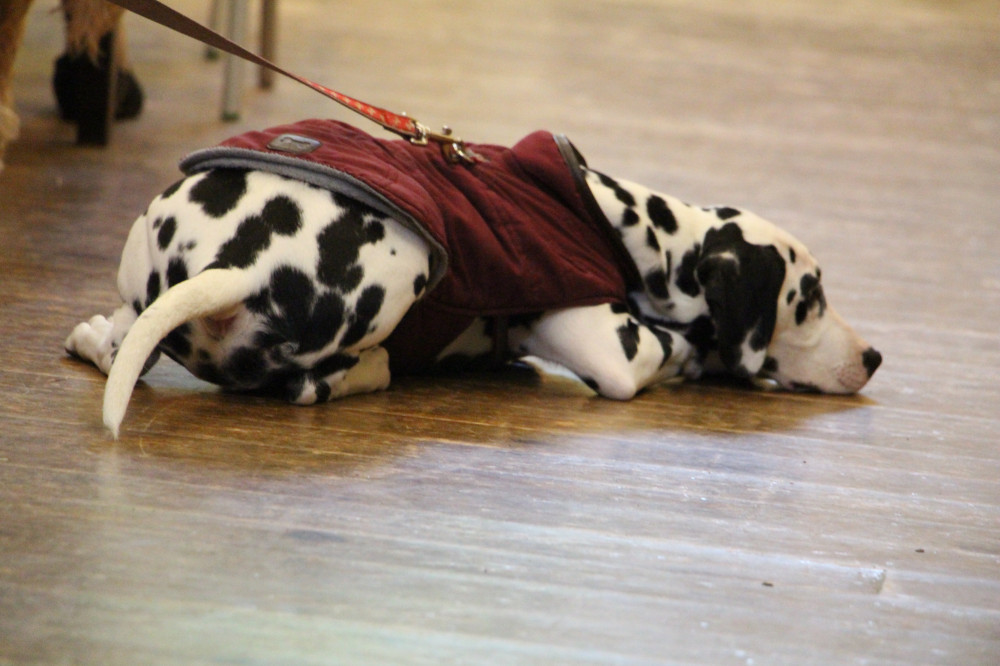 What's all the fuss about?
Thank you so much to all of the organisers who devised this novel way of engaging children and families.
Album of pictures featuring some of the pets and their owners
Note: Please email Martin on mmjones29@blueyonder.co.uk if any caption is incorrect.
Our pet service last Sunday (10/2/19) also hit the headlines in the Dudley News online edition:
LENT GROUPS AND THE ALPHA COURSE 2019
Last year we ran a Lent Group at the Vicarage, and from this developed a Fellowship Group - who later went on to study an Alpha Course.
The style and format of such meetings was well received by members of the Fellowship Group, who have shared their reflections on what the Group meant to them:
This year's Lent Group dates: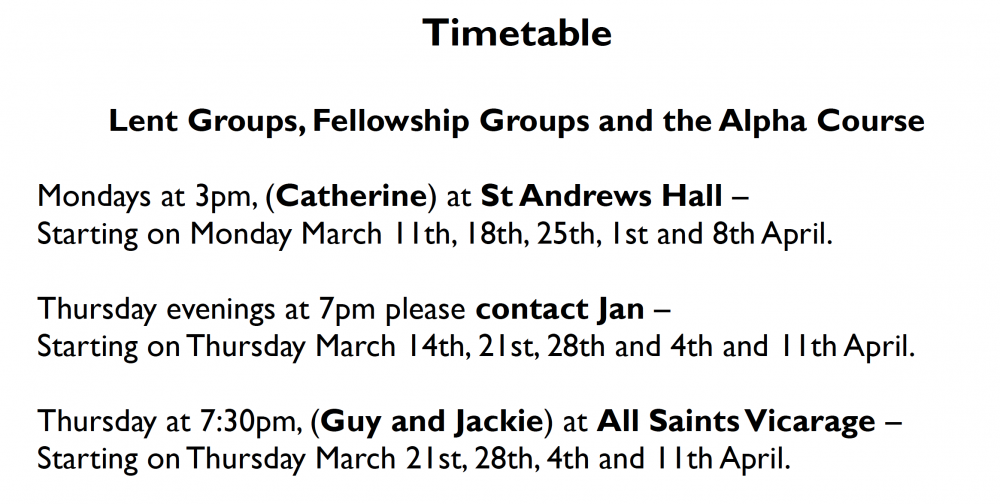 CHILDREN'S HALF-TERM WORKSHOP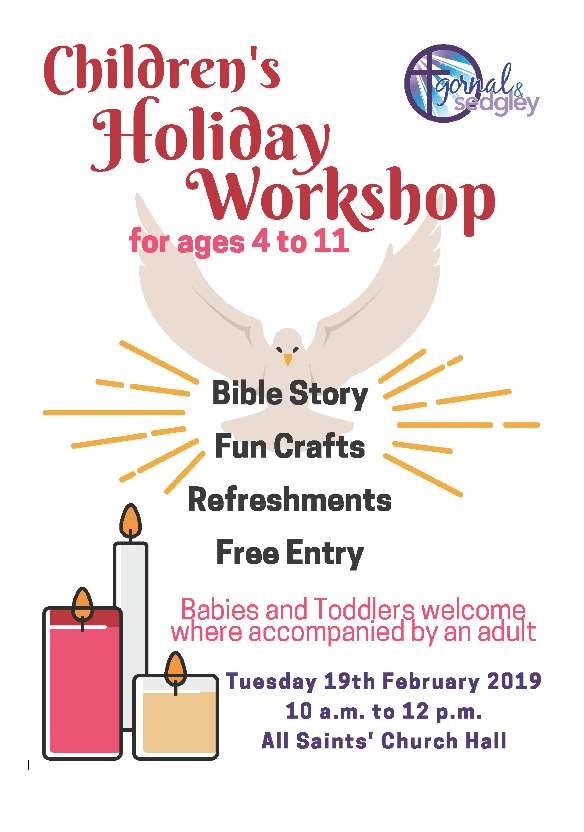 Barbara Price writes:
"We are trying some new things to get more children and families involved with our church activities.
"I am running a Children's Holiday Workshop for one morning in the February half-term to see what response we get, and whether we might do more of these in future.
"It will be similar to the Good Friday Workshop (we will still be doing that) and will be based on Candlemas."
DAYS OUT: THE GARGOYLES OF BATTLEFIELD - AND CHURCHES NORTH-WEST OF SHREWSBURY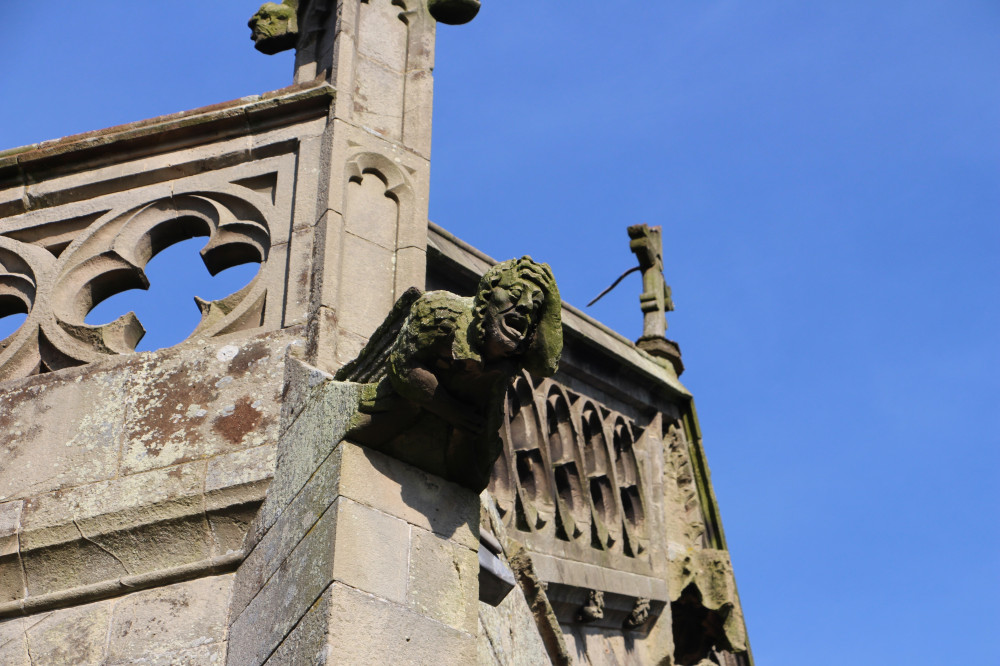 One of the famous set of gargoyles on the outside of Battlefield Church, near Shrewsbury.
The latest travelogue in our 'Days Out' series explores the country churches north-west of Shrewsbury.
Possibly the best known of these is St Mary Magdalene's Church in the village of Battlefield. It was built on the site of the 1403 Battle of Shrewsbury between Henry IV and Henry "Hotspur" Percy, and was originally intended as a chantry - a place of intercession and commemoration for those killed in the fighting.
Other village churches included on the tour are: Preston Gubbals, Ruyton XI Towns, Loppington and Colemere.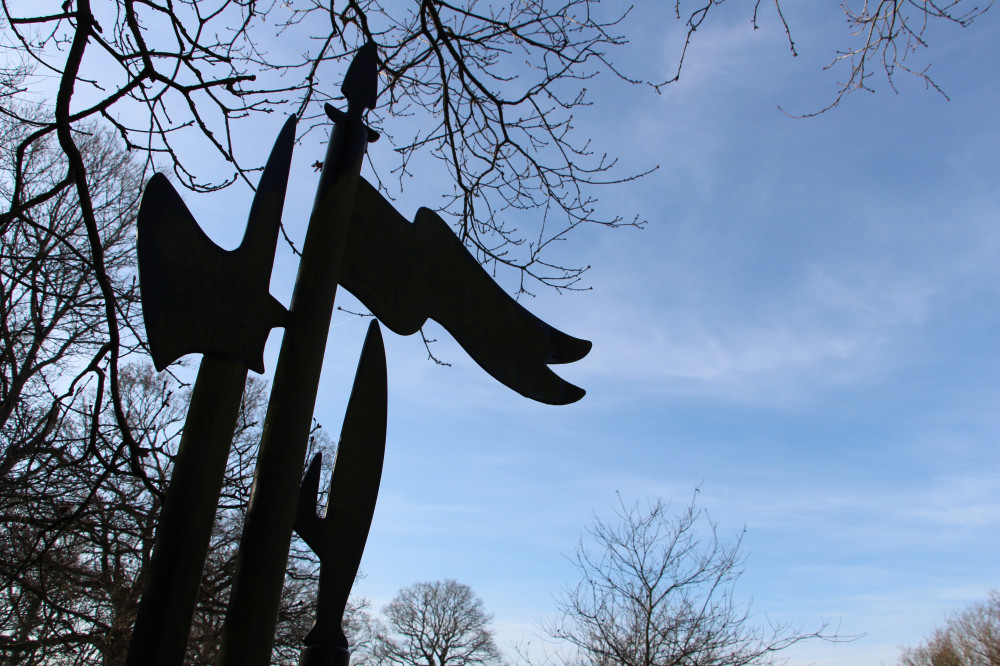 A sculpture depicting medieval weaponry used in the 1403 battle, in the churchyard at Battlefield.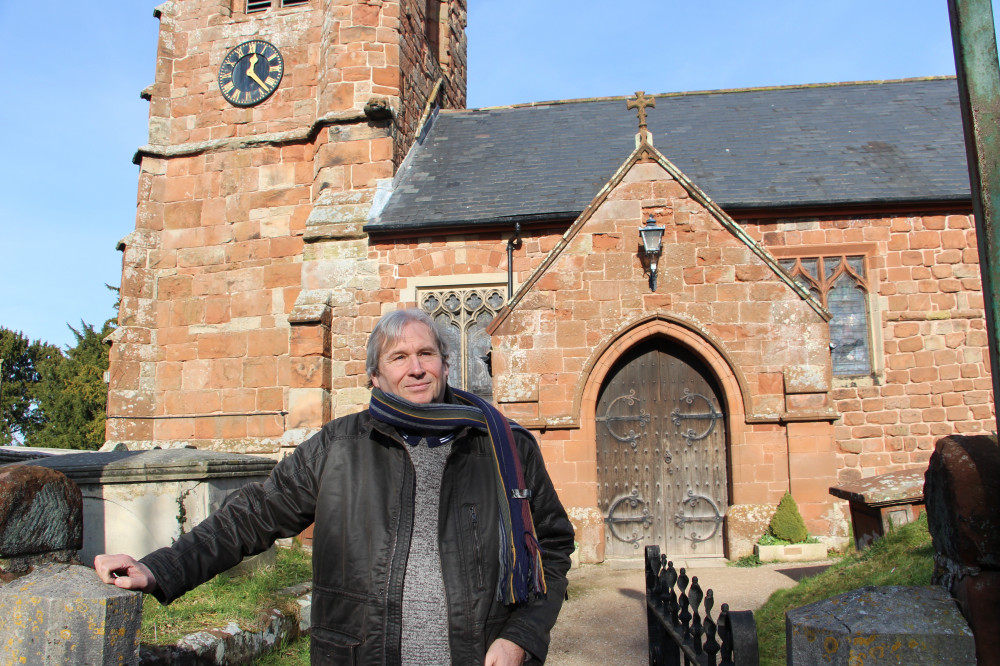 Exploring Ruyton XI Towns church.
Battlefield; and churches north-west of Shrewsbury
Suggestions for outings to country churches in Shropshire, Herefordshire, Worcestershire and Staffordshire (and further afield) in the 'Days Out' section of this website.
..............................................................................................................................................................
How to book a wedding or baptism:
Baptism and weddings - bookings
If in doubt whether a Vestry Hour will be held at All Saints', and to avoid a wasted trip, call our Parish Secretary Gail:
01902 540289 between 10am-12noon, Monday - Friday.
Parish contact details
PARISH OFFICE
Address:
All Saints' Parish Office
Ladies Walk
Dudley
DY3 3UA
Phone number: 01902 540289
Our Administration Assistant is Gail Griffiths.
TEAM RECTOR
Revd Guy Hewlett
Gornal and Sedgley Team Ministry
All Saints', Sedgley
St Peter's, Upper Gornal
St Andrew's, The Straits
Phone and email contact details:
Phone: 01902 295164
email: guyhewlett18@gmail.com
TEAM VICAR
The Revd Catherine Mitchell
Team Vicar
Gornal and Sedgley Team Ministry
All Saints', Sedgley
St Peter's, Upper Gornal
St Andrew's, The Straits
Tel 01902 677897
revcatherinemitchell13@gmail.com
LICENSED LAY MINISTER
Canon Jan Humphries: 01902 661275
Other email addresses:
Keith Tomlinson, Churchwarden:
churchwardenkeith@allsaintssedgley.co.uk
John Anderson, Treasurer and Churchwarden:
treasurer@allsaintssedgley.co.uk
Jenny Lavender, Assistant Treasurer:
asstreasurer@allsaintssedgley.co.uk
The parish office is open 10am-12noon, Monday to Friday.
Information should be sent to Gail by Wednesday for inclusion in Sunday's pewsheet.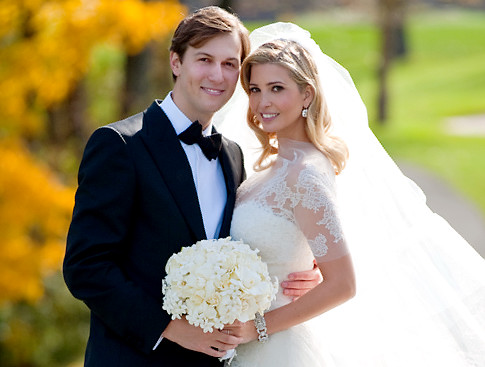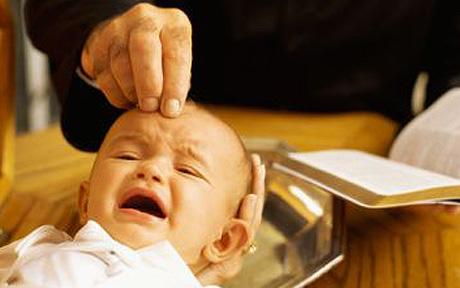 Arranging a wedding or baptism? - click here
Our website
If you'd like to contribute any information about forthcoming church events, write an article, or correct anything on the site, please send your information to Martin our website editor.