Welcome to the Gornal and Sedgley Team Ministry website.
Our parish includes All Saints' Church in Sedgley, St Andrew's in The Straits and St Peter's in Upper Gornal.
We've been a team ministry since 2005: team working allows us to provide spiritual and pastoral care to a wide area including Upper Gornal, the Straits and Sedgley.
We look forward to meeting you at one of the churches in our parish soon.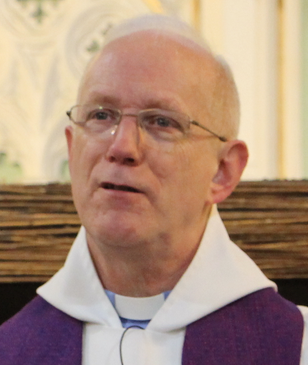 Revd Guy Hewlett (Team Rector, Gornal and Sedgley Team Ministry)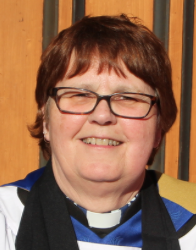 Revd Catherine Mitchell (Team Vicar, Gornal and Sedgley Team Ministry)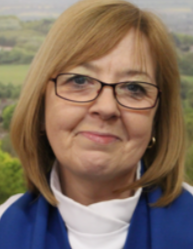 Canon Jan Humphries (Licensed Lay Minister, Gornal and Sedgley Team Ministry)
Gornal and Sedgley Team Ministry
SERVICES AND EVENTS AT ALL SAINTS'

Click here for a list of services and events at All Saints'
Please notify us of any services or events that are missing from the listings.
THE BEACON CHURCH MAGAZINE
A store of back issues is being compliled - we are attempting to acquire missing issues:
LATEST CHURCH NEWS FROM THE PEWSHEET
All Saints' pewsheet Sunday 25th March 2018
Our Facebook site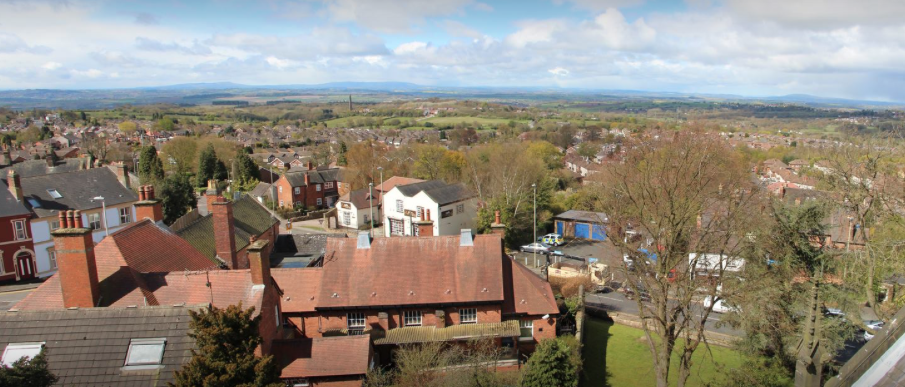 We've had a Facebook site for nearly 2 years now. It provides an added facility for communicating with other members of the church community and with our Team Ministry.
Who's Who at All Saints'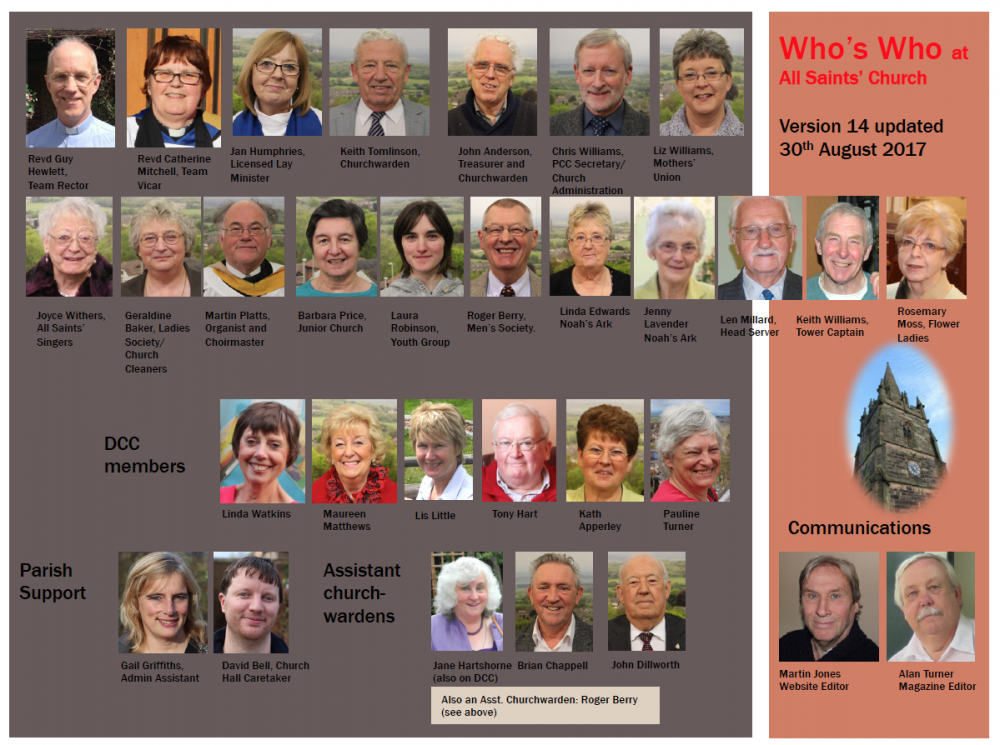 Click on the image above for a larger version of All Saints' Who's Who.
'VESTRY HOUR' - ENQUIRING ABOUT WEDDINGS AND BAPTISMS
If anyone wishes to enquire about weddings or baptisms, from 1st February 2018 this will only be done on the first and third Sundays in each month at All Saints' Sedgley, from 12noon to 1.00pm.
PALM SUNDAY 25/3/18 - NOTE OUR NEW ARRANGEMENTS!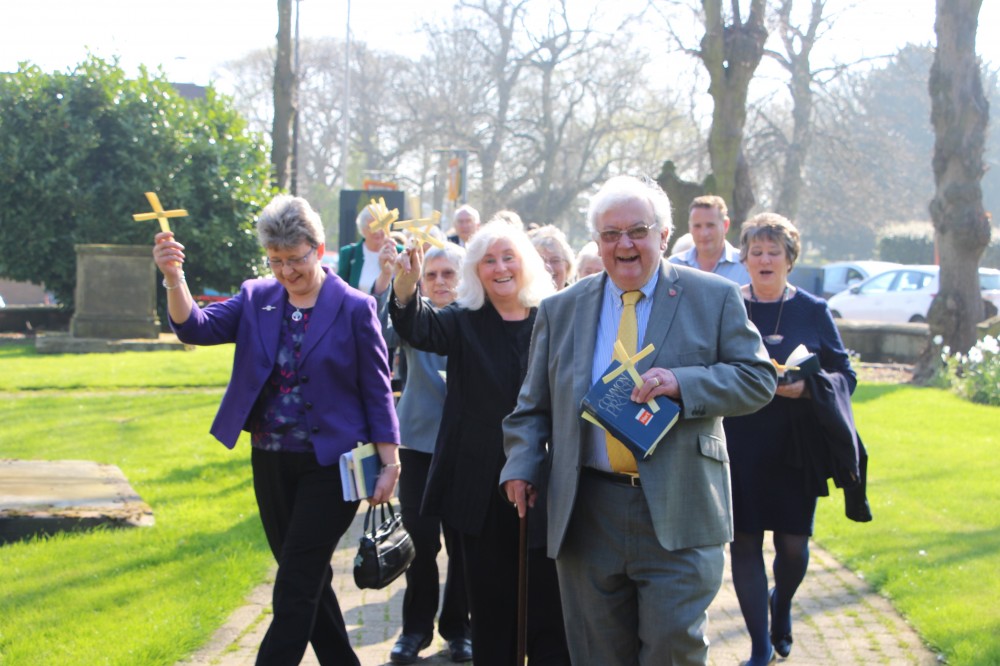 Revd Guy says:
"Tomorrow morning (25/3/18) when we celebrate Palm Sunday we will start at the church at 10.30am, (on the piazza if the weather's good) where we will bless the palms.
Weather permitting, those who are able will then process out of the church left, straight up the path in the direction of the Vicarage, then turn left along Vicar Street, left down Dean Street to the pathway near the Court House, thence back into church."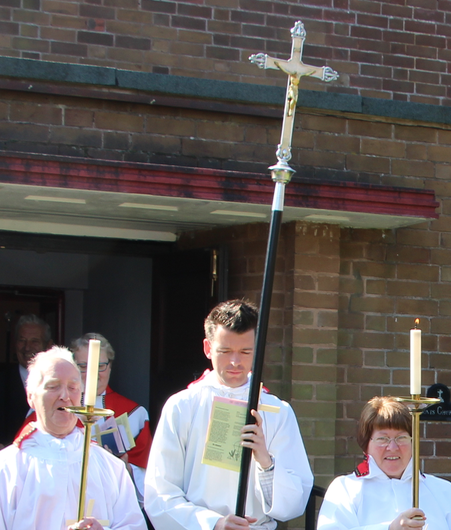 So please note that we won't be meeting in the Church Hall at 10.10am this year.
SERVICES FOR HOLY WEEK/EASTER 2018
Monday 26th March, 7pm, St Andrews, The Revd Catherine Mitchell and Canon Jan

Tuesday 27th March, 7pm – St Peters – The Revd Guy Hewlett
Wednesday 28th March,
10am, St Peters, The Revd Catherine Mitchell
7pm – All Saints – The Revd Guy Hewlett

Thursday 29th March,
7.30pm, St Peters,The Revd Catherine Mitchell
7.30pm – All Saints' – The Revd Guy Hewlett

Friday 30th March
10am – 12noon – All Saints' Children's Workshop
10am – Sedgley Churches Joint Service outside Red Lion
2.30pm – St Peters – The Revd Catherine Mitchell
2.30pm St Andrews – Canon Jan Humphries
7.30pm – All Saints – The Revd Guy Hewlett

Saturday 31st March – All Saints' – 9pm – The Revd Guy Hewlett

Sunday 1st April
All Saints' – 8am – The Revd Guy Hewlett
10.30am - The Revd Guy Hewlett
6.30pm – Canon Jan Humphries - Evensong
NEW BBC 2 SERIES ON THE PILGRIMAGE TO SANTIAGO DE COMPOSTELA

There is an entertaining new reality series that has just begun on BBC2 about the Pilgrimage to Santiago de Compostela, following the Camino from southern France along the northern Spanish coastal route.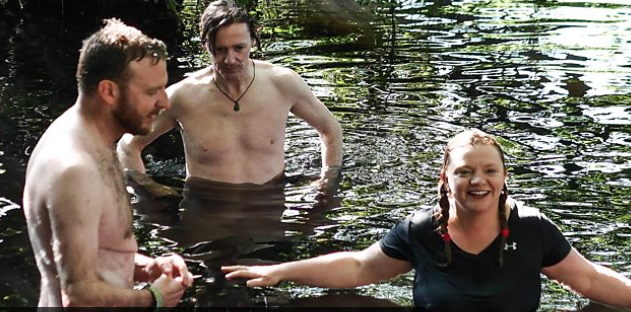 You will recall that our former rector Revd Stephen Buckley first undertook the Portuguese Camino nearly five years ago. He walked the 150-mile, 18-day sponsored pilgrimage walk from Porto in Portugal to Santiago de Compostela in Spain.
BBC 2 The Road to Santiago on iPlayer
A reminder of Stephen's pilgrimage:
Stephen Buckley's Pilgrimage 2013
PRAYING FOR DUDLEY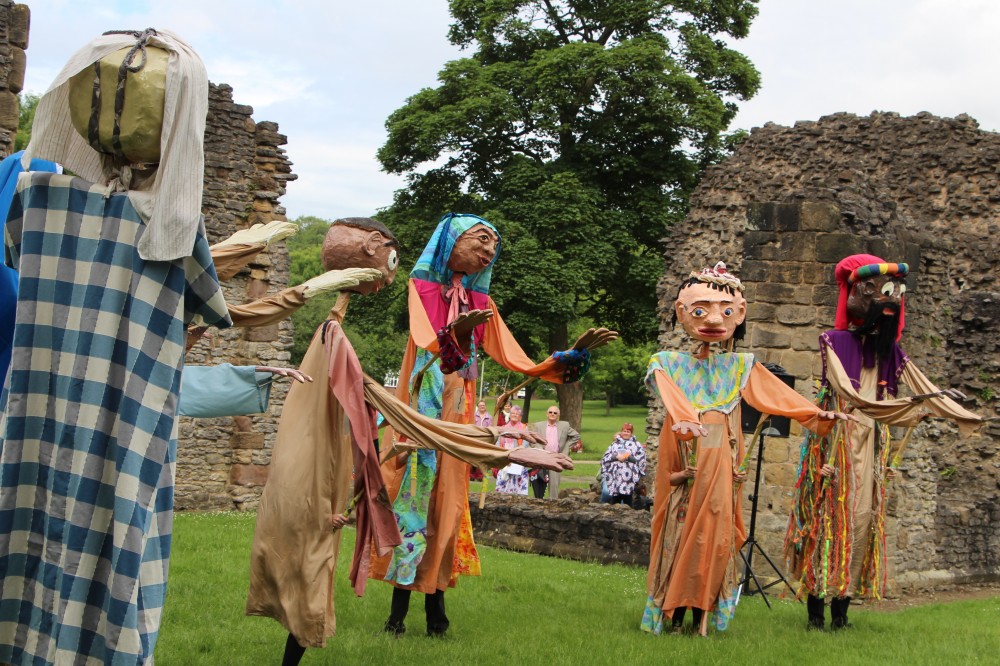 Giant puppets at last year's Praying for Dudley event in Priory Park.
THIS YEAR'S PRAYING FOR DUDLEY event is on Sunday 20th May from 2.30pm till 4pm at Priory Park, Dudley, DY1 4EU.
MOTHERS' DAY JUNIOR CHURCH PLAY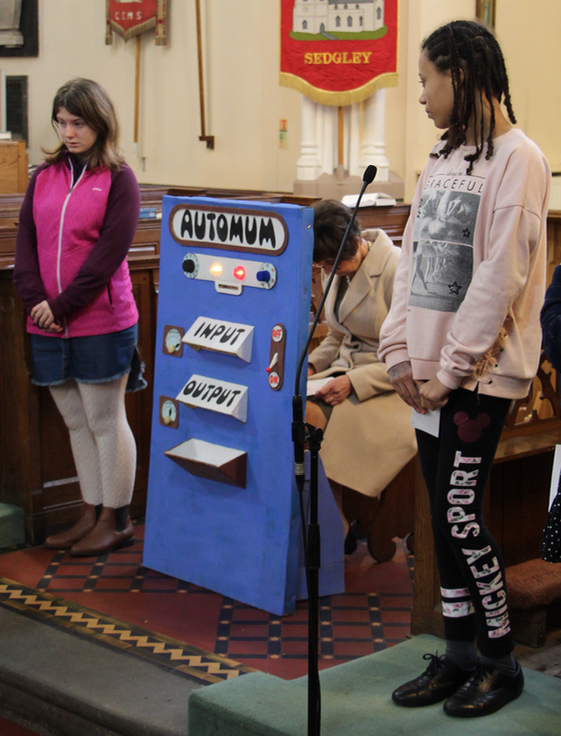 Thank you to Barbara Price, Linda Watkins and their team of dedicated helpers; and all the children who produced this year's Mothers' Day play called 'Automum'.
Another inventive creation by Harry Shaw - an 'Automum' with flashing lights - was on show. Thank you Harry for all your hard work and creativity over the years in producing sets and props for Barbara's productions.
Linda's 'Wizard of Oz' seated behind the 'Automum' didn't go unnoticed!
Congratulations, it was very entertaining and much appreciated.
More photos of the 'Automum' play by Junior Church
CAN YOU TELL US WHICH YEAR THIS WAS?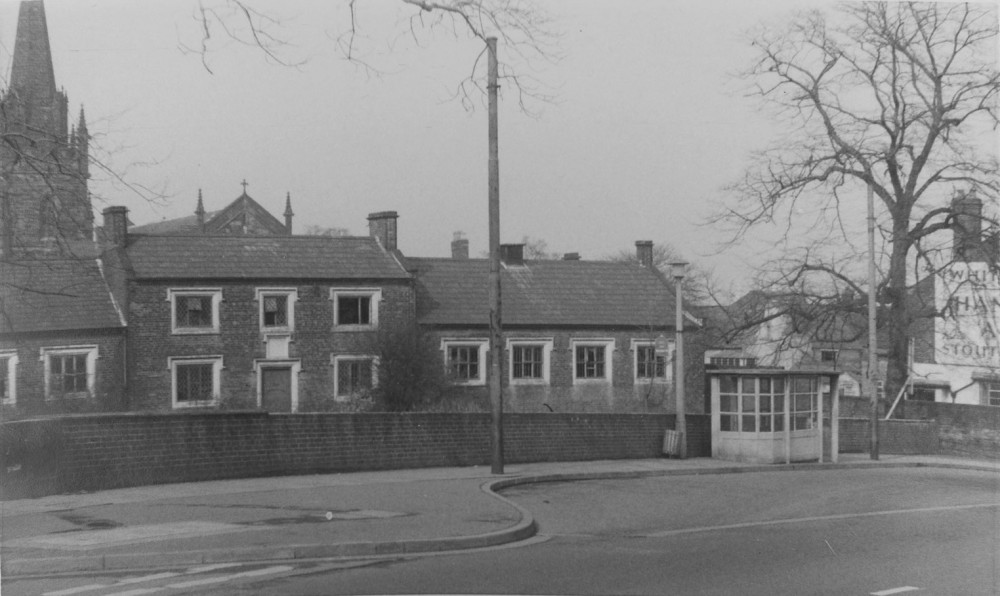 Dudley Street, Sedgley - but which year?
We have been lent an intriguing photo of Dudley Street and All Saints' by George Blackham of Sedgley Local History Society. The photo came from local historian Andrew Barnett's collection.
It shows All Saints' Sunday School, formerly a church-run 'National School' built in around 1820, that provided education to children in the village before Queen Victoria School was built in the 1880s.
All Saints' church tower and eastern elevation can be seen behind the Sunday School.
The garden in front of the building appears overgrown, and is bordered by a low wall.
The bus stop, a concrete structure, seems to be in roughly the same spot that the bus stops are today. The White Horse Pub is adjacent to the building to the right.
It could have been taken around the time the Sunday School was sold, because what appears to be some kind of board, possibly a 'for sale' board, is attached to the tree on the right of the photo.
At around this time Fine Fare was built on the site (now Iceland), as well as the range of shops that are today Lloyds Chemist and Deb's Diner.
Readers are invited to estimate the year of the photo - and leave their answers and comments on our Facebook site:
Can you say which year this photo might have been taken?
ALL SAINTS' CHURCH FEATURES IN SEDGLEY CERAMIC MURAL PHOTO AT CAFE CAPPELLA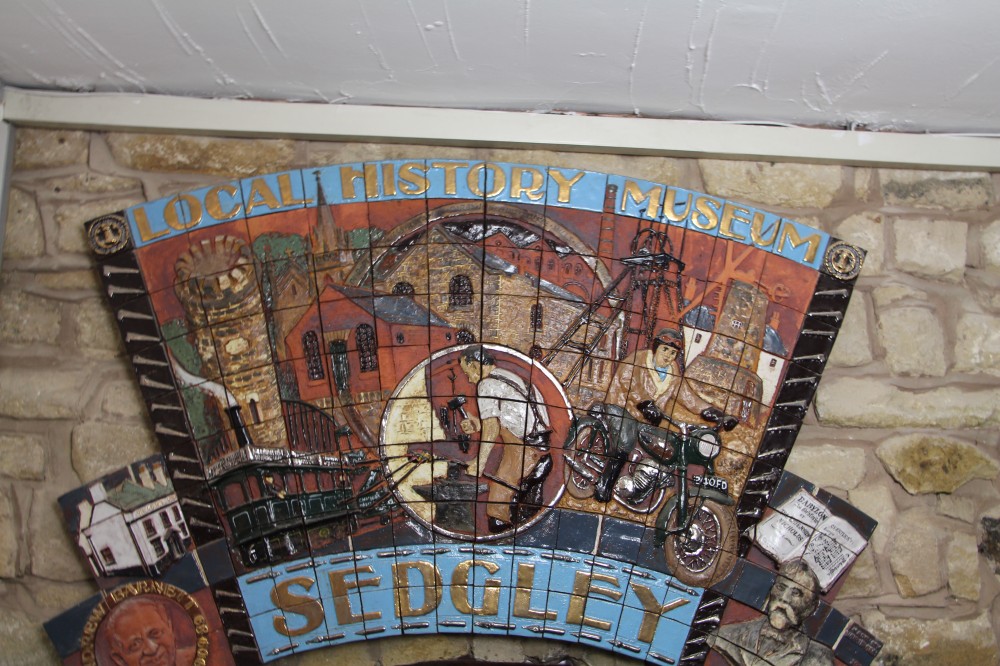 The original ceramic mural at Cottage Blinds, Brick Street was created in 1997 by William Burgess.
In 1997, William Burgess, a local artist, completed a cereamic mural about the manor of Sedgley that's now at the offices of Cottage Blinds in Brick Street, Sedgley. It was created when part of their premises housed Sedgley Museum.
Brian Chappell has now arranged for a photo of the ceramic artwork to be displayed at Cafe Cappella.
To celebrate this, and to interpret references in the mural, Martin Jones and George Blackham have prepared a key to the locations and people featured.
An image of All Saints' features prominently in the artwork.
Sedgley ceramic artwork photo - key
LENTEN JOURNEY - TO THE MALVERN AREA
Martin and Magda undertook another Lenten journey, this time exploring the south- western part of the Diocese of Worcester around Malvern (including eastern parts of Hereford Diocese on the border with Worcester).
One of the aims was to make contact and share experiences with fellow congregations in other parts of the Diocese.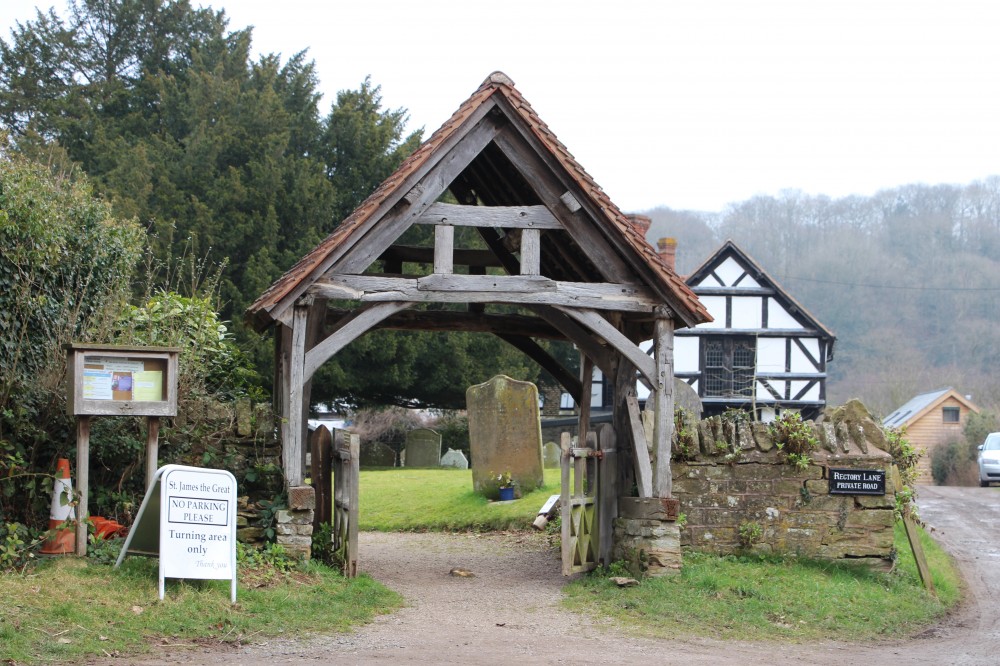 The lych gate of Cradley church.
Part 1 - Cradley, Herefordshire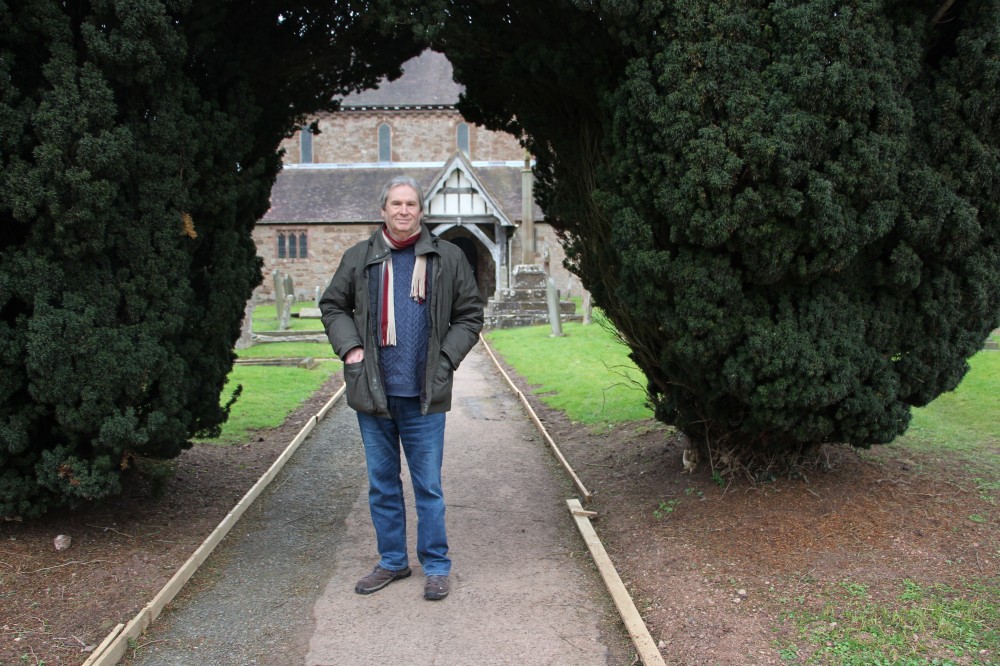 Holy Trinity, Bosbury.
Part 2 - Holy Trinity, Bosbury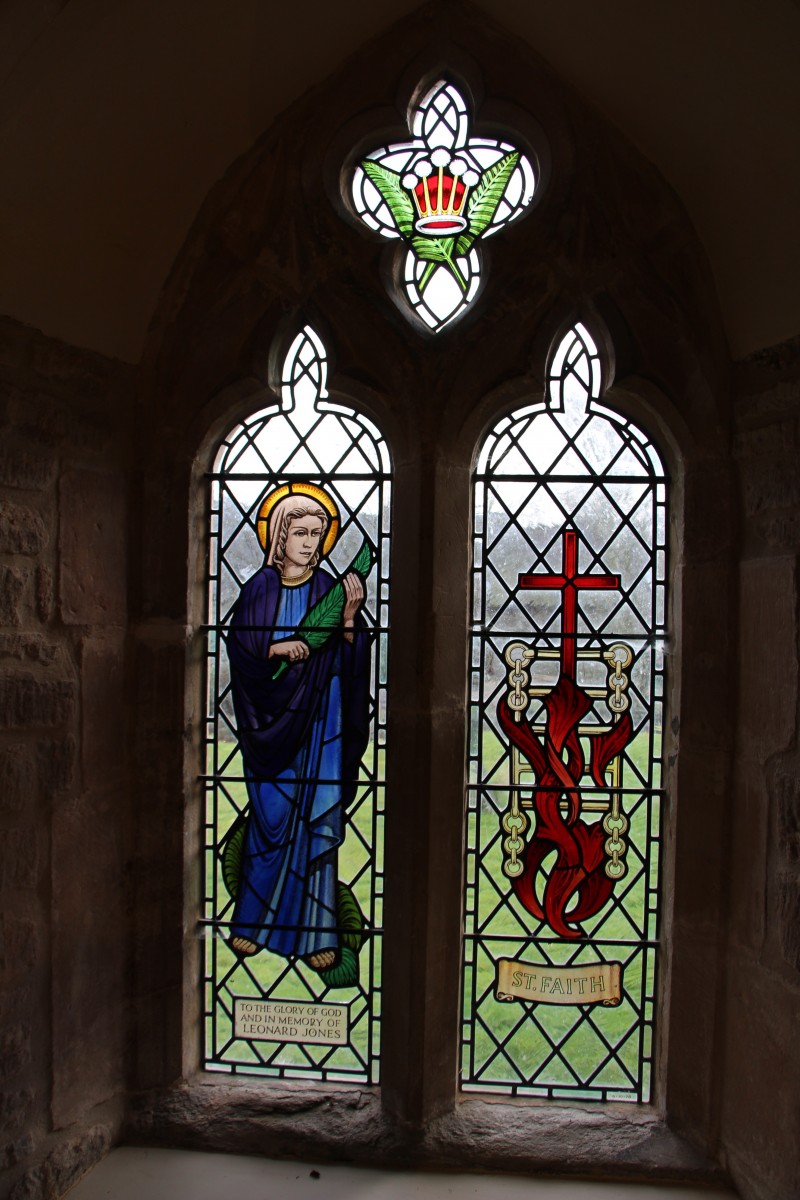 St Faith is depicted in a stained glass window, at Berrow.
Part 3: Eldersfield, Pendock and Berrow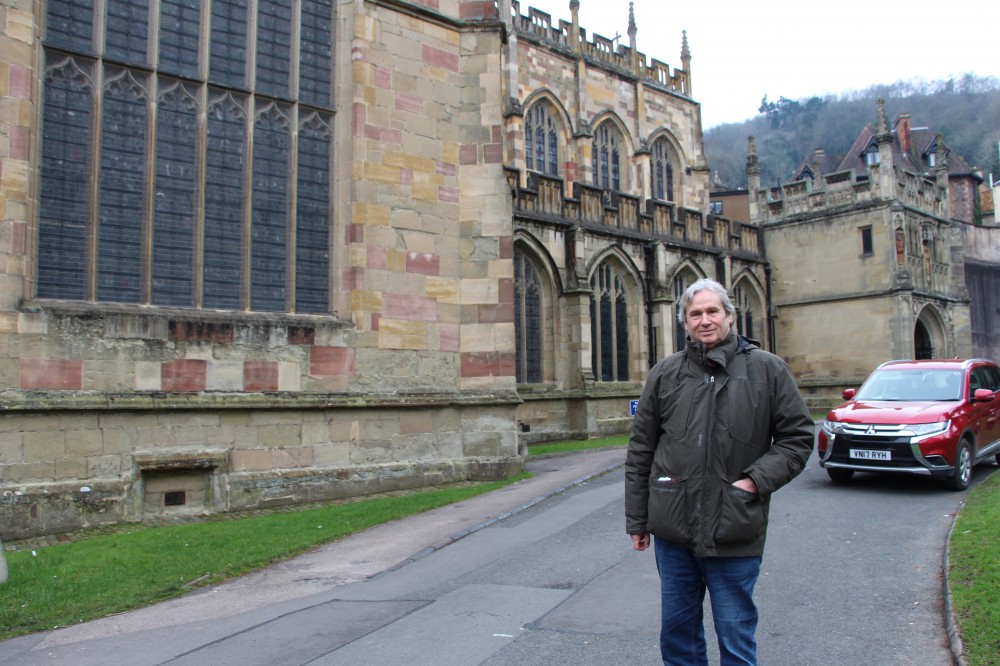 Martin at Great Malvern Priory.
Part 4: Little Malvern Priory and Great Malvern Priory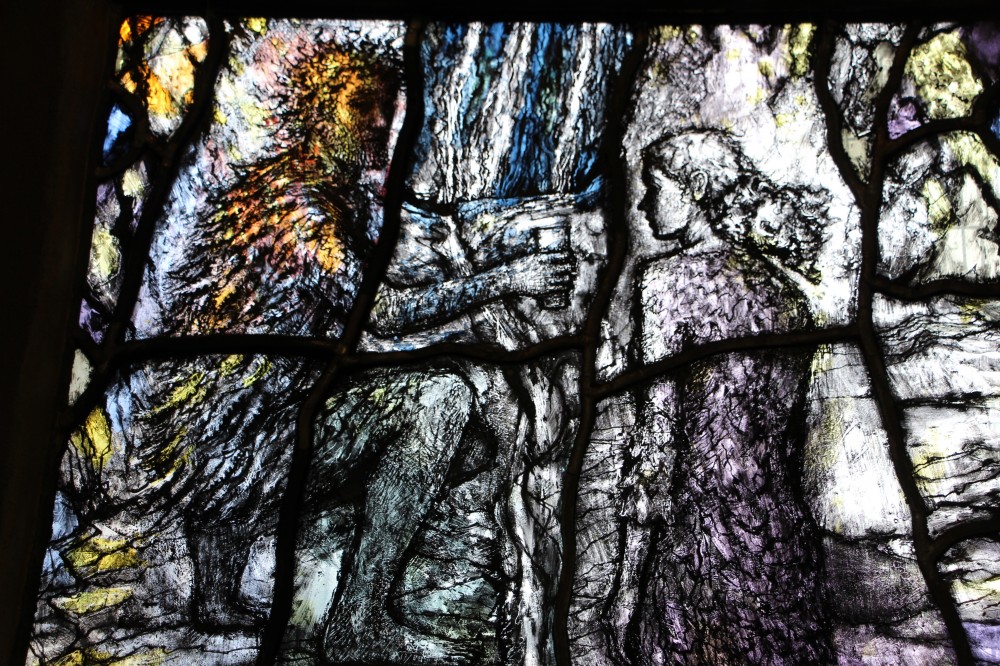 A highlight of the visit was the mystical, haunting imagery used in Tom Denny's stained glass windows at Great Malvern Priory.
Part 5 - Tom Denny Stained Glass Windows at Great Malvern Priory
THE BISHOP OF WORCESTER'S LENT MESSAGE 2018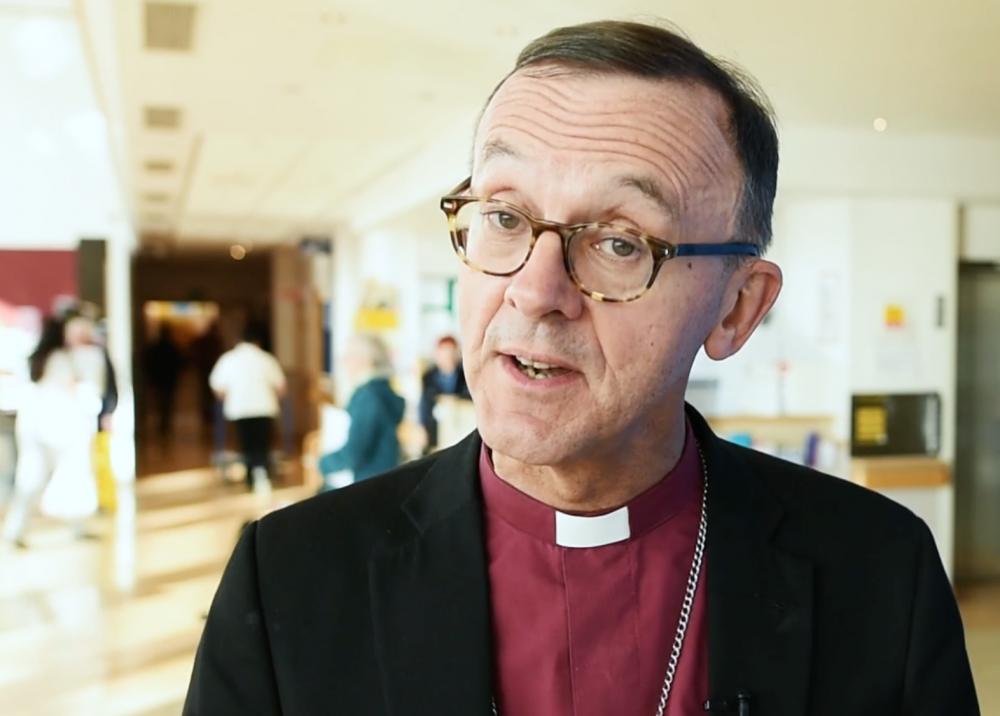 Click below to hear the Bishop of Worcester's Lent Message 2018.
ARCHIVE WEB CONTENT
Periodically older news items need to be cleared from the Home Page to accommodate new material.
Some items that have appeared on the Home Page of this website covering January-February 2018 have now been archived and are available here:
Baptism and weddings - bookings
If in doubt whether a Vestry Hour will be held at All Saints', and to avoid a wasted trip, call our Parish Secretary Gail:
01902 540289 between 10am-12noon, Monday - Friday.
Parish contact details
PARISH OFFICE
Address:
All Saints' Parish Office
Ladies Walk
Dudley
DY3 3UA
Phone number: 01902 540289
Our Administration Assistant is Gail Griffiths.
TEAM RECTOR
Revd Guy Hewlett
Gornal and Sedgley Team Ministry
All Saints, Sedgley
St Peters, Upper Gornal
St Andrews, The Straits
Phone and email contact details:
Phone: 01902 295164
email: guyhewlett18@gmail.com
TEAM VICAR
The Revd Catherine Mitchell
Team Vicar
Gornal and Sedgley Team Ministry
All Saints, Sedgley
St Peters, Upper Gornal
St Andrews, The Straits
Tel 01902 677897
revcatherinemitchell13@gmail.com
LICENSED LAY MINISTER
Canon Jan Humphries: 01902 661275
Other email addresses:
Keith Tomlinson, Churchwarden:
churchwardenkeith@allsaintssedgley.co.uk
John Anderson, Treasurer and Churchwarden:
treasurer@allsaintssedgley.co.uk
Jenny Lavender, Assistant Treasurer:
asstreasurer@allsaintssedgley.co.uk
David Bell: caretaker@allsaintssedgley.co.uk
Telephone Number: 07933 204132
The parish office is open 10am-12noon, Monday to Friday.
Information should be sent to Gail by Wednesday for inclusion in Sunday's pewsheet.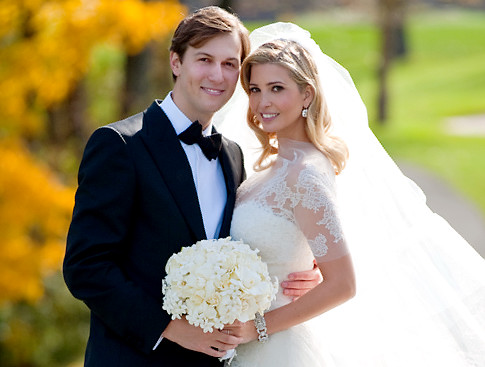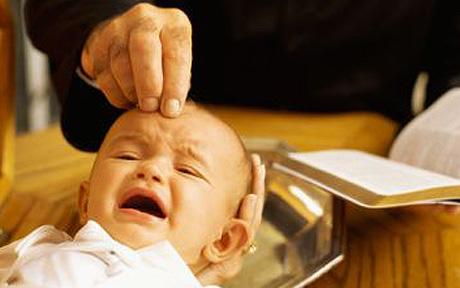 Arranging a wedding or baptism? - click here
Our website
If you'd like to contribute any information about forthcoming church events, write an article, or correct anything on the site, please send your information to Martin our website editor.