Welcome to the Gornal and Sedgley Team Ministry website.
Our parish includes All Saints' Church in Sedgley, St Andrew's in The Straits and St Peter's in Upper Gornal.
We've been a team ministry since 2005: team working allows us to provide spiritual and pastoral care to a wide area including Upper Gornal, the Straits and Sedgley.
We look forward to meeting you at one of the churches in our parish soon.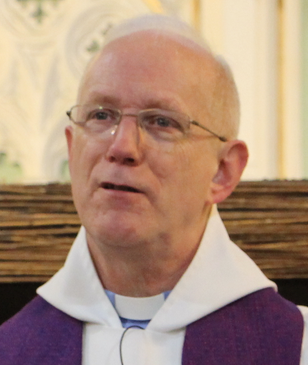 Revd Guy Hewlett (Team Rector, Gornal and Sedgley Team Ministry)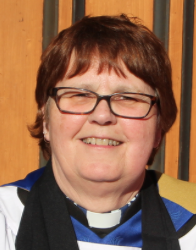 Revd Catherine Mitchell (Team Vicar, Gornal and Sedgley Team Ministry)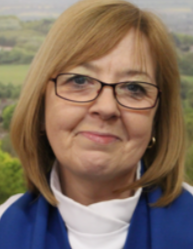 Canon Jan Humphries (Licensed Lay Minister, Gornal and Sedgley Team Ministry)
Gornal and Sedgley Team Ministry
SERVICES AND EVENTS AT ALL SAINTS'

Click here for a list of services and events at All Saints'
Please notify us of any services or events that are missing from the listings.
THE BEACON CHURCH MAGAZINE
LATEST CHURCH NEWS FROM THE PEWSHEET
All Saints' pewsheet Sunday 15th July 2018
Our Facebook site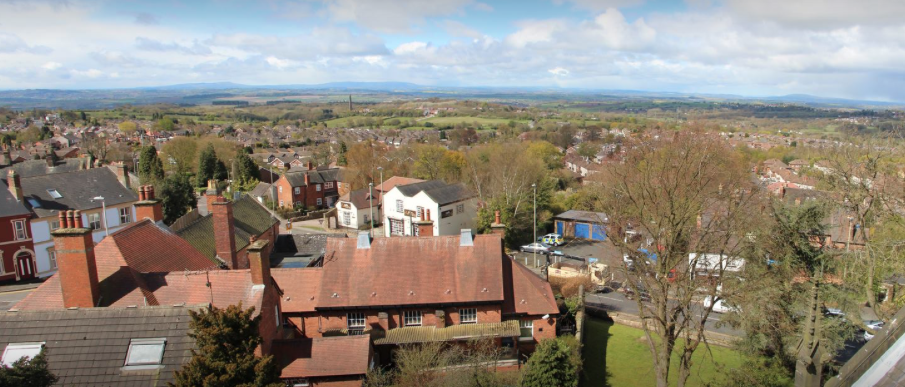 Our Facebook site provides an added facility for communicating with other members of our church community and with our Team Ministry.
Our updated Who's Who at All Saints'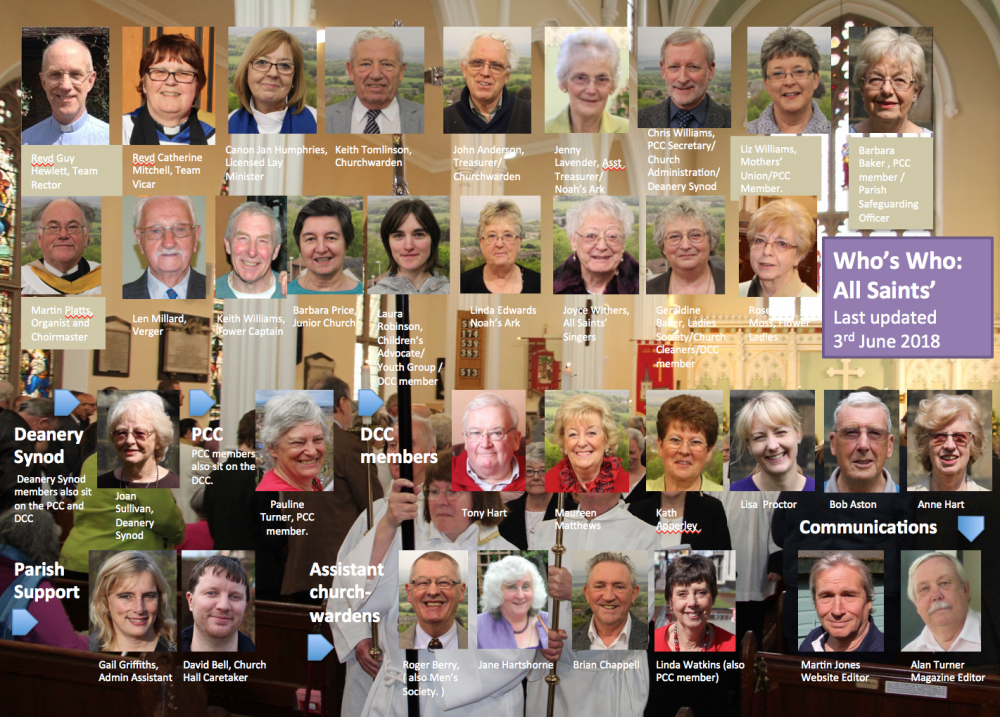 All Saints' Who's Who, June 2018
We've updated our All Saints' Who's Who after the recent AGM and the first meeting of the new DCC. Click on the image above to view.
A PRINTED VERSION OF OUR WHO'S WHO IS NOW IN THE NARTHEX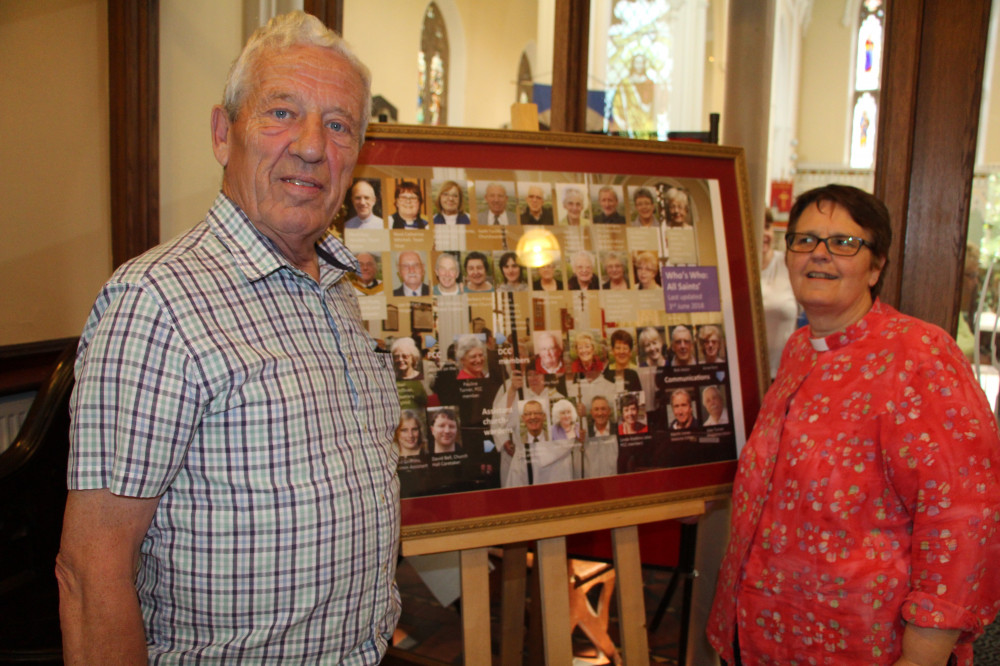 Our churchwarden Keith Tomlinson with Team Vicar Catherine Mitchell by the All Saints' Who's Who frame.
Our Who's Who greets visitors to All Saints' as they walk through the doors from the Narthex into the Nave. It's mounted on an artist's easel at a convenient height for viewing.
The frame helps to put faces to roles, and shows how active our church is - there are 34 people featured is this year's edition.
In due course we'd like to prepare something similar for St Andrew's and St Peter's.
MOTHERS' UNION CREAM TEA
Guests at the Cream Tea.
An enjoyable afternoon was had by everyone at the Mothers' Union Cream Tea held on Tuesday 3rd July in All Saints' Church Hall.
WELL DONE JUNIOR CHURCH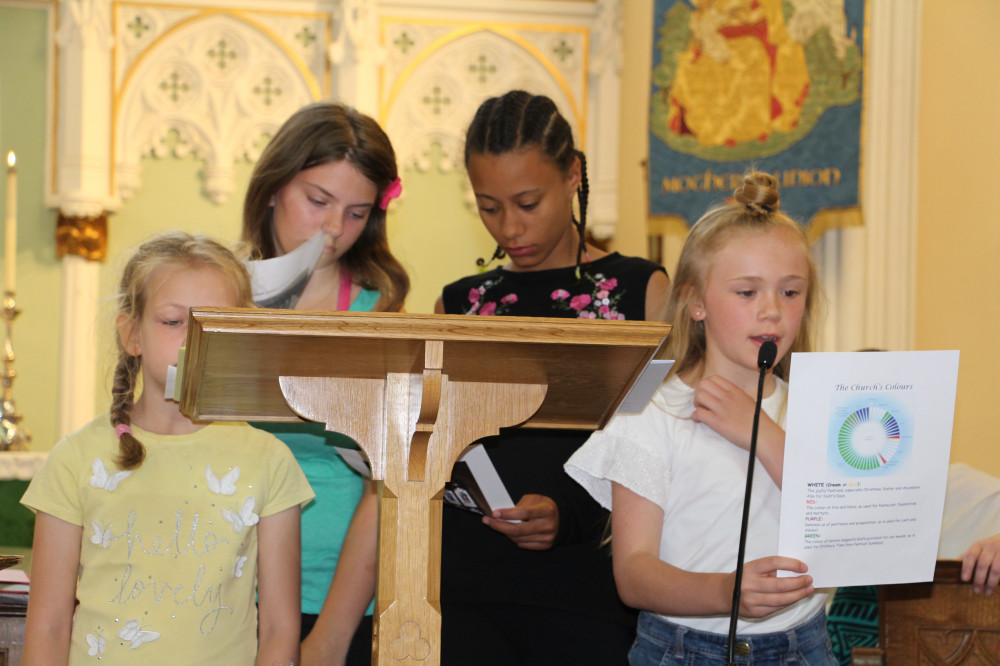 Junior Church presented the story of All Saints' .
Junior Church Festival was held at All Saints' on Sunday 1st July 2018. Members of Junior Church did the readings during the service; they also presented the congregation with a very clear and informative history of the church building.
Here are some scenes from this year's festival: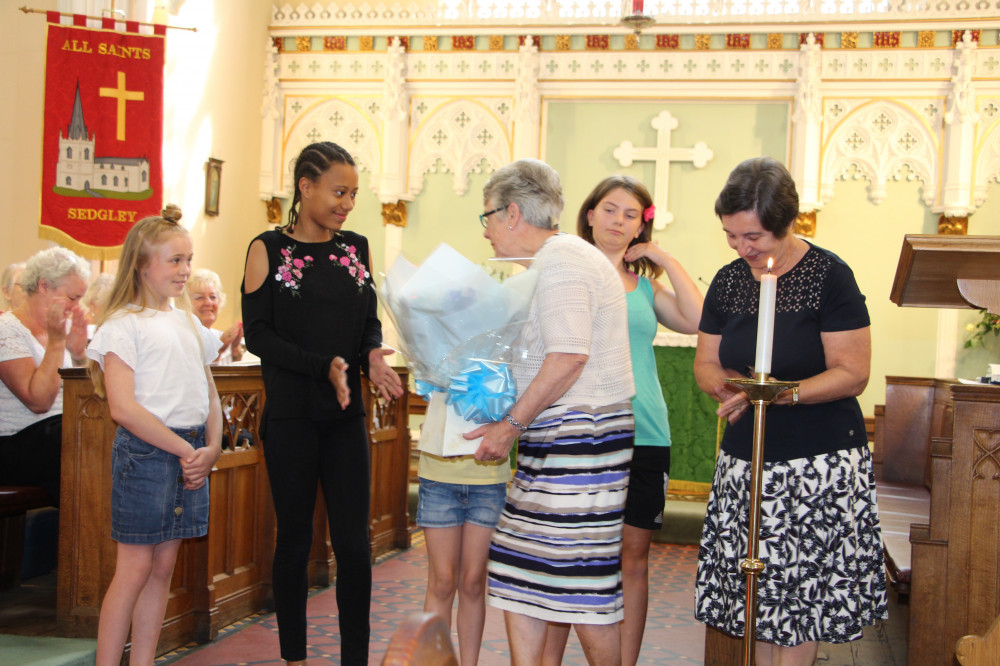 Elaine Melhuish receives a presentation gift for her past leadership of Junior Church.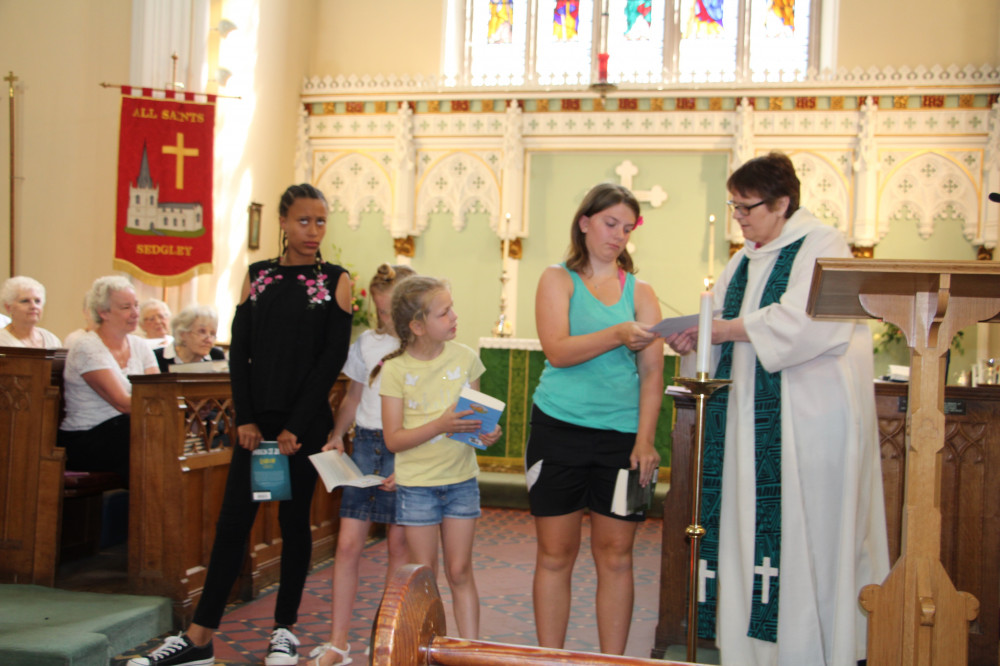 Prizes are given to Junior Church members.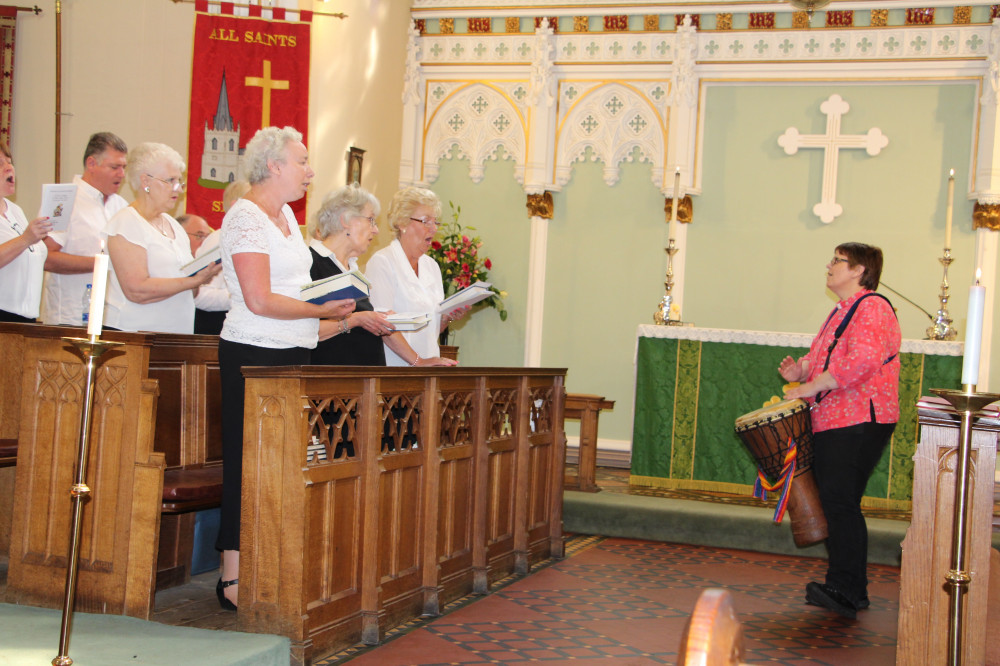 Revd Catherine Mitchell sings a Christian anthem with the choir, with drum accompaniment. At the end we followed the choir and Catherine in procession around the church.
Thanks go out to Barbara Price and all her volunteer helpers for their continuing work with our young people.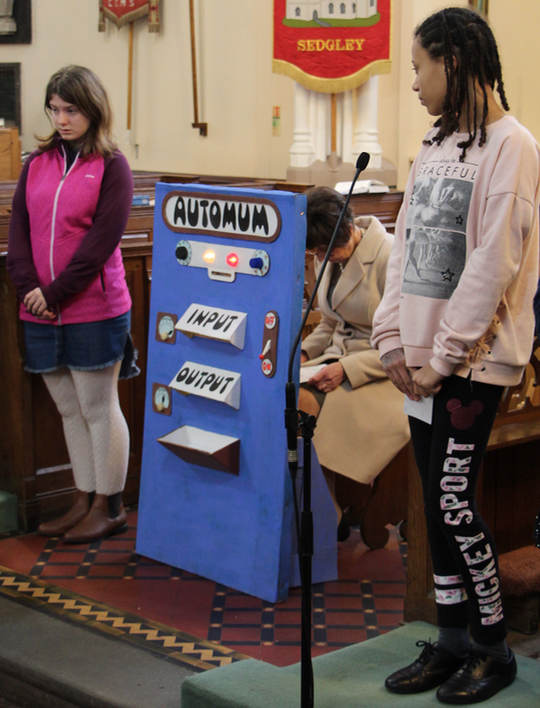 A reminder of the excellent work of Junior Church: their 'Automum' play, which was performed for the congregation on Mothers' Day 2018.
Our album of photos of the Junior Church Festival and Prizegiving 1st July 2018
ARCHIVE WEB CONTENT
Periodically older news items need to be cleared from the Home Page to accommodate new material.
Some items that have appeared on the Home Page of this website covering May and June 2018 have now been archived and are available here:
Baptism and weddings - bookings
If in doubt whether a Vestry Hour will be held at All Saints', and to avoid a wasted trip, call our Parish Secretary Gail:
01902 540289 between 10am-12noon, Monday - Friday.
Parish contact details
PARISH OFFICE
Address:
All Saints' Parish Office
Ladies Walk
Dudley
DY3 3UA
Phone number: 01902 540289
Our Administration Assistant is Gail Griffiths.
TEAM RECTOR
Revd Guy Hewlett
Gornal and Sedgley Team Ministry
All Saints, Sedgley
St Peters, Upper Gornal
St Andrews, The Straits
Phone and email contact details:
Phone: 01902 295164
email: guyhewlett18@gmail.com
TEAM VICAR
The Revd Catherine Mitchell
Team Vicar
Gornal and Sedgley Team Ministry
All Saints, Sedgley
St Peters, Upper Gornal
St Andrews, The Straits
Tel 01902 677897
revcatherinemitchell13@gmail.com
LICENSED LAY MINISTER
Canon Jan Humphries: 01902 661275
Other email addresses:
Keith Tomlinson, Churchwarden:
churchwardenkeith@allsaintssedgley.co.uk
John Anderson, Treasurer and Churchwarden:
treasurer@allsaintssedgley.co.uk
Jenny Lavender, Assistant Treasurer:
asstreasurer@allsaintssedgley.co.uk
David Bell: caretaker@allsaintssedgley.co.uk
Telephone Number: 07933 204132
The parish office is open 10am-12noon, Monday to Friday.
Information should be sent to Gail by Wednesday for inclusion in Sunday's pewsheet.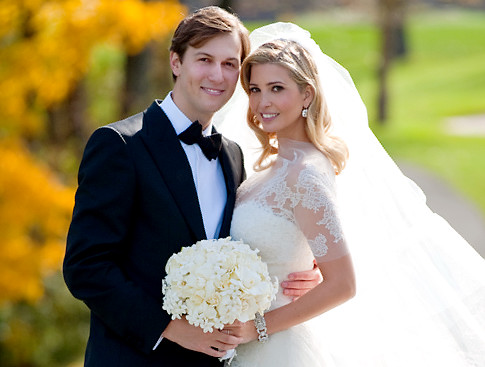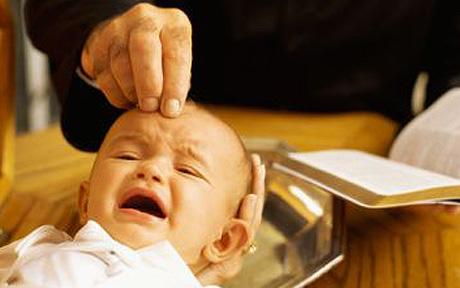 Arranging a wedding or baptism? - click here
Our website
If you'd like to contribute any information about forthcoming church events, write an article, or correct anything on the site, please send your information to Martin our website editor.