Welcome to the Gornal and Sedgley Team Ministry website.
Our parish includes All Saints' Church in Sedgley, St Andrew's in The Straits and St Peter's in Upper Gornal.
We've been a team ministry since 2005: team working allows us to provide spiritual and pastoral care to a wide area including Upper Gornal, the Straits and Sedgley.
We look forward to meeting you at one of the churches in our parish soon.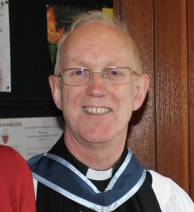 Revd Guy Hewlett (Team Rector, Gornal and Sedgley Team Ministry)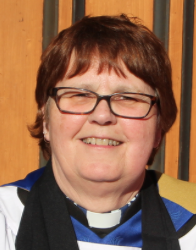 Revd Catherine Mitchell (Team Vicar, Gornal and Sedgley Team Ministry)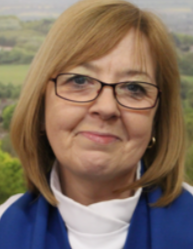 Honorary Canon Jan Humphries (Licensed Lay Minister, Gornal and Sedgley Team Ministry)
Gornal and Sedgley Team Ministry
SERVICES AND EVENTS AT ALL SAINTS', ST ANDREW'S AND ST PETER'S

Click here for a list of services and events at All Saints', St Andrew's and St Peter's
Please notify us of any services or events that are missing from the listings.
LATEST CHURCH NEWS FROM THE PEWSHEET
All Saints' pewsheet Sunday 15th October 2017
Our Facebook site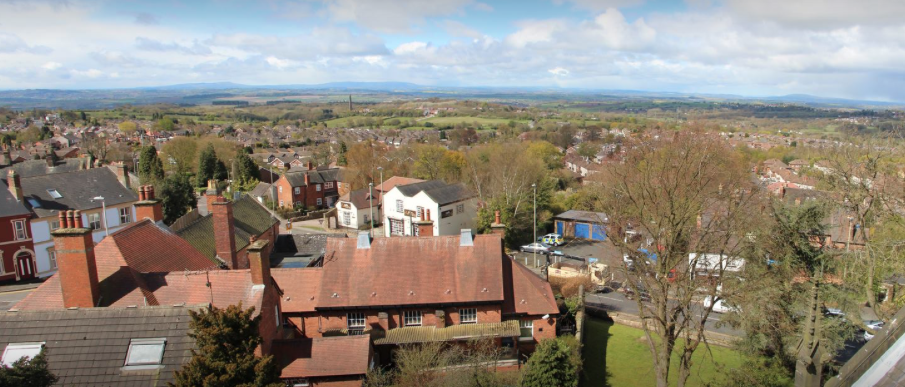 We've had a Facebook site for nearly 2 years now. It provides an added facility for communicating with other church members - and with members of our Team Ministry.
Who's Who at All Saints'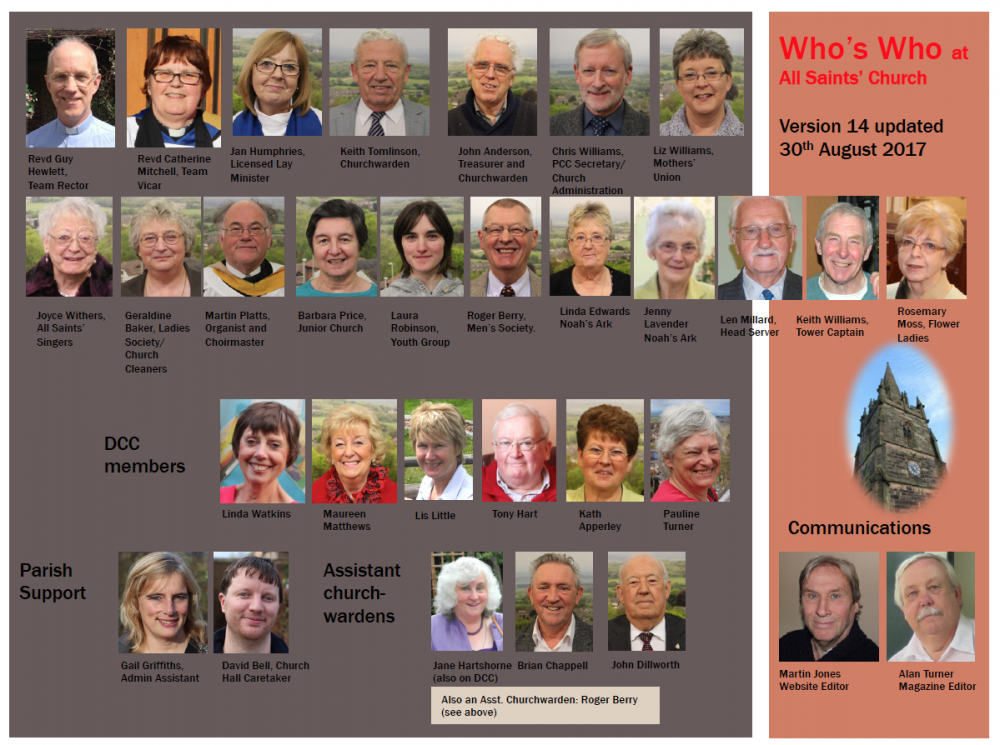 Click on the image above for a larger version of All Saints' Who's Who.
Drop in for one of our Reminiscence Cafes!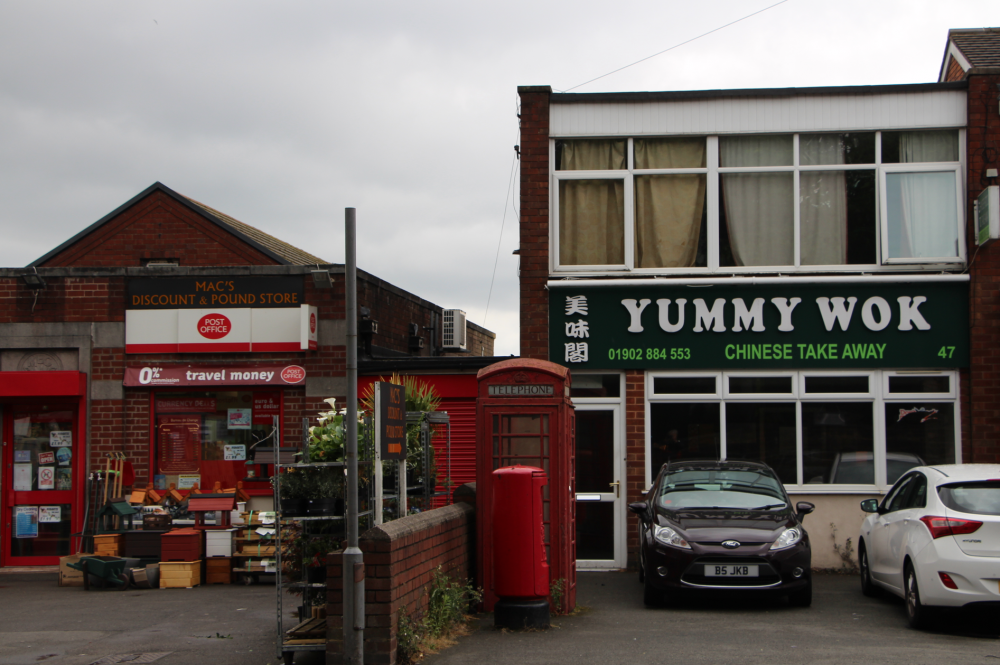 Two Reminiscence Cafe sessions are to be held on Wednesday 18th October 2017, focussing on shops in High St, Bull Ring and Dudley Street Sedgley. The first at St Andrew's Cafe Bilston Street 10am-12noon; then 2pm-4pm at St Chad's Catholic Church Hall Afternoon Club .
Our local churches are providing the support for this inter-denominational village archive initiative - which also helps to combat loneliness and tackle memory loss issues among the local community.
Funding has kindly been provided by:.

Come along on Saturday night - if Uke-can!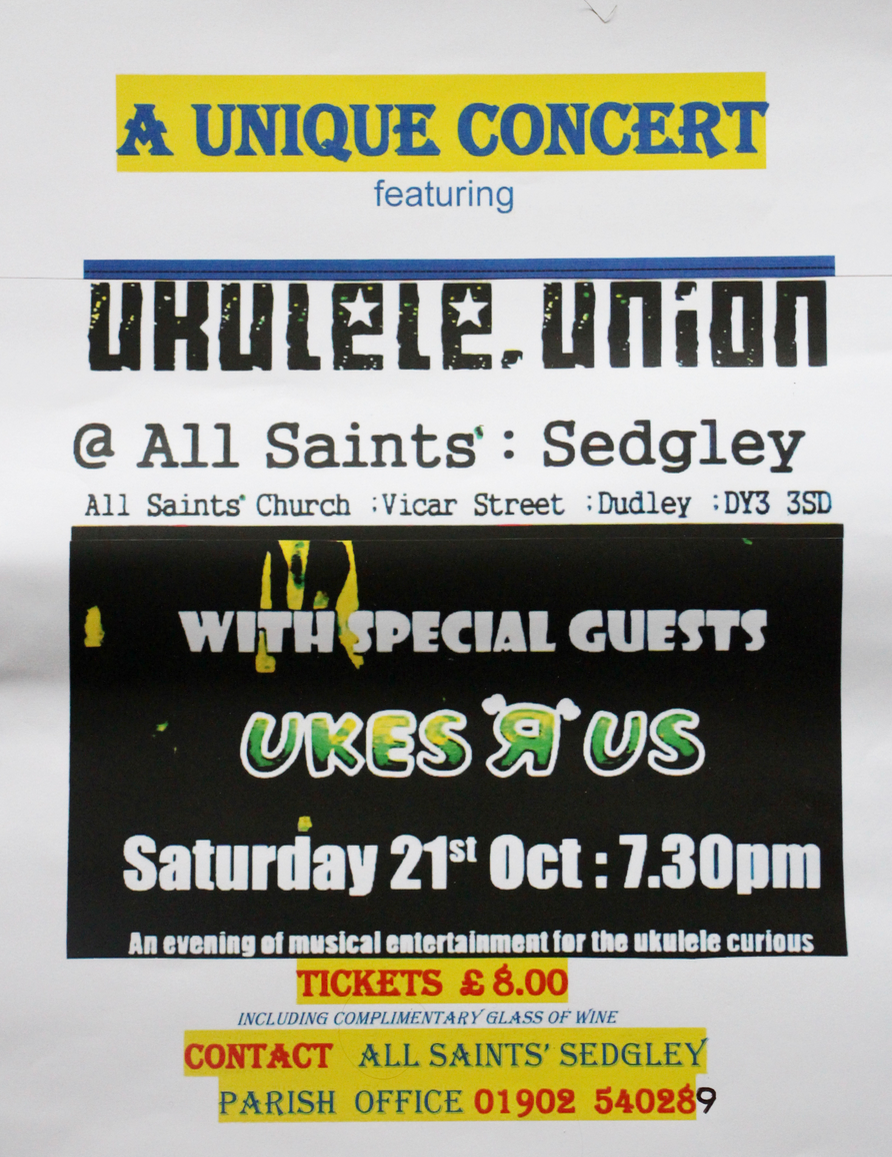 Guy and Jackie's Open House, 7th October 2017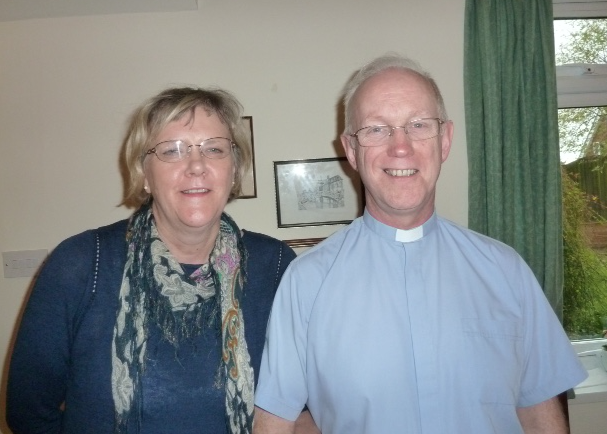 Revd Guy Hewlett and his wife Jackie held a very successful Open House on Saturday 7th October at their new home in the Vicarage, Vicar Street.
It was very well attended by parishioners and was an opportunity for Guy and Jackie to meet and get to know people in the Parish.
Here are a few photos from the event:
Guy and Jackie's Open House, 7th October 2017
Children's Society Autumn Fayre - Saturday 14th October 2017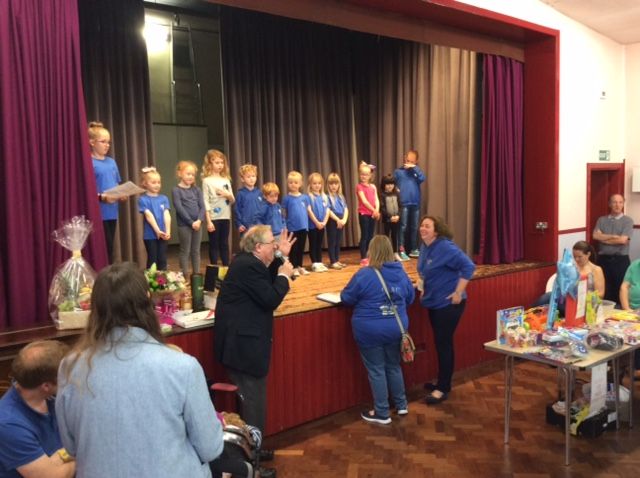 Singing Angels delight and entertain at the Children's Society Autumn Fayre.
Linda Watkins writes:
"It was the Children's Society Autumn Fayre on Saturday.
The churches that participated were St Chad's, St Mary's, St Francis's, St Peter's, St James's and All Saints'.
What a wonderful occasion to see so many different churches working together for such a good cause!
There was in excess of £1,500 raised on the day, with more funds to come in.
Thank you all so very much to all the helpers and to all who came to support, and extra special thanks to Singing Angels -they were delightful."
Children's Society Autumn Fayre 2017 photos

The way we were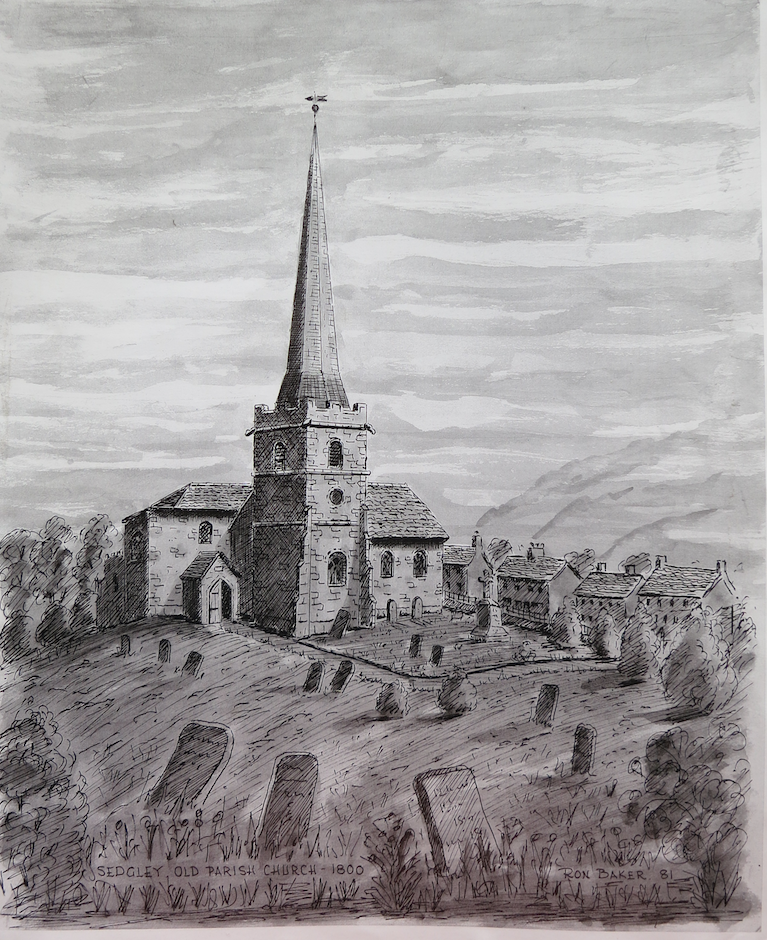 Ron Baker's 1981 sketch of All Saints' as it might have appeared pre-1826.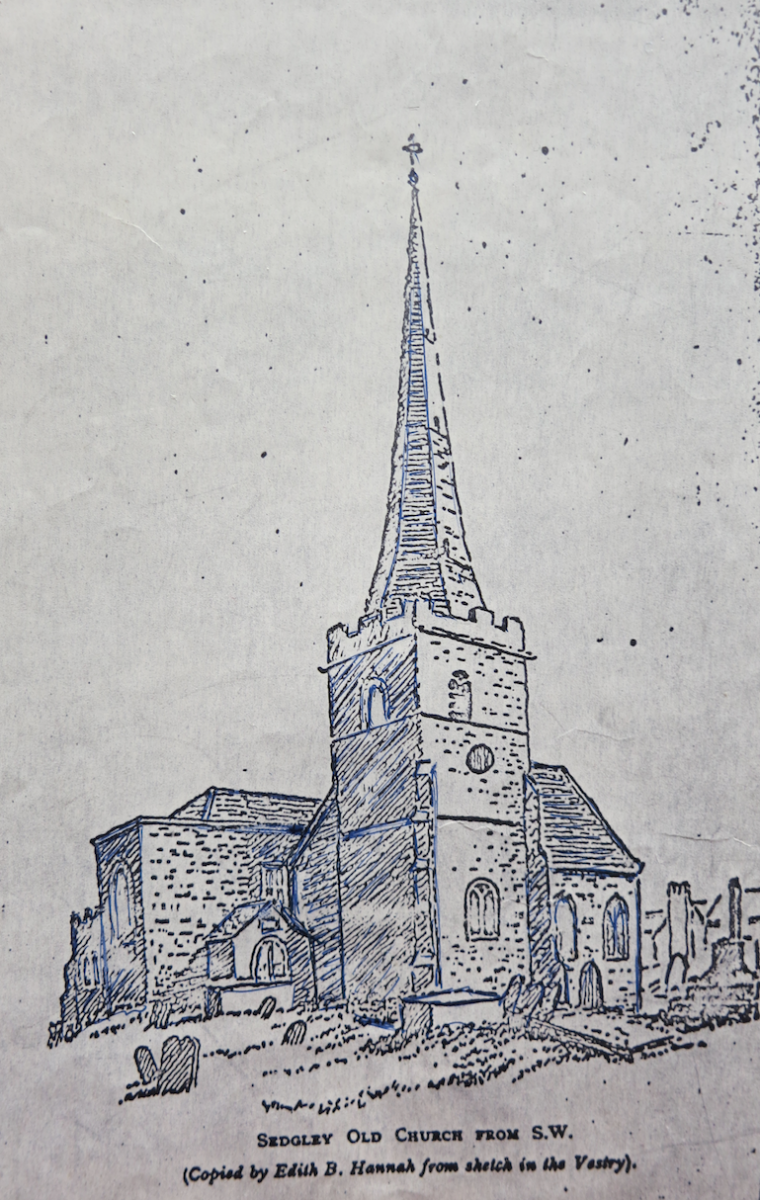 Drawing based on a sketch found in the vestry.
George Blackham of Sedgley Local History Society has kindly sent us drawings of All Saints', as it might have appeared before it was rebuilt between 1826-9.
The top image is by Ron Baker, a local businessman who was also a prolific artist, who created a wonderful record of Sedgley's buildings from 1947 onwards.
Sedgley People's Archive Project launches Reminiscence Cafes at local churches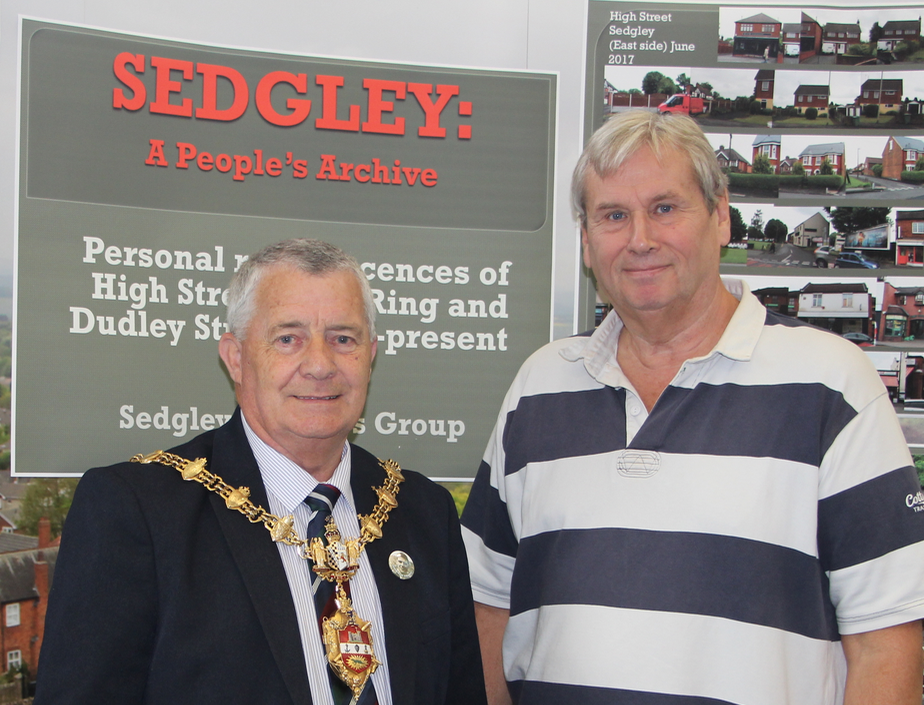 The Mayor of Dudley, Councillor Dave Tyler, with Martin at the launch of Sedgley People's Archive at Dudley Archives' Local History Day on Saturday 7th October 2017.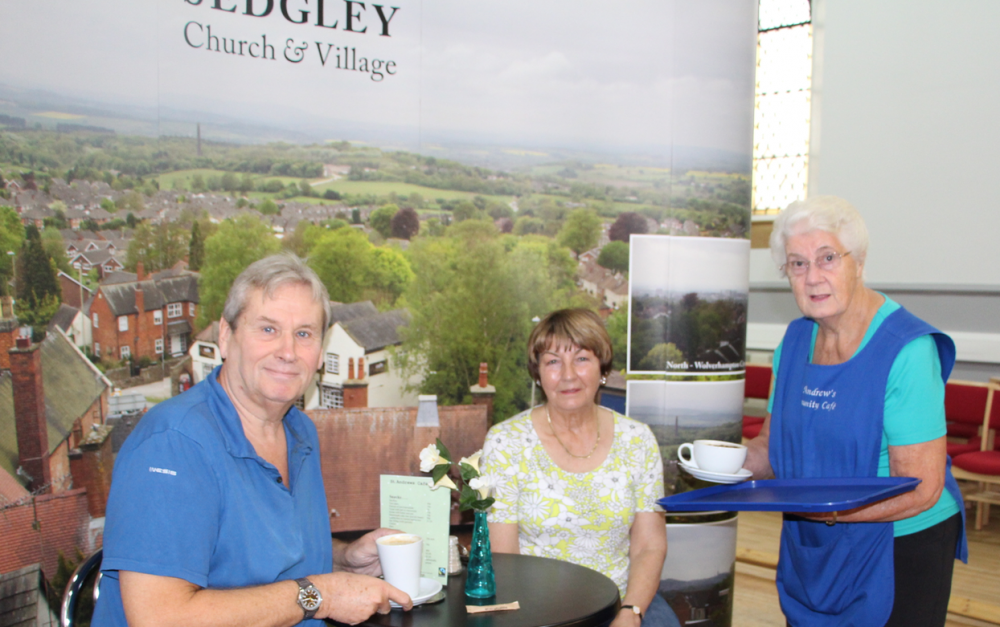 The first of our programme of autumn Reminiscence Cafes was held at St Andrew's Church, Bilston Street on 11th October 2017.
A series of autumn Reminiscence Cafes has been launched at local churches in Sedgley, leading to a 'Sedgley People's Archive' exhibition in the Church Hall Meeting Room at Christmas.
On Saturday 2nd and Sunday 3rd December 2017, from 11am-3pm daily at All Saints' Church Hall Meeting Room in Vicar Street, Sedgley, local residents' memories collected at the cafes will be presented in an exhibition.
The 'Reminiscence Cafes' focus on 170 shops, premises and houses in the main thoroughfare running through Sedgley: High Street, Bull Ring and Dudley Street.
Contributors will be interviewed about their memories of local shops - going as far back as 1940. Once captured the memoirs will be deposited in Dudley Archives.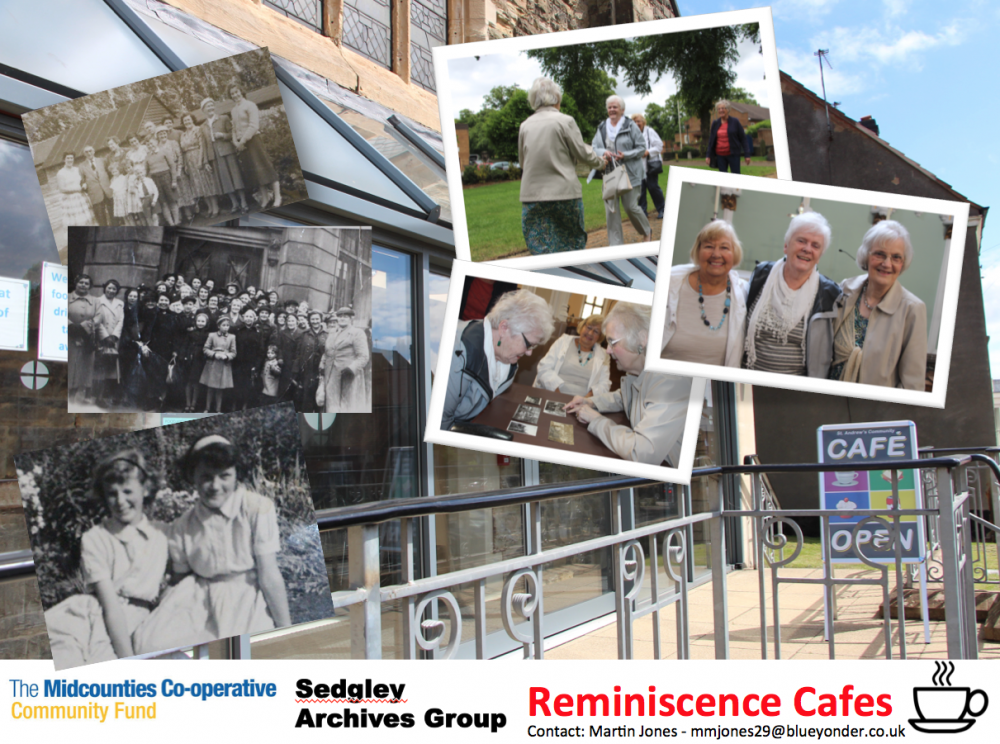 Reminiscence Cafes will be held at:
St Andrew's Church Cafe, Bilston Street on Wednesday 18th October from 10am-12noon
and
St Chad's Catholic Church Afternoon Club, High Holborn, on Wednesday 18th October from 2-4pm.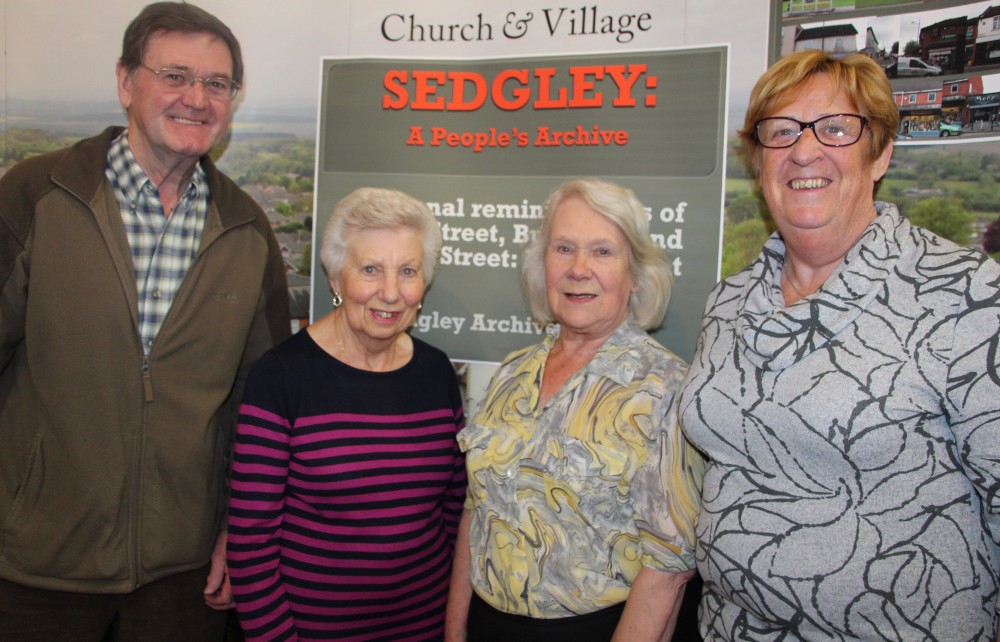 David Matthews, Margaret Hall, Margaret Woodhall and Judy Clements at the first autumn Reminiscence Cafe held at All Saints' Friday Coffee Morning. Sessions continue on Friday mornings 10.30am - 12 noon at All Saints', from now until our exhibition in December this year.
Also, on Friday mornings in October and November, reminiscence sessions will run at All Saints' Church in Vicar Street, Sedgley at our Coffee Mornings, from 10.30am - 12 noon.
The Project is supported by the Midcounties Co-operative Community Fund.

The Reformation began at All Saints' - no, really!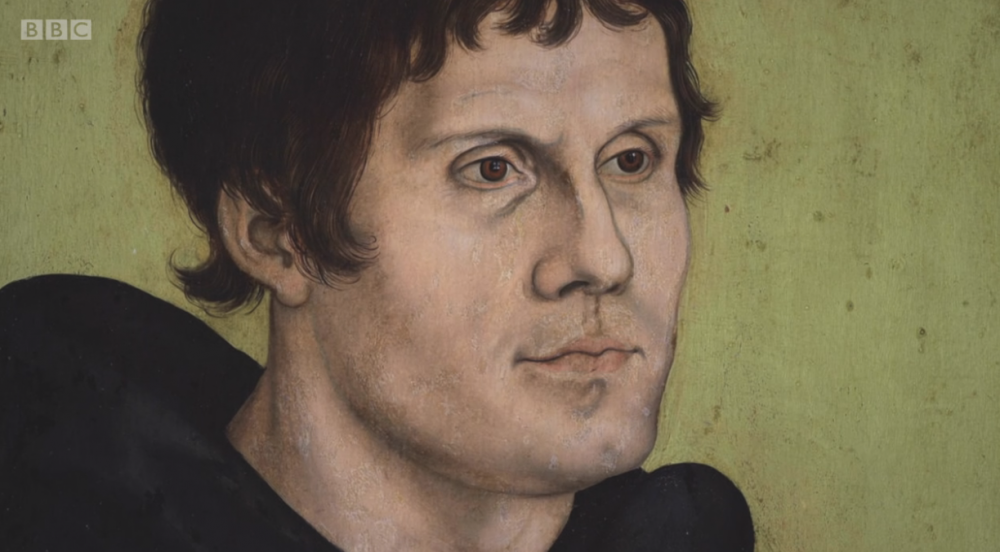 Martin Luther
All Saints' Wittenberg that is! David Starkey examines the roots of the Protestant Reformation, which began in Wittenberg, Saxony 500 years ago, led by Augustinian monk Martin Luther who nailed his 95 Theses in protest against the sale of induglences by the Roman Catholic Church to the doors of All Saints' Wittenberg on 31st October 1517.
The Reformation - Europe's Holy War: BBC2 iPlayer
DIOCESAN WEBSITE COVERAGE OF JAN'S CEREMONY

Here's diocesan coverage and photos of Jan Humphries' ceremony investing her as an Honorary Canon of the Cathedral. More coverage further down this page.
Six new honorary canons - Diocesan website
Facebook photos of the service
BISHOP JOHN TO REMARRY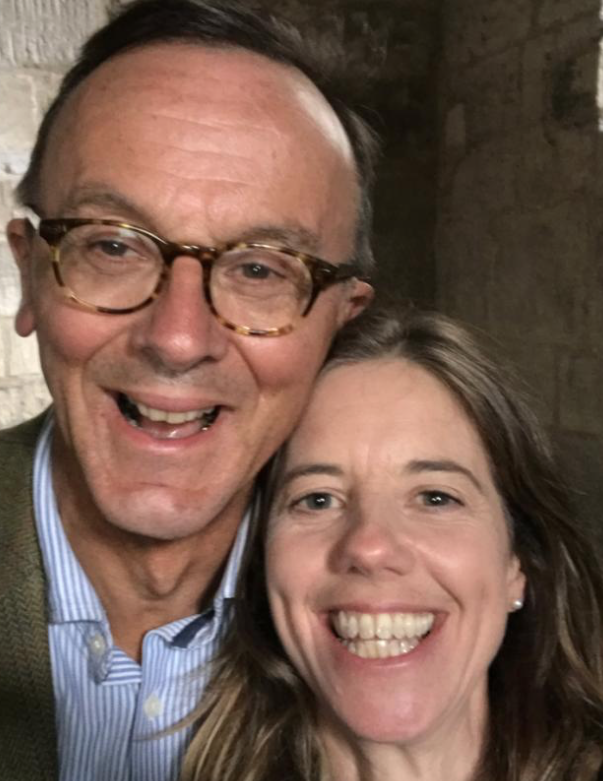 Bishop John Inge is to remarry - story on the Diocesan website
JUNIOR CHURCH - THANK YOU FOR YOUR HARVEST PLAY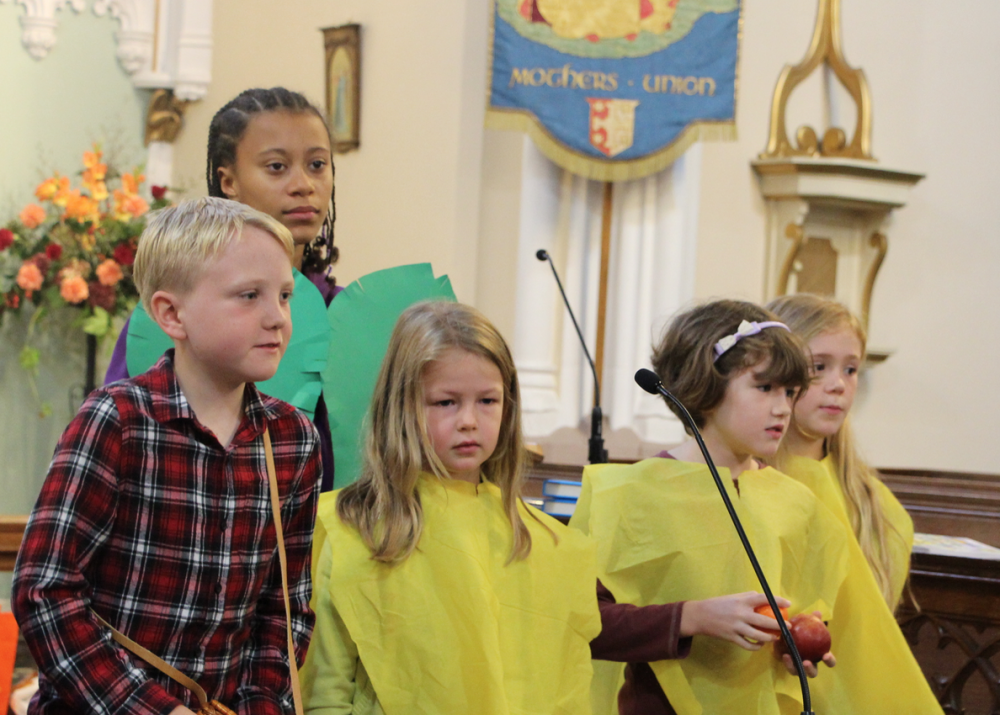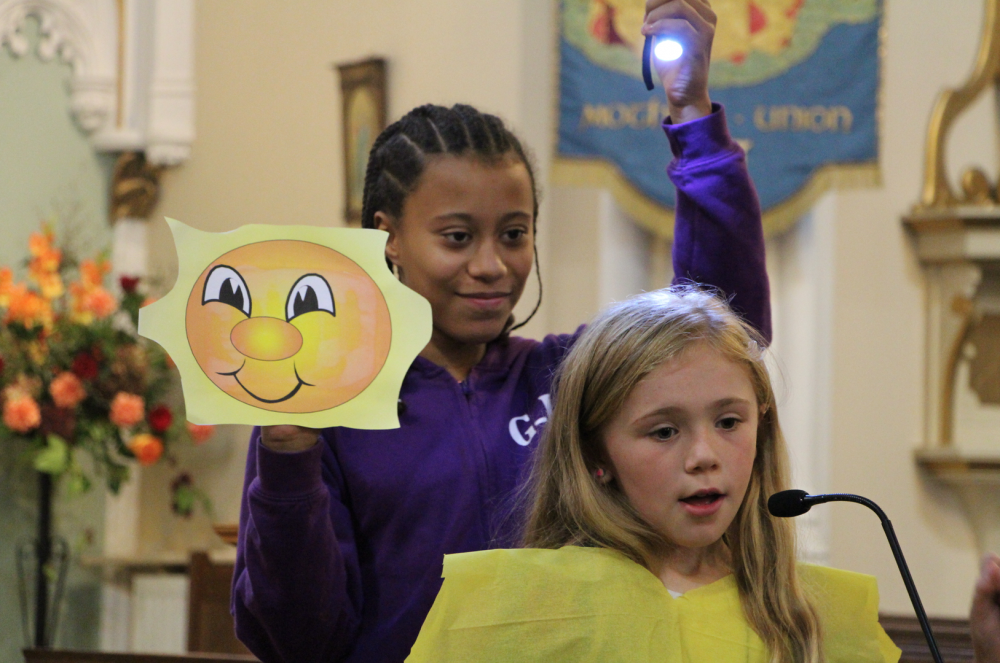 Thank you so much to all members of the cast from Junior Church, and to Barbara Price, Laura Robinson and Linda Watkins for producing our Harvest Play on Harvest Sunday October 1st 2017. As always, a most entertaining and well presented production.
We see the results, but there are hours and hours of preparation that go into it!
HARVEST DISPLAYS - THANKS TO ROSEMARY AND MARGARET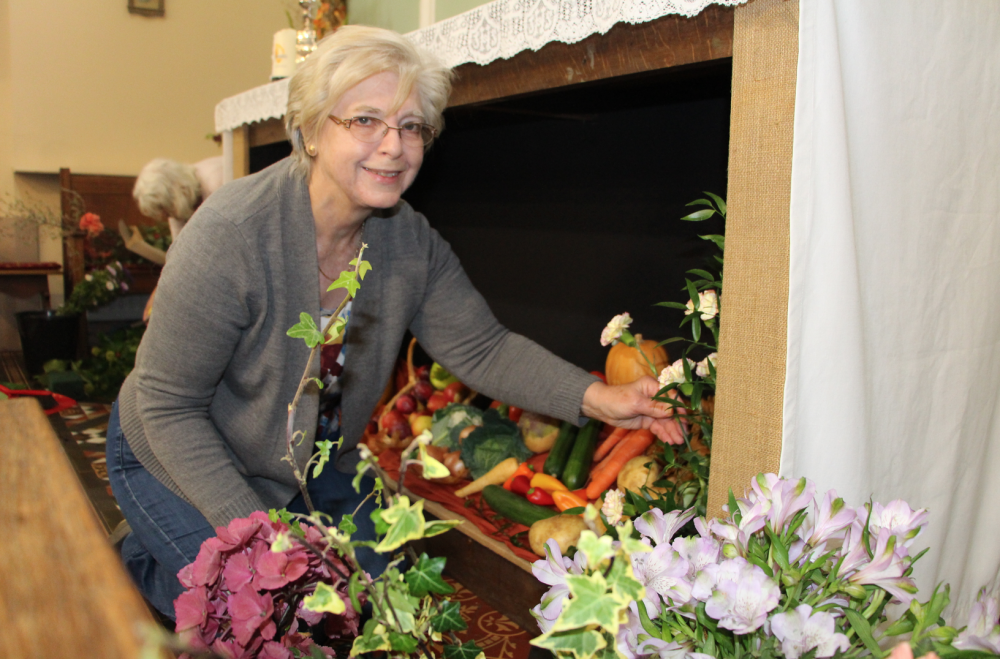 Rosemary Moss works on our Harvest altar display.
In preparation for our 2017 Harvest Services, Rosemary Moss, our flower lady, created a wonderful display of harvest produce, for a display in the space underneath the altar table; and Margaret Woodhall did a beautiful altar arrangement.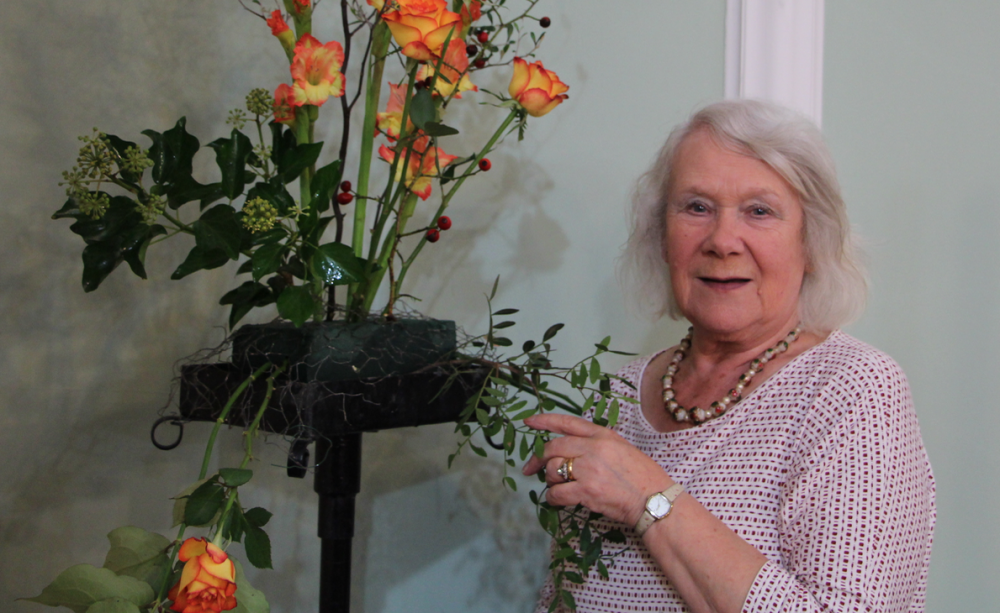 Margaret Woodhall's beautiful Harvest altar display.
Thank you very much Rosemary and Margaret!
MACMILLAN WORLD'S BIGGEST COFFEE MORNING 2017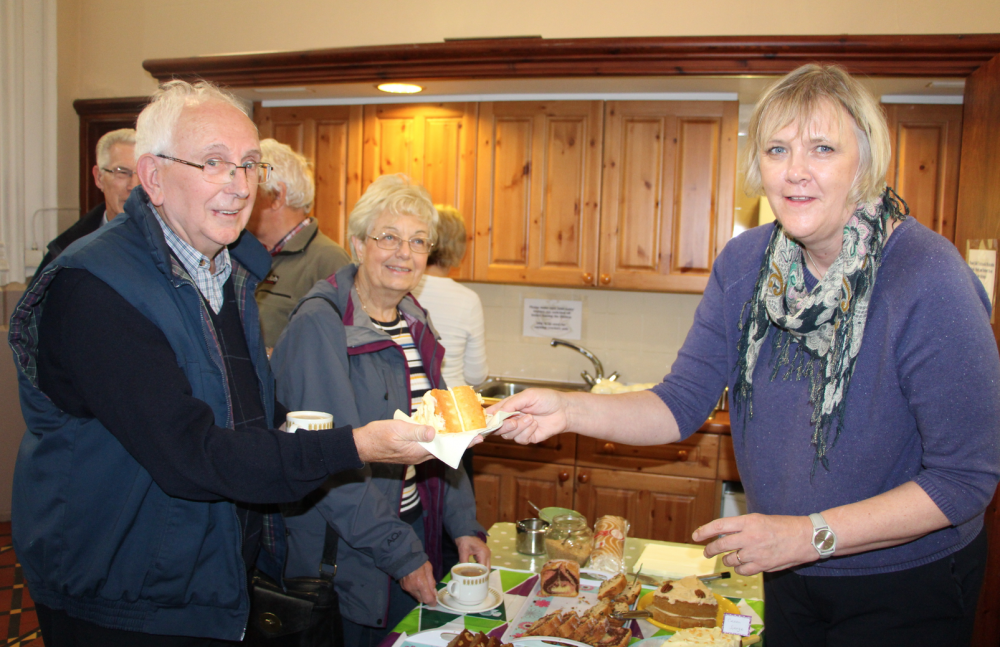 Jackie Hewlett serves at our Macmillan Coffee Morning.
Revd Guy and his wife Jackie experienced one of our Macmillan Coffee Mornings for the first time on 29th September 2017.
Last year volunteers raised £29.5 million nationally - and this year Macmillan are aiming to raise even more.
As always, the church was very well supported by our local community, helping to raise money for this very worthwhile cause.
A message from Liz and Chris Williams:
"Thank you to all who supported our Coffee Morning on Friday. It was a wonderful turnout, with plenty of delicious cakes to sample. The final total raised was £360."
We've now added Liz and Chris's shots - numbers 9-20 in our Macmillan 2017 album:
Macmillan Coffee Morning September 29th 2017
GUY APPEAL? ASDA APPEAL? - NO, A FUNERAL PEAL!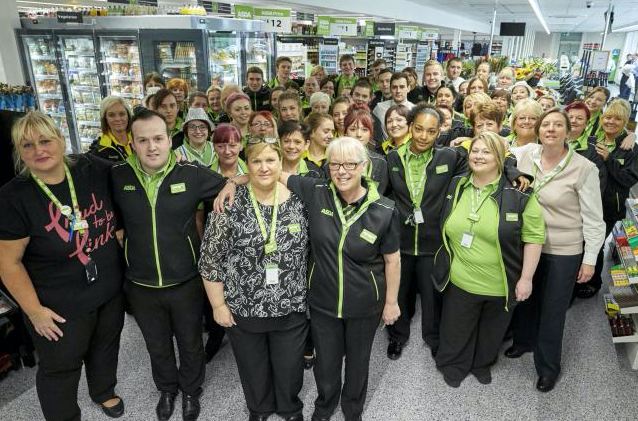 All Saints' bells pealed to welcome Asda?
On the day Asda opened in September, Gail received a couple of visitors in the Parish Office to thank All Saints' for ringing the bells.
-The first lady thought it was to welcome our new Rector Guy Hewlett and his family to Sedgley.
-The second thought it was to welcome Asda to the village.
It was in fact to mark the funeral of a local lady, Dorothy Dunn, who lived opposite the church for many years. Her son told us his mum would have found this very amusing!
A VERY SPECIAL CLEANER CELEBRATES!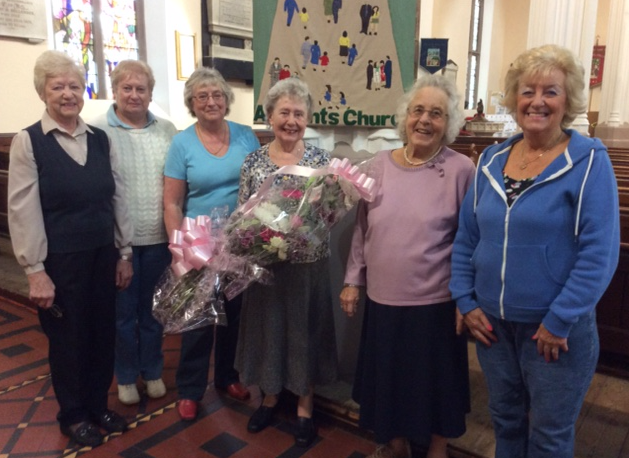 Thanks to Linda for sending us these shots:
"Maureen Iddles, one of our wonderful church cleaners, celebrates her 80th birthday today.
She was presented with a beautiful bouquet of flowers by her friends in the cleaning team."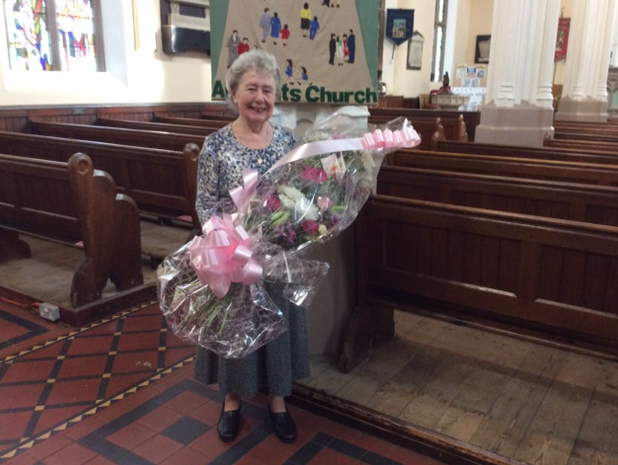 Congratulations Maureen - and thank you on behalf of everyone at All Saints' for all the unsung work you and your team contribute to the church.
CONGRATULATIONS CANON JAN!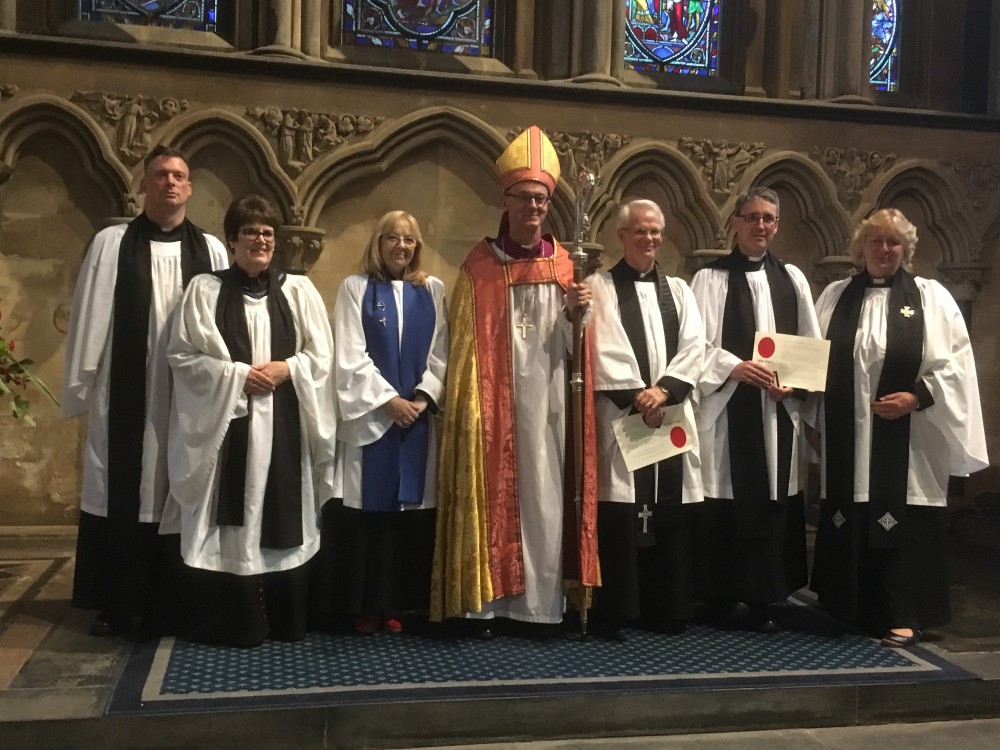 Canon Jan Humphries, third from left, with the Bishop of Worcester and other new Canons after the service. Picture courtesy Revd Catherine Mitchell.
Jan Humphries, our LLM, was invested as an Honorary Lay Canon on Saturday 23rd September 2017 at Worcester Cathedral, during the Evensong Service.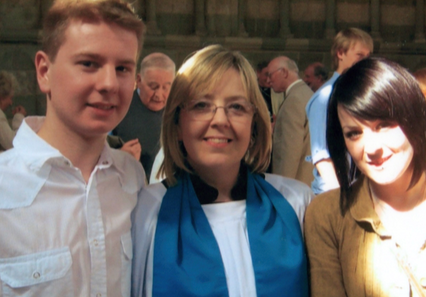 Jan received her blue 'reader's scarf' at Worcester Cathedral in 2008.
The honour has been awarded by the Bishop in recognition of her many years of voluntary service to the parish. Jan has been especially busy helping to sustain the work of the parish during the Vacancy, when there were no ordained priests for over a year.
She has also done a huge amount of work in sustaining, developing and enriching our church at St Andrew's The Straits - and in supporting its community.
What we don't see are the immense efforts Jan puts in each week visiting the sick, conducting funerals and consoling the bereaved.
Jan - everyone in the Parish holds you in the highest regard. You've held us together at a difficult and testing time. It is entirely fitting that the Bishop should recognise your tireless efforts in this way. A great day for Gornal and Sedgley and a great tribute to you!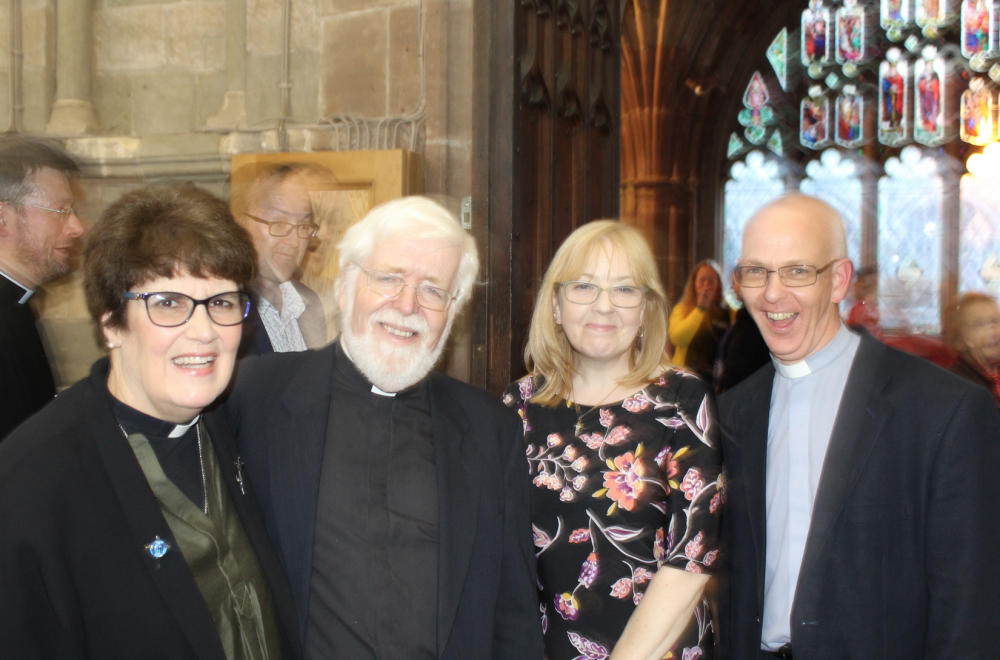 The old team reunited - Jan is congratulated after the investiture by former Gornal and Sedgley Team Rector Revd Canon Stephen Buckley and former Team Vicar Revd Andy Stand.
Keith Tomlinson's photos of the whole event at Worcester
Jan with the new Canons - and celebrations at St Andrew's
The Making of Jerusalem as a Holy City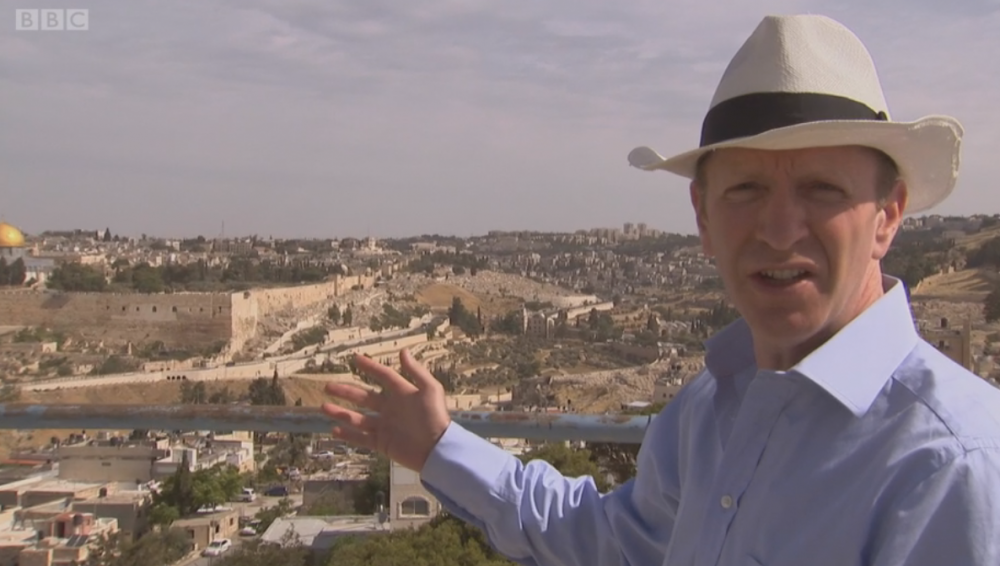 Simon Sebag Montefiore explains the history of the Holy City.
There is an excellent very informative documentary made a little while ago and now repeated on BBC Four, about the history of Jerusalem - available on BBC iPlayer at the moment.
The commentator is Simon Sebag Montefiore.
Episode 1 looks at the early history:
The Making of Jerusalem Episode 1
Episode 2 looks at the conquest of the city by Saladin, followed by Third Crusade by Richard the Lionheart launched to retake the city for Christianity:
The Making of Jerusalem Episode 2
Revd Guy Hewlett's Licensing Service Photos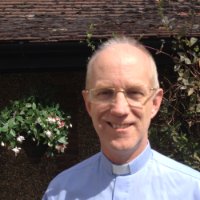 Revd Guy Hewlett, the new Team Rector of Gornal and Sedgley Team Ministry.
On Sunday 3rd September the service of Licensing and Installation of our new Team Rector Guy Hewlett was conducted by The Bishop of Dudley Rt Revd Graham Usher.
The service was attended by the Mayor and several councillors of Dudley - also various organisations, along with clergy of other denominations.
There was a large congregation from the Gornal and Sedgley Parish and many members of Guy's family.
After the service wonderful refreshments were provided in our church hall which were most welcome.
Our churchwarden Keith Tomlinson took some shots on the day (along with his other duties!); and Revd Guy's son James Hewlett kindly took some for Linda Watkins. Together they make a great record of a memorable day.
Captions will be added to the photos in due course.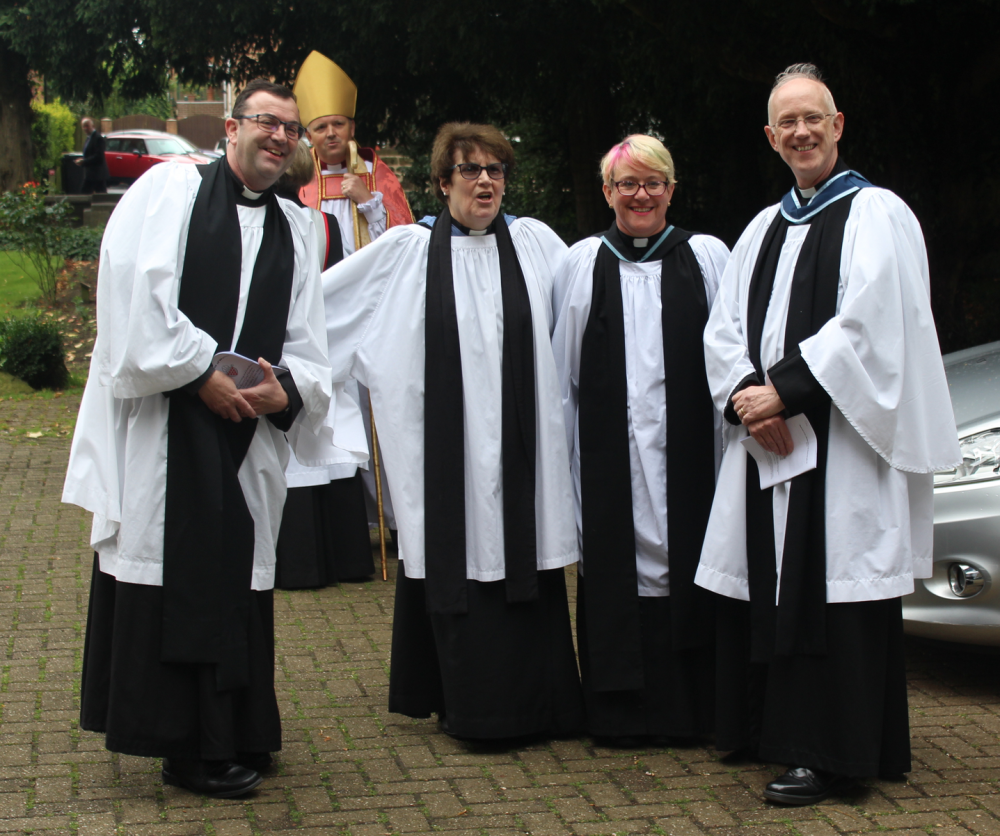 The Bishop of Dudley and members of the clergy at Revd Guy Hewlett's Licensing Service on Sunday 3rd September 2017.
Revd Guy Hewlett Licensing 3rd September 2017 (Keith Tomlinson's shots)
Revd Guy Hewlett Licensing 3rd September 2017 (Linda Watkins/James Hewlett's shots)
Holiday with a religious connection: Spiritual Mallorca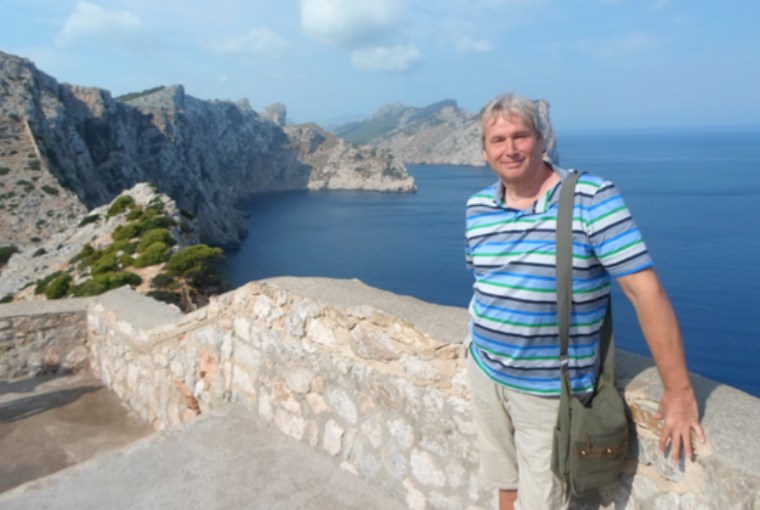 Martin at Cap de Formentor the 'Meeting Point of the Winds' in northern Mallorca.
A holiday on the Balearic island of Mallorca was the opportunity for Martin and Magda to explore some of the spiritual places in the north of the island.
Monasteries, nunneries, churches, religious retreats and sacred sites, many of which are located in the high hills and mountains, were visited over a two week period in early September 2017.
The photo feature is part of a continuing series of suggestions for days out (and holidays) with a religious connection, in the UK and abroad.
Part 1 - The Calvary Steps and Our Lady of the Angels, Pollenca
Part 2 - The Sanctuary at Lluc
Part 3 - Alcudia's St James Church and the Roman City of Pollentia
Part 4: Rocky mountain 'highs' – Cap de Formentor and the road to Soller
Part 5 - The pilgrim climb to Puig de Maria; and a walk round Pollenca
Part 6 - The pilgrim church at Arta; a prehistoric village at Ses Paisses
Here's a list of all the places featured in our Days Out/Holidays series:
Days out and holidays with a religious connection
Baptism and weddings - bookings
If in doubt whether a Vestry Hour will be held at All Saints', and to avoid a wasted trip, call our Parish Secretary Gail:
01902 540289 between 10am-12noon, Monday - Friday.
Parish contact details
PARISH OFFICE
Address:
All Saints' Parish Office
Ladies Walk
Dudley
DY3 3UA
Phone number: 01902 540289
Our Administration Assistant is Gail Griffiths.
TEAM RECTOR
Revd Guy Hewlett
Gornal and Sedgley Team Ministry
All Saints, Sedgley
St Peters, Upper Gornal
St Andrews, The Straits
Phone and email contact details:
Phone: 01902 295164
email: guyhewlett18@gmail.com
TEAM VICAR
The Revd Catherine Mitchell
Team Vicar
Gornal and Sedgley Team Ministry
All Saints, Sedgley
St Peters, Upper Gornal
St Andrews, The Straits
Tel 01902 677897
revcatherinemitchell13@gmail.com
LICENSED LAY MINISTER
Honorary Canon Jan Humphries: 01902 661275
Other email addresses:
Keith Tomlinson, Churchwarden:
churchwardenkeith@allsaintssedgley.co.uk
John Anderson, Treasurer and Churchwarden:
treasurer@allsaintssedgley.co.uk
Jenny Lavender, Assistant Treasurer:
asstreasurer@allsaintssedgley.co.uk
David Bell: caretaker@allsaintssedgley.co.uk
Telephone Number: 07933 204132
The parish office is open 10am-12noon, Monday to Friday.
Information should be sent to Gail by Wednesday for inclusion in Sunday's pewsheet.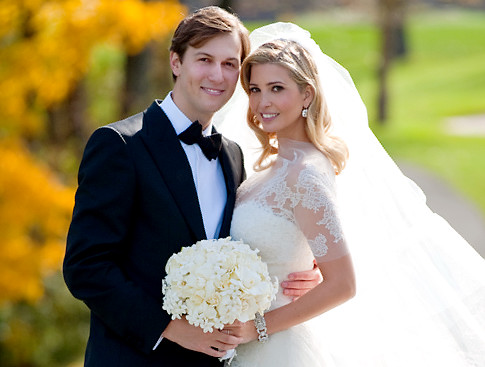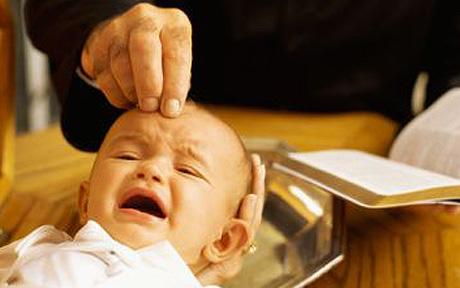 Arranging a wedding or baptism? - click here
Our website
If you'd like to contribute any information about forthcoming church events, write an article, or correct anything on the site, please send your information to Martin our website editor.