Welcome to the Gornal and Sedgley Team Ministry website.
Our parish includes All Saints' Church in Sedgley, St Andrew's in The Straits and St Peter's in Upper Gornal.
We've been a team ministry since 2005: team working allows us to provide spiritual and pastoral care to a wide area including Upper Gornal, the Straits and Sedgley.
We look forward to meeting you at one of the churches in our parish soon.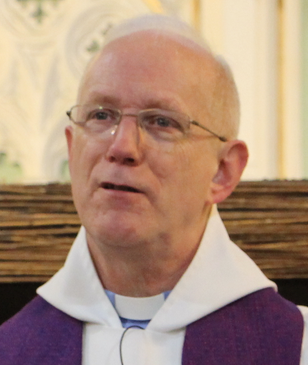 Revd Guy Hewlett (Team Rector, Gornal and Sedgley Team Ministry)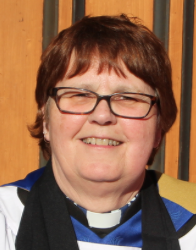 Revd Catherine Mitchell (Team Vicar, Gornal and Sedgley Team Ministry)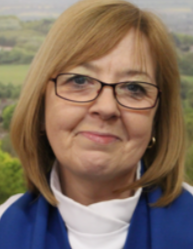 Canon Jan Humphries (Licensed Lay Minister, Gornal and Sedgley Team Ministry)
Gornal and Sedgley Team Ministry
SERVICES AND EVENTS AT ALL SAINTS'

Click here for a list of services and events at All Saints'
Please notify us of any services or events that are missing from the listings.
THE BEACON CHURCH MAGAZINE
The Beacon Parish Magazine November 2018
LATEST CHURCH NEWS FROM THE PEWSHEET
All Saints' pewsheet Sunday 21st October 2018
Our Facebook site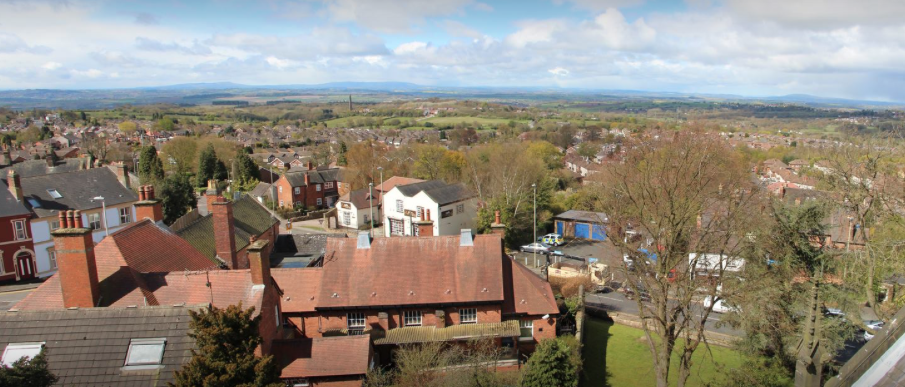 Our Facebook site provides an added facility for communicating with other members of our church community and with our Team Ministry.
Who's Who at All Saints' - updated 7/9/18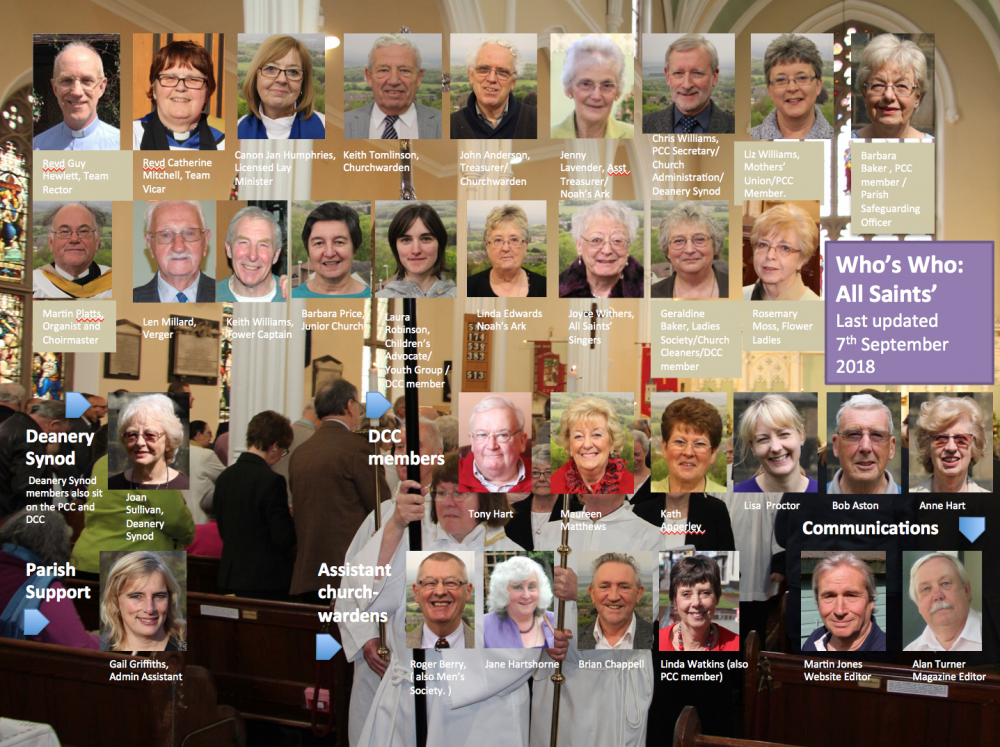 All Saints' Who's Who, September 7th 2018
Click on the image above to view an enlarged version.
SERVICES FOR OCTOBER 2018
October 2018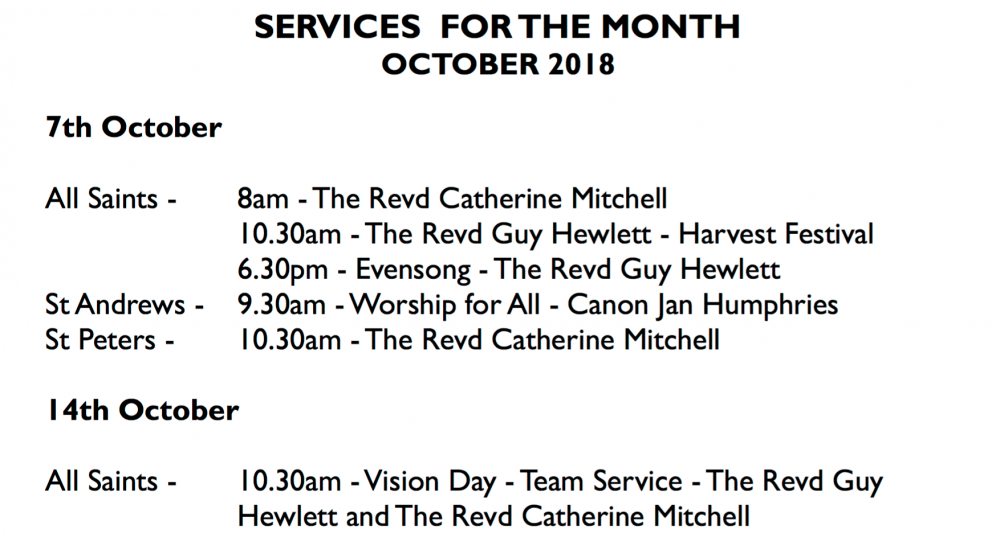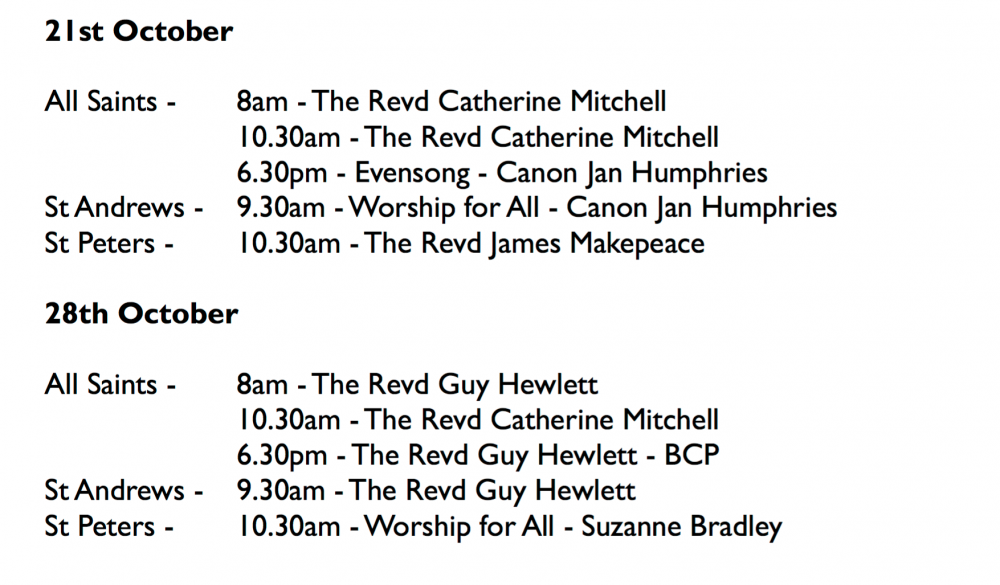 Remembrance Sunday 2018: Gornal and Sedgley armed forces silhouettes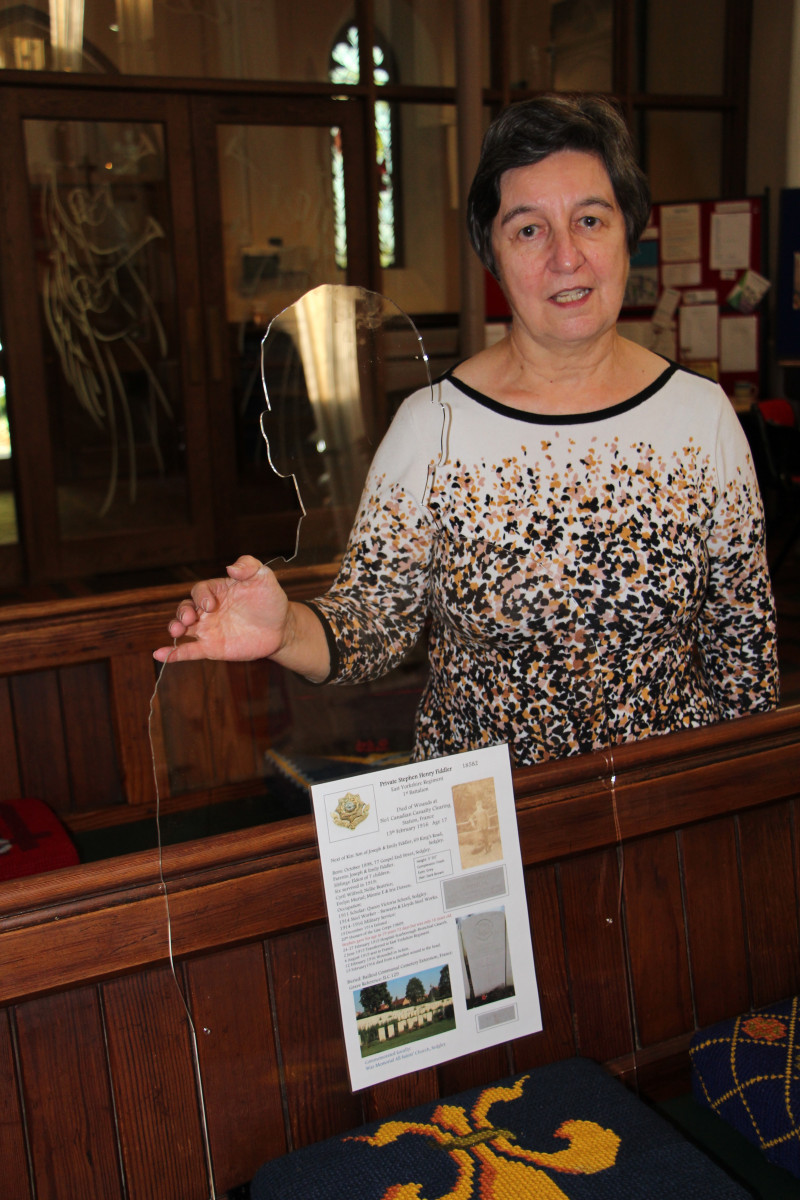 Barbara Price, who has researched the backgrounds of Gornal and Sedgley's servicemen from World War One, with one of the clear perspex silhouettes.
Our thoughts turn to Remembrance Sunday on 11th November 2018, which this year marks the 100th anniversary of the end of World War One. Each year Sedgley Royal British Legion organises a march of uniformed organisations in the area from the Crown in High Street Sedgley at around 10.15am on Sunday morning, to attend the Remembrance Service at All Saints' - the march returns to the Crown afterwards.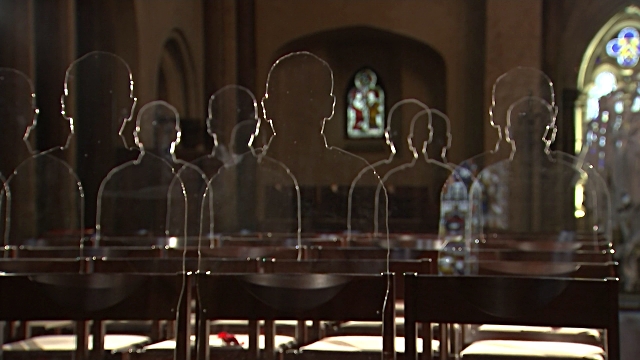 Ten clear perspex silhouettes have been acquired with grant funding from the Armed Forces Covenant Fund Trust, to represent all the young men from Gornal and Sedgley who died in the war. They signify that the fallen are not just names on a memorial - they were real people who lived in our community, and they remain in our thoughts.
Barbara Price (pictured top) has researched all the area's war dead, and assigned names to each of the 10 silhouettes, also providing background information about the men; their families, where they lived, where they went to school, their regiments, where they served, and where they died.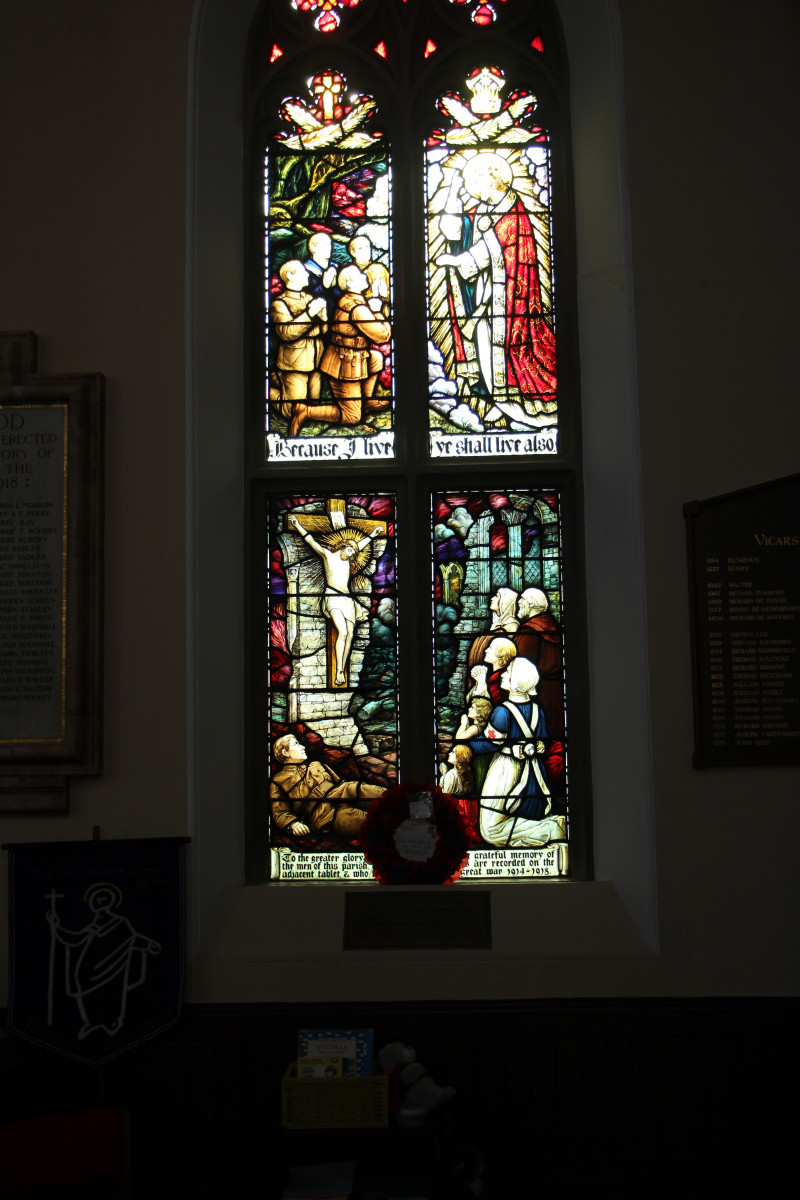 The window on the south wall of All Saints' Church, erected in 1922 to commemorate Sedgley's war dead.
The silhouettes will be on display among the pews at All Saints' Church until Remembrance Sunday.
The histories of the 10 men chosen to represent all Gornal and Sedgley's fallen are here:
Spread the word - our Friday coffee mornings are great!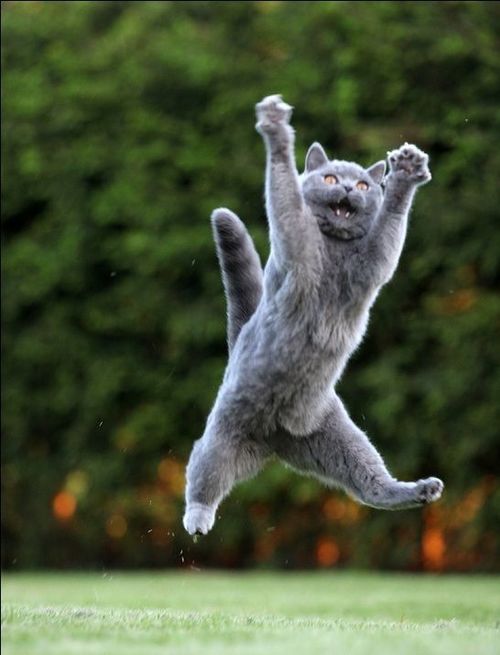 Friday mornings at All Saints' are great. As our wonderful dedicated flower arrangers busy themselves with Sunday's displays, the rest of us enjoy an opportunity outside our regular services to get to know our fellow parishioners better over a coffee (and toast).
It was wonderful this Friday to see Greg Ball again, until recently a regular at Evensong who is recovering from illness. We were able to catch up, and in turn to let him know how things are developing in the Parish.
We also had an informal discussion on some of the matters covered by our recent Vision Day.
So spread the word and make these mornings even more successful!
Children's Society Autumn Fair 2018 a great success
Singing Angels made a welcome return to the stage at the Children's Society Autumn Fayre in All Saints' Church Hall on Saturday 13th October.
The Children's Society Autumn Fayre 2018 was held in All Saints' Church Hall, Sedgley on Saturday 13th October 2018, from 10.30 a.m. - 1.30 p.m.
It was very well supported and featured a great singing performance from the children of St Andrew's Singing Angels. Many congratulations to Claire Cox, her team and everyone involved in preparing the children - they are a credit to St Andrew's.
Anne Hart says:
"I would like to thank everyone who helped to organise our Annual Autumn Fayre which took place last Saturday. Despite the dreadful weather the event was well attended and, of course, our Little Angels went down really well. The end result, which everyone always wants to know, was that we raised no less that £1,381.81 for the Society. "
See a selection of pictures of the event here:
Children's Society Autumn Fayre 2018
Vision Day, Sunday 14th October, 12 noon - 3pm, All Saints' Church Hall
Revd Guy Hewlett led the Vision Day in All Saints' Church Hall on 14/10/18.
On Sunday 14/10/18, after a Team Service at All Saints' at 10.30am, there was a Vision Day for the Parish held in the Hall.
26 people attended the session, which looked at 8 'Signs of the Kingdom' to see how we rate in achieving them - and discussion took place on some ideas for the future.
Thank you to all who came along.
Pictures from our Macmillan Coffee Morning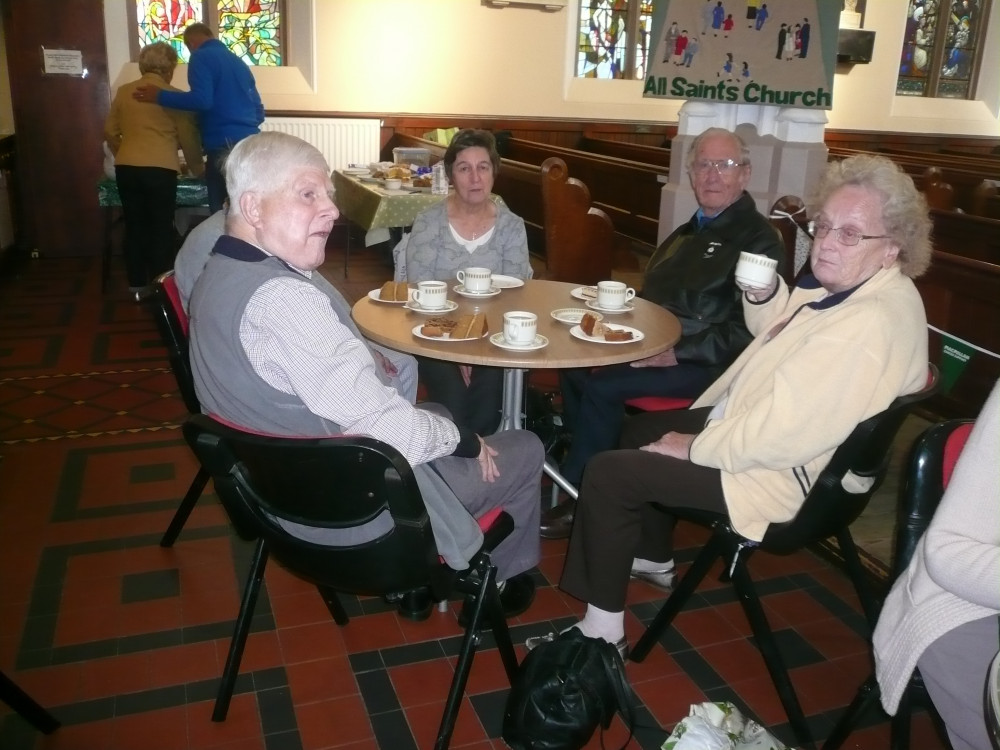 The Macmillan Coffee Morning held at All Saints' on Friday 28th September was a great success and raised £370.
More pictures from the Macmillan Coffee Morning
Church exhibits at Avoncroft Museum, Bromsgrove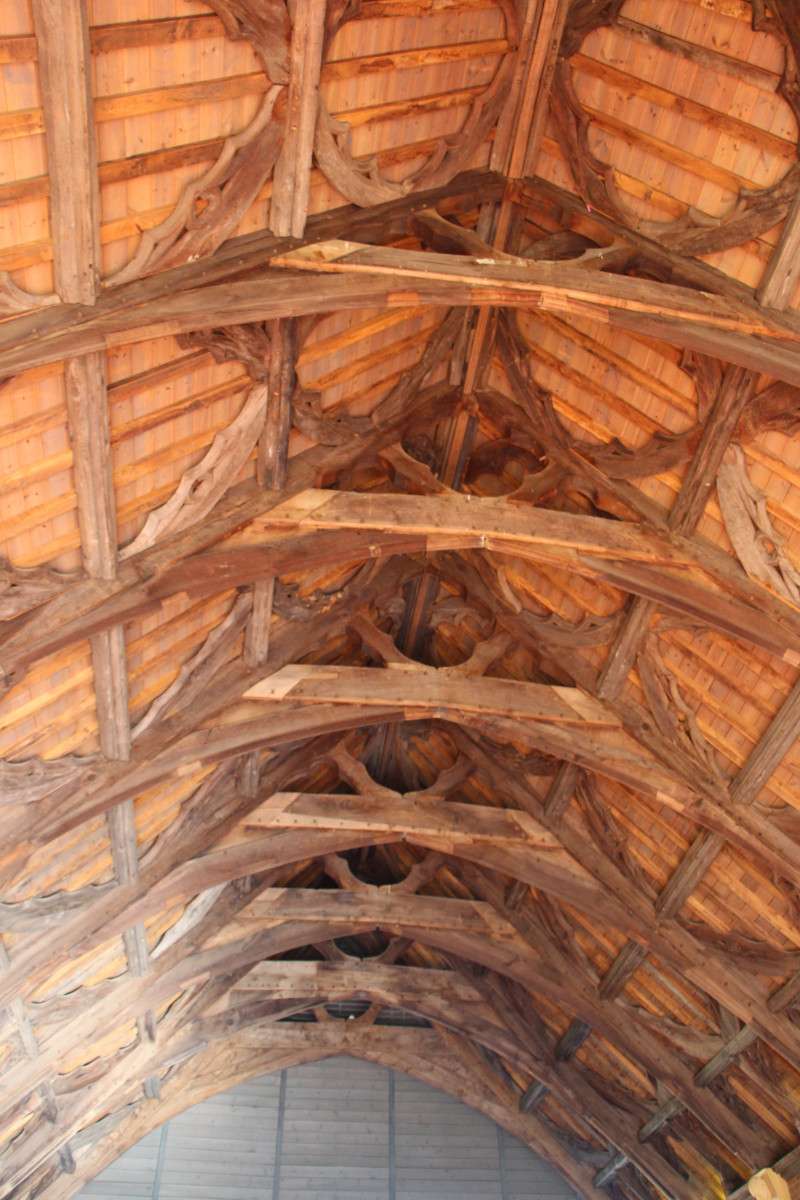 Guesten Hall at Avoncroft Museum
A trip to Avoncroft Museum of Buildings near Bromsgrove revealed some interesting church-related exhibits. The buildings at Avoncroft were originally in other locations, but were painstakingly dismantled brick-by-brick and reassembled at the museum.
The roof of Guesten Hall has a long history - it was originally located by the Chapter House at Worcester Cathedral; it was later dismantled and became the roof at Holy Trinity, Worcester.
After that church was made redundant in 1969, the roof was again dismantled and rebuilt, becoming the roof of Guesten Hall, which is now used for large functions at Avoncroft.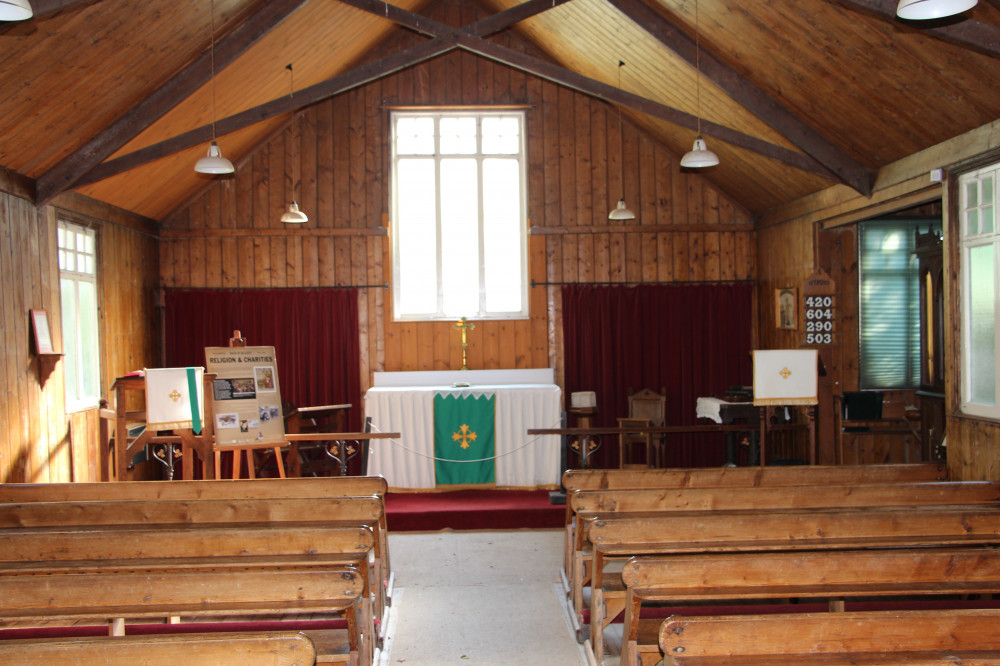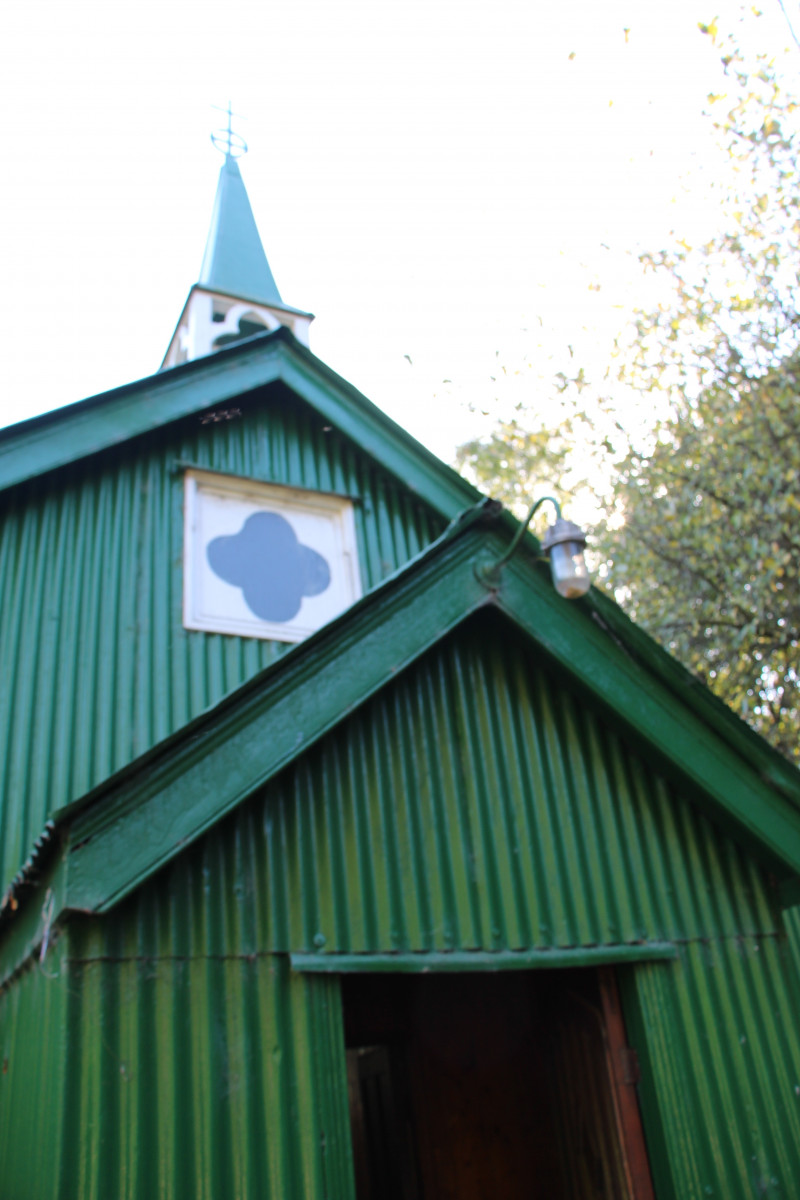 Mission Church, Avoncroft
The Mission Church at Avoncroft was originally in a Worcester village but has been moved to the Museum. It bears many similarities to St Andrew's The Straits. Dated around 10 years before St Andrew's was built, it was ordered from a catalogue and called a 'Tin Mission' - arriving from the manufacturers in sections ready for assembly on site.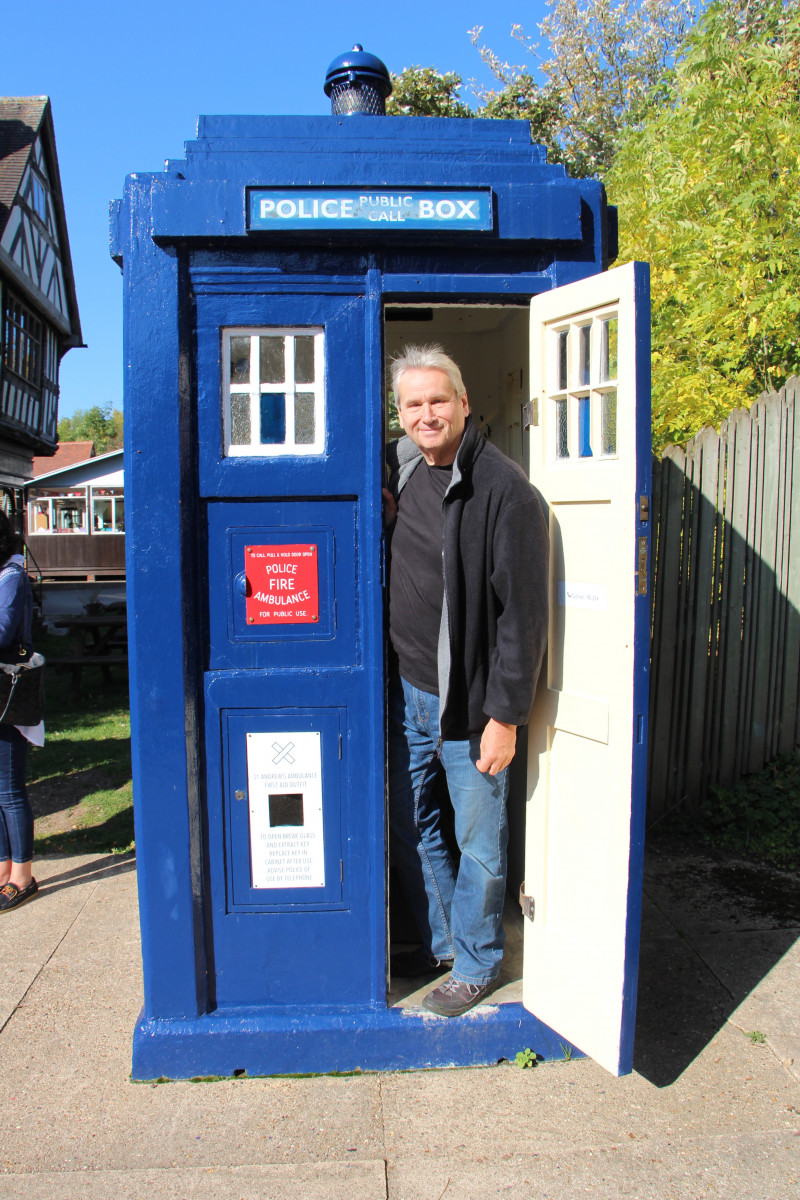 Martin with a 'Dr Who'-style police phone box at Avoncroft.
One of the highlights of the attraction is a national collection of old public telephone boxes and an old telephone exchange.
The museum is a wonderful day out and contains many buildings very relevant to the Black Country's history, including a chain shop from Brierley Hill, a nail shop and a toll house.
It's well worth a visit, signposted from Junction 5 on the M5.
Tong Church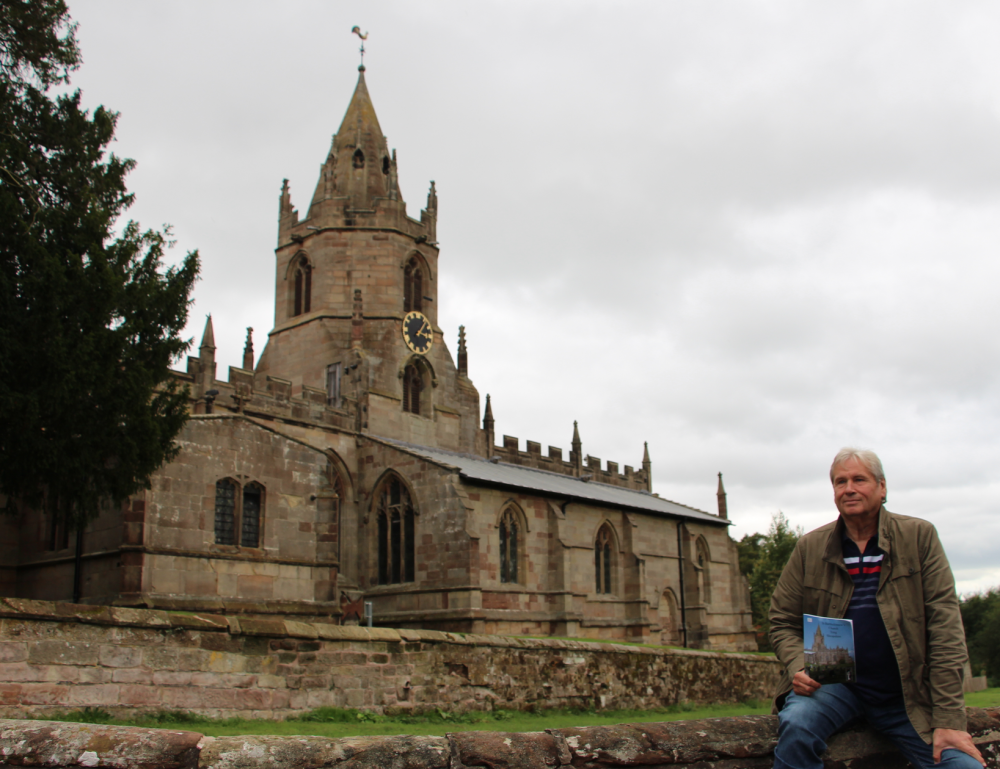 Martin at Tong Church.
A little-known Midlands masterpiece is the charming St Bartholomew's Church in Tong, Shropshire. Martin and Magda visited the church recently, which includes an area that is a mausoleum containing effigies of two members of the Stanley family, whose ancestor William Stanley's intervention helped Henry Tudor win the throne from Richard III at the Battle of Bosworth in 1485.
The Stanleys were closely involved with the fortunes of the kingdom during the Middle Ages and subsequently. Sir Edward Stanley, who lies in effigy at Tong, was the last of the Stanleys to own Tong Castle; it was eventually demolished in 1954. The site is now the M54 motorway.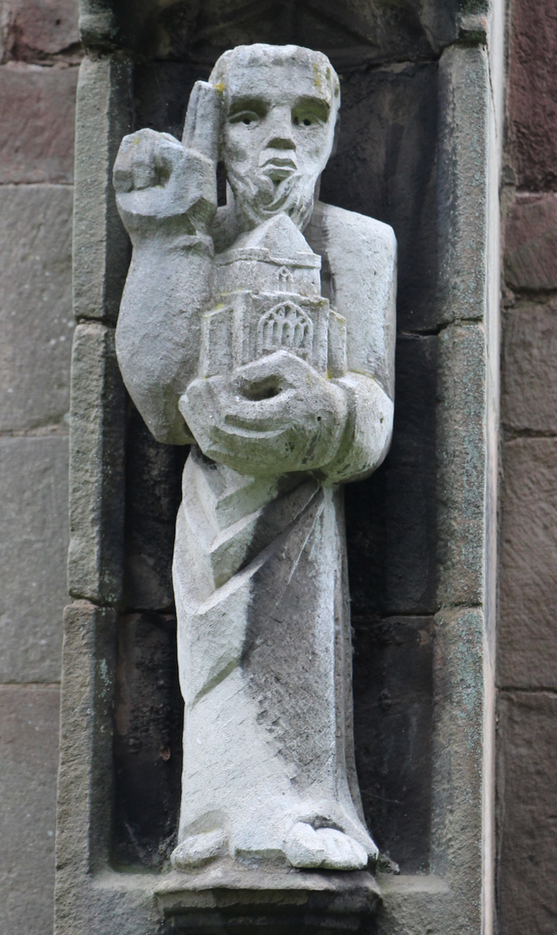 A 1950s statue by Pat Austin of Saint Bartholomew holding his church, on the north east wall, greets visitors to Tong Church.
One for the archive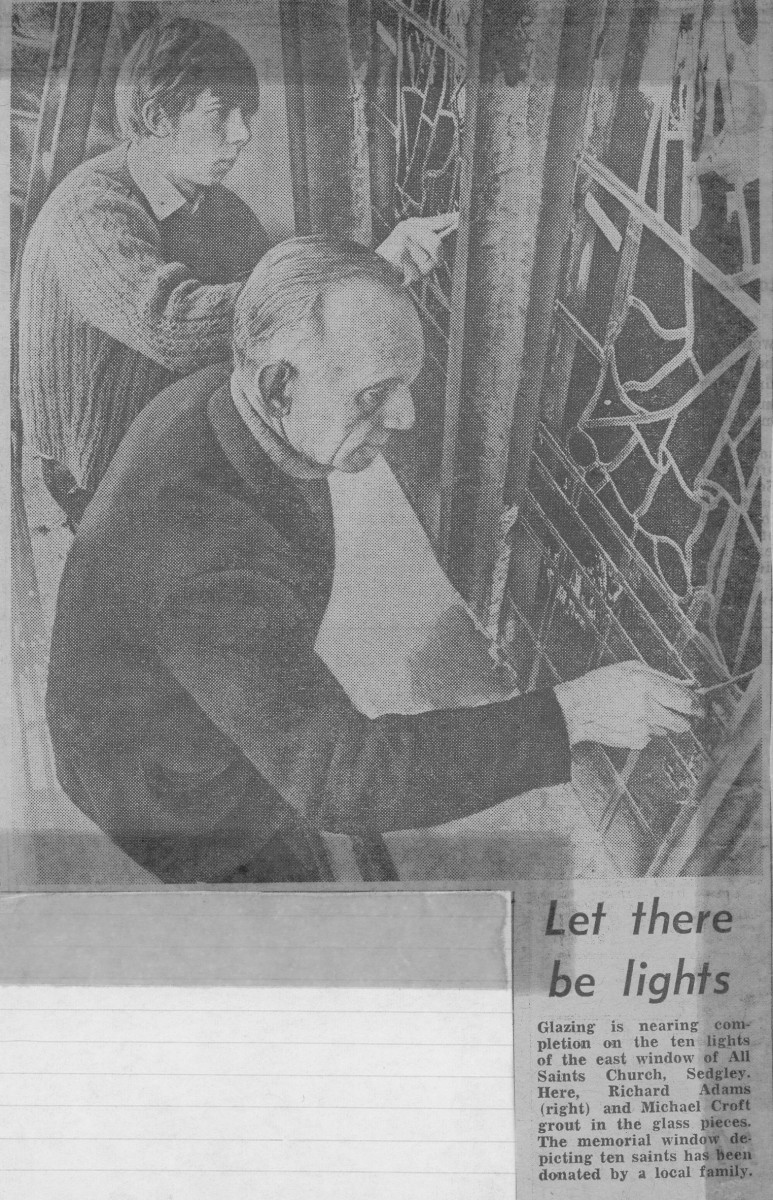 The press cutting about the renewal of the East Window at All Saints', dating from around 1970.
A reminder of the installation of the new East Window at All Saints' was received by Martin this week. Along with other valuable archive material, this newspaper cutting, probably dating from around 1970, was passed to us by Christine Buckley.
It will be entered into the Churches section (All Saints') of the Gornal and Sedgley People's Archive currently being compiled by Sedgley Archives Project.
If you have any further information about the Window, please let Martin know:
mmjones29@blueyonder.co.uk
ST PETER'S CHURCH PUBLIC MEETING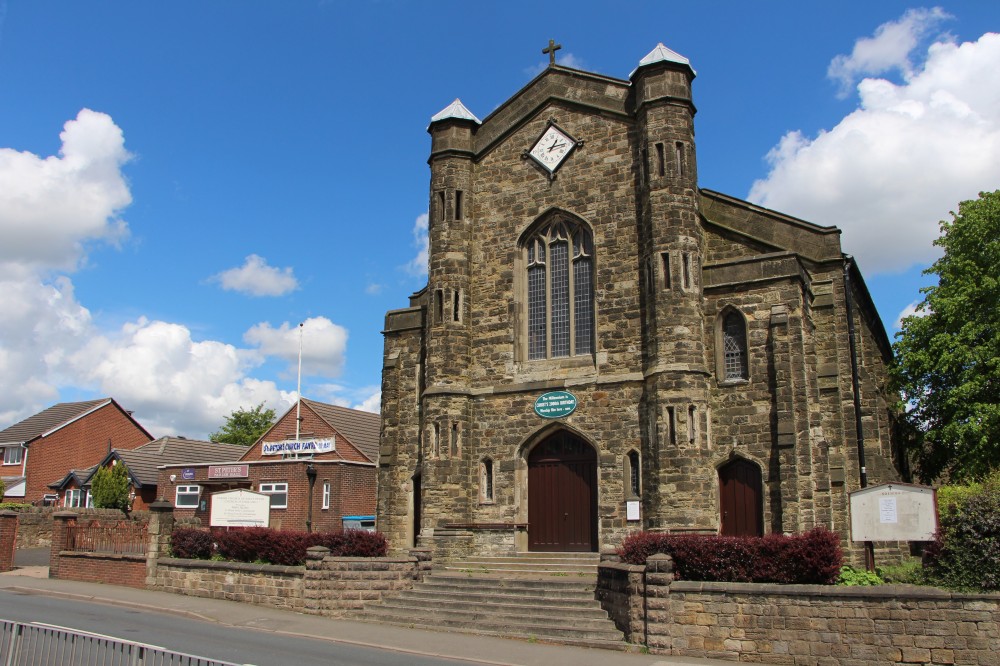 The second public meeting regarding the future of St Peter's church building will be held on Tuesday 30th October, at 19:00 in church. All are welcome. Please pray for St Peter's church and this important meeting.
TERESA CLEARS HER RELATIVE DORIS'S GRAVE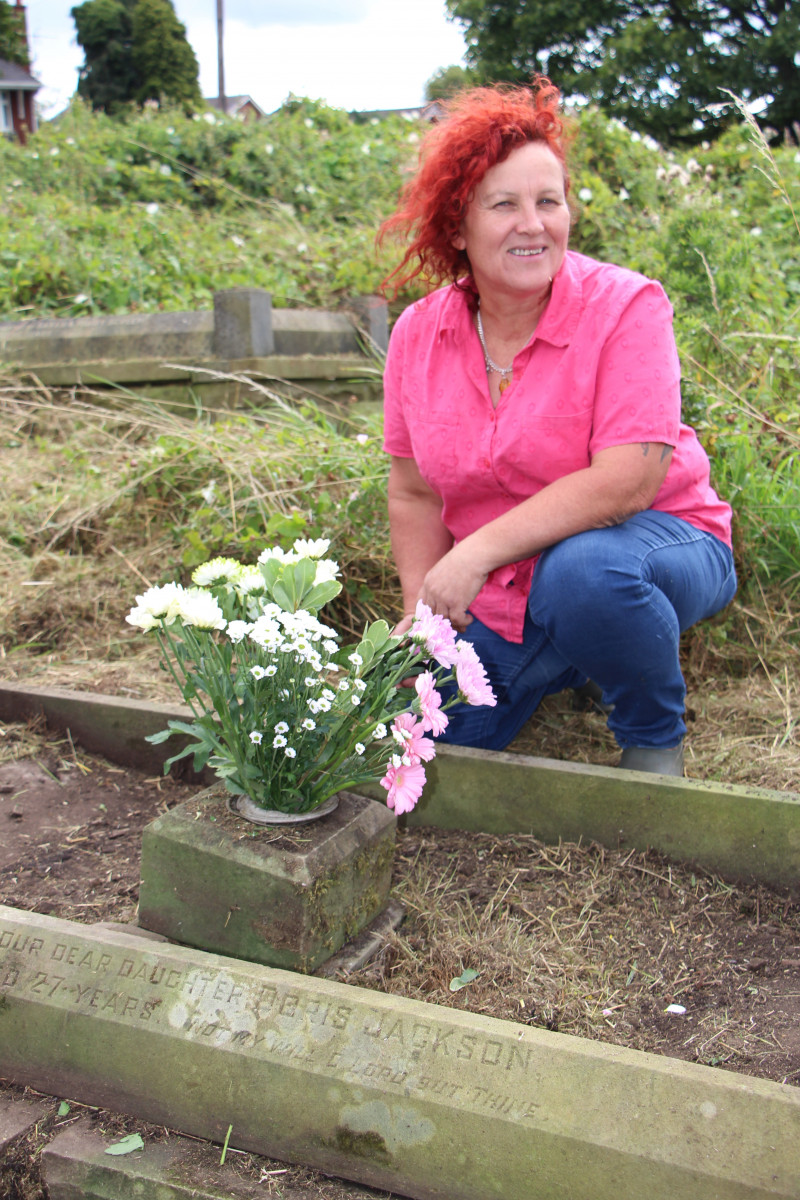 Teresa Webb travelled over to visit us from her home in Northamptonshire at our coffee morning on 7/9/18.
She is on the trail of her great grandparents' graves - Martha Jane Jackson and John Jackson.
Thanks to Dorothy Inett's records and a plan of Gospel End Street graveyard now kept at Dudley Archives, we were able to locate their daughter Doris's grave, which is clearly marked and bears an inscription. She died in 1940 aged 27 years.
We think it's possible that her grandparents are buried in an adjoining plot, or at least nearby. They both died after their daughter, in 1944 (John) and 1958 (Martha). Martha's funeral was conducted by Revd Stanley Lloyd at All Saints' in 1958, according to the All Saints' parish records on microfiche at Dudley Archives.
Teresa came over for the day to see the plot and to tidy it up - with the consent of Dudley Council who now have responsibility for the graveyard. She also laid fresh flowers on the grave. She wanted to see whether there are any traces or references to Martha and John nearby. Alas, on this occasion she couldn't find any, so the search continues.
Saturday 17th November. The Salvation Army Dudley Citadel Band and Acoustic Voices.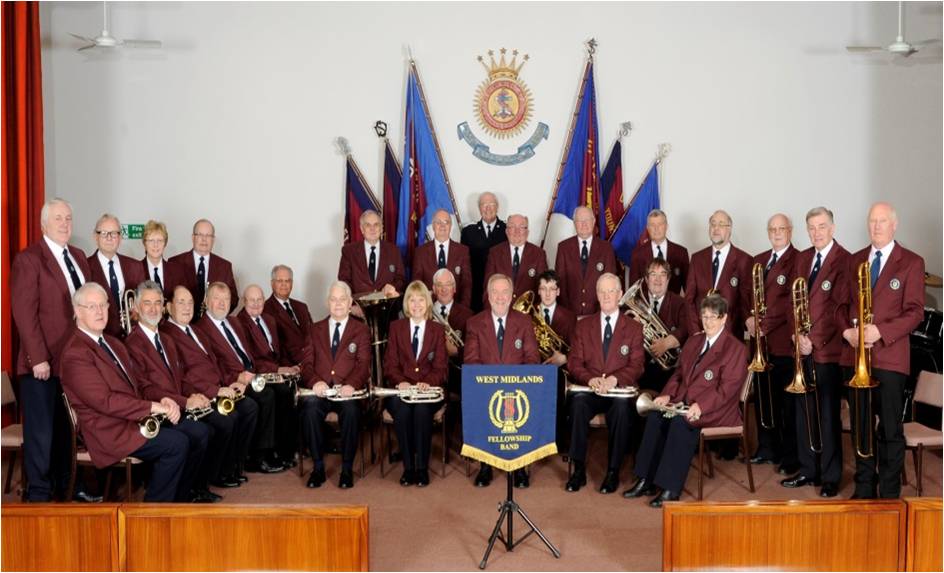 7.30pm All Saints' Church. Tickets £8. From Parish Office, Kath Apperley, Liz Williams, and Tony Hart.
Baptism and weddings - bookings
If in doubt whether a Vestry Hour will be held at All Saints', and to avoid a wasted trip, call our Parish Secretary Gail:
01902 540289 between 10am-12noon, Monday - Friday.
Parish contact details
PARISH OFFICE
Address:
All Saints' Parish Office
Ladies Walk
Dudley
DY3 3UA
Phone number: 01902 540289
Our Administration Assistant is Gail Griffiths.
TEAM RECTOR
Revd Guy Hewlett
Gornal and Sedgley Team Ministry
All Saints, Sedgley
St Peters, Upper Gornal
St Andrews, The Straits
Phone and email contact details:
Phone: 01902 295164
email: guyhewlett18@gmail.com
TEAM VICAR
The Revd Catherine Mitchell
Team Vicar
Gornal and Sedgley Team Ministry
All Saints, Sedgley
St Peters, Upper Gornal
St Andrews, The Straits
Tel 01902 677897
revcatherinemitchell13@gmail.com
LICENSED LAY MINISTER
Canon Jan Humphries: 01902 661275
Other email addresses:
Keith Tomlinson, Churchwarden:
churchwardenkeith@allsaintssedgley.co.uk
John Anderson, Treasurer and Churchwarden:
treasurer@allsaintssedgley.co.uk
Jenny Lavender, Assistant Treasurer:
asstreasurer@allsaintssedgley.co.uk
David Bell: caretaker@allsaintssedgley.co.uk
Telephone Number: 07933 204132
The parish office is open 10am-12noon, Monday to Friday.
Information should be sent to Gail by Wednesday for inclusion in Sunday's pewsheet.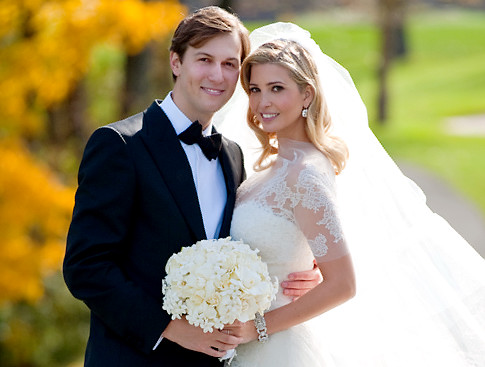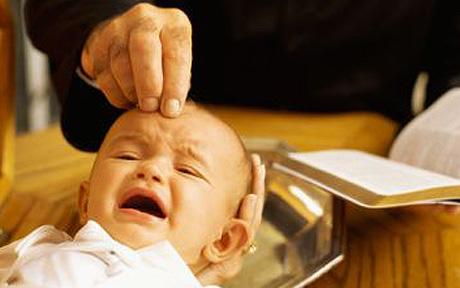 Arranging a wedding or baptism? - click here
Our website
If you'd like to contribute any information about forthcoming church events, write an article, or correct anything on the site, please send your information to Martin our website editor.